Los Angeles Lakers:

leadership
December, 1, 2011
12/01/11
9:20
AM PT
When last we saw
Andrew Bynum
, he was addressing the media during his exit interview. After
his apology to Dallas' J.J. Barea
for a dirty flagrant foul, he expressed thoughts on his role in the offense:
Namely, it needs to be bigger.
Between Drew's steady improvement,
Mike Brown's
stated plans to replicate the Duncan/Robinson Spurs and
Kobe Bryant's regular reminders of the order in which teammates "eat,"
consternation over how the post-triangle offense is a given. And not without valid reasons. The division of touches between seven footers and one of the all-time great scorers has been a dicey topic for years. The Mamba is admittedly dead set on
"shutting up those MF's saying I'm done,"
and he led the league
in usage rate last season as it is
. In the meantime, Bynum isn't afraid to speak up when he thinks the game isn't played inside-out enough. A full blown "Kobe-Shaq II" is probably a long shot, but tension between the shooting guard and the center isn't out of the question.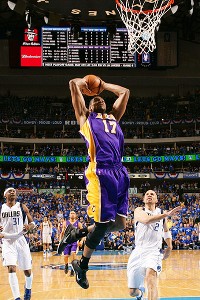 Danny Bollinger/NBAE/Getty Images
Is there room on the Lakers for Andrew Bynum to stake his claim?
Still, sexy a storyline as this undoubtedly is, the number of shots allotted for Bynum is actually just a microcosm of the bigger issue: He wants
more
... period.
This is plainly obvious in the way Drew relished his role -- and recognition -- as last year's unofficial defensive captain over a 17-1 stretch when the Lakers looked unbeatable. In the way he's become a more vocal presence with the media, typically offering the least sugarcoated opinions. In the way he's now less willing to be seen as the kid among veterans.
Bottom line, Bynum wants more on his plate, along with a bigger stake in the Lakers' success moving forward.
In theory, this is exactly what you'd want from a highly skilled youngster theoretically tabbed as the next franchise player. In reality, it's not so simple.
March, 23, 2011
3/23/11
10:15
PM PT
For
Lamar Odom
, the emotions immediately following
a 139-137 triple overtime win over the Suns
were bittersweet. On one hand, he was happy with the outcome , and for the most part, his performance was excellent. On the other hand, Odom committed a critical -- and avoidable -- shooting foul against
Channing Frye
behind the arc with 1.1 seconds left in the first bonus period. Frye drained all three freebies to force a 121-121 tie and force another five (and by extension, 10) minutes of play.
Even in the face of victory,
LO couldn't get past placing his team in such jeopardy
.
"I will remember the foul call," said Odom afterward. "I always tell you guys basketball is a humbling experience. Because I can think about throughout the game, 'Yeah, I'm playing good. I'm having a good one.' And then, right before you know it, I'm the dope."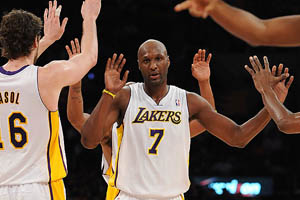 Lisa Blumenfeld/Getty Images
When it comes to supportive teammates, few come better than Lamar Odom.
Had the Lakers dropped Tuesday's contest, I'm certain Lamar would have said afterward to put loss squarely on his shoulders. I know because I've heard Odom express those sentiments on several occasions after a loss featuring his mistake. It doesn't matter if, similar to his showing against Phoenix, the error was a low point among considerably more highs. Lamar won't just volunteer to take the hit. He demands that burden, almost without fail.
Talking with Odom after the game, he shared how this self-critical tendency stretches back to his earliest days playing ball.
"It's funny," reminisced the lefty. "Before I got to college, I remember playing early, when you're just playing for your neighborhood, I've always played on a good team. I've always been on a winning team, a team where I didn't mind being a fall guy for a play or what have you. Just to kind of keep everything balanced out."
It's a habit separating Odom from everyone else on the Lakers.
This isn't to suggest the roster lacks consistent accountability. Back-to-back championships aren't achieved through a lack of collective onus and this isn't a team shying away from responsibilities. Still, I've never heard anybody else make such a definitive declaration after a game: Put it on me. (The closest comparison is
Ron Artest
telling the media during an introductory press conference to blame him if the Lakers didn't repeat.) A player's finger is never so consistently and publicly pointed in his own direction as Lamar's.
June, 9, 2010
6/09/10
4:41
PM PT
Predictably, much of today's practice chatter centered around
Derek Fisher's Game 3 heroics
. 11 fourth quarter points.
A coast-to-coast layup
instantly added to a considerable list of indelible franchise moments.
An unlikely showing of pick and roll dominance
. Plus, the speeches he's famous for giving as situations grow tense. Words captivating everyone spellbound as they leave his mouth. And I do mean
everyone
. Even
Kobe Bryant
, obligated to listen to nobody on the Laker roster. By his own admission, that's basically the case.
Except when it comes to that dude in the #2 jersey.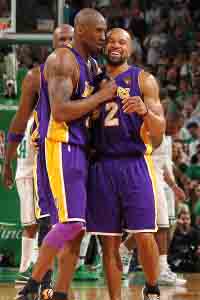 Nathaniel S. Butler/Getty Images
Kobe would enter a nuclear apocalypse with Derek Fisher on his side.
When informed of being the only Laker worthy of Kobe's ear, Fisher initially just cracked a joke.
"Um, wow. Yeah, I probably am the only maybe
guy
he listens to. He's married, so I know he listens to somebody else."
From there, a more introspective assessment of their relationship was offered:
"You know, we shared a lot of good and bad things in our lives, and so I think it just gives us some commonalities and similarities that otherwise wouldn't be there, you know. I mean, it's not because our games are similar, it's not because of talent similarities or any of that. It's just that we've experienced a lot of good and bad things together. Because we've been through those fires, you know, we're just comfortable relying on each other, and I think he knows and I know that if anything in the world happened, if there was one person that would stand up and say, I'm here for you, you know, it would go both ways."
Fisher also offered a killer comparison to describe how they blend a good cop (Fisher)/bad cop (Kobe) brand of leadership in keeping guys on the same page:
"I think there's a balance to it, and sometimes [Kobe] jokingly refers to it as
Malcolm X
and
Martin Luther King
in terms of how we go about balancing it. And, you know, I don't think it's necessarily him tearing guys up in a way that's demeaning or belittling to our guys on our team, but just a different style of communicating it.
"I'm a guy that I like to observe and kind of lay back and see how things are going, and then, you know, fill in the gaps as I see fit. And so with our teams over the years having strong personalities like
Shaq
and Kobe and Phil, I've always filled in between those guys on how to keep this thing going, because my only concern is for us to win. I love everybody, but if we don't win, I don't love you as much. So that's kind of where it comes from."
May, 19, 2010
5/19/10
12:38
PM PT
During 710 ESPN's recent
Lunch with a Legend
, I had some face time with one of the all-time Laker greats, "Big Game"
James Worthy
. Our conversation hit on topics like the Showtime era, the pride of playing with one franchise and the Lakers' current quest to repeat. Many interesting points raised, but one in particular stood out to me.
PODCAST
ESPNLA.com's Andy Kamenetzky sits down with "Lunch with a Legend" honoree James Worthy to discuss Showtime, the end of his career and why it never bothered him playing "third wheel" to Magic and Kareem.
Podcast

Worthy's professional career was without question an unqualified success. Three rings. Seven All-Star bids. Hall of Fame.
"50 Greatest Players"
membership. But he never led a good team as "the guy." Granted, he played with Magic and Kareem, two dudes not just arguably the best ever at their respective positions, but to ever play the game, period. Too many alpha dogs can spoil the stew, so even someone as talented as Worthy sometimes has to take a relative backseat. Still, great players often have great egos, along with great awareness of whatever criticism could taint their legacy, so I asked Worthy if he ever pined to be an elite team's unquestioned alpha dog:
"No, I never really allowed that to enter into my mind, because I knew I wasn't that type of player. I knew that I wasn't the leader that Magic was. I know how to lead by example and hard work, but at the professional level, it takes a little extra and I would have
never
have been the voice of a team. I didn't have the dominant game like Kareem with the sky hook. I never looked at myself as a player that could carry a franchise.
"That was fortunate for me, being the #1 pick, that I didn't go to the Clippers or I didn't go to a team that would expect their #1 pick to turn their whole team around. I was pretty fortunate to go to the Lakers, because coming from Coach
(Dean) Smith
, who's so team-oriented and so collective, I could have never taken that position. I was the captain for a couple of years, but I could never take the role of Magic. Having the role I had was perfect."
Not the answer I expected. I figured Worthy would say he appreciated the luxury and fortune that comes with joining a talented, stacked roster. Or maybe, he initially worried about how his career might be perceived in light of being a third option before coming to appreciate the luxury and fortune that comes with joining such a talented, stacked roster.
Option C: I wasn't that kind of player or leader. Didn't see that coming. In particular, the stuff about leadership was striking.
December, 21, 2009
12/21/09
12:55
PM PT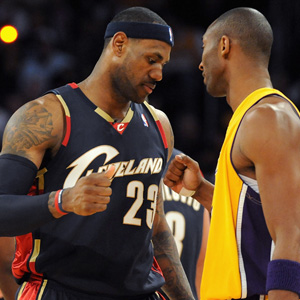 Harry How/Getty Images
Kobe vs. LeBron! Let's get ready to ruuuuuummmmmmmble!!!
In life, there are three elements safely deemed "certain": Death, taxes, and NBA analysts comparing
Kobe Bryant and LeBron James
. While the first two issues can be avoided until periods ranging from "April 15th" to "hopefully several years away, knock on wood, as I down another vitamin and drag my fat butt to the gym," basketball fans know "Mamba v. The King" is unavoidable, particularly with the X-Mas Day showdown lurking around the corner.
You know the endless jabber is coming, so why not get it over in one fell swoop? Land O' Lakers breaks down the NBA's top pair of dogs every which way from Sunday with the ultimate tale of the tape.
SCORING
Hey, why not jump in headfirst with a decision difficult enough to plague mankind for centuries?
LeBron's career numbers
and
Kobe's
are a wash, but Kobe's career-high smokes everyone not named "Wilt" or "Chamberlain." Kobe's able to score in more ways and spots, but LeBron's spent more time racking points while teamed with fewer teammates worth guarding. How do you make a call? Actually, you don't.
Edge: Push