Los Angeles Lakers:

Leon Powe
August, 10, 2011
8/10/11
12:22
PM PT
By the Kamenetzky Brothers
ESPNLosAngeles.com
Archive
As part of a continuing series, NBA players share how growing up in L.A. shaped their games.
Trevor Ariza
is so deeply steeped in the basketball culture of Los Angeles, it's easy to forget he was actually born in Miami. He starred at Westchester High School, then played a season at UCLA before leaving college for the NBA draft. Selected with the 43rd pick in the 2004 draft by the Knicks, Ariza's greatest professional moment came as a member of the Lakers, as he was an integral part of their 2009 title run, averaging 11.3 points over 23 games while shooting over 47 percent from beyond the arc.
While he's no longer playing locally, fair to say Ariza takes enormous pride in his L.A. roots.
Land O'Lakers: Where did you play growing up?

Trevor Ariza:
I used to play at Westchester Park a lot. I met a few of my friends there. Then I got on a traveling team and started to meet other people. I met a lot of my friends I'm still friends with today.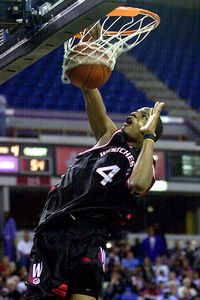 AP Photo/Rich Pedroncelli
Trevor Ariza won a pair of state titles with Westchester High School.
Land O'Lakers: Who specifically?
Ariza:
Westchester Park, it started out being [L.A. Sparks guard]
Noelle Quinn
. She was just
sick
back in the day, when we were younger. She was the best player I ever met. This is when I was 9, 10 years old.
Omar Wilkes
was there. He used to play with us. Then I started to meet other people like
Marcus Williams
,
Bobby Brown
,
Hassan Adams
. People I went to high school with, though the AAU circuit and stuff.
Land O'Lakers: Describe the scene at Westchester. Was there a lot of trash talk?
Ariza:
Not really. I used to play pickup with the older guys. They used to let me on the court and teach me things. I got my aggression playing at Darby Park, playing football. I just used to like contact all the time. My favorite player of all time is
Deion Sanders
, so football is my first love. When I was little, I focused more on football, definitely. That's where I met
Dorrell [Wright]
, and little
DeSean Jackson
[Eagles wide receiver], and a few other people that played there, too. [Cowboys defensive back]
Orlando Scandrick
, and all those guys.
Land O'Lakers: DeSean was a talker back then?
Ariza:
Man, he's been the same way since … probably when he came out of the womb. He was born talking. And any sport, he just talks. That's his thing.