Los Angeles Lakers:

lucky
May, 20, 2010
5/20/10
10:02
PM PT

By Andy Kamenetzky
ESPNLosAngeles.com
Archive
As we noted in Tuesday's postgame video
, the defensive side of the ball was
a brutally humiliating experience for Amare Stoudemire
. I mean, wretched. Brian suggested
Alvin Gentry
be allowed to play seven guys at once, since Amare equaled -2 defenders. Stoudemire's lockdown prowess reminded me of
Patrick Swayze
in
Ghost
, given how
Pau Gasol
and
Lamar Odom
were seemingly walking through him.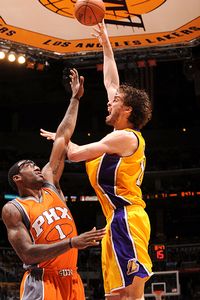 Noah Graham/NBAE via Getty Images
This was every bit as easy for Pau as
it looked.
Harsh assessment? Perhaps. But not only weren't we alone, the privilege of criticizing Amare's D felt like taking a number for a deli sandwich. Gotta get in line and wait your turn. Below the jump is just a sampling of what was flying around Twitter and ESPN's
Daily Dime chat
. And I emphasize this is truly
just a sampling
. Plenty more was out there, but a hard target search of this magnitude would have been downright exhausting.
Even more striking than the volume of comments was how they arrived in furious unison. Like a ton of bricks. Defense often goes overlooked in favor of the game's flashier side, particularly for an All-Star of Stoudemire's explosiveness and athleticism. The guy is capable of putting on quite the show while masking this deficiency.
Sometimes, however, the D is so bad, a group mind decides it simply can't go ignored.
May, 18, 2010
5/18/10
7:29
PM PT

By Andy Kamenetzky
ESPNLosAngeles.com
Archive
Heads up,
Phil Jackson
. You're not the only principal in this Western Conference finals
willing to toss verbal shots across the bow
.
Before Phoenix's practice Tuesday,
Amar'e Stoudemire
was asked about
Lamar Odom's monster effort in last night's 128-107 Game 1 victory
. I guess
STAT
truly values him a stat, because it takes at least 20 in the scoring and rebound columns for Stoudemire to deem a performance stellar. But 19 and 19 requires merely a horse shoe.
As reported by ESPNLA.com's Dave McMenamin:
"I'm not giving him no hype right now; he had a lucky game in Game 1," Stoudemire said after practice Tuesday at Staples Center. "We just got to make sure we box him out. I think I focused so much on [Pau] Gasol and [Andrew] Bynum to where he snuck in there and got 19 boards, so now we just got to make sure there's three guys out there that can rebound well [when] adding Odom. So, we got to do a better job on them."
Comments like these qualify as the kind better left inside oneself than expressed to a sea of microphones.
For starters, Amar'e needs a refresher on his franchise's recent history books. As Stoudemire should be well aware (since he was, ya know,
there
),
Odom averaged 19/11/4 during the 2006 series against Phoenix and 19/13 in 2007
, the latter featuring
a 33/10 Game 5 notched despite a shoulder in need of surgery
. Dude has absolutely owned the Suns in the postseason. Not that I'm expecting LO to average 19/19 throughout the WCF, but he's clearly capable of damaging this opponent. You wanna label
DJ Mbenga
, perhaps pushed into extended minutes because of foul trouble, coming through with 19/19 as "lucky?" Fine. All due respect to Congo Cash, I can buy that assessment.
LO? Not so much.
Plus, purely playing devil's advocate, let's say LO
actually did
back into this showing by accident. Do you really want to take a chance on motivating Odom to do it again? Or to motivate the Lakers to spend even more time specifically attacking you on defense? (Although, as Brian will eventually share in an upcoming post, it would be stunning if the Lakers aren't planning to do this more often anyway.)
Any way you slice it, not the sharpest moment on Stoudemire's resume.
For his part, Odom didn't take the bait, nor was his own horn tooted. Like I said, the guy's no stranger to beating up Phoenix during the postseason, so from his perspective, the night really wasn't all that special. In a roundabout way, I guess LO actually agrees with Stoudemire: