Los Angeles Lakers:

Luke Ridnour
March, 16, 2012
3/16/12
9:09
AM PT

By Andy Kamenetzky
ESPNLosAngeles.com
Archive


Apparently, there's a provision in the new collective bargaining agreement mandating the Lakers and Timberwolves play once a week in seasons taking place during a leap year. Thus, the third meeting since Feb. 29. But despite Minnesota standing pat at the deadline (
Michael Beasley ... so close, yet so far away!
), this game should actually feel fairly different than the last two. The Lakers have new faces. The Wolves' lineup has been shuffled against the Lakers by the injury bug. With that in mind, here are three items to be mindful of upon opening tip.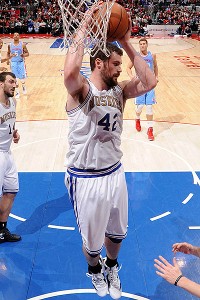 Andrew D. Bernstein/NBAE/Getty Images
Kevin Love will be in a uni ... right?
1) Kevin Love will presumably be available.
Unless, of course, he comes down with an unforeseen, semi-random, non-career-threatening ailment, as has been the case in the last two games. (After the flu and back spasms, what's the next logical diagnosis? Post-nasal drip? Grade-1 charley horse? Beiber Fever?) As I noted in the last preview,
Love's March splits entering that ultimately missed game were impressive
. A week later, little has changed.
Dude's numbers for the month are simply absurd
: 32.3 points, 12.7 rebounds -- a shade over four of which come on the offensive glass -- 2.2 assists, 47.1 from the field, 46.7 from deep and nearly 81 percent from the line.
Yowza!
As always, slowing Love will be a tall order tasked to the Lakers' bigs. In particular, I'll have my eye on how
Pau Gasol
responds to this challenge. Over the last few games, Gasol's effectiveness has come in sputtering fits. Against Memphis, three quarters passed before his presence was felt in the slightest. The next night in the Big Easy, he started strong but couldn't maintain that pace. In the latter game, fatigue appeared a mitigating factor. (In this respect, he had company.) But you also had to wonder if a clock ticking down to the trade deadline also weighed on his head. Well, noon pacific time passed Thursday with Gasol still on the roster. At least until the offseason, this shouldn't be an issue anymore. No better way to prove his head is clear than to hold his own against a forward playing as well as any in the NBA not named "
LeBron
" or "
Durant
."
January, 29, 2012
1/29/12
10:03
AM PT

By Andy Kamenetzky
ESPNLosAngeles.com
Archive
Should the Lakers drop tonight's contest in Minnesota -- certainly a believable outcome, given
the debacle in Milwaukee
-- it'll be doubly disconcerting because of the story within the story. The Lakers are a team in transition. From
Phil Jackson
to
Mike Brown
. From
Jerry Buss
to
Jim Buss
. Even the transition from
Kobe Bryant
to the next Lakers franchise player is on the minds of many a Lakers fan. This season is about reassuring fans a smooth shift is in the works, as well as (hopefully) re-establishing championship credentials. Thus far, it's been rocky at best.
In the meantime, the direction of the Timberwolves, after several years of floundering and creating "Island of Misfit Toys" rosters, actually contains promise.
Kevin Love
is a legitimate superstar,
Ricky Rubio
looks like he could be as well, and
Derrick Williams
has obvious potential. Yes, there are still questionable contracts (
Darko Milicic
) and draft picks (
Wes Johnson
), but at least a light at the end of the tunnel can be seen. Granted, it could just be the headlights of a train driven recklessly out of control by
David Kahn
, but at least there's light. The first 20 games have represented a lot of darkness for the Lakers, on the court and, for those thinking bigger picture, looking beyond.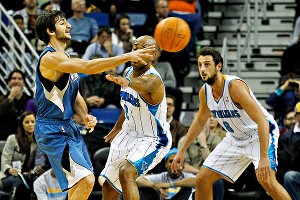 Derick E. Hingle/US Presswire
Doubts about Rubio's NBA-readiness have been quickly silenced.
For the scoop on the Timberwolves, we turned to
Myles Brown
, who runs
A Wolf Among Wolves
for the TrueHoop Network. Below are his responses to four questions about a surprisingly competitive Timberwolves squad. And if you'd be so kind,
check out my responses to his questions about the Lakers
, written
before
the Bucks game.
Land O'Lakers: At this stage of his NBA career, what does Ricky Rubio do especially well, and what still needs work? And along the lines of playmaking, does anyone else on the Wolves contribute regularly? The team ranks rather low in assists.
Myles Brown:
Rubio is obviously an excellent passer. He moves the ball well both in transition and the half court, but not enough attention is devoted to his defense. While there still are lapses in judgment -- he occasionally over-helps and does struggle with quicker guards -- his size has been an advantage. He has exceptionally long arms to contest shots, play passing lanes and recover. Despite a recent cold streak, Ricky's jumper isn't nearly as bad as advertised. It's still essentially a set shot, but he's shooting well from the corners and the elbows and is looking more comfortable pulling up off the dribble.
As for our other playmakers,
Luke Ridnour
has reportedly been revitalized by Rubio's presence, but he's actually just been freed from the constraints of
Kurt Rambis'
triangle. He's been particularly effective in transition since defenses must respect his jumper.
Kevin Love
, who isn't posting impressive assist numbers, is still always capable of creating for others. The Wolves do rank pretty low in team assists, but that could be due to most plays beginning and ending with Rubio.
June, 19, 2010
6/19/10
10:06
PM PT

By Brian Kamenetzky
ESPNLosAngeles.com
Archive
What, you think it's a little too soon to look ahead? Still basking in the glow of Thursday's win? C'mon, it's been three days already. Quit living in the past!

I kid. Starting with Monday's parade and a week of exit interviews, we'll have plenty of opportunities to reflect and celebrate another title run. But the offseason is indeed upon us, and with it a whole host of issues ready to play themselves out over the coming weeks and months.

Here's a look at 10 of the biggest questions facing the Lakers this summer.

1. So... seriously, Phil Jackson is coming back, right?

Is there any other outcome at this point? Any lingering inclination from some inside the organization Jackson may not be worth the money he commands or that the team had tuned him out were squashed with a second straight Larry O. Jackson isn't going to coach in another city, and so all standing between P.J. and a run for a staggering fourth three-peat is an incident free trip to the doctor's office and a negotiation with Dr. Buss that, like Lamar Odom's last summer, has no suitable outcome for either party but a signed contract.

2. What about Derek Fisher?

Here's another situation where both parties are better off with each other. Fisher has more value to the Lakers than any other team in the league. His role in the locker room, as a balance to Kobe Bryant, an on-floor professor emeritus of the offense, and so on serve needs very specific to the Lakers. Meanwhile, Fisher isn't going to find a place where he'll a) win, and b) have a reasonably sized role in the rotation if he leaves L.A. Other teams around the league would value him more for his leadership than skills, and the best squads already have their leaders. Fish won't leave just to mentor younger players on a middling team, even for a little more money.

If Jackson is back, Fisher is back. If Jackson isn't back, which he will be, Fisher is still probably back.

3. Well, even if Fish returns, they'll need some help at the guard spot, right? Who can they get?