Los Angeles Lakers:

Luol Deng
May, 10, 2013
5/10/13
10:25
AM PT
By Mark Willard
ESPNLosAngeles.com
Archive
At a certain point, a Band Aid is not sufficient. Sometimes surgery is required in order to fix the bigger problem. The Lakers have applied a series of Band Aids since their title run in 2010.
In 2013-14, they can only do more of the same. But 2014-15 is different.
Most Lakers fans are thinking in terms of bouncing back from this season and its disappointments next year. But they should be thinking about the promise of the year-after-next.
The word patience doesn't usually go over well in LA. and the Lakers will never ask for it publicly, but that doesn't mean they don't need it from their fans right now.
Consider what's inside the free agent store in the summer of 2014. And begin with
LeBron James
. I don't know if he would consider Los Angeles, but the Lakers certainly want to be ready in case he does. And all is not lost if the Lakers have that flexibility in 2014 and don't land the King. Also likely to be available would be
Chris Bosh
,
Carmelo Anthony
,
Danny Granger
, and
Luol Deng
. Possibly available would be
Paul George
,
DeMarcus Cousins
,
John Wall
,
Tony Parker
and
Zach Randolph
.
If the organization were to cave to public pressure and press to make big changes during the current offseason, they would risk compromising next summer. It's not worth it. Mitch Kupchak is certainly capable. Even with the current financial restrictions the Lakers face, Kupchak has pulled off some impressive deals. He did it last year with
Dwight Howard
and
Steve Nash
. But just because you can do something doesn't mean you should.
Outside of Howard & Nash, the acquisitions the Lakers have given their fans since their last title include names like
Theo Ratliff
,
Josh McRoberts
, Troy Murphy and
Jason Kapono
. That excites no one, but maybe this year it should. If the Lakers pull off a deal for
Francisco Garcia
or Marquise Daniels this summer, that could mean that Kuphcak is protecting 2014.
And that's exciting.
If the Lakers try to make real moves this offseason . . . and I mean REAL moves, geared toward trying to get back in title contention right away, they risk missing out on the potential of 2014.
And with
Kobe Bryant
coming off a major injury, there's little reason to sell out this summer. Their best move might be to bring the same gang back and trim a little salary.
Bryant said in his exit interview that he wants the same group back: "If we can gain something positive from this season it's bringing most of the guys back. (We were) 5 games out of the playoffs and all of the sudden have this incredible run. It does something to the character of the group. To allow that to dissipate, it's a headache."
He seems to think the same group, if healthy, can win it all. But here's the thing: it doesn't matter if he's right.
What matters is what comes after.
Mark Willard is the host of "ESPNLA Now" on ESPNLA 710 in Los Angeles.
September, 2, 2011
9/02/11
11:46
AM PT

By Brian Kamenetzky
ESPNLosAngeles.com
Archive
In 1588, England crushed the Spanish Armada.
It took over 400 years, but Spain finally got some revenge, thanks to their
86-69 win over Great Britain
in Group A play at the European Championships in Lithuania Friday, a game (judging by the crowd shots from
replay on ESPN3.com
) attended by approximately 19 people. Still, those hoops mad Lithuanians who bothered stopping by were treated to another solid performance from Lakers forward
Pau Gasol
. 21 points, hitting nine of his 13 shots from the floor, adding six boards, two assists, and a pair of blocks in another light evening of work (22 minutes). For the tournament, Pau is shooting a
robust 73.5 percent (25-34)
.
Pau logged Spain's opening four points, first on an end-of-the-clock 17 footer from the left baseline, then after a nice cut from the right block he accepted a pass from little brother Marc before finishing with the reverse layup. Later in the quarter he threw down a nice lob from
Sergio Llull
(who's rights are held by Houston).
After the half, likely fueled by Pau's inspiring "Remember the Armada!" speech at the break
*
, the Gasol's were dominant-- particularly Marc, who scored 12 points in the period-- blowing a reasonably close game wide open. Pau got Marc going with a slick entry pass high on the right wing into the block, then scored on another reverse layup after a nice baseline spin move from the right block before blocking
Luol Deng
at the other end.
He'd add a couple more buckets before the end of the third, then more in the fourth before sitting down for good.
*Likely didn't happen.
November, 23, 2010
11/23/10
8:38
AM PT

By Andy Kamenetzky
ESPNLosAngeles.com
Archive
Heading into last weekend,
Charles Barkley was the only player in NBA history
to record 20+ points without a miss on at least five attempts from the field and the line, plus five rebounds and five assists. Heading into Tuesday's game against the Chicago Bulls, Sir Charles' place in the record books is short some elbow room.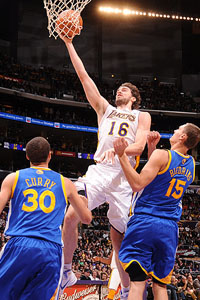 Noah Graham/NBAE/Getty Images
First came Matt Barnes. Then Ol' Thunder Stealer. Will another Laker follow?
Friday against Minnesota,
Matt Barnes notched 24 points (seven-for-seven from the field, five converted free throws in as many tries)
, seven rebounds and six assists in a career-night for the journeyman. Before Lakers fans had time to wrap their heads around the situation,
Pau Gasol bum rushed the show.
Ten baskets on ten attempts and eight converted free throw opportunities, plus nine boards and 5 dimes.
You can debate which performance was better
, but what can't be argued is how the Lakers make forays into history look so easy, a caveman could do it.
The question heading into the Bulls' game doesn't feel like "if" the streak will continue, but rather by whom. Thus, I decided to handicap the odds on the next Laker to achieve unblemished greatness.
For the sake of simplicity and (relative) realism, odds were only laid for dudes in the rotation. No offense to
Derrick Caracter
,
Devin Ebanks
,
Luke Walton
or
Sasha Vujacic
, but they're long shots for enough PT to qualify, and even if unexpectedly long minutes surface, I have my doubts about catching fire. Caracter leads the ninth-12th men with a 42.9 percent clip on largely point blank attempts, and at the other end of the spectrum, Luke's missed twelve of his thirteen shots attempts. (7.7 percent, for those willing to keep very low score.) If this were Vegas, they'd be off the board.
As for the eight legit candidates, here are your odds, in order from best to worst...
Kobe Bryant
Pros:
As capable of such a roll as anybody in the NBA, much less the Lakers.
He once hit a dozen three-pointers in one game
, which sounds like a good warm up. Can a man of Kobe's insane competitiveness sit idly by and watch Gasol and Barnes pull this off without diving into the pool? Save Defensive Player of the Year, a perfect game is about the only achievement Bryant's yet to accomplish, and he's on a career path of leaving basically every stone unturned. No time like the present to flip this one.
Cons:
He'll often be checked by
Luol Deng
(
according to our man Nick Friedell from ESPN Chicago
), a quality defender with excellent length. Kobe's willingness to put up shots nobody else on the planet would attempt often leads to misses nobody else on the planet would endure. His 30 percent mark from downtown is his lowest since the 1999 season, hardly a good omen.
Odds:
15-1
November, 23, 2010
11/23/10
8:19
AM PT

By Brian Kamenetzky
ESPNLosAngeles.com
Archive
The re-made Chicago Bulls have won four of their last five games after a sluggish start, led by high level play from
Derrick Rose
and
Joakim Noah
. For a Lakers team in need of a challenge, the Bulls are just that- strong defensively on the offensive glass, and featuring a red hot, top flight point guard able to both score and distribute.
PODCAST
ESPN Chicago's Nick Friedell breaks down this year's Chicago Bulls ahead of Tuesday's game" Podcast

Add in the natural ties between the two teams (
Phil Jackson's
history, the unavoidable
Jordan/Kobe
comparisons) and it should be a fun game. To get you ready, we spoke at length with
Bulls beat writer Nick Friedell of ESPN Chicago
.
PART I: Previewing the Bulls
We pepper Friedell with questions about Tuesday's opponent for the Lakers. Highlights include...
-
An overview of the Bulls as they come in
, fresh off a road win in Dallas Friday night. "The Bulls are feeling great right now. A lot of people weren't sure how they were going to perform without
Carlos Boozer
... but the Bulls are playing great, led by Rose."
-
Luol Deng
: "So many people can't separate the [big] contract from his [performance], but right now, he's playing fairly well. I can't underscore what a difference it has made being in Tom Thibodeau's system for Luol Deng... He's running the floor and cutting across screens more than I've ever seen him. A little like Rip Hamilton."
-
Keys to Rose's high performance.
Health is a major factor, as is natural improvement. Another factor- he has faith in Thibodeau, as do the rest of his teammates.
-
Turns out we weren't the last people to know
how to say Thibodeau. It's not "Tib-o-dow," but "Thib-o-dow." Even the Bulls staff had it wrong, months after they hired him.
-
How Chicagoans view Jackson,
now that he's achieved so much in L.A., as well. "He's the Bulls coach."
-
Worries the return of Boozer
, out all season with a bum hand, may not help all that much. Some even wonder if it'll hurt. Friedell notes, though, how Boozer's interior scoring is something the Bulls haven't seen in eons, and need.
PODCAST
Andy and Brian answer questions about the Lakers from ESPN Chicago's Nick Friedell" Podcast

Part II: Breaking down the Lakers
Friedell hits us with questions of his own...
-How big a threat is boredom
, really? Not much, in our minds, thanks in large part to the arrival of
Matt Barnes
and
Steve Blake
, helping energize the team early in the season.
-
Aside from injuries
, what might allow a Western Conference team to beat them? Obviously no team is unbeatable, but because of the team's versatility there's no team in a seven game series with clear advantages over them.
-
The impact of Barnes
, and how
Lamar Odom
is getting himself into the post far more this year than last, a key to his strong play.
PODCAST
ESPN Chicago's Nick Friedell breaks down this year's Chicago Bulls ahead of Tuesday's game" Podcast

-Nick's impression of the Lakers
, having seen them live for the first time this season on Sunday night. "They look different than anyone else, as far as I'm concerned." Plus, Thibodeau's contention Odom is the most underrated player in the league. High praise, for sure.
Part III: How does Chicago view Kobe Bryant?
-A pretty simple question
: With Kobe holding a legitimate chance to not only equal, but pass Jordan in the championship ring count before it's all over, how do Chicagoans view him?