Los Angeles Lakers:

mailbag
November, 8, 2010
11/08/10
12:20
PM PT

By Brian Kamenetzky
ESPNLosAngeles.com
Archive
From Ed Fugate of Arcadia, CA:
"Am I the only one getting a bad sense of deja vu when it comes to the Lakers good showing so far? I mean, doesn't this seem all too familiar to the 2007-2008 season which ended so badly to the original "Big 3"? An unstoppable offense, a so-so defense, a new big 3 in the east relying on defense, a hyped-up bench, etc? Or am I just being paranoid?"
While Ed's note found its way into our inbox before
Sunday's defense-rich demolition of Portland
-- the Blazers scored only 36 points on 36 percent shooting in the first half -- his concern is a common one among fans through L.A.'s first seven games. Particularly after Friday's
underwhelming effort against Toronto
, in which the Lakers opened up the paint like a red carpet and couldn't have been outrebounded more handily had I been playing power forward.
You're not alone, Ed, but I have welcome news! You really are just being paranoid.
While the Lakers aren't in top form defensively yet, a look inside the numbers (love you,
HoopData
!) shows things haven't been all that bad. With one glaring exception, that is.
Perhaps the most repeated criticism of the Lakers' defense is the 101.4 points per game they've allowed. Toss out the 83 points surrendered to Golden State and the best the Lakers have done is Sunday's 96. The other numbers: 110, 106, 105, 100, 103. Points allowed, though, isn't really the best figure to measure team defense, particularly this early in the season when the schedule can skew things rather dramatically.
September, 2, 2010
9/02/10
5:18
PM PT

By Brian Kamenetzky
ESPNLosAngeles.com
Archive
It's time again to empty out the
Land O'Lakers mailbag
. Just because we're in the dry, forbidding summer months doesn't mean there are no issues to kick around. After all, training camp is just around the corner.
So without further ado, let's get going.
Q:
Yo Kamenetzky Bros! I'm splitting season seats for Lakers/Clippers/Kings this year, and I have to go to this draft next week to select my games. Its a snake draft but I wanted to have my picks ready to go. So for time's sake, can you at least give me your guys top 10 games of the season, in order from best to worst? Also I really don't want to pick any Clipper games in the top 10, but do you think I need to select Clippers/Heat that early?
--Danny, Earth
A:
Clearly Danny doesn't want to be tracked down.
Without knowing exactly where you draft, here are the 10 games/opponents I'd target (keeping in mind that if you decide you want to go to a Clippers game... let's be honest, you'll be able to find tickets) in some sort of vague, totally debatable order:
1) Oct. 26 vs. Houston:
Opening night/ring night. I realize there are higher profile opponents on the way, and it's by definition early in the year, but the spectacle and energy of ring night is a must for fans. High profile games don't always meet the hype, but watching a banner go up will never disappoint.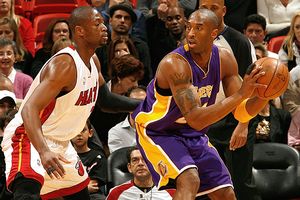 Issac Baldizon/Getty Images
Kobe vs. Wade (and LeBron and Bosh) on Christmas is the Glistening Shiny Jewel of the '10-'11 schedule, but there are 41 other home games to think about. Which are the best?
2) Dec. 25 vs. Miami:
If I need to explain this to you, why are you in the draft?
3) Jan. 30 vs. Boston:
The rivalry, the addition of
Shaq
, two Finals meetings in three years, and a very underrated chance at a third, despite all the Miami hoopla.
4) March 20 vs. Portland:
If healthy, the Blazers represent a major challenge to the Lakers in the Western Conference. This is their last visit before the postseason.
5) March 14 vs. Orlando:
The forgotten team in the Eastern Conference, the Magic (rightly) think they're being unfairly discounted. Howard and Co. will show up motivated to beat the west's best.