Los Angeles Lakers:

Marcin Gortat
January, 30, 2013
1/30/13
10:21
PM PT

By Dave McMenamin
ESPNLosAngeles.com
Archive
PHOENIX -- They say you can't go home again, and nobody knows that more than
Steve Nash
this season.
Less than two weeks after the
Los Angeles Lakers
returned to his native Canada and laid an egg against the
Toronto Raptors
, L.A. had a similar fate against Nash's former team, the
Phoenix Suns
.
The Lakers should have had everything to play for to try to get a win for Nash against the team he was a part of the past 10 seasons. Instead, they let him down and continued to let their season slip away from their postseason goal.
How it happened:
After a sloppy first half when neither team could get going and went to the locker rooms tied at 41-41, the Lakers turned it on in the third, scoring 32 points in the quarter and pushing their lead up to as many as 13. Phoenix surged back in the fourth after
Dwight Howard
went out after re-aggravating the labrum injury in his right shoulder, the Suns taking a four-point lead with a late 9-0 run. Bryant was able to tie it up again with four points of his own, but in the final minute,
Michael Beasley
made a layup and Bryant missed a layup and the Suns were able to salt it away with free throws.
What it means:
To borrow a line from a
recent column by J.A. Adande
, Bryant continues to prove that his fancy passing is not a passing fancy, racking up nine assists after averaging 13 in his previous three games, but we also learned that Bryant's passing isn't a cure-all for this team. There are still problems lurking under the surface, despite the recent three-game winning streak.
Hits:
Antawn Jamison
had 13 points in 13 minutes on 5-for-6 shooting.
Misses:
The Lakers had 19 turnovers compared to just 11 for the Suns. The main culprits were Bryant with six and
Pau Gasol
with four.
Metta World Peace
shot just 6-for-17 on mostly wide-open looks and let Beasley (27 points on 12-for-20 shooting) have his way with him on the defensive end.
Stat of the night:
The Lakers are now 5-16 on the road, including losses in their past eight in a row.
What's next:
The Lakers have an off day in Minnesota on Thursday before continuing their seven-game trip against the Timberwolves on Friday. We'll see if the day is enough for Howard to get his shoulder back in order in time for the Wolves.
November, 16, 2012
11/16/12
12:24
PM PT
Well,
the coach is in place
, but Mike D'Antoni and his crutches won't make their debut until Sunday, meaning the Bernie Bickerstaff era will continue for one more day. And it's pretty important the interim coach go out on a high note. Given the early hole dug by the Lakers, every opportunity to make up lost ground must be seized. The Suns represent nothing if not a beatable opponent. Phoenix may boast a superior record (4-5) than the Lakers, but the Suns have beaten nobody above .500 and don't have a single player who would definitely crack the starting lineup for the purple and gold. Every winnable game L.A. cashes in is another step toward stabilizing the season.
For more insight on the Suns, we sent five questions to Michael Schwartz from
the True Hoop network's Valley of the Suns blog
. Below are his responses.
Land O' Lakers: Stylistically, what does the post-Steve Nash era look like? What are the primary differences and do any similarities remain?
Michael Schwartz
: This season the Suns are running aspects of the "Corner" offense that Timberwolves coach Rick Adelman popularized,
as Fox Sports Arizona's Randy Hill described in further depth.
That has been an easy adjustment for Suns like Goran Dragic, Luis Scola, Michael Beasley and Wesley Johnson, who played for Adelman in recent years. Dragic has been getting everybody involved with dribble penetration and probing for opportunities, and the Suns have run some offense through Scola and Beasley at times in the high post. The Suns still want to play fast, and rank fourth in pace, the highest since 2009-10.
A major difference is the lack of pick-and-roll opportunities. The Suns will still run it at times with Dragic and Gortat, but it's not the staple it used to be. Jared Dudley used to get open looks when defenses collapsed on the Nash pick-and-roll, so this could be one reason his numbers are down to start the year.
February, 19, 2012
2/19/12
7:40
AM PT
A full 48 hours won't have passed since these teams battled in L.A., which means by definition very little has changed. In theory, the Lakers remain the superior team, even on the road that's doubled as a purple-and-gold Achilles' heel. However, familiarity doesn't prevent items to watch for. Here are three.
1. Marcin Gortat, roll-man extraordinaire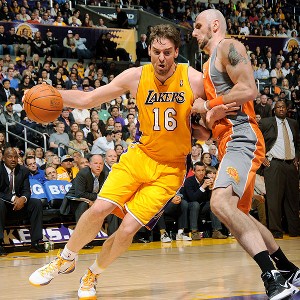 Andrew D. Bernstein/Getty Images
These two guys could play a big role in deciding Sunday's game.
Marcin Gortat
may not boast
Amare Stoudemire's
name recognition, but has nonetheless played at an All-Star level since arriving in Phoenix last season. Specifically, he's excelled in pick-and-roll sets, providing
Steve Nash
his best partner in crime since STAT bolted to the Big Apple. The Lakers experienced firsthand Friday how dangerous he can be working in tandem with the future Hall of Fame point guard. A nice chunk of his 21 points came while on the receiving end of a bounce feed from Nash, and I don't see why either would stray from what's buttered his bread.
Andrew Bynum
,
Pau Gasol
and
Troy Murphy
must take greater responsibility to monitor Gortat's whereabouts at all times. The Polish Hammer roaming free like an organic farm-raised chicken is a dangerous thing.
2. Pau Gasol's shooting prowess and focus
Gasol's accumulated
excellent February numbers
, but his shot has been noticeably off. The
Grammy trip featured three games at 45 percent or below
, and home cooking against Atlanta yielded a 9-for-22 effort. But such trends would theoretically be impervious to a date with the Suns. A bad defensive team by any standard, Phoenix is particularly vulnerable preventing shots
at the rim
or
10-15 feet
out, areas where
Pau is often deadliest
. Thus, it raises eyebrows to see him
go 4-for-13 from the field
, especially when the looks were often clean by his own admission. That his focus in general appeared scattered didn't help perceptions, either.
February, 17, 2012
2/17/12
7:08
AM PT

By Brian Kamenetzky
ESPNLosAngeles.com
Archive
Kobe Bryant
does not like the Suns. So strong is his distaste and so deep his competitive nature, it wouldn't surprise me to learn Bryant resents the sun itself. The actual, rises in the east, sets in the west sun, like some sort of hoops vampire.
In Phoenix's first visit this season to Staples Center,
Kobe dropped 48 points, shooting 18-of-31 from the floor
. Another crack at the team he loves to hate could be the perfect elixir for his mini-shooting slump. In seven February games, Bryant is shooting only 37 percent and has seen statistical decline in just about every category.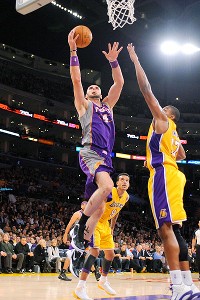 Noah Graham/Getty Images
If the Suns are going to win Friday night, they'll need a big game from the underrated Marcin Gortat.
Certainly the Suns are a ripe target, having lost three straight going into Staples for the first half of a weekend home-and-home. And with dates against Portland, Dallas and Oklahoma City on the docket this week, the Lakers would be wise not to let the Suns off the mat. To gain a little more insight into Friday's visitors, we hit up
Ryan Weisert of TrueHoop's Valley of the Suns.
1. The last time these teams met, the Lakers won in a walk. What has changed for the Suns since that day?
Weisert:
This is really a question of good news and bad news. The good news: Since that game against the Lakers,
Steve Nash
has taken on a larger scoring load and earned an All-Star spot.
Marcin Gortat
has recovered from his early-season thumb injury to become a legitimate low-post scorer and double-double machine. The bad news: The bench has not developed at all. None of the free-agent acquisitions have played well consistently, and coach
Alvin Gentry
has yet to find a reliable second unit. The Suns have lost 13 of their last 21 games primarily because they just aren't deep enough talent-wise to compete.
2. Gortat doesn't get a ton of publicity but has put up very solid numbers this season. Where does he rank among the league's crop of centers? How will he match up with Bynum in the middle?

Weisert:
Gortat is definitely a top-10 center in the league and has the ability to be top 5. He is clearly behind
Dwight Howard
, but I think he is in the same class as
Andrew Bynum
,
Al Jefferson
,
Greg Monroe
and
Marc Gasol
. As the Suns leave their run-and-gun style behind and commit more to their half-court offense, Gortat's scoring numbers and usage rate will increase and get him more recognition around the league. The matchup with Bynum should be a battle. Andrew's size and shot-blocking definitely give him an edge, but Marcin's ability to score with either hand and mobility on pick-and-rolls will make Bynum work hard on the defensive end.
January, 10, 2012
1/10/12
11:51
AM PT

By Brian Kamenetzky
ESPNLosAngeles.com
Archive
Steve Nash
insists he's
not asking for a trade now, and won't in the weeks ahead
. As long as he's still in Phoenix, the Suns will at least bear some resemblance to those truly high-end teams of years past.
Except any similarities aren't particularly meaningful anymore. Last year, Phoenix finished six games out of a playoff spot at 40-42, and in a highly competitive Western Conference this year's edition is again only a fringe contender for the postseason. They enter
Tuesday's game at Staples Center a .500 team
, and rising too far above that mark will likely be a tall order.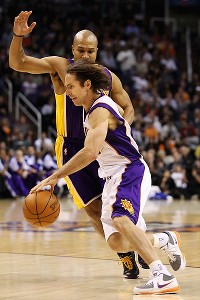 Christian Petersen/Getty Images
Steve Nash has recovered from early season bumps and bruises, and is playing well.
Rising to the level of an entertaining team? That's more manageable. Once again, it goes back to Nash. When he's right physically, he's still brilliant and the Suns can be fun to watch.
As of today, he appears to be right. To gain more insight into the two-time MVP and his teammates ahead of tonight's game,
we hit up Michael Schwartz of Valley of the Suns
, part of the TrueHoop network. (For my answers to his questions,
click here
.)
1. In the early going, the Suns have flipped their typical script. The offense has been pretty average, but the defense is in the top third in the league. What accounts for those numbers? Are they likely to stick?
Schwartz:
Well, the biggest reason is small sample size, as the Suns played well enough offensively last week to improve to 12th in offensive as well as defensive efficiency. In particular during their last two victories over Portland and Milwaukee the Suns raced out in transition, nailed jump shots and seemed to finally get their mojo back.
Before the Suns rediscovered their offensive rhythm, players pleaded that they were just missing shots they normally make.
Channing Frye
in particular knocked down just four of his first 23 3-pointers and then drilled all four on Sunday. Combined with
Steve Nash
playing hurt, the Suns transformed into an anemic offensive crew.
I still don't think they are as good as the Suns offenses of yesteryear that annually led the league in efficiency being that they are without a go-to scorer and rely so much on Nash, but there's no reason to think this isn't a top-10 offense.
The Suns hired
Elston Turner
to be their defensive coordinator and thus far he has made a difference with a defense that features more ball pressure and traps than the Suns have used in the past,
as my colleague Mike Schmitz explains
, with the ultimate goal being to force contested mid-range jumpers. I see the defense eventually drifting to the middle of the pack.
2. How has former Laker Shannon Brown fit in? What is his role with the Suns?
MS:
It's been a bit of a struggle to become accustomed to the Suns' more open system, where he's not only allowed but required to shoot the ball whenever he has an opening. He's compared it to going back to his pre-NBA days when he felt he could score without even thinking about it.
March, 22, 2011
3/22/11
1:27
PM PT
One more game remaining before the Lakers can return to the normalcy that is
Andrew Bynum
patrolling the lane and wreaking havoc.
Sunday's win over the Blazers
-- not to mention the first few months of the season -- made it perfectly clear that victories without the big lug are possible . . . but the mission becomes a heckuva lot harder.
Tonight's contest against the Phoenix Suns should, in theory, be an easier go sans Drew. The Suns aren't as good an overall team as the Blazers, nor do they offer a big man on the level of
LaMarcus Aldridge
. Assuming the Lakers do a reasonably credible job making
Steve Nash
work and
the Suns can't replicate seminal moments in franchise history
, the driver's seat belongs to the hosts. Still, there's an onus to drive the car responsibly and sensibly.
For heightened perspective on the Suns, we ran down
Michael Schwartz
from
Valley of the Suns
(True Hoop network). Here are a few of his insights:
K Bros:
Looking at the stats upon arrival,
Marcin Gortat
has been eating up
Robin Lopez's
minutes while playing off the bench, and has also been putting up some nice numbers. How well has he been fitting in and how much, if at all, has his presence changed Phoenix's style of play or effectiveness?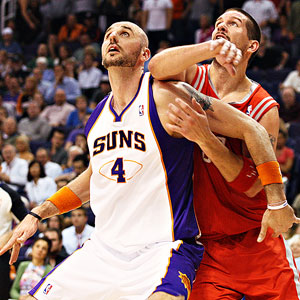 Jake Roth/US Presswire
Gortat wasted no time becoming the Suns' best rebounder.
Michael Schwartz:
First off, Gortat is the starter in every aspect except for the fact that Robin Lopez gets his name announced before tipoff. Gentry just likes the way his rotation lines up with Lopez playing the first six minutes, but Gortat plays in crunch time and has been logging over 30 minutes a game the past few months.
Gortat is a fantastic fit for this team because he's a mobile big man whose biggest offensive strength is playing pick-and-roll basketball, which obviously works fairly well with the Suns' veteran point guard. When the Magic rolled into town the other day, Stan Van Gundy said he isn't surprised one bit about Gortat's success because this is the perfect system for him, something Gortat has discussed as well. Aside from some flashes from Hakim Warrick early in the year the Suns really struggled to replace what Amare gave them as a roll man before Gortat arrived, and although Marcin obviously isn't a roll man on Amare's level he has still been very effective.
In that way he really hasn't changed their style because his strengths fit what the Suns have been doing for years, but he's changed the Suns most on the glass. Before he arrived the Suns were a team of mediocre to bad rebounders, and now he gives them at least one player who can hold his own on the backboards every night.
March, 21, 2011
3/21/11
12:55
PM PT
The post-All-Star victory train, she continues chugging along. Here's a look at the next three scheduled stops.
Game of the Week
Sunday vs. Hornets, 6:30 pm
This contest doubles as the best competition the Lakers will face and,
should the standings hold, a preview of their first round matchup
. As we discussed in
the most recent podcast
, among the potential candidates (the Blazers, the Grizzlies and potentially the Nuggets), N'Awlins strikes me as the most ideal draw for L.A. In nearly every facet, the Lakers have them bested.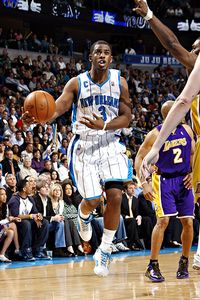 Layne Murdoch/Getty Images
CP3 would have his work cut out for him carrying a playoff upset against the Lakers.
-
David West
is an All-Star caliber power forward, but
Pau Gasol
is an actual All-Star and more accomplished. In their last meeting, El Spaniard
matched West bucket for bucket in a first half shoot-out before eventually getting his adversary into foul trouble
. Skilled as he may be, over the course of an entire series, Gasol's superior size -- much less the skill set -- should be too much for West to handle.
-
Emeka Okafor
is solid rim protector and rebiunder, but nowhere near
Andrew Bynum's
class. And once you factor in respective capabilities with the ball in their hands, the matchup grows quite lopsided.
- Newly acquired
Carl Landry
provides an oasis for a bench previously bone dry of scoring options, and he's given the Lakers fits in the past. But in a battle of sixth men, wouldn't you rather have
Lamar Odom
?
-
Trevor Ariza
plays quality defense, but doesn't change the entire tenor of games the way
Ron Artest
can. And in the meantime,
his work offensively -- 38.6 percent from the field. 29.5 from behind the arc
-- has been disastrous. (For those still trumpeting the 2009 Finals to perpetuate the myth of Ariza being a great shooter, it's time to let go.) Ron-Ron may be a blocked layup waiting to happen, but if nothing else, he takes fewer shots and drains more.
And so on and so forth...
At the end of the day, the Hornets live and die by
Chris Paul
, and as great as CP3 is, it's hard to imagine him carrying 4-7 victories against the Lakers. (Yes,
D.J. Mbenga
knows the defending champs inside and out, but even that ace in the hole may not be enough to tip the scales.) With the season series 3-0 in the Lakers' favor, New Orleans has one more chance to disprove my calm nerves towards a postseason showdown.
January, 5, 2011
1/05/11
12:48
PM PT
Neither BK nor I are totally up with the new look Phoenix Suns, but in fairness, neither are the Lakers. Those players we asked last night hadn't got much of a glimpse of Phoenix in the "
J.Rich/Hedo
out-
V.C./Gortat/Pietrus
in" era. After all, the newbies have only been eligible to play in five games, and Carter missed the first two of them with a bad knee.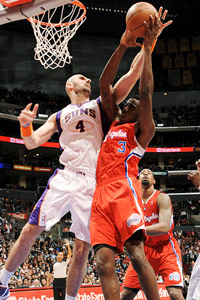 Andrew D. Bernstein/NBAE/Getty Images
Marcin Gortat has done a nice job fitting in on both sides of the ball in Phoenix.
Thus, I thought it was best to get the skinny from someone deep in the know. True Hoop blogger
Michael Schwartz
(
Valley of the Suns
) certainly fits the bill. Check out his take on the newest phase of what feels like a non-stop transition:
Andy Kamenetzky:
What's your impression of the new additions so far?
Michael Schwartz:
Individually they've been about what the Suns expected.
Vince Carter
has largely replaced
Jason Richardson
's scoring by averaging 18.0 points per game, although he's shooting just 42.6 percent from the field and has certainly lost a step or two.
Marcin Gortat
has gotten the bulk of the minutes at the center position coming off the bench and has proved to be the Suns' best big man, averaging 9.6 points and 5.8 boards per game while adding a defensive presence in the middle. He has showcased his athleticism in the pick-and-roll game and played better post defense than we're traditionally used to in Phoenix.
Mickael Pietrus
has contributed quality perimeter defense and his sniper shooting behind the arc (like when he hit five treys and scored 25 points against the Clippers), but he shot the Suns out of Sunday's loss to Sacramento by taking some bad attempts late.
They are fitting in just fine as individuals, but that chemistry just isn't there yet as a team. We have seen cutters zig when the passer think they will zag, which leads to turnovers. We have seen some forced shots from the newcomers that seem to be out of their comfort zone as they adjust to the new-found freedom in
Alvin Gentry
's system. And we have seen an overall lack of cohesiveness that's a stark contrast to the Suns team from a year ago.