Los Angeles Lakers:

Marcus Smart
June, 24, 2014
Jun 24
6:50
PM PT
With no head coach to run the team and up to 12 open roster spots to be filled for next season, there is very little that's settled about the
Los Angeles Lakers
as they head into this week's NBA draft.
The one position they have covered to some extent is the backcourt, with two future Hall of Famers in
Kobe Bryant
and
Steve Nash
under contract with L.A. to embark on their 19th seasons in the league.
The pair played only a combined 21 games last season, however, and with the uncertainty surrounding their health, plus the competition at guard in the Western Conference, going after a guard in the draft makes a lot of sense for the Lakers.
During a nine-game stretch from late February through early March of last season, the Lakers faced Memphis'
Mike Conley
, Sacramento's
Isaiah Thomas
, Portland's
Damian Lillard
, New Orleans'
Eric Gordon
, the L.A. Clippers'
Chris Paul
, Denver's
Ty Lawson
, followed by back-to-back games against Oklahoma City's
Russell Westbrook
and another two-game set against San Antonio's
Tony Parker
.
It's a brutal league, quite simply, if you don't have the right personnel.
Here's a look at seven guard prospects the Lakers could end up targeting with the No. 7 pick in the draft:
Dante Exum
6-6, 196 pounds | 18 years old| Australia

[+] Enlarge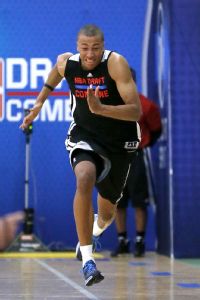 AP Photo/Charles Rex ArbogastDante Exum is unlike many players in the NBA now, but the chances of the Lakers being able to pick him are remote.
The Lakers' interest in Exum was one of the worst-kept secrets in the league in the months leading up to the draft. Fellow Aussie
Luc Longley
, who is an assistant coach on the national team, leaked the news all the way back in January that the Lakers had inquired about the point guard. The fact Exum signed with Rob Pelinka as his agent -- who also represents Kobe, as well as
Chris Kaman
and
Wesley Johnson
-- only fueled speculation that both sides were trying to find a way to land him in L.A.
Exum burst onto the scene after averaging 18.2 points and 3.8 assists at the 2013 FIBA Under-19 World Championship in Prague last summer.
"I've only known of him for the last three years, probably," said San Antonio's
Aron Baynes
, a teammate of Exum's on the Australian national team. "That's about as much as I've known him, but even in the last three years, his development [has] just been huge. I'm excited to see where he goes and even more excited to play with him over the summer and see what he can bring to the table for not only the national team, but for Australian basketball over here in the states."
Baynes struggled to think of a player currently in the NBA that Exum could be accurately compared to.
"He's a big point guard," Baynes said. "He's a smooth player, but I wouldn't really say anyone right now that plays similar to what he does. That's what makes him so interesting. He brings a different dimension to the point guard role."
San Antonio's
Patty Mills
, another Australian, also chimed in on Exum.
"From what I've seen last year playing with him on the national team, he's got huge potential," Mills said. "I think he's going to have a big impact here in the NBA and obviously for us on the national team, so I'm really excited for him and wish him all the best."
Mills broke down Exum's game.
"He's very long," Mills said. "He shoots the ball well. He's athletic. He can handle it very well as well, but his height and his athleticism lets him get to the rim with ease no matter who is guarding him.
"I think he obviously still has a lot of years to fill into his body and once he does that, he'll be tough."
Chance he'll be available:
Next to none. Exum is slated to go No. 3 to Philadelphia in Chad Ford's latest Mock Draft 10 for ESPN.com. The Lakers would have to move up in the draft to try to land him and they just don't have enough assets to pair with their pick to make that a feasible scenario.
June, 20, 2014
Jun 20
7:43
PM PT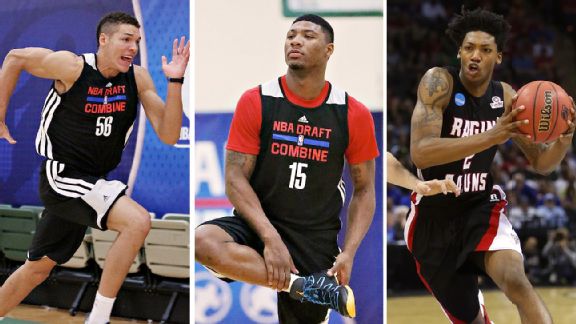 Getty ImagesThe Lakers will have extra homework now that the uncertainty of Joel Embiid's health status might improve the draft positioning of prospects Aaron Gordon, from left, Marcus Smart and Elfrid Payton.
EL SEGUNDO, Calif. -- The
Los Angeles Lakers
held another predraft workout with six prospects on Friday, but it was the health of a seventh prospect -- Kansas center
Joel Embiid
-- that had everybody talking.
Embiid, presumed to be the No. 1 pick for weeks after successfully recovering from a stress fracture in his back that cut his freshman season short, underwent surgery for another stress fracture in his right foot on Friday. Now the
Cleveland Cavaliers
' plan at the top of the draft is anybody's guess.
"I think it makes it a little bit less predictable," said Arizona's
Aaron Gordon
, brought in for a second workout with the Lakers, along with Oklahoma State's
Marcus Smart
and Louisiana-Lafayette's
Elfrid Payton
.
The trickle-down process already had begun, with Smart rushing out of the Lakers' practice facility after the workout to catch a flight to Philadelphia to show his stuff for the
76ers
. The Sixers have the No. 3 pick and seemingly had been high on
Andrew Wiggins
at that spot. But now that Wiggins could go No. 1 to Cleveland with Embiid's injury potentially scaring the Cavs off, a whole host of possibilities are in play.
Smart isn't the only one who could see his draft stock skyrocket with Embiid falling because of his foot. Gordon said there was "speculation" he could be heading to Philly to work out prior to next Thursday's draft, as well.
Regardless of what happens with the six picks prior to L.A.'s selection on draft night, there's a reason the Lakers brought in the group they did on Friday, which also included Michigan guard
Nik Stauskas
, former North Carolina turned D-League prospect
P.J. Hairston
and South Carolina State big man
Matthew Hezekiah
.
"Another great group of guys. So, the competitive level was at a high," Smart said. He only has gone through two workouts with one other team, the
Orlando Magic
, which have the No. 4 pick.
While Gordon and Smart were considered to be top-10 talents ever since the lottery order was revealed last month, Payton has shot up the charts because of strong predraft workouts. He even secured an invite to the green room at the draft next week, which the league usually only extends to prospects it expects will go in the first 10 to 15 picks.
June, 5, 2014
Jun 5
3:05
PM PT
The Lakers' first predraft workout was a veritable bonanza. Despite holding just one pick in the draft at No. 7, L.A.
brought in a dozen prospects
for evaluation.
It was a mixed group. There were five one-and-done freshmen (Arizona's
Aaron Gordon
, Indiana's
Noah Vonleh
, UCLA's
Zach LaVine
, Syracuse's
Tyler Ennis
and Kentucky's
James Young
). There were four seniors (Creighton's
Doug McDermott
, Weber State's
Davion Berry
, Nevada's Jerry Evans and Pepperdine's
Brendan Lane
). There were three in-between (Oklahoma State sophomore
Marcus Smart
, Michigan State sophomore
Gary Harris
and Louisiana-Lafayette's
Elfrid Payton
). Seven were back-court players, five were were front-court players. They came from conferences as big as the ACC and as small as the WCC.
And they all had a story to tell of how they got here, on the precipice of realizing their NBA dream.
Below is a sampling of how the prospects answered the barrage of questions they faced from the media on Wednesday.
Q: Which current NBA player are you compared to the most?
[+] Enlarge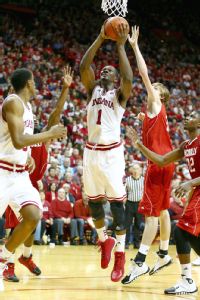 Andy Lyons/Getty ImagesIndiana's Noah Vonleh was one of several draft-eligible players to work out for the Lakers.
Noah Vonleh, F/C, Indiana:
"I hear a lot of comparisons of like
Chris Bosh
,
LaMarcus Aldridge
. I see some similarities, but I think I do some things different."
Gary Harris, SG, Michigan State:
"Recently I heard the comparisons to
Bradley Beal
. Just what he did for the Wizards is just somebody in that type of mold that a lot of people have been saying."
Doug McDermott, SF, Creighton:
"It's a tough comparison, but I think guys like (
Kyle) Korver
, I'm really good at coming off screens. I'm a great shooter. I watch a lot of
Ray Allen
. Guys like that, I feel like I can really find a role in this league and be able to maximize that."
Elfrid Payton, PG, Lousiana-Lafayette:
"I've been compared to (
Rajon) Rondo
,
Tony Parker
.
Chris Paul
how he kind of picks his spots, things like that, throughout the game. Those are a few I look up to."
Q: What are you trying to showcase during predraft workouts?
Aaron Gordon, F, Arizona:
"Just the versatility. I can guard a plethora of different positions."
Tyler Ennis, PG, Syracuse:
"I tried to go out there and show I could defend another point guard, another top point guard, especially. I tried to shoot the ball and stick to my game. Making plays for others, seeing the floor and I think I was able to show that a little bit in the 2-on-2 and the 3-on-3 as well."
Zach LaVine, PG, UCLA:
"I feel like I have all the tools to be a great defender at the 1 position. I have the speed, the quickness. I have to get stronger, of course. But learning how to read the picks -- going over or under them -- different type of defenses, off-ball defense as well. I'm willing to do anything a team needs to me to do. If they want me to go out there and just play straight defense, try to lock somebody up, I'll do that. If they need me to be a cheerleader on the bench, I'll do that. If they need me to run the team, I'll do that as well. So, I'm going in to win a spot, I'm going in to play. But whatever happens, I'm going in to compete and have fun."
Marcus Smart, PG, Oklahoma State:
"I'm a playmaker. Not just on offense, but on defense. I'm a playmaker on both sides. That's what makes me. I can shape a game on both ends."
James Young, SG, Kentucky:
"That I can attack the basket. I didn't do it a lot this season but I definitely try doing that every workout and just try showing people I can attack the basket."
Harris:
"I just say my will to compete on both ends of the court. I'm going to give my all no matter what."
Vonleh:
"Trying to show my versatility. Showing I can take guys off the dribble, I can finish above the rim, go to work in the post when I have a smaller guy on me. Just really show my versatility and show how I can rebound the ball."
Payton:
"Getting into the paint. I like to live in the paint. I think it helps me and my teammates. If somebody steps up, I can drop it down. If somebody helps over, I can kick it to a shooter. And I think I have the ability to finish at the rim myself. So that's kind of how my game is predicated."
Q: What's it like working out for an organization with as much history as the Lakers have?
Vonleh:
"When I think of the Lakers, I think of a championship program. They didn't have a good season the last couple years, but I think if they get the right pieces, they can definitely get back to that championship level."
Ennis:
"The Lakers haven't had a lottery pick in a long time so to be able to come in and work out here with this group is something I'll remember forever."
LaVine:
"I'm incredibly happy. I'm definitely keeping these (practice) jerseys right here. I might wear the shorts a lot, show everybody. I've always been a Laker fan growing up, ever since I was younger, I've lived and died with them. From Nick Van Exel and Eddie Jones, to when
Kobe (Bryant
) came in to where Kobe and them had that losing streak and then didn't go to the playoffs (in 2005) to where they're at now, I know everything about the Lakers."
Smart:
"It's crazy. It's a great feeling. Not many people can say that they've been in the Staples Center or (the Toyota Sports Center) to see those (retired) jerseys in person. So, like I told everybody, it's an honor to be here. I'm excited and I'm blessed."
McDermott:
"It's pretty crazy, man. This is a dream come true. It's my first workout so, I was a little nervous to start. Especially it being the Lakers as your first one, but it went really well and it's just a privilege to be here."
Gordon:
"I went up and asked somebody, 'Are those (championship trophies) real?' They're like, 'Yeah, yeah. Everything is real around here.' So I thought it was pretty interesting. It was pretty cool. Obviously L.A. is a very traditional program and it would be amazing to play here, but like I said, I'm just excited to get picked for any team."
Young:
"It would mean a lot. I would love to play out here. Great offensive guys and I would love to be out here in L.A."
Q: What about the chance to play with Kobe Bryant?
Ennis:
"I think everybody was (a Bryant fan growing up). You got to respect Kobe, definitely. I think to be able to work out alongside him and as a young player see him and how hard he works, I think that would help anybody, regardless of what position. I think work ethic is contagious and not just to have him,
Steve Nash
and all the guys, I think you have no reason not to get better."
LaVine:
"It's Kobe Bryant, man. I love his attitude. I love his work ethic. His killer demeanor. I looked up to him and
Michael Jordan
my whole life. I feel like a lot of people have. It would be a dream come true."
Gordon:
"Kobe is psychotic about basketball and I am, too. That would just be absolutely incredible. Just playing with someone great. Just the little intracacies of the game. The details. I would love to see his work ethic. Kobe is the definition of a true pro, as well as Steve Nash is too. Just being around those two guys would help me tremendously."
Q: What do you still need to work on?
McDermott:
"I think at the NBA (level), I have to be a lot bigger. I'm not going to grow any more so you definitely have to hit the weight room hard and that will allow me to guard a 4 at times. But you know, I played it in college. I guarded a lot of strong guys. So I think I can adjust once I get a little stronger, but as of now, I'm going to have to guard the 3, possibly some 2s, and I think I can do it."
Smart:
"I'm still working on becoming a more consistent shooter. My jump shot is getting better day by day and it's improved drastically. But I'm still working on it."
Harris:
"Everything. Being more consistent with my shot. Working on my ball handling. Working on my decision-making skills. Just improving my all-around game, just trying to get better to just prepare myself for the next level."
LaVine:
"I've just been working on my reads off the pick-and-roll, if it's an (isolation play), go down, looking at the tag defender. If it's a zone defense, split the screen with the right pass to make. Just getting a feel for it. I pretty much didn't handle the ball that much this last year, so just getting all my ball handling and my vision back. And running a team is the most important part. Making the right decisions."
BEST OF THE REST
While the group of players were asked many of the same questions, there were some unique questions and answers that were either revealing, entertaining or both.
Ennis on how the workout went:
"I think we all came out here and showed what we can do. It's going to be a tough pick for them."
LaVine on his late-season struggles with the Bruins:
"It's a long season. You have ups and downs. I started off the season really hot, shooting about 60 percent from the 3 and 70 percent from the field and that's not going to happen as a regular basketball player throughout your whole season. You know that. It's like a baseball player who is hitting .700. You're going to come down to earth eventually and you just keep rolling from there."
Harris on the difference between the NCAA and the NBA:
"I've talked to a lot of guys and they just said the strength and the pace of it. They say it may not look like it's going fast from the stands or TV, but it actually goes pretty fast and things happen quickly. Just getting adjusted. Everybody has that adjustment level right when they get to college and there's going to be an adjustment level going into the NBA."
Smart on Lakers fans reaching out on social media:
"I'm on Twitter every day. It's crazy how many fans the Lakers have. They're excited. They keep saying, "Lakers ... Marcus Smart. Lakers ... We need him here. Laker Land this. Laker Land that. We need Marcus in Laker Land." So, it's been an exciting process for me altogether."
McDermott on being a senior among so many freshman prospects:
"It's pretty crazy. I couldn't imagine being 19, 18 some of these guys, going through this process. I feel like I'm still a young guy, but I'm three years older than them. So it's pretty crazy. I like to give guys like that advice, too. Obviously these are all good guys and they're all open to listen to older guys."
Payton on playing with a chip on his shoulder because he comes from a small school:
"It's a little chip. You're always supposed to have a chip on your shoulder. I always play with a chip on my shoulder, but none of us are no longer in school anymore so we're all on the same level field."
Young on if John Calipari will leave UK for the Lakers:
"I feel like he'll stay there. He's doing great there and he's just doing great for the program."
Gordon on what makes him tick:
"What makes me tick? I don't know man. I did a workout before this. This wasn't my first workout of the day."
July, 7, 2013
7/07/13
7:01
PM PT
Los Angeles Lakers
fans, brace yourselves.
You're about to experience the basketball equivalent of the well-known lyrics of frequent courtside seat holder, Tom Petty:
"The waiting is the hardest part."
[+] Enlarge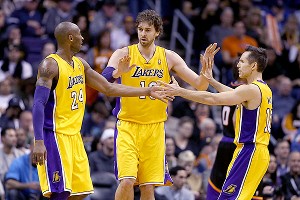 Mark J. Rebilas/USA TODAY Sports
They'll all be in this thing together ... at least for the 2013-14 season. Then Kobe Bryant, Pau Gasol, Steve Nash and the Lakers will be in for big changes next summer.
For a team that has won 16 championships and made it to the NBA Finals 31 times (in a league that's only been around 67 years, meaning that just about one out of every two seasons, L.A. is within four wins or less of the title), giving up on championship aspirations before training camp even opens up seems sacrilege.
But with
Dwight Howard
choosing to go to the
Houston Rockets
and L.A. now sporting an aging roster without the best big man in the game to make up for it, the 2013-14 season is destined to be nothing more than a holding pattern for the Lakers.
All is not lost, however.
The upside is that next summer promises to be a pivotal time in the franchise's history. And if everything goes according to plan, the Lakers should be able to eventually vault themselves right back on a championship trajectory.
Before we get to the summer of 2014, let's look at what the Lakers have in store for themselves in the immediate aftermath of Howard's decision.
Outside of filling out their roster with the limited free-agent tools they have at their disposal (the mini mid-level exception of $3.2 million, as well as veteran minimum deals), the Lakers' front office brass of general manager Mitch Kupchak and vice president of player personnel Jim Buss must figure out what to do with the players they currently have under contract.
A source familiar with the Lakers' thinking told ESPNLosAngeles.com's Ramona Shelburne
they will not use their one-time amnesty provision on
Pau Gasol
during the July 10-16 window when the league allows teams to waive one player they signed prior to December 2011 without that money owed counting against their salary cap.
With Gasol back in the fold to slide over to center in Howard's absence, that means the Lakers will most likely amnesty
Metta World Peace
.
While World Peace enjoyed a resurgent season last year, he is coming off minor knee surgery and waiving him would save the Lakers close to $25 million in salary and luxury tax fees.
With World Peace let go the question is, will a core team of
Kobe Bryant
(coming off Achilles surgery), Gasol,
Steve Nash
,
Steve Blake
,
Jodie Meeks
and
Jordan Hill
even be competitive?
Say Bryant is out until Christmas while his left leg recovers:
Will the Lakers be 10 games under .500 at that point without him? And if they are, would it be better to try to make a run for a low playoff seed at that point or simply join in the "Tank for
Andrew Wiggins
" movement that several teams -- the
Philadelphia 76ers
,
Boston Celtics
and
Toronto Raptors
among them -- already seem to be primed to do in order to increase their odds of drafting the University of Kansas phenom?
The Lakers would never admit it, but bottoming out next season could be the best thing for the franchise in the long run.
As L.A. sent away future first-round draft picks last summer in order to acquire Howard and Nash, they were sure to hang onto their first-rounder in 2014. Wiggins is considered a generational talent along the lines of Shaquille O'Neal and
LeBron James
. But even if L.A. doesn't end up with the No. 1 pick to land Wiggins, Duke's
Jabari Parker
and Oklahoma State's
Marcus Smart
are considered can't-miss prospects, as well.
Maybe the Bryant-Nash-Gasol-led Lakers are still good enough to make the playoffs and maybe Bryant comes back sooner rather than later. That might take them out of the running for Wiggins & Co. But L.A. also has positioned itself to go after the league's marquee free agents next summer, by carefully coordinating when it would have cap space open up.
Every player but Nash comes off the Lakers' books after the 2013-14 season. Which means that should Bryant negotiate an extension at a discounted rate (think $10 million range), L.A. would be able to pursue not one, but two max-level free agents and immediately be in the hunt again.
It might seem like a pipe dream, but would you doubt the Lakers' championship chances if they got Bryant and Gasol to come back on the cheap and were able to lure the likes of James, plus
Carmelo Anthony
or
Dwyane Wade
or
Chris Bosh
or
DeMarcus Cousins
or
Paul George
?
However, just like the Lakers' first-rounder in 2014 won't guarantee them a top-three pick if they miss the playoffs, having all that cap space doesn't guarantee a shot at any of these players. Some of them, most notably James and Anthony, would have to exercise an early termination option on their current contracts to hit the market. Others like Cousins and George (you can throw Washington's
John Wall
into the mix, too) will be restricted free agents, so something would have to go south in their current situations for their respective teams not to match any max offer that came their way.
"Should Dwight leave, we'll have a Plan B," Kupchak said the night of the draft, about a week before L.A. learned Howard would indeed be bolting for the Rockets. "It's not going to be as good as Plan A. But we do have a plan that goes beyond one year."
"It is a system. It's not like there are no rules in the NBA," he said. "There is a system that is in place that provides the team that does the worst [to get] the best picks. If you have good teams with good players, then the players have to be paid well. That puts you into an environment where you don't have free-agent money and you can't use exceptions. It's hard to replenish that team.
"At the same time, the players get older. It's a natural cycle that you have to live with, but you plan the best for opportunities. That's not to say there won't be a two- or three-year [rebuilding] period like there was in the early '90s. But if there was, we feel like it would be short-lived."
It could be as short-lived as one year's championship chances all but forgotten even before the season had tipped off.
Then all of the waiting could pay off big in the summer of 2014.