Los Angeles Lakers:

Mark Bartelstein
August, 3, 2011
8/03/11
10:58
PM PT
ESPNLA.com's Dave McMenamin has the news:
"...[Trey] Johnson, a late-season call-up by the Lakers from the D-League last year, signed a one-year deal with Teramo Basket of the Italian League on Wednesday. Johnson's agent, Mark Bartelstein, told ESPNLosAngeles.com that his client's contract does not include an opt-out clause to return to the NBA should the lockout be resolved in time for the league to hold all or part of the 2011-12 season..."
Johnson lit up the D-League last season, averaging 25.5 points and 4.5 assists a night, and impressed L.A.'s former coaching staff both in training camp and through his late season cup of coffee. He's a hard-working kid who probably deserves a shot to stick in the league. He's also incredibly smart to take a guaranteed deal with a solid team in an appealing location. It's one thing for
Deron Williams
to ink a deal with Besiktas in Turkey, or
Jordan Farmar to sign in Isreal
, both with opt-out clause. Johnson is a guy with absolutely no guarantee of making the Lakers or any other roster heading into an NBA season that, quite frankly, may not take place.
Waiting around does him no good, and an opt-out isn't a luxury he can necessarily demand. While we spend a lot of time (for obvious reasons) looking at where the big stars might go, it's the dudes at the other end of the food chain likely to jump at the first-and/or-best available opportunity abroad.
Player to player, the impact on the season, assuming it happens, is minimal. Still, if enough of the Trey Johnson/
Sonny Weems
/
Sasha Vujacic's
of the world head overseas, at least in theory it could drive up the demand, and therefore the price by a few bucks, on other players who might otherwise have been available for the league minimum. If so, that could be problematic for cap strapped teams like the Lakers, hoping to fill as many holes as possible with limited funds.
August, 5, 2010
8/05/10
12:21
PM PT
Jerry Buss
is keeping the band together.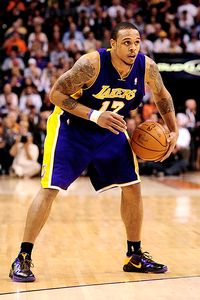 Mark J. Rebilas
Shannon Brown has decided to stay in L.A. and go for a third ring.
Thursday morning,
Shannon Brown's
agent
Mark Bartelstein
confirmed the Lakers and Brown agreed to a two-year deal worth $4.6 million
, reports ESPNLA.com's Ramona Shelburne. The second year is a player option, meaning if Brown has a successful '10-'11 campaign, we'll all likely be back in this position again next summer (potential lockout notwithstanding).
It's obviously very good news for the Lakers, who retain athleticism in the backcourt and bolster their depth behind
Kobe Bryant
at the two. With Brown back,
Sasha Vujacic
no longer serves as Kobe's primary backup, and Brown's presence gives
Phil Jackson
more ways to utilize Bryant's effectiveness lining up at small forward.
Andy will have more on the significance later in the afternoon, but no question fans have reason to smile. Brown's return, combined with the additions of
Steve Blake
,
Matt Barnes
,
Theo Ratliff
and potentially useful second-rounders
Devin Ebanks
and
Derrick Caracter
mean the Lakers should start next season having turned a questionable bench into a strength.
The Knicks reportedly
offered Brown a deal worth more for next season, but without a second year
. Without long-term security, there was less incentive for Brown to jump east. He could have found more PT there, but at the same time it's hard to believe he'll play less than the career high 20.7 minutes a night Brown logged last year. The Lakers didn't bring Brown back to tether him to the bench. Kudos to
Mitch Kupchak
for continuing to stay in touch with Brown's team, and also showing great patience with the process, something becoming a staple of negotiations in El Segundo.
June, 28, 2010
6/28/10
9:19
PM PT
A couple pieces of news potentially important to the Lakers: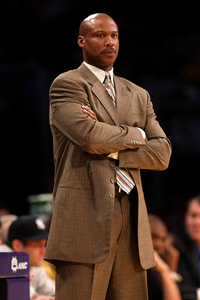 Stephen Dunn/Getty Images
The Cavaliers are very, very interested in Byron Scott and Brian Shaw. Scott says he won't wait on Phil Jackson to make his call, should Cleveland make an offer.
First, Marc Spears of Yahoo! Sports reports on the courting of
Byron Scott
and
Brian Shaw
by the Cleveland Cavaliers for their head coaching vacancy. Scott tells Spears he
won't wait around on Phil Jackson to decide his future, or for the Lakers to make a choice should Jackson retire, nor is he waiting on LeBron James
to pick a destination.
"That ain't me," he says. "I'm not waiting on anybody."
Scott goes on to say he'd take the Cleveland job whether LeBron returns or not. The Cavaliers
reportedly would like to have an offer out to either Shaw or Scott by Thursday
, meaning it'll likely come before Jackson makes his decision, at least if P.J. sticks to the
timetable he laid out last week
. That the Cavs would want to stay ahead of Jackson makes sense, since it gives them the best chance of landing their preferred candidate... I'm inclined to think both Shaw and Scott would give themselves 48 hours to kick around the offer, which could be enough to get definitive news on Jackson.