Los Angeles Lakers:

Marquis Daniels
June, 28, 2010
6/28/10
1:07
PM PT

By Andy Kamenetzky
ESPNLosAngeles.com
Archive
They may call it "free" agency, but make no mistake, it is a matter centered entirely around dollars. Teams either have a ton of cap space and/or a willingness to spend it or they've got bupkis. The Lakers are behind door number two. With their payroll high, and with only the mid-level exception and veteran's minimum at their disposal, the odds of a big splash via free agency are long.
They will, however, need to be active on some level.
There are currently seven players (
Ron Artest
,
Kobe Bryant
,
Andrew Bynum
,
Pau Gasol
,
Lamar Odom
,
Sasha Vujacic
,
and Luke Walton
) under contract. Though, for all intents and purposes, it might as well be eight, considering
Derek Fisher's obvious desire to stick around
and
Mitch Kupchak
continually referencing Fish in future plans.
The remaining free agents, however, strike me as anywhere from "decent odds of returning" (
Shannon Brown
) to "iffy"
(Josh Powell)
to "unlikely" (
D.J. Mbenga,
Adam Morrison
) to "I'm pretty sure I saw a U-Haul attached to his car as he left El Segundo" (
Jordan Farmar
).
Devin Ebanks
might have a
better than average shot of sticking
, but won't be counted on to provide championship-caliber depth.
The Lakers' biggest needs this offseason are point guard depth, outside shooting and reserve bigs.
Mitch Kupchak cited the backcourt as the top priority
, and I concur. Thus, I'll begin with ones and twos rumored to be on the radar or considered realistic, interesting options. The list, a tier above "we're getting all minimum priced guys, so deal with it," won't blow minds, but does include players potentially capable of lending a hand.
As a guide, I've omitted restricted free agents, as those worth pursuing (
J.J. Redick, Anthony Morrow, CJ Watson,
etc.) will be out of the Lakers' price range. Cockamamie schemes where
Joe Johnson
or
Dwyane Wade
get talked into a sixth man role for mid-level money and a ring were left to another blog. Sign-and-trades, rare and typically complicated, got stiff-armed as well. The quality of each signing is always rated with the assumption of a reasonable price tag and contract length, since a deal is unlikely under any other circumstances.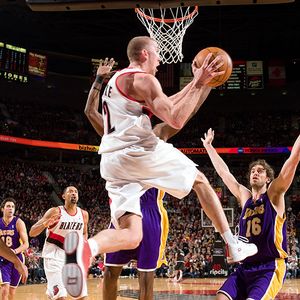 Sam Forencich/NBAE via Getty Images
Steve Blake should have made a good impression
on the Lakers in their last meeting.
STEVE BLAKE
POSITIVES:
Very good from downtown. Distributes the ball nicely. Can score, but isn't married to the concept. Scrappy. I've heard at least one scout label Blake's defensive ability better than its reputation. He notched a triple-double against the Lakers during the final regular season game, which is certainly a nice audition.
NEGATIVES:
More of a luxury backup than a truly ideal starter, he doesn't necessarily solve point guard issues down the road. If you aren't amused by my observation Blake looks like your typical Fresno tweaker, think how unamused you'll be hearing it 30-50 times per season.
On a scale of 1-10, this signing is a... 9.
There may be no single player more (potentially) affordable and capable of addressing multiple needs by himself.