Los Angeles Lakers:

Matt Bonner
April, 20, 2012
4/20/12
9:34
AM PT

By Andy Kamenetzky
ESPNLosAngeles.com
Archive
I had looked forward to these three April games between the Lakers and Spurs with great anticipation. I thought they'd be an instructive gauge of the prospects of a deep playoff run for the Lakers. But the results so far have been anticlimactic. Two games with blowout scores in either direction. And both played without
Kobe Bryant
.
Tonight, however, might buck this disappointing trend.
Kobe's set to hit the hardwood after a seven-game absence
, putting both teams at full strength. A win for the Lakers creates even more space between them and the Clippers for the Pacific Division title. And despite apparent indifference toward the one-seed, I imagine the Spurs would enjoy the psychological advantage of two wins over L.A. should these teams meet in the postseason. Stakes are in play, and I expect to see both teams working hard for a win.
To preview this game, I had an IM conversation with
Timothy Varner
from the True Hoop network's 48 Minutes of Hell blog. Below is the transcript.

Timothy Varner:
During our last chat,
the subject was whether the Spurs could contain Andrew Bynum
. I think we have to ask whether the Lakers can contain
Tony Parker
?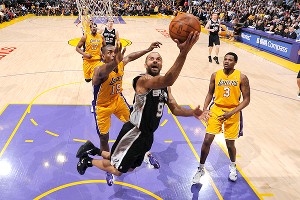 Andrew D. Bernstein/Getty Images
No Laker was able to slow Parker when last these teams met.
Andy Kamenetzky:
I think the Lakers can do a better job. Obviously, Parker is an elite point guard and a handful for every team. But he can't be allowed to become such a devastating scorer and facilitator. 29 points is okay. 13 assists is okay. Both stats aren't. The Lakers need to do a better job forcing the ball out of Parker's hands. Hard traps, hedges and doubles to make him give up the rock, then defend him so it's harder to get the ball back. Also,
Ramon Sessions
must attack Parker and hopefully draw more fouls. Parker can't do much damage from the bench.
TV:
That sounds like a good strategy, but my worry if I'm
Mike Brown
is the Spurs' offense does such an excellent job of moving the ball -- hard traps, hedges, and doubles might lead to open three pointers.
AK:
Sure. That's the problem facing an opponent as talented and versatile offensively as the Spurs. Everyone will need to help and communicate. In the meantime, the Lakers' offense gains a new wrinkle with the return of Kobe. How do you expect the Spurs to defend 24?
TV:
By committee—
Danny Green
,
Kawhi Leonard
,
Manu Ginobili
and
Stephen Jackson
. I'm curious whether Popovich gears his defense more toward Kobe or Bynum?
AK:
Were I Pop, Bynum. Not just because Drew's been an exceptionally efficient scorer all season alongside Kobe, but he's also still vulnerable to getting taken out of a game mentally when struggling offensively. When that happens, Bynum's defense can suffer in turn, which hurts the Lakers as a whole. Plus, when you throw the kitchen sink at Drew, he's vulnerable to turning the ball over. And as you may have noticed Tuesday, transition D isn't the Lakers' strong suit.
Kobe sometimes gets caught up in individual battles, and having missed seven games, could work too hard trying to "prove" he's back. But overall, the Lakers live or die with Drew.
TV:
I'm also curious what frontcourt the Spurs start. One could make a case for returning to
Tiago Splitter
, but he and
Tim Duncan
are not a great pair. Splitter's inability to shoot makes him a better match with Bonner or Diaw. I wouldn't be surprised to see
Boris Diaw
or
Matt Bonner
get the start, with Splitter subbing for Duncan.
April, 17, 2012
4/17/12
7:34
AM PT


It's been nearly a week since
the Lakers put a very unexpected beatdown on the San Antonio Spurs
at the AT&T Center without
Kobe Bryant
. Since then, the Lakers have ripped Mamba-free wins against Denver and Dallas, and are steadily jelling as a well-rounded team in ways not witnessed all season. Of course, this was also a game in which
Andrew Bynum
grabbed 30 rebounds and the Spurs' Big Three (
Tim Duncan
,
Manu Ginobili
,
Tony Parker
) combined for 27 points. In other words, more extreme circumstances than reliable outliers in terms of gauging how these teams match up in a series. The Spurs haven't been one of the NBA's best all season by accident. Assuming they play at full strength (always a question mark with Gregg Popovich), I expect a tighter sequel.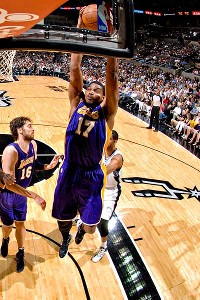 D. Clarke Evans/Getty Images
Gobble them boards, Drew!
For some thoughts on Lakers-Spurs Part Deux, I had an IM conversation with
Timothy Varner
from the True Hoop network's
48 Minutes of Hell
blog. Below is the transcript.
Andy Kamenetzky:
What was the cause of the Spurs' collapse in the first meeting? From start to finish, they just laid an egg.
Timothy Varner
: Those who think the Spurs are legitimate contenders always qualify their confidence by saying, "But they're not great against size." For the most part, I agree, although the Spurs did sweep Memphis this season. I suspect the first game was something of a tempest in a teapot. The Spurs should play better against the Lakers in the postseason. However, I will say this.
DeJuan Blair
is a major defensive liability. He might assume the unusual distinction of starting the majority of games this season, then find himself outside of the playoff rotation. The Spurs' best big-man rotations feature one of
Tim Duncan
,
Tiago Splitter
, or
Boris Diaw
with
... Matt Bonner
. Odd, huh?
So is Bynum capable of playing that way for an entire series?
AK:
"Thirty rebounds a night" capable? No. The kid's talented, but a joke's a joke. But dominating a series is absolutely realistic. And it's important Drew makes domination a goal. More than any player on the Lakers, Bynum dictates wins or losses. There was a three- to four-week stretch after the All-Star break when his effort and intensity fluctuated, particularly on defense, and the team suffered. Over the past few games, he's been focused, and the difference is as massive as his frame. Bynum's presence on the boards and in the lane makes or breaks the Lakers.
You mentioned Blair's defensive issues. On the season, the D has been merely acceptable for San Antonio. Given how the Lakers have evolved into a team with an increasingly prolific and varied scoring attack, do you picture S.A. able to slow them?
March, 24, 2010
3/24/10
10:56
PM PT

By Brian Kamenetzky
ESPNLosAngeles.com
Archive
Turns out
Ron Artest
doesn't just have the colorful personality, controversial past, and distinguished on-floor resume.
He apparently possesses a killer sense of timing, too.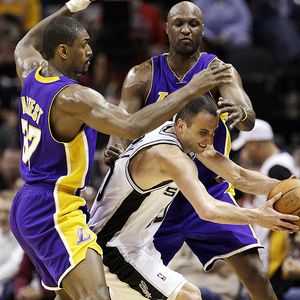 Eric Gay/AP Photo
Ron Artest and the Lakers were a major force defensively Wednesday night in their win over San Antonio.
Evaluations of the Artest-for-
Trevor Ariza
"swap" have been a consistent feature in discussions of the Lakers all season, with opinions on the issue often vacillating based on a particular evening's box score. For the record, I was for it then, and would do it again. Others don't agree, and throughout the year have expressed as much on any given day.
Wednesday, for example
, Bill Plaschke of the L.A. Times re-iterated the position he's held since the Lakers brought Ron Ron in in; it was a mistake, one helping explain the team's flagging performance relative to last season. It was a high profile column generating debate not just in the paper and online, but on talk radio and TV, too.
Is Artest a big reader? Does he watch Around the Horn? I don't know, but in
tonight's big 92-83 win over the Spurs
in San Antonio, Artest laid down a serious counterpoint. His final line: 18 points, eight rebounds, three assists, and as it's been over the course of the season- specially when his feet have been healthy- Artest was a game-changer defensively.
The play perhaps most representative of Artest's work came with just over four minutes to play in the third. Tracking
Manu Ginobili
from the weak side across the court to where he received the ball above the arc, Artest stuck with Manu as the Argentine went away from a
Tim Duncan
screen and headed for the rim.
He didn't make it.