Los Angeles Lakers:

Mavericks
May, 11, 2011
5/11/11
8:12
AM PT
I come not to praise
Pau Gasol
, but I'm not here to bury him, either.
He was completely, unequivocally, and unacceptably bad throughout the postseason for the Lakers, not simply in a statistical sense, but in his ability to impact games, grease the offense, contribute on the defensive side, and more. In nine games, Gasol failed even once to meet his season scoring average, and shot an unbelievably un-Pauian 42 percent from the floor. Gasol is a four-time All-Star, a two-time champion, and a guy working towards a Hall of Fame career. It demeans him not to expect more than what he gave over the 10 playoff games the Lakers played this season.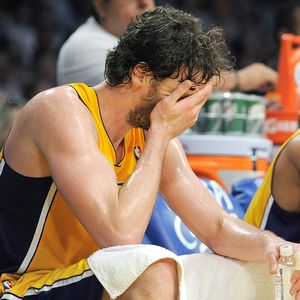 AP Photo/Chris Pizzello
The postseason for Pau Gasol was tough to watch. Even for him.
It's certainly nothing he doesn't understand, and why
he knows the storm is here
.
"With the player that I am and that I consider myself to be, there's going to come a lot of expectations, a lot of demands, and once those expectations are not exceeded or achieved then there's going to be criticism," he said Tuesday in El Segundo during his exit interview. It's also not his primary concern. "The thing that makes me the angriest is me not playing at my best. Me not being able to help my team accomplish its goals. That's what makes me the angriest."
Apparently not angrier than the torch and pitchfork crowd, clearly ready to storm the castle. At ESPNLA.com Tuesday afternoon, our "Hot Button" poll question asked, "Should the Lakers trade Pau Gasol?" Should. Sans qualifiers. No "If the perfect deal comes along, should..." or anything. Just "should," as in it ought to be done.
About 50 percent say yes
.
Wow.
I realize "Bust it up!" fever combined with still-molten anger over Game 4 and the Dallas series, plus legitimate disappointment with Gasol's playoffs skews the numbers, but still, half think he should go? Keep in mind, Gasol is a player who, in his most inconsistent, confounding season as a Laker still averaged 18.8 points, 10.2 rebounds, 3.3 assists and 1.6 blocks per game. He is a guy who, as
Luke Walton
told me Tuesday, busts out moves so quality guys watching from the bench have "Holy s--- this guy is good" moments with regularity.
A bad postseason undoes all the good work he's done for the Lakers?
Tuesday afternoon,
Gasol delivered the most vehement denial of circulated girl-trouble rumors
. He and his girlfriend are fine, and certainly haven't broken up thanks to
Vanessa Bryant
, he said. She's been with him, she's been at games. The pervasiveness of the rumors upset his girlfriend, stressing him in return, Gasol said Tuesday, but the stories, or at least The Story, aren't true. I believe him, while still believing through whatever combination of basketball and non-basketball related issues, he was mentally and physically fried following three straight seasons playing into June, on top of his international commitments, and the wear coming with it.
The signs were present almost from the start. One of the genuinely pleasant and genial people you'll meet anywhere, Gasol seemed for most of the season to be more distant and impatient. He felt deep into the grind long before guys usually get "that look." Much of this, though, misses the point. In the last 48 hours or so, we've spent far too much time trying to figure out why it happened- the gossipy theory serving not only to embarrass and weaken Gasol, but also promoting the concept of a badly fractured locker room- instead of trying to determine if he's capable of recovering.
To that end, we've all been here before.
May, 8, 2011
5/08/11
6:21
PM PT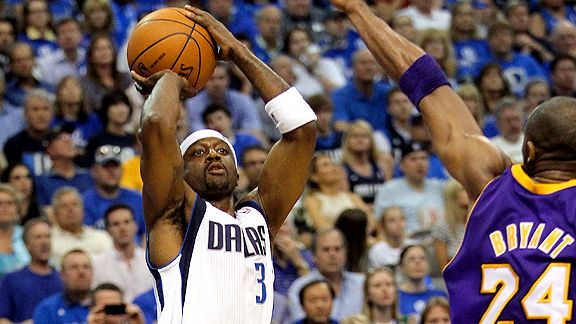 Ronald Martinez/Getty Images
Jason Terry and the Mavs shot Kobe Bryant and the Lakers straight into the offseason.
DALLAS -- Japanese monster movies are filled with scenarios in which otherwise manageable creatures are irradiated, mutate, and develop enough destructive power to take out a few cities. Godzilla, for example. Something similar happened to the Lakers on Sunday afternoon, as the Mavs unleashed a monster wiping out L.A.'s three-peat chase.
Call him Threezilla.
We saw glimpses in the fourth quarter of Game 3, when Dallas canned five of eight tries from beyond the arc, swallowing an eight-point lead for the Lakers and, for all intents and purposes, ending the series. Sunday, however, he finished the job. In the first quarter of Game 4, Dallas hit four of seven from downtown, enough to create four points of separation from L.A. despite putting the Lakers at the line eight times and giving up 13 to
Kobe Bryant
. In the second, the Mavericks poured it on, overwhelming the increasingly confused visitors. Seven makes in eight tries, including five from
Jason Terry
, as part of a 36-16 quarter. By halftime, the Mavs had only three fewer triples (11) than the Lakers had field goals and a 24-point lead.
If this were boxing, the ref would have stopped the fight. Game -- and season -- over.
"They just hit three after three after three," Bryant said after the Mavs made 20 in all.
In total, Game 4 was a supersized version of everything plaguing the Lakers throughout the series, save an opportunity to blow a late lead. They lacked any sense of continuity defensively, missing assignments and rotations helping spring the Mavs for open looks. The Lakers, meanwhile, hit only five of 24 from distance Sunday, and 19.7 percent for the series.
J.J. Barea
, with 22 points and eight assists, again sliced-and-diced the Lakers, combining with Terry (32 points) and
Peja Stojakovic
(21 points) for 20 makes on 28 tries, part of an 86-point bench performance for Dallas, a painful reminder of their superiority over the Lakers' reserves. And, of course, it was the Mavs keeping their composure while the Lakers shamefully lost theirs. Sunday offered no opportunity to blow a late lead, but the Lakers did pick up a pair of Flagrant-2 fouls in the space of 45 seconds, the most egregious and inexcusable belonging to
Andrew Bynum
and his cheap shot of a driving Barea.
"They executed extremely well, their spacing was excellent, they shot the ball extremely well. Their depth hurt us. Every night it was another player stepping up and performing, and making big plays. The credit belongs [with them]," Bryant said.
What they had was what the Lakers lacked all season.
March, 1, 2011
3/01/11
10:32
AM PT
Saw this one in the mailbag Tuesday morning:
"The Lakers are currently third in the West, do you guys think there is a possibility the Lakers can move up to first place given the way the are now playing and hopefully will continue to play come playoff time?... Why not show how many games the Lakers would have to win and the Spurs and Mavs would need to lose to get the #1 spot along with who they may play?"
--Maloney, Anaheim
Even with
Tony Parker's
calf injury, expected to keep him in street clothes for at least a couple weeks
, with only 21 games remaining and an eight game deficit to make up, the Lakers aren't catching the Spurs. As for potential first round opponents, with six teams separated by three games competing for the bottom four Western Conference postseason berths, it's still impossible to guess. The most tangible bit of progress available for the Lakers is catching Dallas for the W.C.'s second seed, still very much a possibility, and something they should treat as a priority. Historically, the NBA playoffs haven't been kind to teams forced to play multiple series on the road.
L.A. starts the day
two games behind the Mavs in the standings, but three in the loss column
. Here's how each team's schedule plays out:
Dallas
Road (12)-
Philadelphia, Minnesota, New Orleans, Portland, Golden State, Utah, Phoenix, Clippers, Lakers, Golden State, Portland, Houston
Home (11)-
Indiana, Memphis, Knicks, Lakers, San Antonio, Golden State, Minnesota, Denver, Clippers, Phoenix, New Orleans
Lakers


Road (9)-
Minnesota, San Antonio, Atlanta, Miami, Dallas, Utah, Golden State, Portland, Sacramento
Home (12)
- Charlotte, Orlando, Minnesota, Portland, Phoenix, Clippers, New Orleans, Dallas, Denver, Utah, Oklahoma City, San Antonio
By my count, Dallas has 16 games remaining against teams currently in or competing for a spot in the playoffs, as do the Lakers.