Los Angeles Lakers:

Max and Marcellus
April, 27, 2012
4/27/12
5:55
PM PT

By Andy Kamenetzky
ESPNLosAngeles.com
Archive
Two siblings for the price of one!
Jeanie
and
Jim Buss
appeared respectively on 710 ESPN's
Max and Marcellus
and
Mason and Ireland
today, hitting on a wide variety of topics. Because Laker fans can't get enough of their Buss kids, we're passing along the audio to the LO'L faithful. The shows can be heard by clicking on the links below and there are some talking points from each show listed below.
JEANIE BUSS (CLICK HERE TO HERE THE INTERVIEW)
- People have wondered why Jeanie hasn't attended as many games at Staples Center this season. It's because she's taking the opportunity to watch then with her main squeeze
Phil Jackson
, who's also recovering from knee replacement surgery. "He's doing really well," raves Jeanie. "I honestly think he's two inches taller, because his knee was so painful, it was kind of bow-legged, and now he looks great and he's feeling good.
- Is PJ feeling good enough to coach, and specifically for the Knicks as rumored? Jeanie says it's not worth discussing the Knicks because they have a coach (
Mike Woodson
), and nobody from New York or any other team has made an offer to begin with. Either way, if PJ comes out of retirement, it'll be because he wants to, rather than money.
- Jeanie is fine with the new CBA's goal of leveling the playing field between bigger and smaller market yeams. However, it's impossible to "revenue share" what the Lakers have in prestige and fans, so in that sense, they'll always have an ace in the hole.
- Phil still follows the NBA pretty regularly and in particular keeps tabs on all of his former players. (Even
Vlad Rad
!!!) He also hasn't made a prediction as to who will win it all, but thinks OKC-Dal is the most interesting first round matchup.
JIM BUSS (CLICK HERE TO HEAR THE INTERVIEW):
-
Dr. Jerry Buss
is feeling healthier by the day. In fact, he's about 80-90 percent back, by his son's estimation.
- Like many Lakers fans, he couldn't believe
Mike Brown
had the huevos to keep
Jordan Hill
on the floor down the stretch of the double OT win over OKC last Sunday. "I was saying, 'Get Bynum in there! Get Bynum in there!," recalls Jim. "But we kept playing well and of course Jordan Hill had just a tremendous game, so, as usual I'm wrong and he was right and we won the game."
- Also like many Lakers fans, he places some of the blame on the
Metta World Peace
-
James Harden
altercation on the Thunder sixth man. But he also thought the seven-game suspension itself was a fair punishment.
"I know Metta and I know how hard he's trying," says Jim. "If it was two other players and there was no history, which of course you have to take into consideration, but if there was no history I thought it looked like Harden came into him a little bit, maybe instigated something. Of course the blow as tremendous and awful and doesn't belong in this game, so I think seven is just absolutely the perfect number … Any less I think it discounts it, any more I think it's excessive."
April, 25, 2012
4/25/12
9:54
PM PT

By Brian Kamenetzky
ESPNLosAngeles.com
Archive
Kobe Bryant
called into
Max and Marcellus
on 710 ESPN this afternoon -- I believe he appeared on the call screen as "Kobe in Orange County" -- and stayed on the phone for about an hour. Needless to say, with that kind of time there was an incredible amount of ground covered.
Listen to the whole hour here.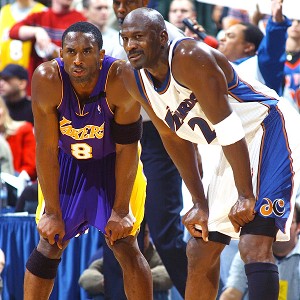 Mitchell Layton/NBAE/Getty Images

Kobe Bryant says passing Michael Jordan's ring count isn't a motivating factor for him.
One of the more interesting moments came when Kobe was asked whether or not the idea of catching and perhaps exceeding
Michael Jordan's
ring count (that would be six) is a major motivating factor for him:
"To be really frank with you, I really do not look at it as that, for the simple fact that Michael has really taught me a lot. Really taught me a lot. The trainer of his, Tim Grover, he's passed on to me and I work with him a great deal, and he's shown me a lot. So I can't sit there and say, well, I'm trying to catch Jordan at six, I want to pass him after six. That's not how I approach that, because most of the things that I have learned, most of the things that I do, I owe to him. People don't really understand that. They want to make it a me vs. him type of thing, and I just don't feel that way.

I have a great sense of admiration and respect for the things that I've learned from him. I feel like I owe it to him, and I owe it to Jerry West, and I owe it to Oscar [Robertson], and I owe it to Elgin [Baylor] and I owe it to all those players who I've come in contact with and have passed on a lot of information to me, to carry that torch and to carry that mantle...
...It's truly not [what motivates me]. I want to win as much as I can just because if anything else, you have to hear everybody talking about this is it for him, he's done. The newer generation is taking over, and this that and the other. That's more of a driving factor. If I win six and I end up tying M.J., that's great, but he and I have had completely different career paths."
Some won't believe him when he says chasing Jordan isn't a major motivation -- listening to the interview, certainly Max Kellerman doesn't -- and it indicates the battle Kobe faces having his career evaluated on its own terms. It seems like a mistake as well to distill Kobe's admittedly pathological competitiveness so neatly. The M.J. factor probably fits in there somewhere, since Bryant has said before he sees those legends coming before him as measuring sticks. But so do other factors like the desire to quiet those who doubt him, and an internal motivation fueled not just by intense desire to win, but a hatred of losing.
Kobe hates losing. Hates, hates, hates it.
More from the interview below, including comments on L.A.'s postseason championship odds, his relationships with
Mike Brown
and
Jim Buss
,
Derek Fisher's
battle with
Billy Hunter
and the NBPA, and more.