Los Angeles Lakers:

media
July, 18, 2012
7/18/12
7:59
PM PT

By Andy Kamenetzky
ESPNLosAngeles.com
Archive
There's no question the circumstances
Mike Brown
encountered during his first season in L.A. weren't easy. No offseason communication with players. A shortened, chaotic training camp filled with drama surrounding
Chris Paul,
Pau Gasol
and
Lamar Odom
. Precious little practice to install and teach a new system. An imperfect roster of players slow to warm to his game plan and presence. Being charged with implementing
Ramon Sessions
halfway through the season. Even as someone who has questioned whether Brown possesses the offensive creativity and natural gravitas to coach the Lakers,
I've never denied the hand he got dealt was pretty lousy.
(Having said that, I also thought Brown made life tougher for himself than need be at times -- particularly when it came to solidifying his rotation -- and needed to assert more authority, even as "the new guy.")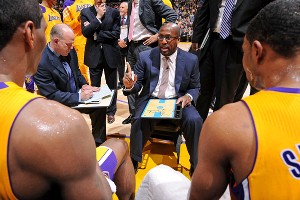 Andrew D. Bernstein/NBAE/Getty Images
Brown's job should be easier the second time around.
But that's now history in the rear-view mirror. The 2012-2013 season will be conducted under normal circumstances, and with a pretty solid new point guard to boot. While appearing today on ESPNLA 710's Max and Marcellus --
the entire interview can be heard here
-- Brown was asked what he expected to see during a calmer setting:
"I think the one thing you will see is a little bit more consistency than what we had last year. Everything was kind of done on the fly and for us, I thought the biggest adjustment was losing Lamar. You come into the season and you know you have three veteran bigs that you can rotate. And when Lamar's not there, now you've got to try to figure out how to fit a younger guy into his spot, that was a blow for us that obviously with the lockout and everything that was happening, we weren't really expecting.
"But our guys did a great job of coming together at the right time and finding ways to get wins. You know, we had a chance against Oklahoma City a couple of times down the stretch of a couple of games, and we blew it. But we can sit here and say, 'Could have, should have, would have, things might have been different.' But Oklahoma City is a very good team. You've got to give them credit and I think we'll be ready this coming year."
November, 21, 2011
11/21/11
11:06
PM PT

By Brian Kamenetzky
ESPNLosAngeles.com
Archive
This debate would never take place in the NBA.
There, questions about who should win this year's National League MVP would be settled automatically by the standings. It's Step 1 in the weeding-out process. Players, however outstanding through the course of the year, are axed from the short list if their teams tank, while other candidates are elevated despite, perhaps, lesser numbers. Only twice in the last decade (
Tim Duncan
in '01-'02 and
Steve Nash
in '05-'06, still known in many local circles as "The Year
Kobe
Got Screwed")
has the winner come from a team not winning its conference
. In those years, the Spurs and Suns respectively were both seeded No. 2.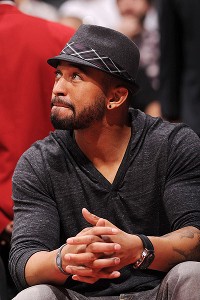 Noah Graham/NBAE/Getty Images
Matt Kemp is a regular in the stands at Lakers games. Will NBA style voting criteria keep him from winning the NL MVP?
Clearly team success has been baked into the criteria.
Say what you will about varying definitions of valuable and whether voters too often become slaves to win totals (they do) and narratives (even more so), at least in pro basketball the relationship between awards and Ws makes some sense. There's nothing inherently egalitarian about the NBA. Generally, only eight or nine guys on a 15-man roster are relevant. Only five play at once, and in unequal minutes. One player almost always emerges as "The Man." He'll get more looks, extra time handling the ball (hence the invention of usage rate) and exert a disproportionate amount of influence on the final score. On bad teams the same rules apply, except necessity often becomes the mother of invention.
Someone
will get numbers, so it's the payoff helping separate the wheat from the chaff.
If NBA rules apply,
Ryan Braun
wins over
Matt Kemp
. He'll win with those baseball writers believing MVPs should play on contending teams, too. Except baseball, fundamentally built around an individual battle (pitcher vs. hitter) in a team setting, doesn't operate like basketball. In hoops a player can, cliche as it is, make his teammates better. The Dodgers fell short, but derisively asking what Kemp did to elevate his squad is absurd.
Well, he..
.
December, 24, 2009
12/24/09
12:41
PM PT

By Andy Kamenetzky
ESPNLosAngeles.com
Archive
Interesting phrasing by Derek Fisher, since there's always the temptation when contending teams meet to define "bigger picture" as "what does it all mean?" What "significance" to we lend it? What "have we learned?" Maybe it's because his resume features an impressive amount of "been there, done that," but when asked after Tuesday's win about the Christmas Day extravaganza, Fish kept insisting that it's primarily about "the showcase for the fans and the matchup" (big names on a big stage), as opposed to "this big preview of what's to come." When BK about how the team's "soft" tag was shed upon beating the physical Clevelands and Bostons of the world, Fisher said that might be true in terms of how other people saw them. But when it comes to their own self worth, it's pointless to dwell on one regular season matchup in particular. "For us, the season's too long to put your hopes into a particular matchup to put your hopes into a matchup during the regular season," explained Fisher. "We lost both our regular season matchup against Orlando and won in the Finals. I'm sure Orlando would want that reversed the other way."

Not that Fish is blind to the game's other purpose. "It gives you guys a lot of stuff to do and talk about," nodded Fisher. "You guys" being the media, often accused of trying milk blood from a stone when it comes to finding every shred of relevance to a high profile game. Personally, I've noticed nothing of the sort in this era of 24-hour news coverage where the Internet and zillions of stations compete against each other for eyeballs, ear drums and attention spans, but maybe that's just me. Either way, Fish didn't offer the observation grudgingly. Like he said, reporters, like everyone else, "gotta eat." But he still remained insistent, no matter how many different ways the question was phrased or switched with context, that it's really about giving fans the holiday gift of a showdown between two very good teams. Rather generous of all parties involved, if you ask me.