Los Angeles Lakers:

Media Day
September, 30, 2012
9/30/12
6:50
PM PT

By Andy Kamenetzky
ESPNLosAngeles.com
Archive
With Lakers Media Day approaching Monday, it dawned on me how Oct. 1, 2012, doesn't just mark the official launch of training camp and the 2012-2013 season. It also marks the five-year anniversary of the Media Day following Kobe Bryant's "radio tour." To say the least, Oct. 1, 2007 provided a surreal atmosphere. As Lakers fans remember, after missing the playoffs in 2005, then consecutive first round exits against the Suns, the Mamba appeared on a number of radio shows expressing a desire to be traded --
Pluto was cited as an option
-- and was recorded
blasting the front office for their unwillingness to trade Andrew Bynum for Jason Kidd
. (If we learned one thing from that summer, Kobe Bryant the player is a first ballot Hall of Fame lock, but his credentials as a general manager leave something to be desired.)
Save bringing point guard/Kobe confidant Derek Fisher back into the fold, Mitch Kupchak and Dr. Buss responded to the outburst by presenting Bryant a roster essentially untouched. Thus, speculation swirled as to whether 24 would actually report to camp. Lest anybody assume this was simply the media churning the waters to create drama, think again. After 15-20 minutes with no sign of Kobe, I vividly remember Kwame Brown asking me if I'd seen the superstar, and if I knew whether he was gonna show up. This was truly the $1,000,000 question, and nobody was quite sure how the day would shake out.
Eventually,
Kobe did emerge, palpably unenthusiastic, but committed to remaining professional
. The season turned out considerably better than expected, even before Pau Gasol trade. Since then, Kobe has collected his fourth and fifth rings, and despite
this offseason presenting seemingly few avenues for upgrading a team stuck in good-but-not-great purgatory
, we're now looking at a starting five of Steve Nash, Bryant, Metta World Peace, Gasol and Dwight Howard.
And Oct. 1, 2007 feels about 100 years in the rear view mirror.
It reminds me of this exchange between Glen (Sam McMurray) and H.I. (Nicolas Cage) in
Raising Arizona
:
Glen: It's a crazy world.
H.I.: Someone oughta sell tickets.
Glen: Sure, I'd buy one.
Enjoy the season.
September, 29, 2010
9/29/10
7:00
AM PT

By Andy Kamenetzky
ESPNLosAngeles.com
Archive
During our
ESPN LA.com Media Day broadcast
, there may have been no more interesting -- and potentially controversial -- exchange than one involving
Andrew Bynum
. By then, it was old news his offseason knee surgery revealed more damage than expected and his anticipated absence during the preseason could extend into the regular season. Bynum is targeting late-November for his return. Delaying surgery until mid-July to accommodate an overseas vacation was endorsed by
Phil Jackson
and the front office alike, as all signs pointed towards a relatively minor procedure and rehab.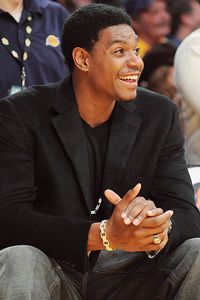 Win McNamee/Getty Images
Andrew Bynum missing games has become as inevitable as death and taxes.
But we wondered, knowing what Bynum knows now, if he would have altered his time line? He said he wouldn't:
"Nope. I had to have the surgery when I was ready for it. I was coming off the emotional high of going out and winning your second championship. I just kind of needed a little me time. Me and the family. I just took it from there. I went to go see the World Cup, it was a great time for me, one of the best of my life. I got to stay on safari. And then when I got back home, I took care of business."
This unfiltered wasn't what either of us expected to hear. We debated the issue the following day during a Sunday broadcast of
ESPNLA.com On Air,
my brother somewhat undecided on how he felt and me okay with the decision. Since then,
Brian has expressed unhappiness with Bynum's call
.
I remain okay with the decision.
Before I present my opinion, I want to make clear my expectations of being in the minority, along with my awareness of the legitimate reasons for displeasure with Bynum's statement. The Lakers are attempting to keep this championship train rolling, and Bynum is a big piece of the puzzle. These missed games could affect the team's overall record, which could jeopardize home court advantage throughout the playoffs. Bynum has already missed considerable time due to injury throughout his career, which has possibly affected his growth as a player and without question limited his comfort level playing alongside
Pau Gasol
. These are legitimate issues.
Plus, for many fans, there is a principle involved. Yes, Bynum isn't even 23 yet, and most folks have a lot of growing up to do at such a tender young age. However, they're typically not offered an eight figure salary as an incentive for rapid maturity. Players making $14 million are expected to be accountable professionals, which in this case means exhibiting a thorough concern for the team employing them. At face value, I understand why fans might label Bynum's willingness to delay the surgery, even in the face of games missed, as something showing questionable dedication to the Lakers.
But looking deeper, I'm reminded of Bynum gutting through the playoffs on one leg last season. And I'm compelled to examine Bynum's words explaining himself; how he needed to be "ready" for the surgery, how he expressed a desire for "me time" after coming off an "emotional high," and talked about the importance of being with family and about taking "care of business" once he returned home.
I'm sure Bynum felt a World Cup and European jaunt would be a unique and fun experience, but I wonder if the trip may not have been about indelible memories as much as it was about what he needed to forget:
Basketball.