Los Angeles Lakers:

Mike Bibby
March, 2, 2011
3/02/11
3:23
PM PT

By Brian Kamenetzky
ESPNLosAngeles.com
Archive
If there was a
common theme in this morning's chat
, it was the question of who the Lakers could add now that buyout season is in full swing.
Mike Bibby is heading to Miami
,
Troy Murphy to Boston
, and so on.
Shouldn't the Lakers be more active? Why aren't they getting in on the bidding?
With that in mind, here are a few thoughts on the player movement, and whether the Lakers are making a mistake by standing pat...
1. It is a bad idea to sign players out of fear they might go somewhere else and bolster a rival.
Do not worry about the Joneses. Handle your roster. For the Lakers to start adding players (and cutting others) in which they otherwise have no (or narrow) interest is a bad idea.
Mitch Kupchak
is only responsible for improving the Lakers when the opportunity is there, not preventing other GMs from improving their teams. The latter sounds nice in theory (particularly when a player is "stolen" from a rival) but in practice is a bad idea.
In a vacuum, Bibby is an improvement over the
Derek Fisher/Steve Blake
tandem, but the Lakers don't live in a vacuum. These days, Bibby isn't
that
much better, and when you factor in the learning curve he'd have with the triangle and the potential to upset the apple cart by bringing in a big name who would expect to play (or, if he's sitting, would be conspicuous in his lack of PT) isn't a great idea.
Only players who make good sense for the Lakers should be signed by the Lakers.
Carlos Arroyo
, the guy Bibby replaces in Miami, would actually make more sense, if the Lakers wanted more PG depth. I'd be surprised if he ended up in L.A., but philosophically and practically is a more reasonable choice.
2. It's reasonable to consider the cost/benefit.
The Lakers have a league-high $91.5 million payroll. They fork over mounds of cash not just for their own players, but in luxury tax penalties. It is impossible to argue
Jerry Buss
doesn't go above and beyond to provide a winning product. At some point, though, he's allowed to stop spending, or at least decide if the cash is worth it. Is Murphy worth it, particularly when there's no natural place in the rotation for him to play?
February, 22, 2011
2/22/11
11:50
AM PT

By Andy Kamenetzky
ESPNLosAngeles.com
Archive
Like I mentioned in our
Week in Preview, this game against the Hawks is important
. Beyond providing reassurances to fans and even to themselves of an improved path, the window to get in gear is slowly shutting. Even as someone who remains a believer in the ability to keep the O'Brien in L.A., there's no denying the urgency at hand. The proverbial "play time" ended a while ago. Now it's a matter of proving this team isn't living on borrowed time.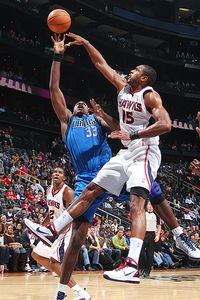 Scott Cunningham/NBAE/Getty Images
Al Horford does his best to help on D, but the backcourt doesn't hold up its end of the bargain.
To get a better idea of how the Hawks operate, we reached to
Bret LaGree
of the True Hoop Network
Hoopinion blog
. Here are a few items to keep an eye on once the ball is jumped:
Q: The Hawks were playing .500 ball in the last 10 games heading into the break. How would you assess their current state as they head into the home stretch? What are the strengths and weaknesses?
Bret LaGree:
The Hawks are coming to terms with how difficult it is to send the same team out on the court and get different results. Given a possibly impossible task (improve on 53 wins without an improved roster),
Larry Drew
hasn't really settled on a rotation and tinkers with the starting lineup depending on the opponent.
The crux of the problem is
Mike Bibby
and
Jamal Crawford
are poor defenders and
Joe Johnson
, when pressed into duty against opposing point guards, isn't much better.
Josh Smith
and
Al Horford
do tremendous work on the defensive end to keep the Hawks an average defensive team but when either big man is out of the game, the Hawks are pretty porous defensively.