Los Angeles Lakers:

Mike Conley
March, 25, 2012
3/25/12
8:47
AM PT
L.A. is now in Day 11 of Ramonpalooza, the festival of appreciation aimed toward point guard
Ramon Sessions
following his acquisition from the Cavs on deadline day. (My Morning Jacket will be appearing shortly on the main stage.) It's easy to go overboard, but his presence really has represented a sea change for the Lakers.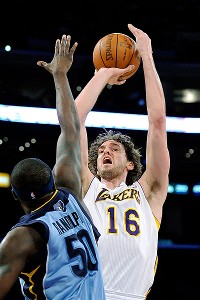 AP Photo/Mark J. Terrill
The matchup between Pau Gasol and Zach Randolph will be key Sunday night.
Friday, we noted
the ways in which Sessions has improved the team's offense
, goosing efficiency with high-percentage shots either for himself or teammates, many coming in transition, plus an ability to get himself (and teammates) to the line. And this was before he made his debut as a starter, lighting up the Blazers for 20 points and 11 assists Friday night at Staples. The game was significant not only for his impressive numbers but how Sessions affected the action down the stretch. In a still competitive game, Sessions dominated the fourth quarter with eight points and six assists as the Lakers piled up 32 points, all while
Kobe Bryant
happily took only one shot in the final 12 minutes.
It's a brave new world, folks.
Sunday, the Lakers get another good test against the Memphis Grizzlies, the same team
L.A. edged in double-OT not even two weeks ago at FedEx Forum
. That night, the Lakers were carried by
Andrew Bynum
(37 points) and Bryant (34) but only had one other player in double figures (
Pau Gasol
, with 14). Meanwhile, the Grizzlies got a career night from
Marreese Speights
, one of six Grizzlies with 10 points or more. Normally, when teams meet twice in a small window, the first game can be instructive. Not here.
The Lakers played that night with
Derek Fisher
and without Sessions. Memphis was missing not only
Zach Randolph
, but also
Rudy Gay
. They've also added
Gilbert Arenas
as a free agent, giving him real minutes in his first two games. The cast on the floor Sunday will be very different on both sides.
With that in mind, here are three things to watch:
1. Z-Bo vs. Pau Gasol.
In five games since returning from a knee injury, Randolph has been solid: 15.4 points and 7.8 rebounds, while shooting nearly 47 percent in about 31 minutes a night. Pretty good, but not the walking double-double he was in a dominant 2010-11 season. At some point, Randolph will round into form. If it's Sunday, the Lakers (and specifically Pau Gasol) have one more tough cover. Friday against Portland, the Lakers, who rarely do this sort of thing, were forced to bring doubles against
LaMarcus Aldridge
in the first half before order was restored in the second. If the same thing happens Sunday, the Grizzlies -- not a good half-court team offensively -- might find some lanes opening up that would otherwise be closed. The more extra rotations the Lakers have to make, the more wing players such as Gay can attack or
Marc Gasol
, who needed 25 shots to get 20 points in Memphis, can get easy looks on putbacks and open feeds at the bucket.
2. Kobe Bryant vs. Tony Allen.
Allen is among the league's most active defenders, one of the few guys capable of making Kobe's life truly difficult. On the ball, he can be very hard to beat, but while the Lakers had periodic success with Bryant operating away from the ball at points this season, with Sessions on board they have the means to do it more effectively and more consistently. Closer to the rock, the potential for good 1/2 or 2/1 pick and rolls could give Allen and
Mike Conley
looks they haven't seen much against L.A. Bottom line, as
Mike Brown
and
Bryant noted
after Friday's win, with Sessions the Lakers have so many more ways to attack, making them much tougher to prepare for.
Still, despite some weakness (see below) the Grizzlies constitute a very solid test for the revamped offense. They'll be at full strength, making them the best defensive team the Lakers have seen since acquiring Sessions, more effective than a Dallas squad missing
Shawn Marion
. Moreover, no team in the NBA is better at
forcing turnovers
, and Synergy rates them as the league's second most productive team in transition, meaning mistakes on the offensive end won't go unpunished.
3. L.A. vs. expectations.
Memphis is a dangerous team, one nobody will want to see in the postseason -- unless perhaps the postseason started today. The Grizzlies have dropped five of six overall, including Saturday afternoon to a slumping Clippers squad, and four of five on the road, and are just 9-14 outside Memphis overall. Perhaps it's because they don't score much, averaging only 91.2 points on the road compared to 99.1 at home. Nor have they been very good against teams over .500, going just 10-17. All told, Memphis' talent says it's a game the Lakers could absolutely lose, while the numbers say they really should win.
March, 13, 2012
3/13/12
7:40
AM PT
As
John Hollinger noted Monday afternoon
(Insider required), the Western Conference has gone a little squishy as teams for a variety of reasons have piled up losses. Denver, the Clippers, Dallas, Houston, Portland, and Utah have all suffered either significant bouts of mediocrity or full on slumps at points over the last few weeks, pulling the lower rungs of the playoff ladder a lot closer to .500 than typically seen in the W.C.
Even the Lakers, winners of seven in ten, lost to the Pistons and Wizards last week, and nearly dropped a game to a
Kevin Love
-less Timberwolves squad.


A quiet exception to this southward inertia has been the Memphis Grizzlies, who have gone 21-10 since a 3-6 start despite the fact star power forward
Zach Randolph
has played only four games thanks to a knee injury. (This after losing key frontcourt backup
Darrell Arthur
to an Achilles injury before the start of the season.) On any floor, tonight's matchup against Memphis would be a tough game for the Lakers. In what is sure to be a raucous FedEx Forum, where the Grizzlies are 15-5, it's an even bigger challenge, particularly given how the Lakers are so flippn' awful away from Staples.
To gain a little extra insight into
Lionel Hollins'
crew, we hit up
Red Coleman of 3 Shades of Blue
, a great resource for scratching your Grizzlies itch.
1. The Grizzlies aren't at all impressive offensively, but are very solid at the other end. What accounts for their success, and how do you think they'll approach the Lakers Tuesday?
Memphis has a commitment to playing defense that permeates everything they do. It's similar to the mindset that
Tom Thibodeau
has instilled in Chicago, really.
Tony Allen
is the spark plug for this, but everyone buys into it completely. That's why everyone is active and attentive on that end of the floor.
I think the Grizzlies will approach this game like they do any other -- stick your man, disrupt the passing lanes, and box out when the ball goes up. That's fundamental basketball, so there is no reason to expect them to change. They'll pay special attention to Kobe, of course, but it will still just be solid, team defense that is employed to try and hold him in check.
January, 8, 2012
1/08/12
9:14
PM PT
They say you don't get style points for a pretty win, which, by extension, means you don't lose points for an ugly win. And that's fortunate, because the Lakers otherwise might have ended the night with -2 on the scoreboard. The W was secured, but they didn't look so hot making it happen.
Here are five takeaways from the game:
1) Kobe Bryant played an exceptionally well rounded, efficient game.
I was curious to see how Kobe's game might be affected by the presence of
Tony Allen
(among the best in the league at defending Kobe) and his wrist, which might leave him susceptible to the former Celt's relentless, hawking D. It took just over four minutes, however, for this issue to be rendered dead in the water. After getting caught with his hand in the cookie jar on a turnaround J from Kobe, Allen had to sit with his second foul. Right on cue, Bryant made both of his free throws, then set up
Matt Barnes
for a three-pointer, a clear announcement of this being a strong night in the making.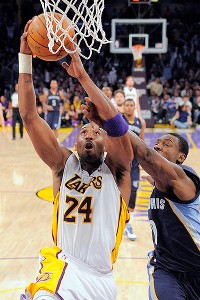 AP Photo/Mark J. Terrill
Kobe did a nice job balancing his scoring and play-making.
Whether setting up teammates to the tune of nine dimes or putting up 26 points on a clean 50 percent shooting, Kobe was aggressive, but also under control and worked extremely hard to involve his teammates. During the first quarter, he ran pick-and-pop to perfection to perfection with
Troy Murphy
, putting the stretch forward in perfect position for a long deuce. Later, he manufactured an alley-oop for
Pau Gasol
and set up
Steve Blake
for a corner three via a cross-court fastball tossed with enough heat and accuracy to make
Mariano Rivera
jealous.
And I specifically used the Yankees pitcher for the baseball parallel, because Bryant also went into "closer" mode, albeit not during the literal
last minute
. With 4:38 remaining and the Laker lead down to five, Kobe drilled back-to-back J's from 14 and nine feet, creating enough separation on a night where the fourth quarter turned muddy.
There was even a toe dipped into the fountain of youth. The Staples Center faithful was whipped into a frenzy after Bryant drove the baseline past
Rudy Gay
, then threw down a reverse jam with the authority of his days in a #8 jersey.
Good stuff.
January, 8, 2012
1/08/12
10:21
AM PT
The Lakers again sit one game above .500 as their roller-coaster season pushes forward. Save for the home victory over Denver, they've yet to beat a team universally viewed as good, and it's hard to say that Sunday's opponent, the Memphis Grizzlies, qualifies as such. For many NBA scribes, including yours truly, this was the sexy pick for "dark horse contender." But myriad injuries --
most notably Zach Randolph's torn MCL
-- have led to a 3-4 start.
Still,
Rudy Gay
,
Marc Gasol
,
Mike Conley Jr.
and
O.J. Mayo
can all do damage;
Tony Allen
(
a must-follow on Twitter
) is capable of making
Kobe Bryant
work hard; and
Lionel Hollins
is a good coach. Plus, I don't think it's going out on a limb to say -- or at least
hope
-- the Lakers aren't firing on all cylinders at the moment.
For more perspective on the Griz, we called upon
Chip Crain
, who runs the TrueHoop Network's
3 Shades of Blue
blog. Here are his thoughts on five questions about the Grizzlies.
Land O'Lakers: How drastically has Zach Randolph's injury affected the Grizzlies, whether in production, presence, etc.? For that matter, the frontcourt is pretty thin, with Darrell Arthur also hurt. How has this changed the way the Griz operate?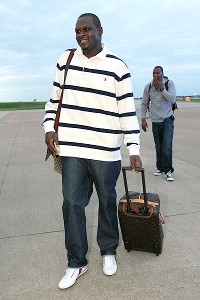 Joe Murphy/Getty Images
It's a nice ensemble, but Griz fans nonetheless don't like seeing Z-Bo in street clothes.
Chip Crain:
Z-Bo's injury hasn't affected the Grizzlies any more than the Lakers' losing Kobe for at least six weeks would. It's a huge loss to lose your All-Star player and dominant paint player. Throwing his injury on top of losing Arthur, a key bench player for the Grizzlies, has left a huge hole at a position that was an area of strength heading into the season.
So far, the Grizzlies have responded by moving Gay and
Sam Young
to power forward at times and playing a faster tempo. It has worked so far because
Mike Conley
, who sprained his ankle against OKC in the second game, returned, and the team was able to push the tempo without dramatically increasing turnovers. It is not a long-term solution, however. Neither is
Marreese Speights
, for whom the Grizzlies traded after learning of Randolph's injury, but they had to have someone to put next to Gasol.
LO'L: Mike Conley made a pretty drastic leap forward last season after most people roundly mocked his contract. (He also had a habit of carving up the Lakers.) Has that evolution continued, and do you see him as a potential high-end PG in the making
?
CC:
As I said, Conley has been instrumental in keeping the Grizzlies' heads on tight and managing to win games (2-0 since Randolph's injury was revealed). Conley is not a big-stat point guard. He's not going to shoot a bunch of shots, nor does the Grizzlies' offense set up for huge assists, but he keeps everyone focused and on the same page. What Conley lacks in stats he more than makes up for in composure. It's difficult to measure composure in a box score, but the team is plus-40 when he is on the court since his return.
November, 30, 2010
11/30/10
8:34
PM PT


Monday afternoon in El Segundo, Phil Jackson said the following about his team's too-late fourth-quarter push against the Pacers on Sunday night at Staples Center: "Sometimes you're not going to get the breaks at the end of the game because you haven't deserved them."

Fair to say Tuesday's loss in Memphis, L.A.'s third straight, was one they didn't deserve to win, despite having a shot at a game-winner on the game's final possession. Not that they actually got one off. Ron Artest's double-clutch hoist from beyond the arc was blocked by Rudy Gay, and that was that. My guess is the Basketball Gods, so offended by L.A.'s performance throughout the night, made sure the leather never reached the rim.

Here's how it broke down ...

Three Up: No trouble keeping this section short.

1. Rebounding. It has been a major issue for the team throughout the season, but don't blame tonight's loss on poor glass work. The Lakers outrebounded Memphis 42-29 and allowed only five offensive boards all night.

2. Free throws. The Lakers made 21 of their 25 attempts. That's an 84 percent clip, and some very solid work. They also got there 25 times compared to only 16 for the Grizzlies. (Of course, part of the problem was that too often the Lakers never actually got close enough to the Grizzlies to foul, as they made their way relatively unimpeded to the bucket. So maybe the free throw advantage isn't something to crow about? Either way, 84 percent is very good.)

3. Shannon Brown. He provided a spark late, burying a semi-miracle 3 from just outside the lobby of the Peabody Hotel to help keep the Lakers close down the stretch, then picked up more points aggressively attacking the rack off a Memphis turnover. His jumper still didn't fall (mega-3 notwithstanding), but more than once he compensated by putting the ball on the floor. Was he great? No. Not at all. But I feel as if I earn my money when I can fill up all three parts of the "Three Up" column, even on a night like this.

Three Down: Wow, only three? This is going to feel limiting. I'm going broad, here, people ...


November, 2, 2010
11/02/10
12:51
PM PT
The Grizzlies were among the league's bigger surprises last season, whether you're talking their 40 wins (up from 26 in 2009),
Zach Randolph
fitting in, or
Allen Iverson
failing to follow suit. Okay, the last development was more predictable your garden variety Hollywood rom-com, but still, the Griz emerged a tough competitor in the West, and provided fits for the Lakers while splitting their final two meetings. They're looking to build on that momentum, while the Lakers try to remain undefeated. Here are a few items to ponder as we see if something gives:
Pau vs. Marc
We've now entered the third season of Pau competing professionally against his younger brother Marc, and if the process has become old hat, it would represent a major milestone.
Gasol's numbers against his old team lag by his career standards
, indicative of the difficult psychology of playing against a franchise you once lent a face, plus the issues inherent with this setup. There's no question which brother is the more polished, complete player. But Marc has rapidly evolved into a quality NBA big, and in the meantime, has appeared less thrown by the concept of tussling with his hermano.
Of course, Marc's perspective contains less ennui.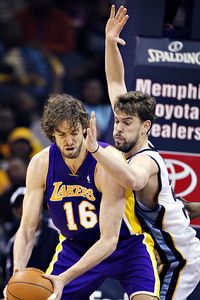 AP Photo/Jim Weber
For Pau, besting his little brother is a goal, but not an easy one.
Pau is a heady cat. For the most part, this intelligence is a major plus, whether on the court or
away from it
. But a hyper-aware brain has drawbacks, certainly the case for Pau while squaring off against his younger brother. The two are very close, and Pau is very sympathetic to the strides Marc's made to overcome the stigma of being associated with a trade initially considered the most lopsided in recent NBA history... plus a persistent tag.
"At first, he was always 'Pau's brother,' " noted Gasol during Monday's practice. "He had to work really hard. People started calling him by his name instead of being my brother. It took a little time, but I think that helped him, to fight through that and be eager to get to that point."
And that, boys and girls, is the rub.