Los Angeles Lakers:

Mike Fratello
October, 29, 2011
10/29/11
10:44
PM PT

By Brian Kamenetzky
ESPNLosAngeles.com
Archive
I'll be honest, I've never really paid the D-League much attention save those moments where players on the Lakers roster were sent down for more seasoning. Even then, I wasn't exactly setting the
NBDL's website
as my home page. But with labor strife screwing everything up at the NBA level, if your game is professional hoops, for the time being at least the Los Angeles D-Fenders -- back after a year-long hiatus-- are the only game in town.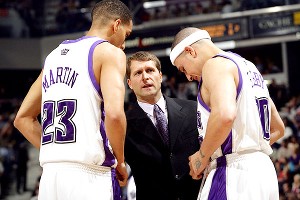 Win McNamee/Getty Images
Unlike most NBDL coaches, Eric Musselman has extensive experience as the head man on an NBA sideline.
The most interesting thing about this year's team will almost certainly be the coach. In
Eric Musselman
, they have a head man with an unusual level of NBA experience, having patrolled the sidelines both for
Golden State and Sacramento
. In his first season with the Warriors, Musselman squeezed a 17-win improvement from the previous season, and he finished second behind
Gregg Popovich
in the 2003 Coach of the Year balloting. But after failing to build on that success the following year, he was let go. Hired by the Kings in 2006, Musselman had the unenviable task of replacing
Rick Adelman
.
One 33 win season later, Sacramento fired him.
In many ways, then, Musselman resembles the guys he's coaching: Actively trying to make it back to the next level. When we made the comparison in our conversation, Musselman deflected, but I suspect he (understandably) wasn't being completely candid. It's just one of the subjects we touched on, from the difficulty creating a workable team ethic when ultimately everyone on the roster is motivated by personal goals to the challenges
Mike Brown
faces this season with the Lakers.
Click here for the whole show
, or below if you'd rather steer to a specific topic...
February, 1, 2010
2/01/10
11:14
AM PT
Two years ago today, the Lakers acquired Pau Gasol
from Memphis for
Kwame Brown, Javaris Crittenton
, the rights to lil' bro
Marc Gasol
, and draft picks. Technically speaking, the traditional gift to honor this union
would be cotton
. Rather than buy him a stack of t-shirts, management instead went ahead and got him a
three-year contract extension worth about $19 mil per
, with which he's free to pick out garments of any material he chooses.
Who says cash is impersonal?
Nobody around town will begrudge Gasol his deal. Certainly not
Kobe Bryant
or Lakers fans, all of whom saw desires for more championships take a massive step forward the day
Mitch Kupchak
polished off the paperwork with Grizzlies GM
Chris Wallace
. It's difficult to overstate Gasol's value to the team, whether on the floor (the Lakers are still yet to lose three straight with him in the lineup) or off (Kobe hearts Pau and therefore hearts the organization once more). The guy fits into
Phil Jackson's
scheme like a hand-in-glove, and was the ingredient elevating the Lakers from a growing team with question marks to a perennial championship contender.
Yes, I'm a fan of Gasol's. A big fan. (Some campaign to release political prisoners. I'm thinking of starting one to raise Gasol's usage rate,
currently 129th in the NBA
, behind
Andray Blatche
and just ahead of
Jrue Holiday
and
Marco Belinelli
.)
The schedule makers certainly had some fun with this one,
returning Gasol to Memphis this afternoon (5 pm PT, KCAL)
. Two years later, the deal seems to have worked for all involved, with the Grizzlies again in the playoff hunt thanks in part to Marc Gasol. Put it all together-
the afterglow of Sunday's win over Boston
, the anniversary of a very happy day in Lakers history, and the prospect of both
Kobe
(29 points shy of
Jerry West
) and
PJ
(tied with
Pat Riley
for coaching victories) reaching major historical milestones- and things are set up well for a red letter Monday in Lakerland.
January, 21, 2010
1/21/10
12:29
PM PT

By Andy Kamenetzky
ESPNLosAngeles.com
Archive
PODCAST
Andy and Brian preview the upcoming eight game, 13 day epic roadie and welcome TNT basketball analyst Mike Fratello to the show, talking L.A.'s first half, LeBron and the Cavs, and Pau Gasol.

Podcast

Did ya think we'd let a week pass without a
Kamenetzky Brothers
gabfest? Well, wish and pray as you might, not happening. There's a new recording fresh out of the factory, ready to be shared. A breakdown below:
-(2:38 mark): You heard
players discuss the roadie's significance.
Brian and I take our turn. Similar to the athlete consensus, I'm of the opinion that while you always want to win and play in a way developing growth, the "stakes" accompanying this eight-game bonanza have been overstated. Unless the losses are specifically the result of issues that could linger, the Lakers remain who they are, regardless of whether they go 6-2 or 4-4. Brian sees where I'm coming from, but from a long-term standpoint,
is a little more concerned about racking the W's
.
-(9:18 mark):
Which of the upcoming contests
not involving Cleveland or Boston strike us as the most intriguing?
-(13:25 mark): My upcoming interview with TNT's
Mike Fratello
, AKA "The Czar," reminds me how whenever I envision dictators and rulers of yore, I always picture them short in stature, which makes me think of Fratello, who is also short. Before realizing a "telestrater" was involved, I incorrectly viewed the nickname as a reference to height. This leads to a discussion of history's vertically-challenged leaders.
-And finally, I spend some time chatting with Fratello as a preview of tonight's Lakers-Cavs rematch. Topics include his opinion of the Lakers at the halfway mark,
Pau Gasol's
growth since coaching him in Memphis and the best way to go about containing
LeBron James
. For
just the interview, click here.
Excerpts from Fratello on tonight's game...
On how he expects both teams to come out:
Cleveland is smart enough, veteran enough to understand the Lakers are going to come in and try to make a statement. Make a point. Even the season series out at one game apiece. They're well aware of that. Some of the other guys who have not had their best performances over the last five or six games are gonna have to pick it up a little bit. (But) LeBron has been outstanding... On the other hand, I'm sure that Phil Jackson and Kobe have gotten their messages across to their teammates. We've done well at home... however, we are now going out on the road where it becomes tougher. People have zeroed in on us. It's the Lakers coming in. We've gotta start getting ourselves ready for what's going to happen over the second hald of the season.
On the best way to approach containing Lebron James:
There's nothing he really can't do. He can pass. He can rebound. He can block shots. He can run. He can jump. And he has a really high basketball I.Q. He really understands the game. So you have to determine going into it, what do you want to try to minimize? What do you want to try to take away, if you can. You try to cut down on the number of mistakes. Your team has to understand the things that he likes to do during the course of the game that perhaps you can reduce, minimize, keep the crowd out of it. All of those things go into play when you're putting your defensive plan together.
On coach Mike Brown now figuring out how to implement Shaquille O'Neal into the frontcourt while allowing LeBron to remain dominant:
It's not an easy task, what Mike Brown had to set out and try to figure out early in this season. We talked to Mike maybe a week and a half ago... and (he) felt maybe they were just getting to the point where they had figured it out, and they were approaching the mid-point in the season. It had taken them that many games to figure it out. When you have Shaq on the floor, there's no sense having him there if you're not going to throwing him the ball.