Los Angeles Lakers:

Mike Miller
November, 30, 2012
11/30/12
12:31
PM PT

By Michael Wallace
ESPNLosAngeles.com
Archive
Editor's note: Throughout the 2012-13 NBA season we'll be asking our colleagues at The Heat Index to weigh in on the progress of the Lakers' newly minted super group. This week, Michael Wallace discusses the value of key players coming off the bench for championship teams.
MIAMI – When sizing up the
Los Angeles Lakers
for a potential NBA Finals showdown, few teams in the league are as equipped with tape measures as the Heat.

Miami's two key offseason acquisitions bring a combined three seasons of experience from facing Kobe Bryant, Pau Gasol and Co. in the NBA Finals. Now, Ray Allen and Rashard Lewis see a far more potentially dangerous Lakers team developing in Los Angeles, with the additions of Dwight Howard and Steve Nash, than any of the previous squads each of their teams met from 2008 to 2010.


"They've got a lot of great players over there, Hall of Fame players," Lewis said. "But we feel like we can match up with not just one particular team, but anybody in the league. We've got guys who can play multiple ways, and a team that can play multiple styles, regardless of opponent."


The Heat's combination of experience, flexibility and versatility are considered their main strengths with a roster anchored by LeBron James, Dwyane Wade and Chris Bosh. Barring injuries, conventional wisdom suggests the Lakers are capable of matching -- perhaps even surpassing -- the Heat's star power in would shape up as the most anticipated NBA Finals matchup in decades.


But Lewis and Allen believe that a series with so much at stake against the Lakers, or any opponent out west, will ultimately be decided by the team with the more reliable supporting cast. That was the case last season, when even the best postseason of James' career might have come up short had it not been for Bosh's late-playoff return from an abdominal injury or Shane Battier's breakout play early against Oklahoma City or Mike Miller's magical shooting display in the Game 5 series clincher in the Finals.


By adding Allen and Lewis to a supporting cast that already proved to be deep and effective enough to win a title, the Heat think they took significant steps to further compliment their catalysts and boost their chance to repeat.
March, 10, 2011
3/10/11
11:40
AM PT
Today's game is guaranteed to attract a lot of eyeballs. Thus, we're providing a lot of analysis. In addition to
the exchange between Brian and ESPN.com's Tom Haberstroh
, we recorded a podkast with our buddy
Kevin Arnovitz
, who runs
the Heat Index
for ESPN.com. The conversation covered items like the Heat's current struggles, the matchup today vs. last Christmas and the on-court dynamics. Plus, the Wonder Twins, because that's just how we roll.
PODCAST
Ahead of Thursday's Lakers-Heat extravaganza, Andy and Brian talk with Heat Index editor Kevin Arnovitz about Miami's recent skid, whether Eric Spoelstra is the right coach and the matchups against the streaking champs. Plus, a tutorial on The Wonder Twins!

" Podcast

Also, while filling in for
John Ireland
on 710 ESPN's
Mason and Ireland
show, we were part of a conversation with ESPN.com's
Brian Windhorst
, who's part of the Index and has covered LeBron since his high school days. As always, Windy delivered some great details.
You can hear both conversations in their entirety by clicking on boxes to the right, but below are some excerpts:
Arnovitz, on what's going wrong for the Heat right now
:
"It's a pressure cooker. It's incredible, because even
Erik Spoelstra
, who's been sort of this paragon of poise throughout this whole thing, (after the Portland loss), he pretty much just came up to podium and said, "We don't have a lot of answers and all we can do is not... let... go... of... the... rope. And that's not my emphasis. That's actually his cadence. That rope is sort of slipping away.
"There are really two trains of thought. On one hand, and it's almost as if the shoe is on the other foot. I remember coming out to Los Angeles (around Christmas) and it was just catastrophic. The sky was falling. The Lakers had officially ceded their championship rings before New Years and the Heat were at the time, I think, (winning) about 19 out of 20.
Brian Windhorst, one of his favorite axioms is, "In the NBA, there's always time."
There's always time in a game to come back. There's always time in a regular season to come back. Even in the playoffs, there's always time. So one frame of thought is things really aren't that bad.
Luol Deng
misses a shot.
LeBron (James)
makes another drive, a shot against
Carmelo Anthony
he would normally make. We're talking about how they've lost three out of five, and things aren't that catastrophic.
"But there's just a microscope on this team that accentuates every problem."
PODCAST
ESPN.com Heat Index writer Brian Windhorst talks about the team's well-publicized frustrations of late. How are "the big three" and head coach Erik Spoelstra coping with recent failures and the ensuing mockery from fans and peers?

" Podcast

Arnovitz, on how much of these problems are the result of Spoelstra's coaching:
"I think very little of it. I tend to subscribe to the non-naysayer school of thought, which is that randomness happens in basketball. You shouldn't lose five in a row, four of which at home, but these are really close games, with the exception of San Antonio. We're talking about a possession or a possession and a half either way. I do think there is a butterfly effect.
"I'm not saying there aren't issues. I'm not saying there aren't problems. I'm certainly not saying they're playing up to their potential. But I documented on Heat Index a game against the Knicks where on the last seven possessions they supposedly melt down. I looked at these possessions and five of those seven were really good sets... You sort of go back and examine the tea leaves after a game and this isn't a poorly coached team.
"There's stuff that we obviously can't know. Is there this bubbling mutiny under the surface that we don't see at practice and media availability, that those guys have checked out. But this doesn't look like a team that's checked out. That's one thing that even those ridiculing the Heat can say. They're competing."
March, 9, 2011
3/09/11
11:53
PM PT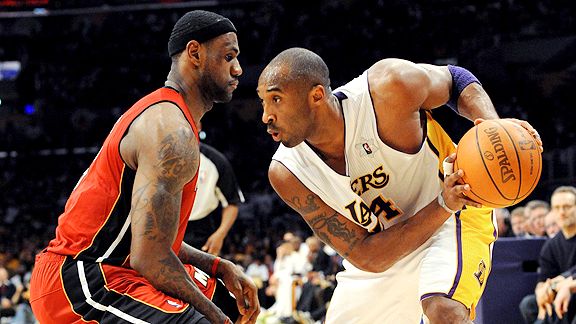 Jayne Kamin-Oncea/US Presswire
Christmas Day went to LeBron James and the Heat, but since the All-Star break Kobe Bryant and the Lakers have caught fire while Miami enters Thursday's game with a five-game losing streak.
The Lakers meet a suffering Miami team Thursday night, but while they won't be hosting any telethons in support, L.A. ought to recognize at least some of the negative energy currently burdening the Heat. Certainly the local media hasn't wanted for "What's wrong with the Lakers?" stories this year.
Both squads have seen their share of success, but as is often the case it's very possible to learn more about each team from the down moments. With that in mind, we joined up with
Tom Haberstroh
, contributor to
ESPN.com's Heat Index
(and the NBA page, generally) to compare and contrast each team's low points.
The natures of their struggles reveal a great deal about both the Lakers and Heat, their similarities and differences. I comment on L.A., Tom on Miami, looking at five different categories:
1. OFFENSE
HEAT:
On one hand, the Heat posted 96 points on 86 possessions – a very good rate -- against a vastly improved Blazers defense. On the other, it was a two-man effort with
LeBron James
and
Dwyane Wade
contributing 69 points. Depending on your viewpoint, the offense is either the least of the Heat's problems or an uneven trainwreck.
The Big Three will receive the headlines but the losing streak is a team-wide issue. Heat head honcho
Pat Riley
signed sharpshooters
James Jones
,
Eddie House
,
Mike Miller
and
Mike Bibby
to stretch the floor and sweeten Miami's three-pronged attack. During the losing streak, they've missed the mark from downtown, shooting 28.2 percent from downtown. It's particularly troublesome for the Heat considering the margin of error is slim for these specialists. They bring little else to the table.
With barbs being tossed around after Tuesday's post-game press conference, the Heat's offense may have reached a tipping point. We'll learn more on Thursday.
LAKERS:
In a lot of ways, the Lakers are the anti-Heat, thriving with balance.
December, 23, 2010
12/23/10
12:40
AM PT
There's a parallel universe somewhere in which Saturday's game between the Lakers and Heat- still on Christmas Day because
Phil Jackson isn't commissioner of the NBA
there, either- takes place with the same players in the building, but not all in the same uniform.
PODCAST
Andy and Brian break down every angle of Saturday's game between the Lakers and Heat with Kevin Arnovitz, editor of ESPN.com's Heat Index.


Podcast

While I never thought
Derek Fisher
would actually walk down the aisle with Miami, he did go on a date or two.
Matt Barnes
was rumored to be South Beach bound before landing in L.A., and the Lakers entered conversations with
Mike Miller
before eventually turning to
Steve Blake
, and later Barnes.
Miller spoke to Dan LeBatard on
790 AM The Ticket in Miami
about what might have been (
via Sports Radio Interviews
, H/T to Kevin Arnovitz and the
Heat Index
). Rightly impressed by L.A.'s championship pedigree, Miller says he nearly pulled the trigger and joined the purple and gold:
December, 22, 2010
12/22/10
12:05
AM PT
(With the Lakers-Heat Christmas Day showdown still several days away, below is an early peek at one of the big issues shaping Saturday's game.)
Kobe Bryant
,
Pau Gasol
,
Lamar Odom
,
Andrew Bynum
,
LeBron James
,
Chris Bosh
,
Dwyane Wade
. When the Heat and Lakers take the floor Saturday afternoon at Staples Center, these will be the rock stars. The guys most likely to suck up camera time, be the focus of fancy graphics packages, and so on. They're also the guys for whom Christmas comes not just on Dec. 25, but every time a paycheck lands in their bank accounts. (Unless, of course, they insist on being handed a giant sack of cash on payday. Which, at least once, would actually be pretty cool.)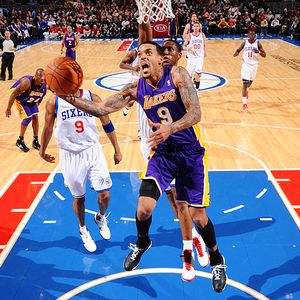 Jesse D. Garrabrandt/NBAE/Getty Images
Matt Barnes has been a monumental success at an even more monumental bargain for the Lakers this season.
Don't confuse money with influence. Each team's roster sports players in, at least by NBA standards, a different category financially, but could still make a major impact on the result of Saturday's game. Below are five guys, each earning $5 million or less, able to make or break all the work done by the headliners:

LAKERS
Matt Barnes ($1,765,000):
When he arrived in Los Angeles
after appearing to land in Toronto with a contract far richer
than the one he signed with the Lakers, I figured Barnes would provide some much-needed depth on the bench. Last season, for all intents and purposes,
Kobe Bryant
was the team's primary backup at small forward, something they couldn't afford to do again this season given the myriad physical problems Bryant fought a year ago. What I didn't have was a feel for how Barnes would fit in, or even how much he'd play.
Shows what I know.
While no player will likely ever step into
Phil Jackson's
offensive system in the way
Pau Gasol
did after arriving from Memphis, on a far smaller scale Barnes has done something similar, even while he learns the ins and outs of the offense. It works for Barnes because he never stops moving. "We don't have things set in stone. We play basketball. The idea is to always take the direct line in basketball which means if you're open you go to the basket," Jackson said after Friday's win in Philadelphia, in which Barnes scored 15 points in 28 minutes. "Matt's very efficient at doing that. There are some times we ask him why he didn't space [out the offense] but you can see why he does it, because his cuts are rewarded."
Miami, despite its struggles through November, remains an elite defensive team, capable of clogging up even the most talented offenses. When shots don't fall and clean looks become harder to create, Barnes' willingness to make hard cuts or crash the offensive glass becomes infinitely more valuable. In the latter category, Barnes has been particularly good,
grabbing the second most ORBs per game among small forwards
despite playing fewer minutes per game than every other SF in the top 20. On a per-minute basis,
no 3 in the league bests him on the glass
.
How he matches up defensively against Miami is a little tricky -- he doesn't have the strength to body up
LeBron James
in the same way
Ron Artest
can, and as far as I can tell the
two haven't played at the same time all season
-- but his activity level could be a boon for the Lakers on Saturday afternoon.
July, 2, 2010
7/02/10
3:38
PM PT
This morning, after the media was introduced to second round picks Devin Ebanks and Derrick Caracter, Mitch Kupchak spoke about Phil Jackson's return, ongoing negotiations with Derek Fisher and free agency in general. Typical to the General Manager's established form, meaningful information about the latter pair of items was sparse. And by "sparse," I mean "Mitch was like a C.I.A. operative, but more secretive." But his thoughts on Phil were interesting, and either way, Kupchak in cryptic mode is amusing.

Below are a pair of videos and choice quote pulls from the meet and greet. We'll also have video of Ebanks and Caracter ASAP.


July, 1, 2010
7/01/10
11:05
PM PT
Reports ESPNLA.com's Dave McMenamin
:
The Lakers have opened discussions with free-agent swingman Mike Miller although no contract has been offered, a source close to the situation said Thursday... Miller earned $9.8 million last season and would need to take a significant paycut to join the Lakers, but it could be worth it to him to erase a pitiful postseason resume. It would be similar to his former teammate in Memphis, Pau Gasol before he was traded to L.A.. Miller's teams are 5-22 in the playoffs in his career, the 6-8 shooter never having made it out of the first round in six appearances.
Miller, an unrestricted free agent, would provide bench scoring and a consistent outside presence the Lakers badly need. He can shoot off the catch or on the move, is able to put the ball on the floor, and has solid court vision as a passer. Plus, he's a great rebounder at his position, always a bonus. Basically, Miller is a very good player who has been put in a state of mini-limbo since being traded out of Memphis in '08 as part of the
O.J. Mayo
deal on draft night. But on paper, at least, he seems like an awfully nice fit.
The Lakers can't offer him any more than a full mid-level exception ($5.8 million for up to five years), likely less than Miller can earn on the open market,
but he has expressed a desire to play for a contender
. It's hard to get more contender-y than the two-time defending champions.
McMenamin delivers some other nuggets (really, go back and click on the link at the top of the post) of interest to Lakers loyalists:
June, 28, 2010
6/28/10
1:07
PM PT
They may call it "free" agency, but make no mistake, it is a matter centered entirely around dollars. Teams either have a ton of cap space and/or a willingness to spend it or they've got bupkis. The Lakers are behind door number two. With their payroll high, and with only the mid-level exception and veteran's minimum at their disposal, the odds of a big splash via free agency are long.
They will, however, need to be active on some level.
There are currently seven players (
Ron Artest
,
Kobe Bryant
,
Andrew Bynum
,
Pau Gasol
,
Lamar Odom
,
Sasha Vujacic
,
and Luke Walton
) under contract. Though, for all intents and purposes, it might as well be eight, considering
Derek Fisher's obvious desire to stick around
and
Mitch Kupchak
continually referencing Fish in future plans.
The remaining free agents, however, strike me as anywhere from "decent odds of returning" (
Shannon Brown
) to "iffy"
(Josh Powell)
to "unlikely" (
D.J. Mbenga,
Adam Morrison
) to "I'm pretty sure I saw a U-Haul attached to his car as he left El Segundo" (
Jordan Farmar
).
Devin Ebanks
might have a
better than average shot of sticking
, but won't be counted on to provide championship-caliber depth.
The Lakers' biggest needs this offseason are point guard depth, outside shooting and reserve bigs.
Mitch Kupchak cited the backcourt as the top priority
, and I concur. Thus, I'll begin with ones and twos rumored to be on the radar or considered realistic, interesting options. The list, a tier above "we're getting all minimum priced guys, so deal with it," won't blow minds, but does include players potentially capable of lending a hand.
As a guide, I've omitted restricted free agents, as those worth pursuing (
J.J. Redick, Anthony Morrow, CJ Watson,
etc.) will be out of the Lakers' price range. Cockamamie schemes where
Joe Johnson
or
Dwyane Wade
get talked into a sixth man role for mid-level money and a ring were left to another blog. Sign-and-trades, rare and typically complicated, got stiff-armed as well. The quality of each signing is always rated with the assumption of a reasonable price tag and contract length, since a deal is unlikely under any other circumstances.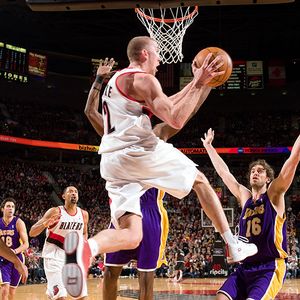 Sam Forencich/NBAE via Getty Images
Steve Blake should have made a good impression
on the Lakers in their last meeting.
STEVE BLAKE
POSITIVES:
Very good from downtown. Distributes the ball nicely. Can score, but isn't married to the concept. Scrappy. I've heard at least one scout label Blake's defensive ability better than its reputation. He notched a triple-double against the Lakers during the final regular season game, which is certainly a nice audition.
NEGATIVES:
More of a luxury backup than a truly ideal starter, he doesn't necessarily solve point guard issues down the road. If you aren't amused by my observation Blake looks like your typical Fresno tweaker, think how unamused you'll be hearing it 30-50 times per season.
On a scale of 1-10, this signing is a... 9.
There may be no single player more (potentially) affordable and capable of addressing multiple needs by himself.
January, 27, 2010
1/27/10
9:20
AM PT
Andrew D. Bernstein/Getty Images
Shannon Brown pleases President Obama, who wished him luck in the dunk contest.
Just a year into his presidency,
Barack Obama
has yet to fix everything wrong in our country. I don't think mine is a particularly partisan claim, or even particularly critical, as the man's plate has enough piled on it to
leave Kobayashi with a full tummy
. Still, the ability to bring about large-scale, permanent change remains somewhat unproven.
But give the Prez this much. Last Monday, he played host to a Lakers squad whose current road trip had featured a pair of losses against a
contender
and a
pretender
, and a win that didn't
swing in the Lakers' favor until the fourth quarter.
They've been so largely unimpressive,
Steve Mason crashed our PodKast
to tee off on how poorly they've played. A little time with Obama, however, and the purple and gold are suddenly
inspired to kick off the cobwebs, as ESPN Los Angeles' Dave McMenamin reports:
Being in the president's presence not only helped cause (Kobe) Bryant (26 points, eight assists) to play at the title-taking level he's capable of, it infused the whole team with the life it had been lacking. "It reminded us what we were playing for," Bryant said. "It reminded us what's at stake. I'm sure it helped re-energize us a little bit."

Bryant's tank wasn't quite topped off with Obama's influence after Monday, so he made a return trip to the White House on Tuesday morning, spending "about 20 minutes" in the Oval office with the president, bringing along his wife Vanessa and their two daughters, Natalia and Giana. Following Bryant's lead, the Lakers shot 58.7 percent as a team, ran out to a 16-point lead at halftime and didn't let the lead dwindle to less than nine the rest of the way.Just about every Lakers player who starred on Monday credited the president in one way or another.