Los Angeles Lakers:

minerals
August, 18, 2010
8/18/10
11:17
AM PT

By Andy Kamenetzky
ESPNLosAngeles.com
Archive
As part of our look ahead at the Lakers' projected roster next season, we continue to work our way from the bottom to the top of the rotation. Next up...
Player
Theo Ratliff

Salary
$854,389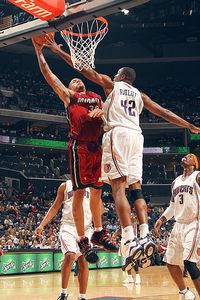 Kent Smith/NBAE/Getty Images
Look at Old Man Ratliff get up there!
Role For The Lakers In 2010-2011

It's not easy being a third string player on a championship team. You work very hard, but the payoff rarely arrives in tangible form. You're told to remain mentally ready, but the odds favor remaining physically stagnant. You don't have to like sparse playing time (nor should you, really), but you have to accept it.
From mid-2008 through 2010,
D.J. Mbenga
played this role at center for the Lakers. On the whole, he did an admirable job staying focused, working hard for little acclaim and performing well when called up upon. But over the course of last season, the job constraints began to wear on Mbenga, who felt he could be on the floor more often. During the Finals against Boston,
Phil Jackson
noted how
Josh Powell
(another third stringer) remained sharp during these long stints without PT, but Mbenga had allowed his mind to wander. Not so coincidentally,
Adam Morrison
was suddenly activated for a game in favor of D.J., despite
Andrew Bynum's
balky knee and Ammo's last bit of run coming in approximately 1997. A message was clearly sent. It may very well have been received,
but during his exit interview, Mbenga reiterated his desire to get more run
, making a split feel even more imminent.
It could be argued Mbenga has an inflated sense of skill. During the sporadic occasions of extended run, the returns were mixed and often increasingly diminished the longer he remained on the court. He also remains unsigned, and a landing spot is hard to predict. Nonetheless, D.J.'s desire to grow as a player is understandable and admirable. Unfortunately, it doesn't mesh with what is needed.
Enter
Theo Ratliff,
who strikes me as the best of both worlds in this setup.
July, 26, 2010
7/26/10
2:09
PM PT

By Andy Kamenetzky
ESPNLosAngeles.com
Archive
Like I mentioned when the signing of Theo Ratliff was announced
, he'll be playing the role of
D.J. Mbenga
, only with more seasoning and less reluctance. Assuming the big three of
Andrew Bynum, Pau Gasol
and
Lamar Odom
are present and accounted for, I don't expect Ratliff to get much run. But between Bynum's history and the unpredictability of injuries, it's likely Ratliff will be pressed into heavier minutes at some point during the season. Assuming expectations and the duration of those stints are reasonable, I think he'll hold down the fort well enough.
Either way, he is a veteran presence with a defensive mindset and a terrific locker room rep. You can never have enough of those dudes around. Last Friday, Ratliff spoke with the media about the upcoming season and the years leading up to it: Among the talking points:
- Ratliff is excited to be in a position where "championship" can be added to a long, fruitful, yet jewelry-free NBA resume. He understands the value of his services, but it's nonetheless pretty flattering when the top dogs extend an invite. "To be wanted by a team that's won a championship two years in a row is a great feeling," smiled Ratliff. Beyond the "rush" the big man still gets from hitting the hardwood, the quest for a title is what has kept him going this long.
"All the things I've been through, as far as the injuries, all of the workouts and the rehab I've done, it's always been to get to the point where I can win a championship."
-Ratliff's next season will feature a new uni, but his responsibilities remain the same as always: Plugging the middle. Rebounding. Altering shots. Being "tenacious" and a "defensive stopper" while protecting the purple and gold cup.