Los Angeles Lakers:

minutes
October, 21, 2012
10/21/12
9:41
AM PT
Last season, Kobe Bryant and Pau Gasol logged were among the league leaders for minutes, and the toll was evident. This season, Mike Brown's roster is better and deeper, but even more steeped in NBA mileage. Will Brown make a conscious effort to keep his team fresh for the playoffs, even if it means risking an occasional regular season loss? Along with ESPNLA 710's Drew Belzer, we debate the question.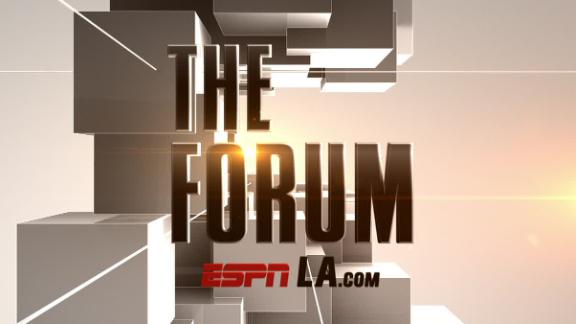 September, 24, 2012
9/24/12
9:01
AM PT
Realistically speaking, it's hard to ask for a much better starting lineup than Steve Nash, Kobe Bryant, Metta World Peace, Pau Gasol and Dwight Howard. But do Steve Blake, Jodie Meeks, Devin Ebanks, Antawn Jamison and Jordan Hill form a good enough second unit? We debate the question.
March, 31, 2012
3/31/12
3:16
PM PT
This was ugly. Really ugly. Like, "the offspring of Medusa and Jabba The Hut" ugly. The important thing is the win, but the second most important thing is the way the win was manufactured. And in this game, a photo finish against a lousy Hornets team rolling out
Jarrett Jack
,
Marco Belinelli
, and a bunch of 9th-man/D-League-caliber players constitutes poor manufacturing. Nobody can feel particularly happy about this day.
Here are four takeaways.
1. Something is wrong with Kobe's shot right now.
Yes, Bryant hit the winning 3-pointer and he absolutely deserves credit for maintaining the focus necessary to ride out a brutal afternoon. As the saying goes, that's what makes Kobe the first-ballot Hall of Famer he is. But having acknowledged this, it's a good thing March comes to an end Sunday, because the month has been brutal to The Mamba's percentages from the field. Heading into this game,
Bryant had shot 50 percent from the field only once in his past 10 games, and only three times in the entire month
. (Truth be told, February was pretty rough, too.) This afternoon, his touch turned especially brutal. Fifteen shots were fired before one finally dropped
with 7:30 remaining in the fourth quarter (!)
, and with his frustration on his sleeve, the Staples crowd began chanting "Kobe" late in the third quarter to get him rolling again. Not "MVP," but "Kobe," just like in 2010's Game 7 against Boston, when they rallied behind their struggling star. Even more disturbing than the misses was the variety of shots refusing to fall. Long jumpers. Catch-and-shoot opportunities from between the circles. Bunnies from nearly point blank. The Mamba couldn't toss a pea into the ocean.
The cause for this slump? Perhaps Kobe's heavy minutes are catching up to him. As of Friday, he led the league in total minutes (1968), and at age 33, 16 seasons into a career, that's got to take a toll. Especially during this compressed schedule, in which days to recover are as rare as a yeti sighting. Bryant even admitted after the game he's feeling tired, and he's as reliable a source as any.
Mike Brown
said Friday reducing Kobe's PT is a luxury he doesn't have at the moment, but he may need to bite the bullet and find the guy a few extra minutes on the bench, results be damned. Fatigue may also be exacerbated by Kobe's propensity for launching 3s. As of this writing,
he's seventh in the league for 3-pointers taken
, and has by far the worst percentage among league leaders. Whether that's a matter of too many plays drawn up placing him far from the basket, settling as the result of fatigue, or just Kobe taking advantage of his green light, dialing this back is a must.
Or maybe this is just your garden variety brutal drought.
But whatever the case may be, the Lakers can't continue to survive against mediocre opponents (much less contenders) with Bryant continuing to create so many empty possessions. Hopefully, his touch can be rediscovered, and ASAP.
February, 18, 2012
2/18/12
4:16
PM PT
By The Kamenetzky brothers
ESPNLosAngeles.com
Archive
December, 30, 2011
12/30/11
9:07
PM PT
It was a fairly mellow afternoon in El Segundo, the vibe notably casual after a whole bunch of hand-wringing over the Lakers' 0-2 start (which came on the heels of more hand-wringing over "pick your favorite issue since camp opened"). But after two straight wins, a feeling of normalcy has blanketed the Lakers, and with
Saturday marking Andrew Bynum's return to action after a four-game suspension
, that ease further increases. Missing those four games was as tough on Drew as the Lakers, and it felt even weirder being separated from the team.
"Suspensions are definitely weird," shrugged Bynum. "You're not hurt. There's nothing wrong with you, so you're kinda just sitting out, watching all the games on television. That's all I did... Even in practice, you can't really practice, because they have to simulate game situations and you won't be out there. So you gotta your work in before they get to the arena, and all that. It's almost like you're trying out again."
In terms of getting up to speed with the game plan, Drew said he feels pretty good defensively, since very little has changed for him beyond showing hard on pick and rolls. The offense remains a trickier work in progress with "things I still need to get accustomed to," but he's scouring the playbook. The biggest concern, truth be told, is actually conditioning.
"I won't be able to play major minutes at this point," Bynum said. "I'll be a little bit winded, probably. So, I'm going to be out there working on my game."