March, 28, 2014
Mar 28
10:28
PM PT

By Dave McMenamin
ESPNLosAngeles.com
Archive
MINNEAPOLIS -- After previously being ruled out for the remainder of the regular season by his coach and defying that prediction to come back and play in two of the
Los Angeles Lakers
' past five games,
Steve Nash
acknowledged after Friday's 143-107 loss to the
Minnesota Timberwolves
that his season indeed could be finished.
"Frankly, I don't know if I'll play again or if I'll play every game [the rest] of the year," Nash said after putting up four points, six assists and two turnovers in 15 minutes against the Wolves. "I think the bottom line right now is this is a situation where I want to play; that's the only reason I played tonight.
"But I also want to go into this summer healthy."
Nash, 40, is the oldest active player in the league. He has one year remaining on his contract with the Lakers, set to pay him $9.7 million for what would be his 19th season in the NBA.
[+] Enlarge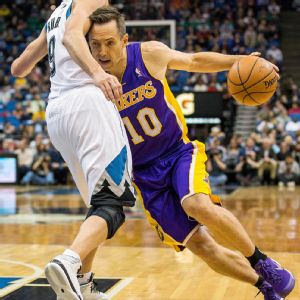 Jesse Johnson/USA TODAY Sports"Frankly, I don't know if I'll play again or if I'll play every game [the rest] of the year," Lakers point guard Steve Nash said after Friday's defeat.
The former two-time league MVP has played in just 12 of the Lakers' 72 games this season, missing extensive time because of nerve root irritation in his back and hamstrings stemming from the broken left leg he suffered at the beginning of last season.
Nash is averaging 7.4 points and 5.3 assists this season while shooting a career-low 36.7 percent from the field.
The Lakers (24-48) have 10 games remaining this season and on Sunday will host Nash's former team in the
Phoenix Suns
.
Nash said Thursday he did not plan to play on the Lakers' two-game road trip through Milwaukee and Minneapolis, but he reconsidered before the Timberwolves game.
"I kind of weighed it all up," Nash said. "You know, this might be my last little window to play -- one. I felt decent -- two. And then also a back-to-back with guys out, injured, I thought it would be a perfect time for me to give it a shot."
Other than Nash, the Lakers had just one healthy point guard,
Kendall Marshall
, on the roster on Friday.
Jordan Farmar
missed his fifth straight game with a strained right groin, and
Xavier Henry
, who had been playing out of position at backup point guard to fill in, was out with a sore right knee.
Nash said he made it through the unplanned game action without a hitch.
"It wasn't bad," Nash said. "I actually felt like I was moving pretty well, even though there was some pain. And the fact that it didn't go downhill was positive. But, yeah, it was OK. Mike [D'Antoni] was good. He didn't give me [a heavy workload]. He was cautious with me, which was nice, to keep me on the court."
D'Antoni, who started Nash in the second half over Marshall, explained his decision to keep Nash on a short leash.
"He wanted to play some more," D'Antoni said. "But I said, 'Look, you feel great. You may as [well] quit now. I feel bad taking you out.' Hopefully he can build on this."
Nash was unsure if he would be able to play Sunday. He expects to base the decision on how his body will respond to the long flight from Minneapolis back to L.A.
Meanwhile, Farmar is scheduled to be re-evaluated over the weekend and if cleared could be back in the lineup later in the week. After the Suns on Sunday, the Lakers continue with a home game against the
Portland Trail Blazers
on Tuesday, the second night of a back-to-back in Sacramento on Wednesday and again at home against the
Dallas Mavericks
on Friday.
"I think I have to be really conservative and cautious to give myself a chance to come back next year and see what my options are to have as big an impact, and have as big a chance to have an impact as possible," Nash said. "So, you might not see me the rest of the year, or I might get a chance to play a bunch.
"But with Jordan coming back and the state of the team, it's totally in flux. We'll just see. I think the most important thing, like I said, is for me to start the offseason somewhat healthy and for these guys to play as much as they can. They're free agents, and I think the club needs to take a look, as well."
November, 21, 2011
11/21/11
11:06
PM PT

By Brian Kamenetzky
ESPNLosAngeles.com
Archive
This debate would never take place in the NBA.
There, questions about who should win this year's National League MVP would be settled automatically by the standings. It's Step 1 in the weeding-out process. Players, however outstanding through the course of the year, are axed from the short list if their teams tank, while other candidates are elevated despite, perhaps, lesser numbers. Only twice in the last decade (
Tim Duncan
in '01-'02 and
Steve Nash
in '05-'06, still known in many local circles as "The Year
Kobe
Got Screwed")
has the winner come from a team not winning its conference
. In those years, the Spurs and Suns respectively were both seeded No. 2.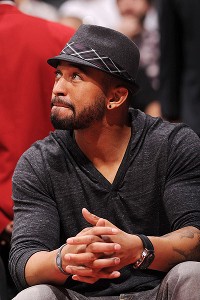 Noah Graham/NBAE/Getty Images
Matt Kemp is a regular in the stands at Lakers games. Will NBA style voting criteria keep him from winning the NL MVP?
Clearly team success has been baked into the criteria.
Say what you will about varying definitions of valuable and whether voters too often become slaves to win totals (they do) and narratives (even more so), at least in pro basketball the relationship between awards and Ws makes some sense. There's nothing inherently egalitarian about the NBA. Generally, only eight or nine guys on a 15-man roster are relevant. Only five play at once, and in unequal minutes. One player almost always emerges as "The Man." He'll get more looks, extra time handling the ball (hence the invention of usage rate) and exert a disproportionate amount of influence on the final score. On bad teams the same rules apply, except necessity often becomes the mother of invention.
Someone
will get numbers, so it's the payoff helping separate the wheat from the chaff.
If NBA rules apply,
Ryan Braun
wins over
Matt Kemp
. He'll win with those baseball writers believing MVPs should play on contending teams, too. Except baseball, fundamentally built around an individual battle (pitcher vs. hitter) in a team setting, doesn't operate like basketball. In hoops a player can, cliche as it is, make his teammates better. The Dodgers fell short, but derisively asking what Kemp did to elevate his squad is absurd.
Well, he..
.