Los Angeles Lakers:

Monta Ellis
November, 5, 2013
11/05/13
10:38
PM PT

By Dave McMenamin
ESPNLosAngeles.com
Archive
DALLAS --
Pau Gasol
and
Jordan Hill
are very different individuals who approach the game of basketball very different ways, so it's not shocking they would have different gut reactions when asked about what went wrong with the
Los Angeles Lakers
' defense Tuesday.
Hill, the boundless bundle of energy -- bone-bruised knee or bum hip be damned -- went in a visceral direction when explaining the letdown.
[+] Enlarge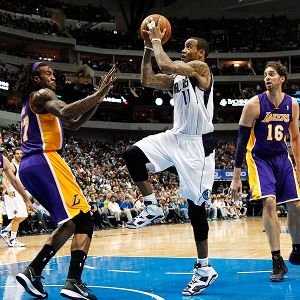 AP Photo/Tony GutierrezJordan Hill, left, and Pau Gasol, right, had differing views as to why the Lakers struggled so mightily on defense against Monta Ellis and the Mavs.
"It's a heart thing, basically," Hill said of the Lakers' 123-104 loss to the
Dallas Mavericks
in a game in which the Mavs scored 67 points in the first half, shot 52.1 percent overall, made 13-of-27 3-pointers and outscored L.A. 52-36 in the paint. "They're a great offensive team and we knew that from the jump, so we should have buckled down on them from the start of the game and we didn't and they took advantage of it."
Gasol, the cerebral player who identifies himself as much for his interests outside of basketball, offered a logical explanation.
"We just got to make sure we can't give up all those paint points that we did in the first half," Gasol said, illustrating how all those chippies were like the kindling that allowed Dallas to catch fire. "Then they got comfortable. They got comfortable and they started hitting shots, one shot after another and they shot the ball very well, hitting some tough ones down the stretch. The main thing is we just got to make it uncomfortable for them and not allow them to get easy ones."
If the team can pick up Hill's heart and Gasol's brains on defense, they might just be able to play with the requisite courage to win a game on the road, where they are now 0-2, giving up an average of 124 points against the Mavs and the
Golden State Warriors
.
"It wasn't the necessary toughness, it wasn't the necessary concentration on what we're doing," Lakers coach Mike D'Antoni said. "There was just so many breakdowns."
L.A. broke down its defense in the offseason, losing two former defensive player of the year winners in
Dwight Howard
and
Metta World Peace
on a team that already struggled to get stops.
So far this season, opponents are ripping through them like a wet paper towel, averaging 109.0 points per game on 47.9 percent shooting and 42.4 percent from deep.
April, 18, 2012
4/18/12
6:43
AM PT
After sprinting through 62 games, including Tuesday's
disappointing loss to San Antonio at Staples
, in what feels like 32 days, the Lakers are in Oakland tonight for a date with a bad Golden State squad. It's the sort of game that, even in this crazy year, should be a cakewalk. Particularly given the question of whether Golden State, having traded or shut down almost all of its high-end talent, is doing whatever it can to lose down the stretch, preserving a first-round pick ticketed for Utah should it fall outside the top seven.


Still, the Lakers would be wise not to take any chances. With guys like
Dorell Wright
,
Nate Robinson
and
Klay Thompson
, at the very least the Warriors will want to get up and down, drawing the Lakers out of their Happy Tempo Zone into something a little too fast.
Kobe Bryant
will likely miss the game, the
last trip to Oracle wasn't exactly satisfying
and the Pacific Division is still up for grabs.
More than incentive to stay focused and bury the Dubs, which, given a season-long tendency to play down to the competition, would actually constitute a genuinely positive evening's work. To help gain a little more insight into the team upon which the Lakers should toss an abundance of dirt, we hit up J.M. Poulard of the
always entertaining Warriorsworld.net
.
1. So word is the Warriors are tanking. True? If so, how's it going?
The Golden State Warriors have lost 17 of their past 22 games, which coincides with the
Monta Ellis
trade to Milwaukee (for
Andrew Bogut
). Mind you, it's one thing to tank and not give the fans anything to cheer about -- yes, Charlotte, I'm looking at you -- but it's something completely different when the team is able to get the young guys a look, get them to play hard and remain competitive for most of the game and then finally fall to a more talented team late.
The Warriors have been tanking since early March but the fans have had the chance to cheer for their team given their effort. So in short, it's been a resounding success!
March, 27, 2012
3/27/12
9:05
AM PT
2012 has been a season chock full of uncertainty for the Warriors. Uncertainty about what the future holds for a roster in perpetual turnover. (The latest rebuilding phase features a nucleus of
David Lee,
perpetually-injured-but-undoubtedly talented
Steph Curry
and
Andrew Bogut
, plus promising rookie
Klay Thompson
.) Uncertainty about the long term prospects of rookie head coach
Mark Jackson
. And uncertainty about how much further the patience of a historically faithful fan base can be tested. It was a shame to see
Chris Mullins' jersey retirement ceremony drown in a sea of boos
directed at owner
Joe Lacob
.
But as Bill Simmons recently (and convincingly) illustrated
, the reaction was a long work in progress. And now 3-6 since
Monta Ellis
was dealt to Milwaukee, it appears more darkness will persist before any light finally shines on Warriors fans.
For a deeper look at the Warriors, we contacted
Jordan Ramirez
from Warriorsworld of the True Hoop network. Below are his thoughts on a few questions, plus one of my own.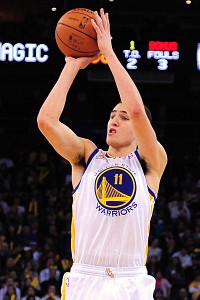 Kyle Terada/US Presswire
Klay Thompson can shoot the lights out, but is still learning the NBA game.
Land O' Lakers: The Ellis trade opened up more playing time for Klay Thompson. How has he responded, and what are his strengths and weaknesses, particularly areas that could be critical one way or the other against the Lakers?
Jordan Ramirez: Klay Thompson
has responded well since replacing the Bay Area legend and fan favorite Monta Ellis. His strength will always be his shooting touch. Whether it's spotting up from the corner or coming off quick screens, Thompson has shown the ability to shoot the rock. But he still could improve on his drive and slash ability. He'll never be an Ellis-type slasher, but he should focus on improving his ability to get to the line (with his 89% FT shooting). If Thompson adds the ability to get to the hole with his shooting skills, his offensive successes will be endless.
Defensively, Thompson plays much like an NBA rookie would normally play: silly fouls, biting on pump fakes and getting burned on a semi-regular basis. Do I think these will be chronic problems? No, but against the Lakers – and
Kobe Bryant
– Thompson will have his hands full, to say the least. With a healthy Curry and Bogut next season it will be interesting to see the progress Thompson will made since his rookie campaign. The Warriors front office will have their hands full if he doesn't.
January, 7, 2012
1/07/12
1:42
AM PT
The high priests of technology did not smile upon Friday night's edition of Lakers Late Night, so unfortunately we can't (at least right now) bring the replay to you. Hopefully we can find whatever cloud it floated to, and post it. In the meantime, the most provocative comments following L.A.'s
97-90 win over the Warriors
at Staples came from
Kobe Bryant
.
The team's pecking order offensively, he said,
has likely shifted
. Not to spoil the videos below, but Bryant is still on top. Behind him, it's another story.
Andrew Bynum
may have moved past
Pau Gasol
. "It seems like it's changed a little bit... Andrew is thirsty to score and he can score. He has more of a scorer's mentality [than Gasol], so we'll take advantage of that," Kobe said.
It's easy to get too simplistic parsing the definition of a second option, a third option, and so on. Gasol is unquestionably a highly skilled offensive player and will have his share of big scoring games this season. Friday, he posted 17 points to Bynum's nine, and had six more shots. These categorizations are fluid, and likely to change perhaps even game to game as teams adjust how they defend Bynum and the Lakers generally.
Still, in a world where Bynum evolves into a more aggressive scorer and Kobe remains Kobe, someone has to cede some shots or L.A.'s Big Three won't function.
"It's a little bit of an adjustment, but Andrew has been effective so that's why we're going to him a little more," Gasol said. "As long as he's effective and he scores and he's big in the paint as he has been, we'll continue to do that. We have to have a little bit of balance. We can't just be posting up. Somebody has to space the floor a little bit and sacrifice themselves a little bit, so we just have to understand that and [do] whatever it takes to win games."
That "somebody" is obviously him. Particularly given the personalities involved, Gasol's willingness to take that step isn't surprising. Those who don't like Pau's on-court demeanor or question his mental toughness will likely see it as a negative. I don't. Gasol has tremendous pride in his skill level, but is also hardwired for a team oriented approach. Some guys want to score. Gasol has an almost slavish devotion to making the right play, whatever it may be. Admirable, but sometimes detrimental as well.
Except here the alternative would be for him to complain or sulk. How is that productive?
Here's Kobe on "the shift:"
Gasol, on his evolving role:
More video from Friday below, including Kobe,
Matt Barnes
, and
Andrew Goudelock
...
January, 6, 2012
1/06/12
10:04
AM PT
There are things to like about the Golden State Warriors. Their uniform redesign, for example, produced some of the slickest togs the NBA has to offer. Go get yourself a
logo patch
, and maybe a t-shirt or
replica jersey
. The Warriors also have dedicated fans, an association with
Jerry West
(always nice, particularly
when it comes to thinking big
), and a very young, appealing franchise player in
Steph Curry
.
Plus,
David Lee
is from St. Louis, always good for cheap points on this site.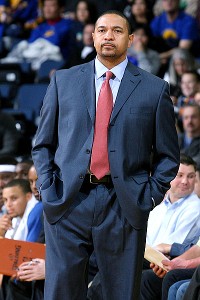 Jack Arent/Getty Images
I'm sure Mark Jackson will look a little more excited once the Warriors are playing better.

What they don't have these days is a culture of consistent winning.
Since 1994-95, Golden State has
won more than 38 games in a season twice, 26 or fewer seven times
, and have made the playoffs once. That ain't good. For a long time the Warriors were saddled with brutally bad ownership under
Chris Cohan
. Now new rich guys are in charge, led by
Joe Lacob
and
Peter Guber
, so there's hope the Warriors might turn a corner. Still, it won't happen quickly. New coach
Mark Jackson
has tried to instil a defensive mindset, and with the understanding all things are relative, in the early going has had some success. Through TK games, Golden State has shaved about four points off opponent's scoring per 100 possessions. Still only good for 22nd in the league, but better than the three previous seasons (26th, 29th, 28th).
Unfortunately, that defensive improvement has come at the expense of Golden State's offense. Once a juggernaut putting ball through hoop, the Warriors have thus far been among the league's most anemic teams, 25th in scoring (90.3 ppg) and efficiency (98.9 points per 100 trips), a huge drop from previous seasons. Blame some of that on Curry's recurring ankle problems, but it still amounts to trouble for Golden State folks may not have expected.
To get a little more insight into tonight's opponent, I sent some questions to Ethan Sherwood Strauss of
WarriorsWorld.net
, your GSW stop on the TrueHoop track.
1. Not to get all judgmental, but things seemed to go off the rails up there as the Don Nelson era wound down, and didn't improve under Keith Smart. How has Mark Jackson impacted the Warriors culture?
Ya, it did get pretty dark and weird back there with Nellie, huh? The best was when he
slurrily called a sports radio show from an Indianapolis bar
, made loud mention of his scotch in hand, and lamented
Stephen Jackson's
terrible trade value. The culture has calmed down since then, but in the wake of cultural chaos we're left with mediocre talent. Perhaps Mark Jackson can motivate athletes, but this team might have no way to pair with a will.
2. What are the prospects for Year 2 of the Monta Ellis/Curry/Lee core? Can it become a playoff contender, or do more changes have to be made?
The prospects are bleak, the team must decide on Monta vs. Steph. It feels as if the catharsis of making the decision matters more than making the right decision. Lee has immense defensive flaws, but I'm enjoying his progress as a pick-and-pop big.
June, 23, 2011
6/23/11
8:43
AM PT
The 2011 NBA Draft is Thursday afternoon (4 p.m. PT, ESPN). We've spent scads of time taking stock of where the Lakers stand heading into draft day, and now aim to catch up on the rest of the Western Conference.
Today, the Pacific Division...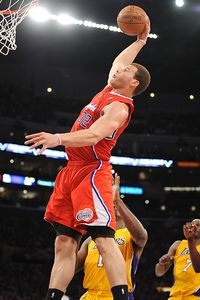 Noah Graham/NBAE/Getty Images
Building around Blake Griffin, a shrewd move or two makes the Clips a challenge for the Lakers in the Pacific.

Los Angeles Lakers
2010-11:
57-25, lost in second round 4-0 (on the odd chance you forgot) to Dallas.
Picks:
41, 46, 56, 58 (Round 2).
Where They Stand:
Uncharacteristically uncertain. The Lakers certainly have more questions this offseason than anything faced in the last two. With four second round picks, making significant additions through the draft to a roster still designed to win now is, to say the least, unrealistic. G.M.
Mitch Kupchak
has said he just hopes to find a player able to stick on the roster. An admirable goal.
As a team, though, the Lakers have plenty of needs, including
outside shooting
,
point guard production
,
center depth
,
speed/athleticism
, and another
shot creator
.
Projections (Round 2):
Chad Ford, ESPN.com (Insider required)
-
Nolan Smith
(SG, Duke),
Malcolm Thomas
(PF, San Diego State),
DeAndre Liggins
(SG, Kentucky),
Julyan Stone
(SG, UTEP).
DraftExpress
-
Shelvin Mack
(PG, Butler),
Jordan Williams
(C, Maryland),
Jereme Richmond
(SF, Illinois),
Greg Smith
(C, Fresno State).
Phoenix Suns
2011-12:
40-42, missed playoffs
Picks:
13 (Round 1).
PODCAST
Andy and Brian talk with David Thorpe (ESPN.com's Scout's Inc.) about what the Lakers can do in the second round of the draft. Plus, a look at the hot rumor (Pau for Kevin Love/#2 pick) and the vocal stylings of Dirk Nowitzki


Podcast

Where They Stand:
Limbo. A surprising run to the Western Conference Finals two seasons ago faded from memory this year, as the Suns finished below .500 and in the lottery.
Steve Nash
is entering the final year of his contract, while
Grant Hill
is a free agent. At 34 years old,
Vince Carter
, acquired in December's big deal with Orlando, is a shell of the shell of himself, and
reportedly will be bought out
.
The supporting cast has some quality in it.
Marcin Gortat
was a major score in the Orlando trade, quickly overtaking
Robin Lopez
in the starting lineup and becoming one of the most productive centers in the NBA.
Channing Frye
didn't quite meet his lofty shooting stats of 2009-10, but still hit nearly 40 percent of his triples. Plenty of teams would love to have a guy like
Jared Dudley
.
Role players, though, won't be enough to again lift the Suns to the elite. They need serious help on the glass, landing near the bottom of the league in rebounding on both sides of the floor. Where in previous seasons the Suns were bad more by reputation than actual output defensively, this season they were genuinely lacking, finishing 25th in efficiency. Contrary to their reputation, with a hole at shooting guard and a decision to make on
Aaron Brooks
, the Suns could find themselves in need of scoring, as well. Certainly an upgrade at the two is required.
Projections:
Ford-
Tristan Thompson
(PF, Texas). DraftExpress- Thompson.
April, 6, 2011
4/06/11
11:24
AM PT
In 2008, the Golden State Warriors won 48 games, finishing only two games on the wrong side of a very competitive Western Conference playoff race. This, coming one season after notching 42 victories and scoring one of the greatest playoff upsets in NBA history, knocking out a top-seeded, 67-win Dallas Mavericks squad in the first round.
So it wasn't that long ago Golden State was competitive. It just seems like a _illion years ago, right? (Fill in the blank yourself. Suggestions include m, b, z, t, or gaj. I don't want to put words in your mouth.)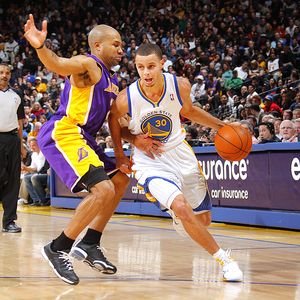 Rocky Widner/NBAE via Getty Images
Steph Curry and the Warriors are 0-3 against the Lakers this season. L.A. hopes to make it a clean sweep Wednesday night.

This year, after reaching a high-water mark of 26-29, the Warriors have lost 15 of 23, which seemingly makes them ripe for the picking, right? Maybe not. Four of those eight wins have come in Golden State's past six games, including a blowout victory over the
Portland Blazers on Tuesday night in Portland
. They've also won three straight at home, the last being a seven-point defeat of Dallas on Saturday. So while the Warriors aren't good, they're on a relative hot streak these days.
In consecutive losses
Sunday
and
Tuesday
, the Lakers turned the ball over a fairly appalling 39 times. Given how important component pace is to any game at Oracle Arena, a matchup against the run-and-gun Golden Staters provides a prime opportunity for the Lakers to reinject a little more discipline into their collective game. Run the offense. Take good shots. Limit mistakes. Keep the Warriors in half-court sets.
Any and all of those things would likely put L.A. back on the winning path.
Or, they could just stay careless with the ball and see what happens. After all, the recipe Tuesday night against the Jazz was similarly simple, and look how that went.
Now, those who frequent this space know we'll typically call on bloggers from other cities to help us learn more about a given night's opponent. This game is no exception. But where normally our respondents at least feign some optimism, today things are a little different. Consecutive losses got you down? Particularly Tuesday's game, one
Lamar Odom
called "the worst loss of the year" in a year with plenty of strong candidates? Try using up your hoops energy on the Warriors, as our man
Ethan Sherwood Strauss of WarriorsWorld.net
does 82 times a year.
Judging by his responses, it's not a happy thing, despite the recent (again, it's all relative) success:
November, 21, 2010
11/21/10
1:08
PM PT
They're baaa-aaack! After a brief tour of the northern Midwest, the Lakers have touched down in L.A. and will host the Golden State Warriors. It's a date against first- and second-place holders in the Pacific, but with all respect to the Warriors' surprisingly strong start, the Pacific remains the Lakers and four teams taking up space. Here are a few items to be mindful of after the ball is jumped:
Monta Ellis
What a difference a year makes. Around this time in 2009,
Monta Ellis
was angry about
Stephen Jackson's departure
, skeptical about
Steph Curry's presence
and rumored to be on the block if a taker was willing to bid. About 365 days later, Ellis is content, gets along with Curry and is embarking on the best campaign of his career.
His scoring prowess (27.7 ppg)
isn't impressive simply for ranking second in the league, but rather its efficiency. Ellis is shooting 52 percent from the field overall with a career-best 37 percent clip from behind the arc. In particular, Ellis is
killing it at the rim, converting almost 72 percent of shots from point blank
.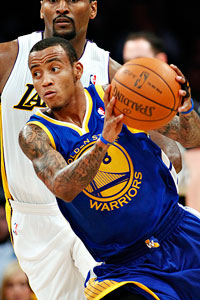 AP Photo/Lori Shepler
This man can do serious damage filling up a bucket.
During the preseason, Ellis
ran roughshod all over the Lakers for 41 points
. A Halloween regular-season match, however, was a different story. The speedy guard was
"limited" to 20 points
on 9-of-20 shooting and, equally crucial, offered just a pair of trips to the line. (
Ellis averages 6.9 freebies a night, 13th-highest in the league.
) Of course, a bad ankle shelved Curry, making it easier to key on Ellis and spread the labor defending him. With the baby-faced point guard -- no slouch in the scoring department himself -- on hand, Ellis instantly becomes a tougher cover.
Who'll take the assignment is an interesting question. Ellis is much too fast for
Derek Fisher
.
Ron Artest
has been up to the challenge in the past, but
a nerve issue in his back -- according to Phil Jackson, if nothing else
-- might leave him staring too often at the back of Ellis' jersey. Thus, it wouldn't surprise me to see Kobe spend a large amount of time checking the Warriors' leading scorer.
Ideally, the Lakers would avoid burdening Bryant with this type of defensive assignment on top of his scoring responsibilities, but he's probably the best option. If I may be so bold to offer a tip, forcing Ellis into 2-pointers from 16-23 feet out (his worst spot on the floor) would be a sound strategy. Or the Mamba could just turn the tables by aggressively attacking Ellis and exploiting a size advantage. That ability to score, impressive as it is, drops dramatically while he's pinned to the bench with foul trouble.
October, 23, 2010
10/23/10
12:21
AM PT
Overtime preseason roundball! You gotta love it! Actually, not so much. At least it was a Laker win keeping me out late.
105-102 over the Golden State Warriors
, pushing the exhibition season record to an even .500 (4-4).
As usual, a trio of highlights and lowlights to consider:
Three up
Kobe Bryant
Keeping with an October theme, the Mamba's shot didn't drop much (six-for-19 for 22 points). But as I've hammered home,
that will take time and his percentage doesn't matter to me
. I care how Kobe looks, and overall, his activity was terrific.
Nine trips to the line, as he drew fouls on double clutches, drives and his patented "hand sweep." He set up
Shannon Brown
for a three-pointer off a fantastic display of footwork in the lane, swinging right and left without losing his pivot, then releasing a perfect catch-and-shoot pass. This was just one of seven assists, including a critical dime near the end of regulation.
Brian Shaw
, filling in for an "ill"
Phil Jackson
(ill at the prospect of shlepping on the 10 Freeway, I'm guessing), said Bryant requested to play in the OT period, obviously a good sign. Shaw eventually replaced Bryant not because of anything physical, but fear of doomsday under his watch.
"After the first one or two times up the court, I was like, 'I don't want it to be on me if something happens,'" smiled Kobe's Three-peat bud.
In any event, a positive outing for Bryant after missing Thursday's contest.
The fourth quarter push
Since Bryant isn't himself yet, the 12-time All-Star can't necessarily be counted to carry a come-from-behind win. Thankfully, he didn't have to. A sizable deficit was initially cut with Kobe on the bench, and the lead eventually secured with Kobe on the floor, but role players hitting big shots.
A group effort from
Ron Artest
,
Matt Barnes
,
Steve Blake
,
Derrick Caracter
,
Devin Ebanks
and Vujacic sparked a 12 point swing in less than six minutes, with everyone finding ways to chip in. Half a dozen points each for Caracter (perfect on three attempts) and Vujacic (highlighted by a gorgeous reverse layup). Two dimes for Blake. Turnovers forced and energy galore, which set the table for the starters to close out.
From there, Brown hit a three pushing the game into OT, and all seven OT points were racked by Brown and Artest. For certain, Kobe did his part, notably the assist to Brown. But like the Game 7 win over the Celtics, this game served as a reminder of how his supporting cast shouldn't need him to do it all.
Which works out fantastic, since right now he can't.
Ron Artest
With 11 points (four in OT), seven rebounds, three assists, five steals, and a pair of blocks, this was a terrific all-around game to put the bow on a strong preseason for Ron-Ron.
March, 15, 2010
3/15/10
11:17
PM PT
A few seasons back, NBA writer
Ross Siler
, then of the Los Angeles Daily News, now in Utah covering the Jazz for the Salt Lake Tribune, described the experience of writing about the Lakers as "82 Super Bowls a year."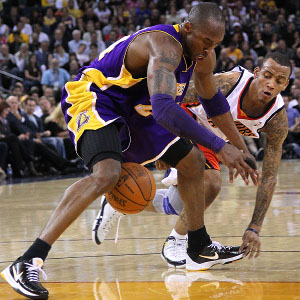 Jed Jacobsohn/Getty Images
Kobe Bryant with one of his nine turnovers, part of L.A.'s 24 giveaway basketball fire sale Monday night in Oakland.
Plus playoffs, of course.
Every game, big or small, is generally treated like Game 7 of the Finals by the faithful. But in my nearly five seasons covering the team, I've taken some amount of pride in keeping a level head. In not freaking out, or losing perspective, remembering always on any given night in the NBA one team can beat another. Especially on the road.
Monday night in Oakland, the Lakers chose to test my calm demeanor in a serious way. Quite frankly, against an undermanned, undersized Golden State Warriors team, one with about 35 percent of the D-League on its roster, only an act of God- I'm talking a genuine, Lord Almighty-touching-the-Warriors-during-the-anthem act of God- should have allowed the game to be close. This is a Golden State team so small, the sign at the amusement park noting how tall you have to be to ride this ride could post up half their lineup.
This was one in which the Lakers should have handled business, right? Particularly now that they're prepping themselves for the playoff run, ready to end a season of inconsistencies and buckle down. Since they've learned lessons about focus?
Yet there we all were, watching Golden State inbound the ball with 8.6 seconds to play, down by three after
Kobe Bryant
split a pair of freebies at the other end. We watched
Stephen Curry
inbound the ball to
Corey Maggette
then cut hard to the top of the arc, as if to get a handoff from the former Clipper. Instead, Curry stopped his run and cut back above the three-point line along the right wing, losing
Derek Fisher
, who was trying to deny him the ball on the initial move- this was a very slickly drawn play, actually- and catching a nice bounce pass from Maggette.
Wide open, Curry rose for the tying three.
He had 29 points, and was nine-of-13 in the second half, with nine assists to boot. The kid was brilliant. The release on the last shot looked pure, the ball rotating tightly en route to the rim. It was dead on line... but an inch or two too long. Curry drew back iron.
The Lakers, probably figuring the shot would go in- I certainly did- were caught ball-watching as
Monta Ellis
charged the rim from the right corner, just in case. Perhaps the shortest guy on the court (he and Curry both list at 6'3", and I don't know who's actually taller), Ellis grabbed the offensive board, and streaked to the top of the key for one last heave. His wild shot hit the rim three times before bouncing harmlessly to the Oracle Arena floor.
The Lakers won, barely.
Final score 124-121.