Los Angeles Lakers:

Nate McMillan
November, 9, 2012
11/09/12
11:23
AM PT
The Vote of Confidence strikes again.
About a day after Lakers executive vice president Jim Buss
expressed support for head coach Mike Brown
, the
Lakers have fired him
.
Not going to lie -- I'm a little surprised the Lakers moved this fast, but
as I wrote last night
the most compelling reason to make a quick change is time. The Lakers don't have much of it to work with, and if management thought in holding off they'd likely be having the same internal conversations about Brown's viability six weeks from now -- and clearly they did -- today's move is the correct one. Without a doubt, even if the Lakers turned things around on the upcoming homestand, Brown would be a focus of attention throughout the year, and into the playoffs. Could he build the sort of credibility with his team required to win a title, as Erik Spoelstra did in Miami?
They decided not to find out.
ESPNLA's Ramona Shelburne reports either Bernie Bickerstaff or Chuck Person will coach the team tonight against Golden State, and going forward on an interim basis.
(UPDATE: It will be Bickerstaff.)
The big question now is obvious: Who is the team's next head coach?
Because it's the Lakers, the names most likely thrown around will have the highest Q-ratings on the list of available coaches. It'll start with speculation about Phil Jackson, and move through Jerry Sloan, Nate McMillan, and Mike D'Antoni. Even Jeff Van Gundy's name will be tossed around, despite the way things ended between Dwight Howard and Jeff's brother Stan. But as this afternoon, all indications are there is nobody lined up for the job. Given how much a lack of gravitas hurt Brown both with his team and the media, it would be surprising to see the Lakers go with an unproven guy. (The possible exception being Person, a very well regarded assistant seen around the league as an up-and-comer.)
They'll try to go big, and generally speaking when the Lakers try to go big, they succeed.
The important thing for the Lakers is to properly diagnose the problem. For all the consternation over the Princeton offense, it was the defense repeatedly failing the Lakers this season. For that matter, the Lakers regressed on that end last season, too. So while a guy like D'Antoni would certainly generate incredible excitement, is he the guy who will fix them defensively? Is Sloan's personality the right fit? Is Phil willing to come back, and if he's willing are the batteries fully recharged? Because in his last season, Jackson didn't seem to be all there. A return for Brian Shaw seems highly unlikely, given how much acrimony surrounded his interview process following Phil's departure.
The move will certainly shake up the team, and drive home the urgency of the season. The Lakers aren't screwing around, and will do whatever it takes to preserve the first of what appears to be a two-year window with this group. It started today with the firing of Brown, and if things don't get better could extend to changes in the roster.
Nor will they wait too long to find Brown's replacement. Again, time is of the essence, as demonstrated by today's events.
April, 4, 2012
4/04/12
1:25
PM PT
Four years ago this summer,
Kobe Bryant
and
Chris Paul
were two of 12 NBA players determined to restore America's standing as the worldwide kings of basketball. In a classic game against Spain (featuring none other than
Pau Gasol
), Team USA won the gold and showed fans how a team of elite superstars can push egos to the side for the sake of a larger goal.

With Lakers-Clippers on the docket this evening
, various ESPN scribes (including the K Bros) gathered thoughts from Bryant's and Paul's Olympic teammates and coaches about the experience of working with them.
Click here to make a patriotic trip down Memory Lane
, and below are excerpts with Kobe's and Paul's recollections about one another:
Kobe on Paul: He's tough. He's tough as nails, man; he doesn't back down from anything or anybody. I'd never been as close to him, but when I was [on the Olympic team] I'd try to challenge him, see what he's made of and he's a tough little sucker.
Paul on Kobe: Me and Kob really figured out how much we had in common on that trip. That Olympic experience is when we got a lot closer. Me and my wife send him Christmas cards and his family sends us Christmas cards, and now we talk on a regular basis. We both want to win so badly. It's one of those things where as great a relationship as we have, as long as we're playing on the same court against each other, we're always going to get into it, you know what I mean? That's the respect factor, because you know that he wants it just as bad as I do
.
March, 23, 2012
3/23/12
8:41
AM PT

By Andy Kamenetzky
ESPNLosAngeles.com
Archive
At the trade deadline, franchises have a few options. They can stand pat. They can make small moves. They can roll the dice on a major piece to bolster a title run. Or they can blow up the roster
like it was a scene from a Michael Bay movie.
On March 15, Portland Trail Blazers owner
Paul Allen
went the Nitroglycerin route. Starters
Gerald Wallace
and
Marcus Camby
were shipped to New Jersey and Houston respectively. Head coach
Nate McMillan
, in the fold since 2006, was given a pink slip. Incoming bodies
Jonny Flynn
and
Hasheem Thabeet
) get to fight over who's "Flotsam" and who's "Jetsam," while
Mehmet Okur
was released to pick up
J.J. Hickson
off waivers.
In other words, these ain't your six month old kid's Blazers, much less your daddy's.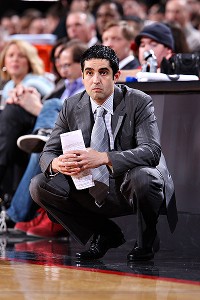 Sam Forencich/Getty Images
The Blazers have demonstrated scattered signs of life under Canales.
Since cleaning house, the Blazers are 2-2. But between a 7-17 road record (one of those L's notched against the Lakers) and the host having dropped just three games inside Staples, the purple and gold appear theoretically perched
in the fabled catbird seat
. But like all matters throughout this inconsistent season, proof is in the pudding. For more info on the new-look Blazers, we called upon
Erik Anderson
, a scribe for the True Hoop network's
Portland Roundball Society
. Below are his thoughts, plus a quick one of my own.
Land O' Lakers: Does new coach Kaleb Canales run a different system than Nate McMillan (if so, how) and is the team playing any harder for him?
Erik Anderson:
Portland exhausted themselves playing harder for Canales initially, which led to a
Derek Rose
-less victory over the Chicago Bulls. Since then, the Blazers are 2-2 including Thursday night's win over the Memphis Grizzlies. After the whole gimmick of getting players to
believe in his ripoff
of
"Jack Byrnes' trust circle,
" the Blazers have reverted back to their stagnant play that led to the firing of Coach McMillan in the first place.
Canales stepped into his tenure promising the same upbeat offensive tempo McMillan did in the preseason. It's a capricious concept, when it, you know,
actually develops
. Canales has
adjusted the offense
slightly, giving players more freedom to analyze the defense and take what presents. This approach led to several Trail Blazers saying they've never had more fun playing basketball after the win in Chicago. If Canales keeps this system of freedom, despite the losses, the Blazers will continue to play hard for him.
April, 8, 2011
4/08/11
11:03
AM PT
Since the All-Star break, the Lakers and Blazers have played two very tight games, one at the
Rose Garden requiring overtime
, the
other at Staples
, both Lakers wins but decided by a total of nine points. Factor in a deep and versatile roster, a decent amount of playoff experience, a little bit of star power (
LaMarcus Aldridge
has
slowed from his absurd February pace
, but is still playing very well), and the Lakers' well-documented struggles playing in Oregon, and it's easy to see why Portland is generally seen as the most dangerous of the three teams L.A. could see in the first round.
(For the record, Portland is winning the unofficial "first round playoff cities the media would prefer to visit," followed by New Orleans and in a distant third, Memphis.)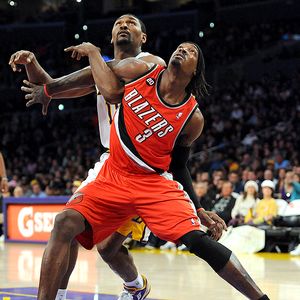 Jayne Kamin-Oncea/US Presswire
Gerald Wallace, still finding his way with the Blazers the last time these teams met, has found a groove recently.

Technically if the playoffs opened today the Lakers would draw New Orleans- though tied in the loss column, the Blazers have one more win than the Hornets- but Portland is still very much a possibility. Particularly if the Lakers come out of tonight's visit to the great northwest with a win. So aside from the practical implications, from L.A.'s efforts to stay in front of Miami and Boston (the latter becoming a little easier after the C's were eviscerated by Chicago Thursday night) to Portland's preference to win as many games as possible and avoid the Lakers in the first round, Friday's game becomes one of those classic "message" games ahead of the playoffs.
Not that a loss leaves the Lakers wondering if they can beat Portland over a seven game series- the Blazers could shut out the Lakers without impacting L.A.'s overall confidence- but the Blazers have a chance to earn some on their end, making them that much tougher an out. Or, should they sweep the season series, the Lakers can add that much more doubt into Portland's collective mind.
Statistically speaking, the Blazers are an interesting bunch, and in some ways very similar to the Lakers. For example:
They are the league's slowest team, at only 88 possessions per 48 minutes, a number they've hit only four times in their last 12 games. (Congress looks at Nate McMillan's crew and thinks they're inert.) The Lakers, meanwhile, sport the NBA's 10th slowest pace and have slowed down considerably as the season as progressed.
Portland is careful with the ball, sporting the league's fifth best turnover percentage at 12.6 (L.A. is currently second at 12.3, despite staging their own Turnoverpallooza during their three game losing streak).
Portland is fifth, one spot behind the Lakers, in offensive rebounding percentage. Like the Lakers, they are in the league's bottom third in defensive rebounding percentage.
Both teams are above league median in three point attempts, but below in three point percentage.
Not to say the Blazers are truly Lakers Lite. L.A. is a measurably better team in all sorts of areas, but if there's one spot the Lakers might run into a little trouble, it's here: Portland is by percentage the league's second best team forcing turnovers. For the Lakers, this shouldn't be a problem, but the aforementioned 57 turnovers over the last three games says a little extra attention to detail would serve them well tonight.
For more insight into the Blazers, I hit up- at the very last moment, making him a prince of a man for coming through-
Matt Calkins of The Columbian
with some questions:
1. How much would a win boost the Blazers heading into a possible first round matchup with the Lakers? Players always say this sort of thing doesn't matter, but in this case, does it?
Calkins:
A win tonight would "boost" the Blazers only because it would lessen the odds of them meeting the Lakers in the first round. No player or coach in Portland will admit it, but an opening-round series with L.A. is the closest thing the Blazers have to a guaranteed early exit. Portland needs to hold on to that sixth seed in the West in hopes of meeting Dallas in the first round, and capitalizing on matchup advantages.
February, 23, 2011
2/23/11
11:18
AM PT
Tuesday night, the Lakers kicked off the stretch run with a
stellar win over the Hawks
at Staples.
Dominant on both sides of the ball
, they took an early hold on the game, and put it away by halftime. Exactly the prescription to wipe some of the post-Cleveland flavor from the collective mouths of the Lakers universe. Not that they'll get heaps of time to enjoy it. After the game, the Lakers headed to the airport and a flight to the
wet, cold
, hostile environs of Portland.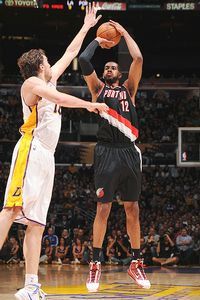 Noah Graham/NBAE/Getty Images
Stopping the red hot LaMarcus Aldridge will be key for the Lakers if they want a win Wednesday in Portland.
While the Lakers did managed to break the Rose Garden Curse last season, they've still lost 15 of 18 in the Pacific Northwest, with only one win in their last 10 tries. Tonight, with the Blazers riding a six-game winning streak and perhaps welcoming back injured guard
Brandon Roy
to the lineup (pending the results of their morning shootaround), the Lakers are in for another tough test.
Whether Roy plays or not, these days the Blazers are built around
LaMarcus Aldridge
, who has flat
gone off
over the last eight weeks or so. In January, Aldridge hit nearly 50 percent of his shots, and averaged 24.9 points and 10.4 rebounds. Strong stuff, enough to help him top the list of All-Star snubs.
In nine games this month
, though, Aldridge has upped the scoring to nearly 30 points a night (29.1) and the field goal percentage to 57.6.
Aldridge wasn't a major factor in the team's first meeting of the season, a
blowout win for the Lakers at Staples
(where they tend to dominate Portland) back in early November. That night, the Lakers owned the paint thanks to strong efforts from
Pau Gasol
and
Lamar Odom
. Can they do it again?
To gain a little more insight into the state of the Blazers, I hit up
Andrew Tonry of Portland Roundball Society
- a top shelf source for all things Blazers- who was kind enough to answer some questions:
1. Once again, the Blazers have responded very well despite a ton of injuries. What's been the formula this year?
"Let's start with the constants, the few who haven't been hurt: LaMarcus Aldridge,
Andre Miller
and
Nicolas Batum
. Then the guys who stepped up and filled holes admirably:
Wesley Matthews
and
Dante Cunningham
. Certainly Aldridge's emergence as a number one option has got to be the most consequential on the court. But the lion's share of the credit is certainly due to
Nate McMillan
, who's kept the team from packing it in when the sky fell (the two-week span
Brandon Roy
and
Greg Oden
went down). McMillan's kept these guys motivated, and his scrappy, grinding style has proved viable."
April, 11, 2010
4/11/10
9:16
AM PT
"Clarity" would certainly be the wrong word to describe the Western Conference playoff ladder, but things do seem to be clearing up, at least a little. Looking at the
standings through Saturday
, there is at least the potential for separation among the bottom three teams, based on what happens Sunday when the
Lakers and Blazers tussle at Staples
(12:30 pm PT, ABC).
GAME PREVIEW PODCAST
Andy and Brian break down Sunday's game and a potential first-round matchup with the Blazers with Andrew Tonry, host of the TrueHoop Network's Portland Roundball Society.
Podcast

Oklahoma City has 30 losses, San Antonio and Portland 31 each. Obviously the Lakers can push
Brandon Roy
and Co. to 32 with a win this afternoon, which wouldn't guarantee they'd face the Blazers in the first round but would make it far more likely. (Should the Lakers lose, I'm going back to my original plan: Look at the Web Thursday morning and see who landed in the eight spot.)
How the Lakers handle today's game could provide insight toward their preferred playoff opponent, or at the very least
if they fear a series sending them into the Rose Garden
up to three games. Saturday in El Segundo,
Phil Jackson
indicated Kobe Bryant will play
, and the
Lakers will bring a full effort
despite having wrapped up the W.C.'s top seed. (Rest will likely be doled out this week against Sacramento and the Clippers.) The result should be a playoff atmosphere, and a fun game to watch.
The Blazers, 17-7 (.708) since the All-Star break and winners of 11 of 14, are a dangerous team for a variety of reasons:
January, 8, 2010
1/08/10
9:01
AM PT
On the night when last the Lakers defeated the Portland TrailBlazers up in Portland,
Tierre Brown was L.A.'s second leading scorer
. That should give a hint as to how long it's been since the purple and gold last tasted victory in the verdant expanses of the great northwest. The actual date- Feb. 23, 2005- should give an even
bigger
hint.
The Lakers have lost eight straight visiting Portland since that Dear Diary day. Whether it was something they said or something they did, their play hasn't come out right. Yes, it's fair to say for the Lakers (wait for it...)
this Rose (Garden) has been filled with thorns
. (Sigh...)
Friday night, though, the Lakers have a great chance to reverse the trend
(7 pm PT, KCAL). On paper, the Blazers roster presents all sorts of matchup problems for the Lakers, except for practical purposes paper is currently the only place Portland's roster still exists. They've been ravaged by injuries, and while
Brandon Roy
and
LaMarcus Aldridge
should play despite nagging ailments,
Portland won't have
Steve Blake, Nicolas Batum, Rudy Fernandez, Travis Outlaw, Greg Oden,
and
Joel Przybilla
, the latter two leaving them seriously short on frontcourt depth,
something that worries the fine folks at Blazersedge.
Moreover, they'll likely add another to DNP list tonight- The Oregonian
reports Andre Miller is "questionable, if not doubtful" with a sore back
. (Not that it kept the notoriously surly PG from
shouting at coach Nate McMillan for a half hour at practice Thursday afternoon...
)
The Lakers, as expected,
won't have Pau Gasol in the lineup
, but
Phil Jackson
expressed hope his PF/C might return as soon as next week
, perhaps even Sunday against Milwaukee if things break just right. Even without El Spaniard, the Lakers still have an advantage in depth (though their team's shorthanded status should have Portland's rabid, Laker-hating fans doing their best sixth man act). All told, this probably constitutes L.A.'s best chance to break the streak as any they'll ever find. So will it happen?