Los Angeles Lakers:

NBA History
February, 2, 2012
2/02/12
7:16
PM PT
Watching
Kobe Bryant
on a day in, day out basis, it's easy to become desensitized to how good he is, because he's been doing it so well for so long. Kobe drops 34? Been there, done that.
Days like today, though, tend to drive both points home.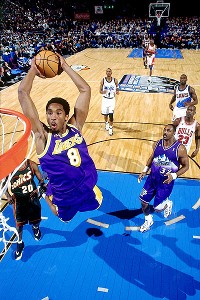 Andrew D. Bernstein/NBAE/Getty Images
Kobe Bryant tossed down this dunk in the 1998 All-Star Game, his first. This year will be his 14th straight appearance.
The NBA announced the results of this year's All-Star fan balloting, and once again Bryant racked up votes like a fourth grade candidate for class president running on a platform of less math, more recess, and cookies for all (over 1.55 million in total).
It's Bryant's 14th consecutive All-Star appearance
, tying
Jerry West
and
Shaquille O'Nea
l for the all-time NBA mark, one Kobe will almost surely break next season. Put in perspective, at Bryant's inaugural go round (1998 at Madison Square Garden), he represented the franchise not just with Shaq, but
Nick Van Exel
and
Eddie Jones
.
George Karl
was his team's coach, representing the Seattle SuperSonics.
Grant Hill
repped the Pistons, and
Glen Rice
the
Charlotte
Hornets.
Now he'll be running with guys like
Andrew Bynum
,
Kevin Durant
, and
Blake Griffin
, all of whom probably weren't allowed to stay up very late after watching that game on TV, because they had school the next morning.
Elementary school.
It's a remarkable streak, and ironically explains in large part why the
bigger news today at practice Thursday was Bynum's first bid
, or why the news wasn't considered significant enough to have Kobe speak to the media before the Lakers left for Denver. Bryant making the NBA's midsummer classic is no different than the sun rising in the east or setting in the west. It's expected, if not assumed. The next time the game takes place without him?
That'll
be big news.
Few players in any sport can honestly boast that out of relentless repetition they've managed to make All-Star bids feel less important. Kobe can, and it's one of the best indicators of how transcendent a figure he's been over the course of his 16 year career.
February, 18, 2011
2/18/11
2:25
PM PT
I won't complain about my job on a normal day, and certainly not on those delivering genuine "wow" moments. Such was the case Thursday night outside Staples at the
unveiling of the new statue honoring Jerry West
. On the stage, lined up left to right, were
Magic Johnson
,
Bill Russell
,
Elgin Baylor
, West, and
Kareem Abdul-Jabbar
.
At worst, we're talking about five of the, what, 15 best players of all time? If you
really
want to stretch the envelope and get all contrarian?
Even cooler, if you're willing to take the liberty of sliding the 6'9", 215 lb. Russell to the four in order to accommodate Cap, it's a ludicrously good starting five. All sitting next to each other. Talking through it with my boss, we tried to come up with a better one, settling on
John Stockton
at the point,
Kobe
and
M.J.
divvying up the shooting guard and small forward spots,
Tim Duncan
at power forward, and
Wilt
at center.
I would watch that game.
Here's your challenge: Come up with a different, better five than the group all assembled within 15 feet of each other Thursday night. I'll allow a little bit of fudging (like I did with Russell), as long as it makes sense.
Nothing like clocking out early on a Friday, even if you're still at the office, right?
June, 5, 2010
6/05/10
10:15
PM PT
During halftime of Game 1, the on-air festivities included a great segment with
Kobe Bryant
watching film of NBA greats with Jackie MacMullen, explaining what he's drawn to from the legends to benefit his own game.
Unfortunately, the TV's in the upper press level at Staples have the audio turned completely down, so I didn't actually get a chance to see it (hear it, technically) until this afternoon. I figure I can't be the only one, so just in case:
Don't miss, too,
the accompanying piece from MacMullen
. Kobe has noted before some of the different influences on his game, but he articulates it with great clarity here.
May, 16, 2010
5/16/10
11:34
AM PT
30 years ago,
Magic Johnson
, then a 20-year old rookie, took the floor for Game 6 of the NBA Finals against the 76ers at the Spectrum in Philly.
Kareem Abdul-Jabbar
, laid up with a bum ankle, remained in Los Angeles.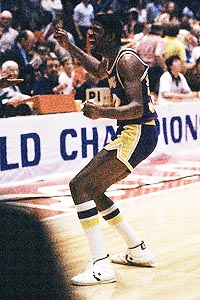 Jim Cummins/NBAE via Getty Images
42/15/7 had Magic Johnson celebrating in Game 6. A title had the city celebrating with him.
Out of options, coach
Paul Westhead
asked Johnson to take the opening tip at center. Caldwell Jones met him for Philly, and incredulously asked, "You gotta be joking, right?" Jones won the tip, but from there, Magic won everything else, playing every position on the floor, scoring
42 points and adding 15 rebounds, seven dimes, three steals and a block as the Lakers knocked off Philly for the title.
It remains one of the greatest games in NBA playoff history, some would argue the greatest ever. Earlier in the week, we asked for your memories of a game. Among the responses was
ESPNLA.com's own Jon Weisman, host of Dodger Thoughts
:
"I was as passionate about the Lakers then as I am about the Dodgers now. But the weekend of Game 6, we were going on a family trip. I was able to set the family's brand-new, first-ever VCR (which had been baptized just a few months earlier with the Miracle on Ice game) to record one game, and with Kareem out for Game 6 (Friday) but possible for Game 7 (Sunday), I set it for the latter. At LAX that Friday, we heard that the Lakers were winning at halftime, and I was beside myself. And when we found out the final score after landing, we couldn't believe we had missed the game. And then when we found out what Magic had done ...

I saved the Los Angeles Times and Sports Illustrated coverage of the game - still have those issues. SI had that classic picture of Magic with the trophy on the cover. The Times had a great headline that incorporated as a kicker the lyrics from a Doris Day song: "How else can I explain those rainbows when there isn't rain? IT'S MAGIC!" But I didn't get to see the game itself for about 15 years, when I caught an ESPN Classic broadcast. And I recorded it, for keeps.
Unbelievable."
For more of responses, click below...