Los Angeles Lakers:

NBA News
May, 4, 2012
5/04/12
1:40
PM PT
To be perfectly honest, I haven't spent much time thinking about awards season this year. The big one (MVP) seems pretty obvious (
LeBron James
). It's hard to argue with
Gregg Popovich
as Coach of the Year. If
James Harden
doesn't win Sixth Man honors, the world might spin off its axis.
Tyson Chandler
had his hooks on Defensive Player of the Year for a while -- rightly so -- and
Kyrie Irving
is a near-lock for Rookie of the Year. The right guys, or at worst extremely credible guys, are winning thus far, so there's really not all that much to discuss.
Save maybe one. The strangest of the postseason awards issued by the NBA is Most Improved Player,
given today to Orlando Magic power forward Ryan Anderson
. As my fantasy team attested, Anderson had a very good year, averaging a career high 16.1 points and shooting 39.1 percent from 3-point range, but critics will point note his
advanced numbers are about what they've always been
, and Anderson simply benefited from moving into the starting lineup.
Someone like Milwaukee's
Ersan Ilyasova
, who finished second, made
far larger statistical improvements
.
The basic problem with the M.I.P. is the context: A player can only be so good going into the year and have a legitimate shot to win. The soft bigotry of low expectations, and all that. Which brings us to
Andrew Bynum
, who finished tied for fourth with Detroit center
Greg Monroe
. Bynum has for a while been called the second best center in the league behind
Dwight Howard
, the only guy worth Orlando's time in a big man swap. He's also been very effective when healthy, entering the year riding a streak of four straight seasons with a PER north of 20, which Bynum pushed to five in 2011-12. I.E., he was already seen as too good to have a real shot at M.I.P.
This season, Bynum's advanced numbers weren't all that different from
ones posted earlier in his career
(a knock against his candidacy, maybe, but applicable to Anderson as well), but he played a much different and more difficult role. His minutes were up, along with the level of responsibility. More importantly, Bynum had never seen the double and triple teams routinely sent his way over the course of the season. Relative to earlier in his career, producing at similar statistical levels was much harder. Still, he stayed healthy, made his first All-Star team, and firmly established himself as an elite NBA player.
Last week, ESPNLA's
Dave McMenamin made a strong case for Bynum as M.I.P
., posing the most fundamental question: "What's more impressive: going from average to good or going from good to great?"
I'd say the latter. That only 28 of 121 voters put Bynum on their ballots indicates either people disagree, or more likely thought Drew was already too good to win, showing again why this is the goofiest of all NBA honors.
October, 21, 2010
10/21/10
11:56
PM PT
The NBA does all sorts of things serving to frustrate fans and players alike, this year's absurdly Draconian, totally confusing, Christmas for the checkbook industry directive for enforcement of technical fouls being the latest example. (That sentence cost me two grand.) But at least they're not like Major League Baseball, unwilling to acknowledge the existence of modern technology.
Thursday, the league announced tweaks to their instant replay rules, expanding the circumstances under which it can be used.
Via the league's press release
, refs can now go to the tape:
During the last two minutes of regulation and the entire duration of any overtime period, to determine whether the ball touched the rim and thus whether the shot clock should be adjusted.
During the last two minutes of regulation play and the entire duration of any overtime period, to determine which of two players on opposing teams caused the ball to become out-of-bounds. This modification expanded the previous rule to include the entirety of an overtime period instead of just the last two minutes of an overtime period.
During a replay review of an out-of-bounds call, to determine when the ball is out of bounds for purposes of adjusting the game clock and shot clock.
At any point during the game, to determine which player should attempt free throws after a foul occurred.
At any point during a game, to determine whether a foul that was called a clear-path-to-the-basket foul met all the criteria of a clear-path-to-the basket foul.
Revolutionary? No. Common sense? Yes, and indicative of the measured, open-minded, incremental path the league has taken on replay. Fix what can be fixed, apply replay where it can safely be applied. Unfortunately, MLB seems to resist modern advancement like flat-Earthers do spherical bodies. Personally, I think adding it to baseball is a little more complicated a prospect than it gets credit, but there are certainly small, simple ways in which it can be used effectively. Kudos to the NBA for showing more flexibility.
May, 31, 2010
5/31/10
1:08
PM PT
As you might suspect, with the entire basketball world focused on the Lakers and Celtics, there's some good reading out there should you need a break from what is a gorgeous holiday Monday in southern California (or be one of those fancy people who can be outside and still stay connected, or simply reside in other regions of the web-getting universe entirely).
First, if you haven't seen it,
click here for a very cool Finals page linking together the work of ESPNLosAngeles.com and ESPNBoston.com
. Slick stuff, and a great starting spot for coverage of the series (including this
report on the status of Boston's banged up roster
after the Celtics completed practice earlier today).
On to the rest of the Internet, starting with a great piece on the
relationship between Derek Fisher and Kobe Bryant from Harvey Araton of the New York Times:
"...With his 36th birthday coming in August, Fisher is an older brother — by 4 years 14 days — but he also joined the Lakers in 1996, the year Bryant turned pro out of high school. "It started at a tournament in Long Beach over the summer," Bryant said. "We were playing together over the summer, working long hours, and as the season went on, we didn't play much, so we had to go in to work early and play a lot of one-on-one." Fisher, a stumpy 6-foot-1 guard from the University of Arkansas at Little Rock, would not back down to Bryant, who headed one of the gifted preps-to-pros classes of the 1990s. They clawed each other on court, commiserated off it and ultimately coalesced into an enduring tandem, the Lakers' Lone Ranger and Tonto..."
Forum Blue and Gold has a good look at the two regular season matchups
between the squads (each decided by a point), while
Mark Medina of the LA Times Lakers Blog looks back at the '08 Finals
. (For those deeply interested re-living the past through in-the-moment analysis, you can see a few of our game recaps and posts from that series
here
,
here
,
here
,
here
,
here
, and
here
.)
Kurt Helin of ProBasketballTalk.com
identifies keys to victory for both squads
.
With the Kobe Bryant staring at the chance for a fifth title,
Mike Wise of the Washington Post believes it's no longer heresy to put him in the conversation with Michael Jordan
, even if he doesn't have a real chance of winning the argument:
"...Because we sadly convince ourselves that what we see on television equals who someone is, Kobe won't even go down as the greatest Laker in history. Magic Johnson wrapped that up for eternity a long time ago. Purely based on his professional persona, I think Kobe gets shortchanged on the image issue. See, Michael was as cutthroat and undiplomatic and nasty as a champion ever was. By the time he put on the suit and tie, though, he was a much better actor. With his megawatt smile and disarming wink, he could conceal the shadow side of him in ways Kobe never really cared if he concealed. When I ran that thought by Kobe late Saturday night in Phoenix, he didn't completely agree. "He wasn't better at hiding it," Kobe said of Michael. "I think there was just less media coverage." Either way, it's time to stop ignoring the possibility there will ever be a player of Jordan's ilk -- and maybe better..."
Much more below the jump...

May, 5, 2010
5/05/10
9:59
AM PT
The bigs were gigantic in L.A.'s
Game 2 win over the Jazz Tuesday night
, as
Andrew Bynum, Pau Gasol
, and
Lamar Odom
combined for 50 points (on 18-of-24 shooting), 44 rebounds, and nine blocks. That's a season's worth of work for
Kyrylo Fesenko
and
Kosta Koufos
. Two, maybe. But it wasn't just the Lakers' size.
Andy cited Kobe Bryant's incredible second quarter as a major factor behind the victory: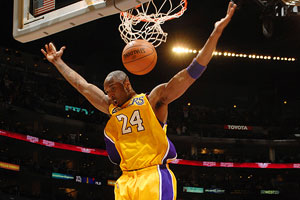 Chris Carlson/AP Photo
Kobe Bryant isn't a "big," but he played plenty large in Tuesday's Game 2 win over Utah.
"...His work during this 4:47 stretch was the roundball equivalent of a conductor with his orchestra or a puppet master controlling seriously athletic marionettes. Just a brilliant manipulation of moving parts... There was also great success as Kobe set up shop several times on the right block... Three straight layups were created from more or less the exact same spot on the floor. Each time, recognition of the approaching help defender and the cutting Laker led to a score so easy, Kobe barely broke a sweat while calling the shots..."
Bynum may be playing through pain, but
as Dave McMenamin notes, in that he has plenty of company
. As a result, peer pressure is playing a big role thus far in L.A.'s playoff run:
"...It's easy to say the difference in the Lakers has been all about Bynum. He missed the last 13 games of the regular season because of a strained left Achilles tendon when the Lakers floundered, and now that he's back the Lakers look right again. But what Bynum is doing doesn't make him any more of a warrior than his teammates. There are two requirements to being a Laker these days: be willing to wear yellow and play through whatever pain is ailing you. "I think the thing with the injuries is everybody kind of looks at each other and tries to figure out which one is going to be the first punk," Kobe Bryant said. "Because we will talk about you like a dog, like a chump. So nobody wants to be a chump..."
And while the Lakers are showing toughness, the Jazz have a softie in the middle-
Kyrylo Fesenko- forced to face L.A.'s phalanx of giants:
"...Fesenko, who may be the last basketball player to actually wear his wristbands on his wrists, is a nice guy, but that's the problem with the Jazz. They are a roster filled with nice guys and none of them are nicer and softer than their seven-footers who are supposed to be protecting the paint and providing a low post presence. (Kosta) Koufos, who finished with two points as well, is such a softie, he dries himself off and gets dressed away from his locker when there are reporters near his area. If he can't muscle middle-aged scribes out of his area, how is he supposed to fare against the likes of Andrew Bynum, Pau Gasol and Lamar Odom..."
Of course, others were ready to weigh in as well. Click below for the rest of the reactions...
April, 28, 2010
4/28/10
8:04
AM PT
It was a game the Lakers had to have after the Thunder buried the purple and gold Saturday night... and man alive, did they ever have it.
111-87
was the final in Tuesday's pivotal Game 5 at Staples,
and as we noted in last night's postgame wrap
, it was a positive experience on nearly every level. Start with
Kobe Bryant's
management of the offense to his work on
Russell Westbrook
. Then there was the hyperactivity of L.A.'s big men, a rebirth of
Ron Artest's
offensive production, great ball and player movement, and more.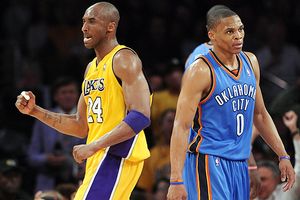 Mark J. Terrill/AP Photo
The facial expressions basically tell the story...
Plus, by going up 28 and holding OKC to only 60 points through three quarters, the Lakers put an early hammer lock on tacos for the devoted. What's not to like?
Well, their stomach acid-inducing inconsistency for one. Or maybe not.
ESPNLA's Dave McMenamin suggests fans embrace the roller coaster:
"...You never know what you're going to get with this team, so revel in the surprises. The Spurs have been a model of consistency revolving around Tim Duncan like a ball tethered to a pole for the last decade and a half, but have they ever provided the intrigue the Lakers do?... Neither Bryant nor Jackson would commit to reattaching the labels to their team they gave them last year after the game. But Bryant explained how the team deals with its sinusoidal personality. "It's adjustments," Bryant said. "It's playoff basketball, that's why you can't get too high or too low after a big win or a tough loss. You make your adjustments and move on." Lakers fans should adjust their expectations in conjunction. There'll be good days and bad days and great days and days that make you hate them, but there will be nary a dull moment."
Meanwhile, rumors of Bryant's decline
ring a little hollow to Kevin Durant, writes ESPNLA.com's Arash Markazi
:
"...After the game, Durant, looking as if he had just gotten out of class, wearing a backpack, flannel shirt, jeans and sneakers, was still shaking his head at the notion Bryant had somehow lost his step. After getting embarrassed by Bryant on an up-and-under move and seeing him hit a couple of shots over him, Durant was as convinced as ever Bryant was still able to do whatever he wanted on the court. "You all are killing me man, you all killing me with this," Durant said. "Kobe Bryant is the best player in the league; one of the best players in the world. You're talking to me like he played a phenomenal game which is something he normally doesn't do. He's Kobe Bryant, he's going to come out and lead his team. That's what he's been doing for 12 or 13 years. He's a guy who doesn't need to score on this team to win games now. Maybe a couple years he has to but now he can get everybody involved..."
Much, much more next-day reaction below the jump...
April, 14, 2010
4/14/10
12:43
PM PT
It's never too early to start working the referees.
Tuesday at shootaround,
Phil Jackson
was asked if he believes Oklahoma City's
Kevin Durant
(
Durantula!
) has arrived as one of the true stars the league has to offer. He seemed to agree, at least on one level. "By the calls he gets," PJ smiled. "He really gets to the line a lot. There (were) a couple plays in the last game I was pretty curious as to how he got there."
During the pregame media klatch, Jackson reiterated the point for the benefit of those media who weren't there earlier in the afternoon. "As far as calls he gets on the floor, I think a lot of referees are treating him like a superstar," he said. "He gets to the line easily and often."
Incidentally, I left that little bit about
Andrew Bynum
in the clip because I thought Phil's response was interesting, but I digress. It seems pretty clear Jackson is trying to accomplish two things, here. First, he's massaging the refs, implying strongly Durant is the beneficiary of more calls than he should get. Second, he's sending a message to his own team: Don't focus on whistles when it comes to OKC's star. He's going to get a few. Play through it.
The latter is something Jackson and his staff have tried to drill home all season when it comes to officiating, with varying degrees of success.
How much Durant gets to the line is undoubtedly going to play a major role in the series. He's a 90-percent free throw shooter averaging
a league-leading 10.3 freebies a game
. The Lakers, conversely, have been extremely successful
keeping the opposition off the stripe
.
Something, in theory at least, has to give.
February, 25, 2010
2/25/10
8:35
AM PT
Here was my reaction
to Wednesday's
101-96 loss Wednesday night
to the Mavericks in Dallas. See below for more opinions, reports, and news of the day.
Game Reports:
-Mike Bresnahan, LA Times
-Kevin Ding, OC Register
-Elliott Teaford, LA Daily News
-Eddie Sefko, Dallas Morning News
News and Notes:
-The Lakers
will spend most of March on the road. Kobe Bryant isn't concerned
. (You expected otherwise?)"
-
Ron Artest
is having the defensive impact
the Lakers hoped for.
-Dallas was without
Caron Butler
, who
missed the game because of a reaction to medication
. Meanwhile, former Laker (and lifetime Kamenetzky favorite)
Von Wafer is a Maverick. Still, Dallas wants more size
.
-One guy who shouldn't be blamed for the loss is
Lamar Odom
, who was
strong and aggressive throughout
.
Good Numbers:
-
Hoopdata.com Advanced Box Score
Columns, Opinions, and Other Stuff:
-Ding, OC Register-
Kobe's fate could be in Fish's hands
-ESPN Daily Dime-
Jason Kidd looks rejuvenated, hydrated

-John Ireland, ESPN Los Angeles.com-
Lakers vs. Mavs in the playoffs would be a great series
-Calvin Watkins, ESPN Dallas.com- L.A. is
impressed with Dallas, but aren't concerned about them
-Eddie Sefko, Dallas Morning News-
Kobe missed, but give the Mavs credit
-Charley Rosen, Fox Sports- Win s
hows Dallas can contend in the Western Conference
-Mark Medina, LAT- An interview with
Roland Lazenby
regarding his new book about Jerry West
Around the Blogs:
-JET attack does in L.A.: Silver Screen and Roll
-Dirk and Terry sink the Lakers: Forum Blue and Gold
-Too many letdowns lead to loss: LA Times Lakers Blog
-Plenty of bright spots for the Mavs: MavsMoneyball
-
Lakers.com Basketblog running game diary
February, 17, 2010
2/17/10
10:15
AM PT
Four times the Lakers have now taken the floor
without Kobe Bryant
, and four times they've come away winners. As we noted last night,
Tuesday's 104-94 victory over Golden State was the least attractive of the quartet
, but counts just the same. A speedy trip around the web for all the reactions, and other items of import:
Game Reports:
-
Mike Bresnahan, LA Times
-Elliott Teaford, Daily News
-
Rusty Simmons, San Francisco Chronicle
-
Dan Weber, Riverside Press-Enterprise
-
Silver Screen and Roll
-Forum Blue and Gold
Game Notes:
-LAT on Shannon Brown's big night
-Daily News on Kobe's absence
Trade Deadline:
-John Ireland, ESPNLosAngeles.com
:
If the Lakers don't make a move, it won't be because of money
.
-
Kirk Hinrich looking less like an option
, LA Times.
-Land O' Lakers:
How much do the Lakers really need a PG anyway
?
-TrueHoop:
Amar'e Stoudemire to Cleveland is high risk/high reward
. Cleveland is still pushing hard for Stoudemire, but
Antawn Jamison remains a viable Plan B
.
-
Nate Robinson to Boston for Eddie House?
Yahoo!
connects Robinson and the Lakers
. I'm not buying.
-
Tracy McGrady to New York
looks like a go, reports SI.com. The Bulls are
still involved in those talks, as well
.
Columns:
-Dave McMenamin of ESPNLosAngeles.com says
Ron Artest
is slowly
learning the intricacies of the triangle, and looks primed for a breakout.
-The OC Register's Kevin Ding believes
Andrew Bynum
learned something valuable Tuesday evening by playing hurt.
January, 6, 2010
1/06/10
9:51
AM PT
Andrew D. Bernstein/NBAE via Getty Images
Lamar Odom, who finished with 17/19/9, provides a visual reminder to the upward trajectory of his play.
Pardon the quick, inelegant rush through today's news (of which there's a fair amount), but
we've got a chat at 10:30 am PT to mind
. And after the Lakers clamped down defensively Tuesday night, scoring a similarly inelegant-but-effective
88-79 win over those ever-pesky Houston Rockets
, we can only presume there will be much to chat about. The Lakers, missing
Pau Gasol
(who told reporters after the game he's
optimistic the injury to his left hamstring won't keep him out as long
as the 11 games his right hammy cost him to start the season)
were beat up in other ways
, working with a rusty
Ron Artest
, no
Luke Walton
, and
Kobe Bryant's
perpetually abused right index finger also had a sick
DJ Mbenga
and
Lamar Odom
nursing a stomach bug.
Of course,
judging from Odom's near triple-double
, you'd never have known,
noted Andy in his postgame wrap
. LO was all over the floor, and when
combined with a strong night for Andrew Bynum
(24 points, eight boards) filled any gaps left by Gasol's absence, an
off-by-his-standards effort for Kobe (9-23 shooting, four TOs), and a slow night from the rest of the cast.
A slow night offensively, at least. As Rockets GM
Daryl Morey
noted via Twitter after the game, the Lakers were stout on the other end- the Rockets missed a ton of jumpers, but all they got were jumpers-
and when they defend the champs are almost impossible to beat.
The Lakers, who still have to answer lingering questions about grit and toughness (some things just never go away)
once again proved they can win in a slog through the mud
.
More Lakers links below the jump...
January, 4, 2010
1/04/10
9:41
AM PT
Andrew D. Bernstein/NBAE via Getty Images
Just like AK does it at the rec.

There was a lot of great news coming out of Staples Center Sunday night. Start, of course, with a
131-96 win for the Lakers over a Dallas Mavericks team
that beat them up good back in late October, their first "damn right, we're champions" win in some time. The Lakers, as they'd done fairly consistently earlier in the year,
got off to a fast start, finishing the first quarter up 30-13
, fueled in part by
a bench that would produce its best game of the season
. 24 points from
Jordan Farmar
, 66 points from the reserves in total (no, it only
seemed
to equal their total output for December). Everyone, as Andy
points out in his postgame wrap, got into the act
.
More good news:
Ron Artest has been cleared to practice
. Genuine, full contact rehearsal run. He'll be
on the floor Monday in El Segundo
, with the hope any symptoms from his Christmas concussion have gone the way of 2009. Artest
wasn't sure when he'd suit up for a game,
but this is obviously a solid first step.
Luke Walton
, out since Nov. 16 thanks to back surgery,
could also return today if doctors give him the go-ahead
. That's a lot of small forward coming back to the roster.
But- there's always a but, right?- the news wasn't all good, or even all-good-adjacent.
Pau Gasol
left the game in the first quarter with a strained left hamstring and didn't return. Certainly it
served as a serious downer on an otherwise happy night
.
Kobe Bryant said Gasol would be fine
, but ESPN LA's
Beto Duran
saw Gasol, who didn't speak with the media,
leave the locker room with a limp.
Given recent history (Gasol missed the season's first 11 games with a bum right hammy),
Phil Jackson
expressed concern, and rightly so. Even as
someone who thought going in the Lakers needed a solid win against a quality team
, Pau's injury could absolutely undo all that good feeling heading into a tough week of games.
Gasol (more specifically, Gasol's leg) will be evaluated this morning, as productivity in the L.A. area plummets due to all those people trying to work with their fingers crossed.
More Lakers/NBA news below...