Los Angeles Lakers:

NBA offseason
May, 21, 2012
5/21/12
11:23
PM PT

By Brian Kamenetzky
ESPNLosAngeles.com
Archive
For the second straight season, the Los Angeles Lakers have been bounced in the second round of the NBA playoffs. Not cause for panic in many markets, but in Los Angeles, where expectations are always stratospheric and
Kobe Bryant
is far closer to the end than the beginning of his career, it's enough to sound the
doomsday horn
. The end of a season is (almost) always a disappointing time, but usually comes with a tinge of wait-'til-next-year optimism. To that end, while the goal is not to add insult to Thunder-induced injury, people deserve candor: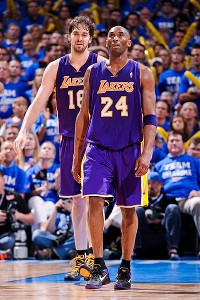 Andrew D. Bernstein/Getty Images
Was Monday's loss the last time Kobe Bryant and Pau Gasol take the floor as teammates?
I have no idea how the Lakers quickly return to a championship level.
Not to say I don't know what they need -- the needs are pretty apparent, and not a whole lot different than the ones from last offseason -- just that I don't know how they get it. Change, likely significant, must come, but unfortunately while the Lakers may be rich in the literal sense, as it relates to assets available to reconstruct a team, they're relative paupers:
The Lakers lack young prospects not already integral to the team's success, have no quality draft picks, or easily moved talent bringing comparable talent in return.
Well over the salary-cap and luxury-tax thresholds, the Lakers have limited tools -- a mini mid-level exemption worth a little more than $3 million, basically -- available in a market thin on quality unrestricted free agents. (Most restricted FA's won't be an option, because L.A. can't offer a contract large enough to dissuade a rights-holding team from matching.)
After next season, the CBA's new SuperTax! kicks in, which at current levels could cost the Lakers tens of millions of dollars.
Good players cost money. The Lakers need more of them at a time when the prevailing pressure is to bring payroll down not up, or at the very least have a rock-solid plan to do so in the very near future.
Enjoy the summer,
Mitch Kupchak
and
Jim Buss
!
Having spent years kicking the can down the road in an effort to build a winner, for which management should be applauded, the box in which the Lakers placed themselves in the process has grown incredibly tight. They're still a good team, but one that just lost to a better team. No shame in that, except the standards in L.A. don't tolerate this sort of thing for very long. Moreover, the Lakers are on the way down, while the competition around them is rising. Oklahoma City is a juggernaut. Memphis, despite the early exit from the postseason, is a team with upside, as are the Clippers. A healthy Denver team is a threat. They're feeling good about the future in Utah, too, and is there any reason to believe San Antonio won't again be awesome next year?
This is the context of what could very well be a transformative, challenging and potentially fascinating offseason.
Here are eight questions facing the Lakers' front office as the summer rolls on ...