Los Angeles Lakers:

NBA Playofs
April, 28, 2010
4/28/10
8:04
AM PT

By Brian Kamenetzky
ESPNLosAngeles.com
Archive
It was a game the Lakers had to have after the Thunder buried the purple and gold Saturday night... and man alive, did they ever have it.
111-87
was the final in Tuesday's pivotal Game 5 at Staples,
and as we noted in last night's postgame wrap
, it was a positive experience on nearly every level. Start with
Kobe Bryant's
management of the offense to his work on
Russell Westbrook
. Then there was the hyperactivity of L.A.'s big men, a rebirth of
Ron Artest's
offensive production, great ball and player movement, and more.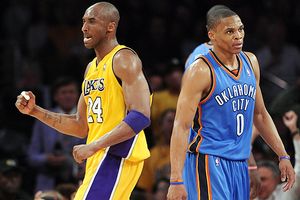 Mark J. Terrill/AP Photo
The facial expressions basically tell the story...
Plus, by going up 28 and holding OKC to only 60 points through three quarters, the Lakers put an early hammer lock on tacos for the devoted. What's not to like?
Well, their stomach acid-inducing inconsistency for one. Or maybe not.
ESPNLA's Dave McMenamin suggests fans embrace the roller coaster:
"...You never know what you're going to get with this team, so revel in the surprises. The Spurs have been a model of consistency revolving around Tim Duncan like a ball tethered to a pole for the last decade and a half, but have they ever provided the intrigue the Lakers do?... Neither Bryant nor Jackson would commit to reattaching the labels to their team they gave them last year after the game. But Bryant explained how the team deals with its sinusoidal personality. "It's adjustments," Bryant said. "It's playoff basketball, that's why you can't get too high or too low after a big win or a tough loss. You make your adjustments and move on." Lakers fans should adjust their expectations in conjunction. There'll be good days and bad days and great days and days that make you hate them, but there will be nary a dull moment."
Meanwhile, rumors of Bryant's decline
ring a little hollow to Kevin Durant, writes ESPNLA.com's Arash Markazi
:
"...After the game, Durant, looking as if he had just gotten out of class, wearing a backpack, flannel shirt, jeans and sneakers, was still shaking his head at the notion Bryant had somehow lost his step. After getting embarrassed by Bryant on an up-and-under move and seeing him hit a couple of shots over him, Durant was as convinced as ever Bryant was still able to do whatever he wanted on the court. "You all are killing me man, you all killing me with this," Durant said. "Kobe Bryant is the best player in the league; one of the best players in the world. You're talking to me like he played a phenomenal game which is something he normally doesn't do. He's Kobe Bryant, he's going to come out and lead his team. That's what he's been doing for 12 or 13 years. He's a guy who doesn't need to score on this team to win games now. Maybe a couple years he has to but now he can get everybody involved..."
Much, much more next-day reaction below the jump...