Los Angeles Lakers:

NBA Schedule
July, 28, 2012
7/28/12
9:28
AM PT

By Andy Kamenetzky
ESPNLosAngeles.com
Archive
At long last, a string of legitimate offseason basketball topics that don't include the words "
Dwight
" or "
Howard
!" Huzzah!!! It's enough to make a pair of podcasters giddy with glee. The show can be heard by clicking on the module, and a list of talking points can be found below.



- (4:45):
After establishing why Brian drinks stray, half-opened bottles of water, we discuss
the news that NBA jerseys will soon feature advertising
. Neither of us reallly mind -- the league has long passed the point of no return with commercialization, anyway -- but care must be taken to avoid poorly matched teams and products.
- (10:00):
Thursday, we offered
a quick reaction to the Lakers' newly released schedule
. Now we dig deeper, breaking down some roadies and 16 back-to-back sets. All in all, it's a fairly favorable slate. Not many stretches with one powerhouse team after another, and even the Grammy Trip isn't too hairy. Obviously, there will be tough games, because that's just the nature of the NBA, but the schedule-makers certainly didn't act with vengeance towards the purple and gold.
- (19:00):
Brian senses palpable hysteria and dread from fans at the prospect of Team USA failing to grab the Gold in London. Frankly, it's a little over the top. Yes, America boasts the rightfully favored squad and it would be anticlimactic seeing them fall short. But this also isn't 1992, when The Dream Team ran roughshod over a bunch of countries well behind the basketball curve. The level of global competition has grown significantly, which means the U.S. is vulnerable for a loss. It's inevitable at some point, and it's not a travesty.
- (26:30):
A combination of human drama and kitsch value drives Brian's interest in the Olympics.
- (29:00):
Kobe Bryant
recently declared
as long as he's a Laker, Pau Gasol will also be one
. It's the latest example of a relationship that's sometimes complicated and frustrating for both players, but ultimately based in mutual respect and appreciation.
- (32:05):
Friday's
theft of the "Wally the Green Monster" costume from Fenway
is yet another example why the Lakers don't have a mascot.
December, 13, 2011
12/13/11
9:24
AM PT

By Brian Kamenetzky
ESPNLosAngeles.com
Archive
This season will, if nothing else, bring no shortage of track metaphors.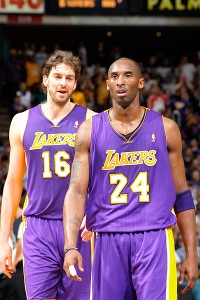 Rocky Widner/Getty Images
As of Tuesday, the Lakers are led by Kobe Bryant and Pau Gasol. Can they lead L.A. through a tough schedule?
So as someone who never ran a day of track and these days only runs when chased, allow me to try my hand.
Down from 82 to 66 games, the 2011-12 season will indeed be more a sprint than a marathon for every team across the league. Not just any straightforward footrace, though, like the 100 meters, or even the 200 with a tight left turn. No, I'm thinking it'll be more like the 400-meter hurdles, requiring the same full-out sprint while clearing seemingly endless obstacles along the way.
Someone will finish first, but a bunch of bodies will be strewn about the track along the way.
Among the challenges facing the Lakers:
17 back-to-backs, of which only three have two games in L.A. and eight are entirely on the road, plus a back-to-back-to-back opening the season.
Older legs (at least for now). Every starter (see previous parenthetical) save Andrew Bynum, missing the first five games because of suspension, is over 30.
A new coaching staff led by Mike Brown installing fresh systems on both sides of the floor and selling itself to a championship group, but hamstrung by a jam-packed travel and game schedule, limiting practice time.
Rampant roster confusion. Some other teams are struggling because they don't have enough guys under contract to run their practices. The Lakers have enough bodies, but nobody outside Kobe Bryant and the recently signed Jason Kapono knows for sure where he'll be playing this season. Meanwhile, holes still exist behind Kobe at the 2 and in the frontcourt behind Gasol and Bynum, so new bodies are likely to arrive, even in the absence of a blockbuster deal. In the presence of one? Sew a "Hello, My Name Is ______" patch on the practice jerseys.
Returning to the track meme, in theory every team begins at the starting line. In reality, certain things put some behind others, far more than in a normal season. Some teams don't have a full complement of players available, while others are seemingly not allowed to make trades. L.A.'s age and potentially weary legs have garnered most of the "Whoa, look at that schedule!" attention and could be issues going forward, but for the Lakers it's the other stuff adding extra meters and hurdles to issues already potentially problematic.