November, 26, 2013
11/26/13
7:27
PM PT

By Dave McMenamin
ESPNLosAngeles.com
Archive
WASHINGTON -- As is usually the case with the
Los Angeles Lakers
, all the talk coming into Tuesday was so centered on
Kobe Bryant
you almost forget there was a game to be played by all the healthy guys on the roster.
First, there was Lakers general manager Mitch Kupchak explaining how the Lakers would
still be championship contenders
in Bryant's final seasons.
Then, there was the question of
whether
Pau Gasol
would be a part of that or not with Bryant taking such a big piece of the pie.
And then Bryant himself said one of the least Bryant-sounding things of his life, saying how he could decide to
model his game after Andre Miller
, among others, when he returns.
And then the Lakers had those pesky
Washington Wizards
to deal with. Oh yeah.
L.A. had no answer for
John Wall
(31 points, nine assists) and Nene Hilario (a career-high 30 points) and saw its three-game win streak come to an end, falling back below .500 at 7-8.
While Bryant said he is still "probably weeks" away from a return, it doesn't get any easier for the Lakers in the immediate future either. They play in Brooklyn on Wednesday and are already 0-3 on the season on the second night of back-to-backs.
How it happened:
L.A. trailed by five points heading into the fourth quarter before a couple of clutch 3-pointers by
Wesley Johnson
and
Jordan Farmar
got L.A. back to within a one-possession deficit in the final two minutes.
Gasol made a layup to put L.A. up by one, but Washington responded with a jumper by Wall and layup by Nene that gave the Wizards back a three-point edge with less than a minute to go. The Lakers would have had a chance to tie it with a 3-pointer with less than 30 seconds to go, but
Steve Blake
threw the ball away in transition and Wall tacked on a couple of free throws to push it to five one again.
L.A. had one last gasp after an and-1 for Gasol and Wall's lone free throw miss of the night (11-for-12), but former Wizard
Nick Young
missed an open 3-pointer a couple feet beyond the top of the key that could have tied it with L.A. trailing 114-111, but Washington held on.
What it means:
After its strongest defensive effort of the season against Sacramento, L.A. was back to its lackadaisical ways on D, allowing the Wizards to score 116 points (including a season-high 59 in the first half) on 52.9 percent shooting.
Hits:
Farmar led L.A. with 22 points on 9-for-11 shooting off the bench to go with eight assists.
Gasol neared a triple-double with 17 points, eight assists and six rebounds but had five turnovers.
All five Lakers starters scored in double digits.
Misses:
L.A. had 17 turnovers leading to 28 points for Washington.
The Wizards outscored the Lakers 56-36 in points in the paint.
L.A. is now 1-5 on the road.
Stat of the game:
Farmar shot 5-for-5 in the first half off the bench.
Up next:
The Lakers travel to Brooklyn for the second night of a back-to-back Wednesday against the struggling Nets. They follow that up with an off day on Thanksgiving and then finish up their three-game trip in Detroit on Friday.
April, 13, 2012
4/13/12
9:03
AM PT
To be certain,
Wednesday's win over the Spurs
carries the potential of galvanizing the Lakers 59 games into a maddeningly inconsistent and often lethargic season. Taking down the Spurs at full strength in their house without the services of
Kobe Bryant
is both meaningful and a reminder of what this team is capable of when putting their minds to a task. Of course, there's also a flip side to this coin. On several occasions, whether against the Clippers, Celtics, Mavericks or Heat, a win initially labeled "signature" quickly faded into the ether upon failure to build any momentum. More often than not, the Lakers land themselves back at square one.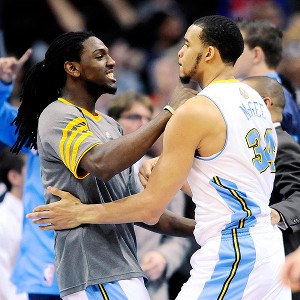 Ron Chenoy/US Presswire
The future up front for Denver?
But with a fresh start, even one frustratingly self-induced, comes fresh opportunity to grow as a team. Perhaps this contest against Denver, a high end opponent, will emerge a chance capitalized upon. For more perspective on the Nuggets, we called upon
Jeremy Wagner
from the True Hoop network's
Roundball Mining Company
blog.
Land O' Lakers: How has JaVale McGee's arrival and the departure of Nene impacted the Nuggets?
Jeremy Wagner:
The
Nene
for McGee trade was certainly made with an eye towards the future at the cost of the present. The Nuggets miss Nene's interior passing and his post game although he has continued to miss games since arriving in Washington. McGee has certainly provided some highlight moments and shown some growth in his pick-and-roll defense although he lost his starting spot as quickly as he earned it.
The true benefit of the trade was that it unleashed "The Manimal." Rookie
Kenneth Faried
is now a starter and producing incredibly well for Denver. The Nuggets pride themselves on player development and with McGee and Faried they have a potentially dominant frontcourt for years to come.
February, 3, 2012
2/03/12
8:30
AM PT
The "Grammy Road Trip" is always a test for the Lakers, and with the team struggling outside of Staples, this year is no exception. Whether for the purpose of molding themselves into a more legitimate force heading into the playoffs or simply forging a record good enough to qualify, this six-game roadie carries stakes. An opener against the Nuggets, possibly the best team on the docket, will set the tone.
For insight into Denver's squad, we called upon
Jeremy Wagner
of the True Hoop Network's
Roundball Mining Company
. Below are his responses to four questions about the Nuggets, and here is a link to
the Laker-centric tidbits I provided him
.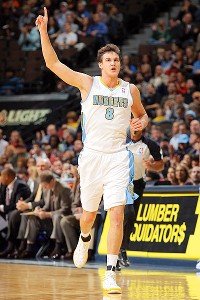 Doug Pensinger/Getty Images
Gallo and the gang have high hopes for the season.
1) Land O' Lakers: People have been in wait-and-see mode after the strong play upon Carmelo Anthony's exit. 20+ games into this season, how good do you think this team truly is?
Jeremy Wagner:
I believe it is important to make a differentiation between last season's team and this season's team. Last season's team played with an aggression and purpose fueled by the fresh wound of the
Carmelo Anthony
trade. Nearly every player had a reason to prove himself. This team does not possess that chip on their shoulder.
What this team does have is a year of growth and playoff experience for young studs like
Danilo Gallinari
and
Ty Lawson
as well as some assurances in the form of long term contracts. The players on this roster know they are the foundation of the franchise and that is a different form of motivation.
The 2011-12 Denver Nuggets are a very good team. Good enough to beat anyone. The bajillion dollar question is, are they good enough to beat anyone in a best of seven series?
The good news for Nuggets fans is the team is not built just for this season. They will improve internally and could have some cap space to play with next season depending on what happens with
Wilson Chandle
r when he returns from China.
January, 1, 2012
1/01/12
10:53
AM PT
The Lakers ended 2011 on a winning note
. The chance to kick off 2012 in that same positive fashion (against the same team, no, less) is immediately staring them in the face. On Saturday afternoon, the Lakers played host to the Nuggets. Tonight, Denver returns the favor. Here are four items to be mindful of once the ball is jumped:
1. Back-to-back, high-altitude style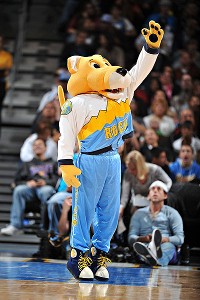 Garrett W. Ellwood/Getty Images
Rocky's lungs may even be burning this early in the season.
A trip to Denver's thin air can trip up a team collectively in game shape and sporting fresh legs, and there's no denying conditioning remains an issue for the Lakers. In particular, for the bigs.
Andrew Bynum
made no bones about being exhausted after his debut on Saturday, and he'll be playing his first back-to-back of the season.
Pau Gasol
looked dead-legged defensively on several second-half possessions against the Nuggets, especially when closing out on
Al Harrington
at the 3-point line. The Lakers will have about 24 hours to acclimate themselves to the lack of local oxygen against a squad that lives to run guests out of its building. There won't be much time to make the physical and mental adjustments.
Having said this, I do wonder if this particular advantage will be quite as strong for the Nuggets as in years past. After all, they were saddled with the same compressed training camp as everyone else, are on a back-to-back, and have played only one home game so far. It actually wouldn't shock me if several Nuggets also appeared to be sucking wind.
But that's
George Karl's
problem, not the Lakers', and it doesn't alleviate entirely whatever problems they still may experience.
July, 17, 2011
7/17/11
11:26
PM PT
A few days ago, TNT officially announced the hiring of
Shaquille O'Neal
as part of their team of analysts. (For a smorgasbord of opinion on how he'll fare,
click here.
) Among the topics Shaq discussed during his introductory teleconference was
Yao Ming's premature retirement, which delved into a commentary on Dwight Howard
:
"The beasts are now gone, the Goliaths are now gone, so that leaves Dwight Howard out there by himself. So if he doesn't win two or three championships, I'll be very disappointed, because he has no competition out there now. None. Zero."
Well, if you buy
the long-standing rumors about Andrew Bynum being "untouchable",
that's news to
Jim Buss
.
Obviously, Shaq may have been erring on the side of hyperbole while making a specific point about Howard, undoubtedly the NBA's best center and a player with whom he's shared a testy relationship. Then again, he may just think there ain't much doing at the 5 these days in the NBA beyond the "other" Superman. In any event, whether or not you agree with Shaq's omission of Drew, those comments do underscore a certain reality: The competition behind Howard is in fact pretty thin.
Bynum may never pass Howard as the preeminent big in the league, but nobody is standing in his way from automatic mention as a close 1a.
Tyson Chandler
is an outstanding complementary player, but a complementary player nonetheless. I think
Nene
is among the more underrated players in the NBA, but you wouldn't build around him. Ditto
Andrew Bogut
, who's struggled lately to stay healthy.
Joakim Noah
is a fantastic defender and a beast on the glass, but his offensive game is limited.
Brook Lopez
is the bizarro-Noah.
Chris Kaman
is perennially injured.
Al Horford
is terrific, but undersized as a center.
Marc Gasol
is rapidly improving and tough as nails, but still not even the best big man on his own team.
Emeka Okafor
is the dictionary definition of "solid but unspectacular."
Marcin Gortat
has yet to play an entire season as a starter.
Andrea Bargnani
will put up 20 while allowing 40.
DeMarcus Cousins
is talented, but raw and immature.
That's more or less everyone, right?
With Shaq and Yao gone, the stage is set for Bynum to come into a brand new form of credibility. This is about more than making his first All-Star team, which should be a given now that Yao's no longer around. By default, Drew should get the nod as the best remaining center on the highest profile team. It's also about more than his talent, which is obviously high.
What I'm talking about is Bynum's profile, which still remains as much as about being a Laker as his individual skills. As it stands, Drew is undoubtedly -- and rightfully -- viewed as one of the best big men in the league, but I don't quite feel he truly has a persona yet. An identity. And the time is certainly ripe for this particular sea change.
Of course, between the seemingly inevitable injuries, the need to reach yet another level and
a potentially brewing push and pull between him and Kobe Bryant
, the jump may not be so simple. Still, if next season did end without Shaq either revising his statement or looking painfully foolish for clinging to his original words, it would be nonetheless disappointing on some level.
January, 21, 2011
1/21/11
10:11
AM PT

By Brian Kamenetzky
ESPNLosAngeles.com
Archive
Here in LA, stories of
shootaround tardiness
,
practice outbursts
,
reality television
and
inelegant word choices
from
Phil Jackson
are enough to qualify as distraction and controversy, and work the media, if not the faithful, into a frenzy.
But this, to use the words of
Stanley Motss, played by Dustin Hoffman in "Wag the Dog
," is nothing.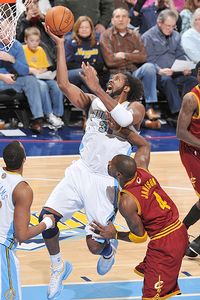 Garrett W. Ellwood/NBAE/Getty Images
The Nuggets have stayed competitive despite a season of huge distractions in part because of Nene, who is playing All-Star-caliber ball.
For real distraction and controversy, head to the Rockies, where the
Carmelo Anthony
soap opera -- the MeloDrama, as it's known -- has run all season and seems likely to last a while longer, now that the Nets have apparently (at least for the time being) dropped out of trade talks with the Nuggets to acquire the star small forward. Still, despite it all, Denver has remained competitive, particularly on their floor, and hold a 24-17 record and the seventh seed in the Western Conference.
Where the Nuggets land in the spring is a wide-open question, dependent largely on what they do with Anthony. Of more immediate importance is how they'll play Friday night, when the Lakers come to town looking to rebound from a disappointing performance in Dallas and earn a split on their two-game road trip.
To get a better feel for what's going on with
George Karl's
gang, I consulted
Jeremy Wagner of Roundball Mining Company
, a one-stop shop for all things Nuggets. He was kind enough to answer a few questions about his hometown squad:
The Nuggets are a perfectly reasonable -- but not dominant -- 24-17 on the season but are awesome at home, at 19-4, tending to maul the opposition in the process. What is it that they do so much better on their floor?
Wagner: The home/road differential has dogged all Denver teams for years, not just the Nuggets. Much of the problem has been a stylistic one, whether it was the Blake Street Bombers for the Rockies, who hammered homer after homer at home but struggled when those homers turned into fly ball outs on the road, or the Nuggets playing at a much more frenetic pace and running opponents off the floor in Denver only to find they were not so successful at rattling teams and getting them to play at their pace on the road.
Under George Karl, Denver has been better on the road, not because they did not run or played differently, but because they placed more of an emphasis on defense. Most fans have a difficult time putting defense and Denver in the same sentence without using a word like "nonexistent," however, the Nuggets have regularly been among the top 10 in defensive efficiency in recent years. Solid defense has enabled them to be more competitive on the road.
This season, Denver has seen its defensive focus and cohesion fall to unsatisfactory levels. The Nuggets are close to falling into the bottom third in defensive efficiency, as you note in your next question, and their opponents are converting on a higher percentage of shots than they have in previous seasons. The cohesion and focus that has been displayed in the past is simply not there this year.
September, 20, 2010
9/20/10
7:51
AM PT
With training camp around the corner, we asked a group of local and national roundball experts to weigh in on some of the big Lakers questions heading into the 2010-2011 season. Call it a preseason prognosticationpallooza.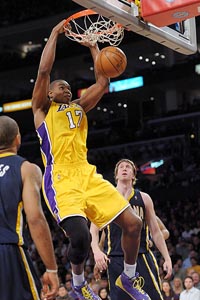 Kirby Lee/US Presswire
Andrew Bynum definitely has the
talent to be an All-Star...
Our panel:
Andy and Brian Kamenetzky (ESPNLA.com Land O'Lakers Blog),
Elliott Teaford
(L.A. Daily News),
Kevin Ding
(O.C. Register),
Kevin Arnovitz
(ESPN TrueHoop),
Eric Pincus
(Hoopsworld),
Chris Clark
(Silver Screen and Roll), J.A. Adande (ESPN.com),
Darius Soriano
(Forum Blue and Gold),
Kurt Helin
(ProBasketballTalk.com),
Mark Medina
(L.A. Times.com), Arash Markazi (ESPNLA.com), and Dave McMenamin (ESPNLA.com)
Today's question:

Will this be the year Andrew Bynum makes the All-Star team?
The Results:
Yes: 7
No: 3
Non-committal: 3

My take:
Tough call.
Amare Stoudemire
migrated east, but
Yao Ming
, armed with a country of voters, should be healthy again. While Drew is definitely among the conference's best reserve candidates,
Marc Gasol
,
Al Jefferson
,
Chris Kaman
, and
Nene
could present viable challenges. (
Pau, Timmy, Dirk, 'Melo, and Durant
are all locks as forwards, so there probably isn't room for two backup fives.) Bynum also needs to stay healthy and look more consistently comfortable alongside El Spaniard. Gun to my head, he gets the nod, but it's not a given.
Other responses:
March, 1, 2010
3/01/10
9:44
AM PT
We analyzed the heck out
several moments
and relayed some
chatter about excessive chatter
. Here's more reading material for the masses:

GAME REPORTS
-Mike Bresnhan, L.A. Times
-Kevin Ding, Orange County Register
-Andrew Feinstein, Denver Stiffs
-Benjamin Hochman, Denver Post
-Jeremy Wagner, Roundball Mining Company
-Elliott Teaford, Los Angeles Daily News
-Dan Weber, Press-Enterprise
NOTEBOOKS
-Bresnahan (LAT), on
the second-half defense
-Hochman (DP), on
the Nuggs' pursuit of Big Z
-Teaford (LADN),
on Artest's defense
-Broderick Turner (LAT), on
Ron Artest's defense
-Weber (PE), on
Artest setting a tone
and trying to
lose weight

COLUMNS
-J.A. Adande
, ESPN.com,
questioning the Nuggets championship credentials
-Ding (OCR)
, on the
Lakers conquering brawn with brains
-John Ireland
, ESPNLosAngeles.com, on
the Lakers' Jekyll and Hyde performance in victory
-Craig Kwasniewsk
i, The Association, on the
Lakers finally showing up for a big game
-Arash Markazi
, ESPNLosAngeles.com, on
Artest's effect on the game
-Dave McMenamin
, ESPNLosAngeles.com, on
the Lakers silencing the trash talking Nuggets
-Mark Medina,
Lakers Blog, on
Artest being the key to victory
-Jeff Miller
(OCR), on
Artest officially "arriving" as a Laker
-Randy Youngman
(OCR), refuting those who think
Kobe's bad shooting makes him a liability
NBA
-Allen Iverson's
return to Philly
remains up in the air.
-Big Z, according to his agent,
hasn't made up his mind about returning to Cleveland
. Plenty o' teams would love to
enlist the services of the big lug
. In the meantime, Cleveland could definitely use him, since Shaq is expected to
miss 8 weeks after thumb surgery
.
-The Rockets future plans still
hinge on Yao Ming coming back healthy
.
-The Timberwolves
suspend an apologetic Al Jefferson after a DWI arrest
.
-Dwight Howard
remains a whistle magnet
.
-Rook
Dante Cunningham
has grown up a lot this season
for the Blazers.
February, 27, 2010
2/27/10
4:45
PM PT
Rarely does a regular-season game feel so chock full of ginormous implications, much less implications potentially bigger for
the 44-15 defending champions than the 39-19 challengers
. But that's about the size of things as Sunday's game against the Denver Nuggets looms just ahead.
PODCAST
Chalk talk! Ahead of Sunday's big game against Denver, Andy and Brian break down the Nuggets' powerful offense with coach Dave Miller. How to stop one of the NBA's best O's? Click to find out.
Podcast

The Lakers have dropped a pair of contests to last season's Western Conference finals foe by
26
and
13 points
and it stands to reason they don't want to provide this hungry, dangerous squad additional reasons to like its 'chip odds. Whether you think this game matters more to Denver or L.A., that the question can be legitimately debated illustrates why it behooves the Lakers to eliminate
their admitted complacency
and match the Nuggets' predictable intensity.
Or heck, just match the intensity of the K Brothers, who went the extra mile and provided the Land O' Lakers faithful
not one but two
poddys analyzing this showdown. So much knowledge and insight dropped, the average listener, regardless of age, size or conditioning, would be able to take the court and shut down
Carmelo Anthony
without the assistance of a second defender.
PODCAST
Andy and Brian Kamenetzky preview Sunday's game against the Nuggets with Benjamin Hochman of the Denver Post, talking about Denver's confidence against L.A. and how they're handling George Karl's battle with cancer.
Podcast

Seriously, it's
that
illuminating.
First is a chalk talk with our man
Dave Miller
, former NBA and college assistant coach. Denver has an explosive offense, capable of making hay from everywhere on the court. Miller explains the best ways to tame the beast.
-(4:00): In Miller's mind,
Chauncey Billups'
nine 3-pointers against the Lakers on Feb. 5 was a mix of good O and bad D, prompting thoughts on how to avoid the latter. Also, with a guy as talented as Billups, are you better off when he's a playmaker or a scorer?
-(6:39): A discussion of 'Melo's ever expanding game. He has become more efficient and selfless, which makes him an even bigger nightmare. Anthony is, however, still bothered by physical D and his decision making remains a work in progress, Miller says. He also offers a candid opinion on the
Ron Artest
-Anthony matchup.
-(16:00): The Nuggets still go off the grid at times when it comes to playing system ball, but there's now much more method than madness. Miller talks about Denver's new-found discipline, which starts with Billups.
-(20:49): With all the attention focused on Melo, Billups and the still-maturing
J.R. Smith,
Denver's bigs often get lost in the shuffle.
Kenyon Martin, Nene
and
Chris Anderson
, however, are a big piece of the Nuggets' puzzle.
Johan Petro
? Not so much.
-(24:20): Failure to run a system often leads to bad shots and opposing teams capitalizing in transition. Miller explains below:
"All of the shots that come out of the triangle once you have that normal overload and form the strong side triangle or what I call 'the backside triangle," Tex Winter put that together and Phil Jackson uses it because it balances the floor. When individuals take a shot that's not 'their shot'... when somebody catches the ball and does something out of the norm, that's when your floor isn't balanced. And teams like the Denver Nuggets, that's like throwing chum into the ocean trying to get sharks. They see those bad shots and they see those those long rebounds, and now they're running and they're pushing it.
Chauncey Billups has been a calming effect and is trying to run some offense, but I don't care what team you play for and I don't care what coach have, the best offense is transition. The best offense is to play defense, contest the shot, get it off the boards and then push it down their throats... People listening need to realize that shot selection and floor balance equate to defending other people's transition."