October, 1, 2013
10/01/13
5:27
PM PT

By Dave McMenamin
ESPNLosAngeles.com
Archive
LOS ANGELES --
Shawne Williams
was just another draft bust that had been discarded by the league when he arrived on Mike D'Antoni's and the
New York Knicks
' doorstep in September 2010.
"I gained my respect for Mike was when I first got to New York," Williams told ESPNLosAngeles.com at
Los Angeles Lakers
training camp this week. "We had a meeting and he told me a couple things. I won't put that out in the public, but he told me some things. He told me the truth. And I respect him for that."
What did D'Antoni tell him? What do you say to a former first-round draft pick who had already been charged with possession of marijuana, possession of a stolen handgun, and in a separate incident, misdemeanor drug possession for allegedly selling a codeine substance?
What message did D'Antoni have for someone who had already worn out his welcome with both the
Indiana Pacers
and
Dallas Mavericks
and became such a persona non grata that he was out of the league completely for the 2009-10 season before arriving in New York?
[+] Enlarge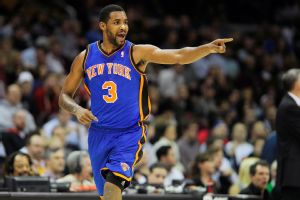 Jason Miller/USA TODAY SportsShawne Williams, above, played for Lakers coach Mike D'Antoni when both were in New York in 2010.
"I remember," D'Antoni said. "I told him I didn't want him. Because that's what happens in this league sometimes, you get labels on guys. I didn't know him, only what I read, what I saw, what I heard. So I'm thinking, 'Why do we need to go down that path again?' "
The honesty was something Williams, a 6-foot-9 forward with deep range who had been relying more on talent than mental toughness, needed to hear.
It humbled him.
For the first 18 games of the 2010-11 season, Williams sat on the Knicks' bench, racking up DNP after DNP. When he finally got a chance to play, New York went on an eight-game winning streak, with Williams making 15 of the 28 shots he put up during the tear.
"Eighteen games in, I got a shot to play and I ended up doing alright and I was playing ever since," Williams said. "To me, I just feel like Mike's system is a great system. He's a great coach. He respects players. He knows how to coach players. And that's basically it. That's just my guy. I like him as a coach, a person. That's just it."
For D'Antoni, the feeling is mutual.
"When you get to know the guy, he's nothing like the perception," D'Antoni said. "He's one of the most stand-up, nicest, coachable and skilled players that I've ever coached and I'm hoping. He's been off a couple years, so that is what it is and he still has to fight perception, but he's one of those guys that plays a lot better than people think."
"Sometimes this league is a revolving door"
Williams' lone season in New York with D'Antoni has proved to be the glory days of his career so far. Williams averaged 7.1 points, 3.7 rebounds and 0.8 blocks in just 20.1 minutes per game that season, while shooting 40.1 percent on 3-pointers.
He signed with the then New Jersey Nets after the lockout and never found his niche, shooting just 28.6 percent from the field in 25 games. The Nets traded him to the
Portland Trail Blazers
at the end of the 2011-12 season. Portland bought out his contract for 2012-13. Williams was out of the league, again. And fell back into trouble, again. This time he was arrested for possession of both marijuana and codeine cough syrup.