Los Angeles Lakers:

Nick Van Exel
June, 26, 2012
6/26/12
9:59
AM PT
The Sacramento Kings figured they got their guard of the future on draft night last June when they traded away their No. 7 pick, Bismack Biyombo, in a three-team deal to acquire the sharp-shooting Jimmer Fredette, who was drafted No. 10 by Milwaukee.

It turns out the Kings' most important decision of the night just might have occurred several hours later when they used the last pick in the draft on Isaiah Thomas at No. 60.

Fredette went on to average 7.6 points on 38.6 percent shooting, struggling to recapture the magic in his stroke that made him a national sensation at Brigham Young. The 5-9 Thomas, meanwhile, finished the season averaging 11.5 points and 4.1 assists while outshooting Fredette both from the field (44.8 percent) and from 3-point range (37.9 percent). Thomas ended up being named a two-time NBA Rookie of the Month for the Western Conference and finished seventh in Rookie of the Year balloting.

The Los Angeles Lakers find themselves in the Kings' boat this year, as their lone selection headed into Thursday's draft is No. 60. It figures to be a deep draft because of a stockpile of talent that stayed in college an extra season this past year in part because of fear of a lockout wiping out the entire 2011-12 NBA season, but finding a success story like Thomas with the last pick in the second round is a long shot. A league executive told me that he expects every first round pick in the 2012 draft to become rotation players, but admitted the second round is still a crapshoot.


February, 17, 2012
2/17/12
3:46
PM PT
Nick Van Exel was drafted by the Lakers with the No. 37 pick in the second round in 1993 and played five seasons in L.A. before he was traded to Denver for Tony Battie and Tyronn Lue. The 6-foot-1, 170-pound guard went on to play 13 seasons with six NBA teams before calling it a career after the 2005-06 season. Van Exel ranks No. 14 on the NBA's all-time 3-pointers made list with 1,528. He is now an assistant coach for the Atlanta Hawks and ESPNLA.com caught up with him before the Hawks played the Lakers earlier this week.
What's your favorite memory from your time with the Lakers?
[+] Enlarge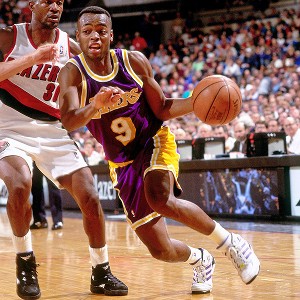 Brian Drake/NBAE/Getty ImagesNick Van Exel, now an assistant with the Atlanta Hawks, spent the first part of his NBA career with the Lakers from 1993-98.
"Favorite memory? Hmm. I'll probably say two. Just the draft night, being drafted by the Lakers was special coming from where I had come from -- a small town in Wisconsin. It was a pretty big event for me. I'll say three [memories]. Of course, making big shots in the playoffs, just the excitement, you hear the crowd and probably being on the team when
Magic [Johnson]
returned. That was special."
You were a second-round draft pick, so there was nothing guaranteed to you. Looking back at that time, was there anybody in the organization that was really backing you or helping you and pushing for your success?
"Yes, the head man,
Jerry West
. The Logo. He was really a big fan. I can remember playing down in, I want to say Irvine, Calif., for the rookie summer league games and I played terrible. I played terrible and I thought, 'Man, I may not make the team!' I really didn't know much about the NBA. I played so bad that they signed me after like the third or fourth game [because they kept waiting for me to play better]. I was playing so bad. Definitely Jerry West had my back."
Through your scouting you might have heard of Andrew Goudelock, a rookie on this Lakers team. Your name has been attached to him a little bit in terms of being a high-scoring guard, a second-round draft pick with nothing guaranteed. Is there something about the character of a guy to be able to do that? To make it when the odds are against you?
"I really believe it's just no fear, man. For me, I never thought I would fail. Every shot I took, I thought it was going in. Even when I was in the second round, a lot of people didn't know if I would make it or not, I never questioned whether I would make it the team or anything like that. So, I think with him, it seems he has that no-fear attitude. When you can go out there and come off a pick-and-roll and just pull up for 3 when you got
Kobe [Bryant]
on the court with you, you've definitely got a no-fear mentality."
February, 2, 2012
2/02/12
10:57
PM PT
It was one thing for Lakers second-round draft pick Andrew Goudelock to draw comparisons to Nick Van Exel, a high-scoring yet low-to-the-ground guard (Van Exel is 6-1, Goudelock is listed generously at 6-3) second-round steal the Lakers acquired with the No. 37 pick back in 1993.

It was another thing entirely for Kobe Bryant, a once-in-a-generation talent, to compare Goudelock to himself.

"He's not afraid to shoot," Bryant said Tuesday after Goudelock chipped in 12 points in the Lakers' rout of the Bobcats. "He's got a little nickname now. We call him, 'Mini Mamba.'"

It's no coincidence that Goudelock, the No. 46 pick out of the College of Charleston, has averaged 11.5 points on 50 percent shooting from the field and 57.1 percent shooting on 3-pointers (8-for-14) in 20.8 minutes in the last four games and the Lakers have gone 3-1.

After disappearing from the lineup for about a month when he opened up the season as Bryant's primary backup at shooting guard and re-emerged in Lakers coach Mike Brown's rotation as Derek Fisher's primary backup at point guard because Steve Blake went out with a rib injury, Goudelock has punched some life into the Lakers' stagnant offense.

"To have a guy that can just go play pick-and-roll and go create a shot for yourself or your teammate, that's pretty neat to have," said Brown after Goudelock and the second unit's 48 points against Charlotte helped the Lakers top the 100-point mark in consecutive games for the first time all season. "You see other teams have them and we don't have a ton of those guys."

While Brown sees other teams and counts their playmakers in relation to his roster, Goudelock simply sees red. After finishing fourth in the NCAA scoring race as a senior, averaging 23.7 points per game, Goudelock waited and waited on draft night as nearly two teams passed on him for every point he averaged last year.

"You try not to think about those types of things but that means 45 teams passed up on me," Goudelock said.


November, 13, 2010
11/13/10
11:53
PM PT

By Brian Kamenetzky
ESPNLosAngeles.com
Archive
One fun part about sports, and having a dedicated space like this one, is the ability to follow through on somewhat random, totally insignificant thoughts/bits of trivia on any given night, just 'cause.
I always have fun looking through the
Lakers uniform number register at Basketball Reference
, if only for some of the random names you'll find and to once again confirm
D.J. Mbenga
is unquestionably the best Laker to ever wear 28. Tonight, I wondered what the best team the Lakers could assemble using only the numbers of guys currently on the roster.
Or, if you prefer, "The All 2, 3, 4, 5, 7, 9, 12, 15, 16, 17, 18, 24, 45, 50 Team."
2
Kenny Carr 1978-1979
Rory Sparrow 1992-1992
Anthony Miller 1995-1996
Derek Fisher 1997-2011
Aaron McKie 2006-2007
This one's easy. No disrespect to
Pig Miller
, but Fish has this one wrapped up. Though without McKie, the Lakers may never get
Pau Gasol
, a far more significant contribution than the 29 points he scored in purple and gold.
3
Elmore Smith 1974-1975
Jeff Lamp 1988-1989
Jay Vincent 1990-1990
Sedale Threatt 1992-1996
Devean George 2000-2006
Shammond Williams 2007-2007
Trevor Ariza 2008-2009
Devin Ebanks 2011-2011
Not the strongest number in LAL history.
George
won some hardware, but barely played in those playoff runs.
Threatt
was actually a pretty productive player, but during a particularly unproductive time for the franchise. That leaves Ariza, who went to a Finals, won a ring, and might still be here if not for some lousy work from his agent.