Los Angeles Lakers:

Nicolas Cage
September, 29, 2011
9/29/11
11:22
PM PT

By Brian Kamenetzky
ESPNLosAngeles.com
Archive
***CLICK HERE TO LISTEN***
The league is still in lockout mode, but we're still punching the clock. This week, Andy and I welcome
Bomani Jones
, host of
The Evening Jones
and frequent guest of ours, along with just about everything ESPN puts on television, including Jim Rome Is Burning and Around the Horn.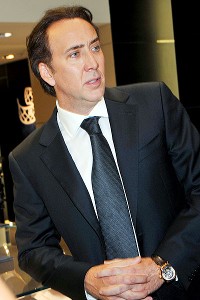 ChinaFotoPress/Getty Images
The Kamenetzky's are talking about me again? Is it the nine-foot pyramid I bought this week? Probably. They got on me about the whole Fudgesicle thing, too.
The result? About 60 minutes of basketball and pop culture conversation. Among the high points:
-Bomani starts things off with a cautionary tale
about paying close attention to where you pull over to send a text (
3:00
) before we
address the question of
Kobe Bryant
and Italy (
4:30- click here to jump straight to it
)
.
How would Kobe-in-Europe play out? Is the risk of injury any higher playing in Serie A than games he'd surely play on this side of the Atlantic -- it's a point on which Andy and I disagree -- and who exactly incurs the risk?
Plus, comments on the old man game of
Chris Douglas-Roberts
, who would be Kobe's teammate
should he sign with Virtus Bologna.
-What about the role of stars in the CBA talks (12:30)?
It was the subject of the
most recent installment of The Forum
, but give it a more thorough airing here. What should guys like Kobe and
LeBron James
be doing right now? Is it a good idea to have them front and center in the negotiations? My take: The league's elites are in something of a no-win situation. Can the richest stars really tell the rank and file it's worth missing a year of paychecks? Easy for them to say. But if stars are too far from the process, they're criticized for seeming apolitical. It's a tough spot. Best to do what Kobe has done, keeping a low profile while showing solidarity and
even offering to float loans to players in need
.
Regarding the B.O.K. (Bank of Kobe), who would be the most intimidating guys in the league to owe money to?
Stephen Jackson
?
Tony Allen
? And do you really want to face Kobe on the court if you're, say, 25 G's deep with him? Plus, a great
Charles Oakley
story.
-
(
25:00
)
Nic Cage
continues to be a gift perpetually giving
. A couple weeks back, we noted the fantastical story of an intruder appearing at Cage's bedside wearing only the star's leather jacket
and brandishing a Fudgesicle
. This week, we explore Cage's purchase of a
nine-foot tall pyramid shaped tomb
in New Orleans, presumably to eventually serve as his final resting place. (While nobody hopes he gets use of it anytime soon, it's probably safe for Cage to toss in the Oscar he won for Leaving Las Vegas, because that chapter of his career died a while ago.)
-(
33:00
)
The list of nominees for the 2012 induction class
at the Rock and Roll Hall of Fame was issued this week. Few guests of ours are better versed in music than Bomani, so we take the opportunity to break down
the candidates
. Are
Guns and Roses
the
Roger Maris
of music? Did they release enough good stuff after
Appetite for Destruction
to truly deserve enshrinement? If
Donovan
gets in, does he thank
Martin Scorsese
? Are busts in order for
Beastie Boys
and
Heart
?
And what about
Rush
? Every year they don't get nominated, and every year their fans freak out. Do they have a point? Is there some deep rooted anti-progressive rock bias on the nominating panel (and if so, can you blame them)?
September, 19, 2011
9/19/11
1:51
PM PT

By Andy Kamenetzky
ESPNLosAngeles.com
Archive
You want your lockout update? We got your lockout update! SI.com scribe
Sam Amick
has provided some of the best CBA coverage around this offseason, and was kind enough to spare us some time. Among the talking points:
PODCAST
Andy and Brian talk with SI.com's Sam Amick for the latest on the NBA labor situation. Plus, a very bizarre tale involving Nicolas Cage, an intruder and a Fudgesicle.

Podcast

- Despite
the recent rhetoric painting a picture of sides moving further apart
, Amick is reasonably confident progress has continued. Not that we're anywhere close to being out of the woods, but as long as backward steps are avoided, that's a positive. At the very least, Amick remains hopeful a 2012 season will take place.
- Amick explains why, as a general rule of thumb, the less forthcoming either side is with specifics from meetings, the better talks are likely going.
- Is the impetus among owners for a hard cap a desire for more parity, a monetarily-driven sticking point, or a little bit of both?
- Amick isn't entirely sure why
some powerful agents are pushing for decertification
, but if he had to guess, it's a power play. The agents feel more confident in their negotiating skills than
Billy Hunter's
, and are looking to usurp his power. What Amick does know, however, is decertificaton basically guarantees a large chunk of the season lost, if not the whole kit and kaboodle. It's a nuclear option guaranteeing paperwork, court rooms and tons of red tape, none of which fares well for basketball fans.
- The importance of
Derek Fisher
as president of the Players Association, in terms of his relationship with players and stature around the league. Amick lays out the praise and criticism commonly lobbed at Fish. For that matter, where does
Dr. Jerry Buss
fit in as the league's future is being decided?
- Is it problematic role players have been the most prominent faces at the meetings, rather than stars?
- Regular podkast listeners are aware of the K Bros' penchant for anything weird involving
Nicolas Cage
. Thus, it would be impossible for Brian and I not to explore this recent revelation: Cage once woke up to the startling visual of an intruder
wearing nothing but one of his leather jackets and eating a Fudgesicle
. The tale is every bit as bizarre as it sounds.