Los Angeles Lakers:

Nik Stauskas
June, 24, 2014
Jun 24
6:50
PM PT

By Dave McMenamin
ESPNLosAngeles.com
Archive
With no head coach to run the team and up to 12 open roster spots to be filled for next season, there is very little that's settled about the
Los Angeles Lakers
as they head into this week's NBA draft.
The one position they have covered to some extent is the backcourt, with two future Hall of Famers in
Kobe Bryant
and
Steve Nash
under contract with L.A. to embark on their 19th seasons in the league.
The pair played only a combined 21 games last season, however, and with the uncertainty surrounding their health, plus the competition at guard in the Western Conference, going after a guard in the draft makes a lot of sense for the Lakers.
During a nine-game stretch from late February through early March of last season, the Lakers faced Memphis'
Mike Conley
, Sacramento's
Isaiah Thomas
, Portland's
Damian Lillard
, New Orleans'
Eric Gordon
, the L.A. Clippers'
Chris Paul
, Denver's
Ty Lawson
, followed by back-to-back games against Oklahoma City's
Russell Westbrook
and another two-game set against San Antonio's
Tony Parker
.
It's a brutal league, quite simply, if you don't have the right personnel.
Here's a look at seven guard prospects the Lakers could end up targeting with the No. 7 pick in the draft:
Dante Exum
6-6, 196 pounds | 18 years old| Australia

[+] Enlarge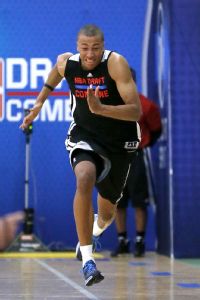 AP Photo/Charles Rex ArbogastDante Exum is unlike many players in the NBA now, but the chances of the Lakers being able to pick him are remote.
The Lakers' interest in Exum was one of the worst-kept secrets in the league in the months leading up to the draft. Fellow Aussie
Luc Longley
, who is an assistant coach on the national team, leaked the news all the way back in January that the Lakers had inquired about the point guard. The fact Exum signed with Rob Pelinka as his agent -- who also represents Kobe, as well as
Chris Kaman
and
Wesley Johnson
-- only fueled speculation that both sides were trying to find a way to land him in L.A.
Exum burst onto the scene after averaging 18.2 points and 3.8 assists at the 2013 FIBA Under-19 World Championship in Prague last summer.
"I've only known of him for the last three years, probably," said San Antonio's
Aron Baynes
, a teammate of Exum's on the Australian national team. "That's about as much as I've known him, but even in the last three years, his development [has] just been huge. I'm excited to see where he goes and even more excited to play with him over the summer and see what he can bring to the table for not only the national team, but for Australian basketball over here in the states."
Baynes struggled to think of a player currently in the NBA that Exum could be accurately compared to.
"He's a big point guard," Baynes said. "He's a smooth player, but I wouldn't really say anyone right now that plays similar to what he does. That's what makes him so interesting. He brings a different dimension to the point guard role."
San Antonio's
Patty Mills
, another Australian, also chimed in on Exum.
"From what I've seen last year playing with him on the national team, he's got huge potential," Mills said. "I think he's going to have a big impact here in the NBA and obviously for us on the national team, so I'm really excited for him and wish him all the best."
Mills broke down Exum's game.
"He's very long," Mills said. "He shoots the ball well. He's athletic. He can handle it very well as well, but his height and his athleticism lets him get to the rim with ease no matter who is guarding him.
"I think he obviously still has a lot of years to fill into his body and once he does that, he'll be tough."
Chance he'll be available:
Next to none. Exum is slated to go No. 3 to Philadelphia in Chad Ford's latest Mock Draft 10 for ESPN.com. The Lakers would have to move up in the draft to try to land him and they just don't have enough assets to pair with their pick to make that a feasible scenario.
June, 20, 2014
Jun 20
7:43
PM PT

By Dave McMenamin
ESPNLosAngeles.com
Archive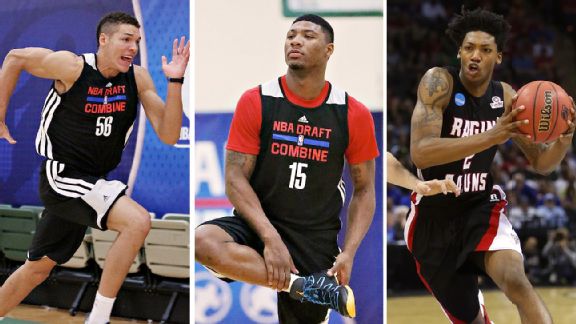 Getty ImagesThe Lakers will have extra homework now that the uncertainty of Joel Embiid's health status might improve the draft positioning of prospects Aaron Gordon, from left, Marcus Smart and Elfrid Payton.
EL SEGUNDO, Calif. -- The
Los Angeles Lakers
held another predraft workout with six prospects on Friday, but it was the health of a seventh prospect -- Kansas center
Joel Embiid
-- that had everybody talking.
Embiid, presumed to be the No. 1 pick for weeks after successfully recovering from a stress fracture in his back that cut his freshman season short, underwent surgery for another stress fracture in his right foot on Friday. Now the
Cleveland Cavaliers
' plan at the top of the draft is anybody's guess.
"I think it makes it a little bit less predictable," said Arizona's
Aaron Gordon
, brought in for a second workout with the Lakers, along with Oklahoma State's
Marcus Smart
and Louisiana-Lafayette's
Elfrid Payton
.
The trickle-down process already had begun, with Smart rushing out of the Lakers' practice facility after the workout to catch a flight to Philadelphia to show his stuff for the
76ers
. The Sixers have the No. 3 pick and seemingly had been high on
Andrew Wiggins
at that spot. But now that Wiggins could go No. 1 to Cleveland with Embiid's injury potentially scaring the Cavs off, a whole host of possibilities are in play.
Smart isn't the only one who could see his draft stock skyrocket with Embiid falling because of his foot. Gordon said there was "speculation" he could be heading to Philly to work out prior to next Thursday's draft, as well.
Regardless of what happens with the six picks prior to L.A.'s selection on draft night, there's a reason the Lakers brought in the group they did on Friday, which also included Michigan guard
Nik Stauskas
, former North Carolina turned D-League prospect
P.J. Hairston
and South Carolina State big man
Matthew Hezekiah
.
"Another great group of guys. So, the competitive level was at a high," Smart said. He only has gone through two workouts with one other team, the
Orlando Magic
, which have the No. 4 pick.
While Gordon and Smart were considered to be top-10 talents ever since the lottery order was revealed last month, Payton has shot up the charts because of strong predraft workouts. He even secured an invite to the green room at the draft next week, which the league usually only extends to prospects it expects will go in the first 10 to 15 picks.