Los Angeles Lakers:

Nolan Smith
March, 23, 2012
3/23/12
8:41
AM PT

By Andy Kamenetzky
ESPNLosAngeles.com
Archive
At the trade deadline, franchises have a few options. They can stand pat. They can make small moves. They can roll the dice on a major piece to bolster a title run. Or they can blow up the roster
like it was a scene from a Michael Bay movie.
On March 15, Portland Trail Blazers owner
Paul Allen
went the Nitroglycerin route. Starters
Gerald Wallace
and
Marcus Camby
were shipped to New Jersey and Houston respectively. Head coach
Nate McMillan
, in the fold since 2006, was given a pink slip. Incoming bodies
Jonny Flynn
and
Hasheem Thabeet
) get to fight over who's "Flotsam" and who's "Jetsam," while
Mehmet Okur
was released to pick up
J.J. Hickson
off waivers.
In other words, these ain't your six month old kid's Blazers, much less your daddy's.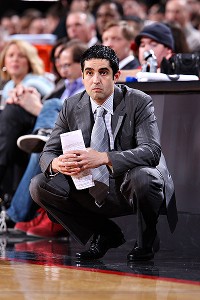 Sam Forencich/Getty Images
The Blazers have demonstrated scattered signs of life under Canales.
Since cleaning house, the Blazers are 2-2. But between a 7-17 road record (one of those L's notched against the Lakers) and the host having dropped just three games inside Staples, the purple and gold appear theoretically perched
in the fabled catbird seat
. But like all matters throughout this inconsistent season, proof is in the pudding. For more info on the new-look Blazers, we called upon
Erik Anderson
, a scribe for the True Hoop network's
Portland Roundball Society
. Below are his thoughts, plus a quick one of my own.
Land O' Lakers: Does new coach Kaleb Canales run a different system than Nate McMillan (if so, how) and is the team playing any harder for him?
Erik Anderson:
Portland exhausted themselves playing harder for Canales initially, which led to a
Derek Rose
-less victory over the Chicago Bulls. Since then, the Blazers are 2-2 including Thursday night's win over the Memphis Grizzlies. After the whole gimmick of getting players to
believe in his ripoff
of
"Jack Byrnes' trust circle,
" the Blazers have reverted back to their stagnant play that led to the firing of Coach McMillan in the first place.
Canales stepped into his tenure promising the same upbeat offensive tempo McMillan did in the preseason. It's a capricious concept, when it, you know,
actually develops
. Canales has
adjusted the offense
slightly, giving players more freedom to analyze the defense and take what presents. This approach led to several Trail Blazers saying they've never had more fun playing basketball after the win in Chicago. If Canales keeps this system of freedom, despite the losses, the Blazers will continue to play hard for him.
June, 18, 2011
6/18/11
3:24
PM PT

By Andy Kamenetzky
ESPNLosAngeles.com
Archive
The Ear Candy Express chugs along. With the draft approaching, we tracked down
David Thorpe
(ESPN.com Scouts Inc.) for insight. Among the talking points:
PODCAST
Andy and Brian talk with David Thorpe (ESPN.com's Scout's Inc.) about what the Lakers can do in the second round of the draft. Plus, a look at the hot rumor (Pau for Kevin Love/#2 pick) and the vocal stylings of Dirk Nowitzki
Podcast

- Is this year's draft as weak as it's overwhelming reputation? As Thorpe explains, that depends on a team's shopping list. If you're seeking multiple future All-Stars, then the 2011 class leaves much to be desired. However, there is legitimate value to players capable of solid NBA careers. Along those lines, this class contains many prospects. And as with four second-round picks, Thorpe feels the Lakers could, at the very least, pluck youngsters who'll provide the energy and athleticism the 2010-2011 team lacked.
- I asked about players who could potentially help the Lakers from the second round, whether as a specialist (namely a shooter) or just a mature rookie. Thorpe offers two names: Duke's
Nolan Smith
and UCLA's
Malcolm Lee
.
Jeremy Tyler, a Cali kid whose journey from high school to Israel was littered with issues
, could also be a potential sleeper.
Thorpe also shares thoughts on balancing the common second round approach (take the best player available) vs. the attempt to fill a more pressing need.
- Despite mentioning the possibility packaging picks in an effort to move up, Thorpe explains why it may not necessarily be wise. He feels there's rarely a tangible talent discrepancy between players taken late in the first round vs. the second round. For that matter, he thinks prospects are often easily lumped together past the first six or eight picks.
- Is it worth trading an established player like
Pau Gasol
(more on this later) for a top five pick? Thorpe doesn't see a
Blake Griffin
,
Derrick Rose
or even a
Russell Westbrook
among this year's top picks, but does think a player like
Derek Williams
or
Brandon Knight
could play significant minutes on a contending team right now, and at a considerably cheaper price tag. There are pros and cons on both sides.
- Finally, Thorpe weighs in on the Lakers' unexpectedly early exit from the playoffs:
"I think that what we saw there likely was the culmination of many, many, many games and many games together. And much of the b.s. that I think is going on with that team, at some point, people have to swallow that
Kobe's
not the best teammate we all think that he should be. I think there are times when he is and I have personal experiences with players that I trained that just love him to death because he was so generous with them, but none of them are named 'Pau Gasol' and none of them are named '
Andrew Bynum
.' I think for different reasons there was a lot of (an) 'I've had enough of this' attitude.
"And Kobe may have had some of it. There's no question Pau pulled a '
LeBron James
' before LeBron James pulled a 'LeBron James.' He went back to three seasons ago in that series. That happens. The dynamic of team chemistry is something that you can never underestimate. I thought that team got beat in Game 1,
Corey Brewer
had a big early part of the game for Dallas that kind of got them going, and the wheels just kind of came off. Guys were just saying, 'I'd rather just be on vacation than playing with these guys anymore.'
"That absolutely can be changed (at the) beginning of next year. It also could be the beginning of a real problem there. Not just with Kobe but just in general with that roster where they've just had enough of each other. I think that was very evident. If you're not willing to do everything you can to help your teammates, you're not gonna win against a team like Dallas."
- With Thorpe gone, we discuss the latest trade rumor involving a Laker:
Gasol to the Timberwolves for (at best) Kevin Love and the #2 pick... or straight up for Love.. or (at worst) the #2 pick, Michael Beasley and role players
. We'd both do the first scenario and consider the third an insult, but the one-for-one deal divided us. I'd pull the trigger. Brian wouldn't. Either way, neither of us gets why
David Kahn
would flip a young All-Star for an older player (albeit a very good one) when the Wolves are nowhere near contention. If the appeal is Pau providing a Spanish-speaking comfort zone for
Ricky Rubio
, it's an even stupider idea.
- Finally,
Freddie Mercury
rolls over in his grave as
Dirk Nowitzki
belts out a classic at the Dallas Mavericks championship parade.