Los Angeles Lakers:

offense
February, 6, 2013
2/06/13
5:25
PM PT
Mike D'Antoni declared at his introductory news conference that he envisioned a "Showtime: 2" for the Los Angeles Lakers under his watch and the team should average 110-115 points per game.
He has had to adjust those expectations, obviously.
The Lakers have won six out of their last seven games and have cracked 110 points just twice in that stretch, proving they can grind games out to get the victory even if it goes against the style D'Antoni is known for.
Things could get even slower for the Lakers offense with
Pau Gasol out indefinitely
and Dwight Howard still sidelined because of a sore right shoulder. L.A. will likely turn to the less-mobile Robert Sacre, whose game is suited for a plodding type of play, to plug up the middle in their absence.
D'Antoni claims he has already adapted to fit the Lakers this season and is ready to continue to do so in light of the injury news.
"We had a system that we ran in Phoenix that was different and it was really successful and I liked it obviously," D'Antoni
told the Mason & Ireland Show on ESPNLA 710 radio
on Wednesday. "It was fun to play that way, but I don't have a system. I just think we try to play what's best for our personnel and what's best for the game of basketball that's kind of evolving in the last few years. A lot of teams are going a lot smaller, they're spreading the floor more, they're using the 3-point shot a lot more. Basketball has changed and it's changed how you can't guard with your hands on the perimeter and the players have changed -- much more skilled, better shooters, better passers. So, that's where it is today."
D'Antoni's point about the direction the league is heading was evidenced by last year's NBA Finals matchup between the Miami Heat and Oklahoma City Thunder that was dominated by wing players on both teams and marginalized the use of back-to-the-basket big men in their approach to the game.
"I can play any way," D'Antoni said. "I don't care if we run, if we slow it down, we want to win and we want to try to get the best out of every player and I do believe that opening the floor up and playing at a faster pace is a lot better for a lot of players.
"Now, we've struggled with that and we weren't built to be the Phoenix team. We weren't built to be real fast. I would like to get there some day, but we're trying to play at the speed that is more conducive to how we are. But, I do believe in a certain way and I do believe certain things in basketball do not change -- that's sharing the ball, spreading the floor, playing great defense, everybody playing for everybody else and not being selfish. I think every coach is more or less the same. I don't think coaches are that much different. It's just how you get your message across and can you get it across."
The Lakers are sixth in the league in points per game this season at 102.12 points per game and eighth in offensive efficiency, averaging 105.3 points per 100 possessions. The Lakers are the only team in the top 10 in the NBA in offensive efficiency with a sub-.500 record, suggesting that while D'Antoni's offense gets most of the attention when figuring out what's wrong with the Lakers, their defense is probably the real culprit.
November, 23, 2012
11/23/12
9:38
AM PT
Kobe Bryant is currently paced to enjoy one of his strongest seasons in recent memory, what with the eye-popping efficiency and impressive blend of scoring and facilitating. Will Mike D'Antoni's system help Bryant maintain this effect? We discuss.
October, 24, 2012
10/24/12
8:32
AM PT
Special guest Chris Duhon explains the goals of the preseason from a player's perspective, and what the Lakers have and have not accomplished while negotiating early injuries and a brand new offense.


March, 24, 2012
3/24/12
3:58
PM PT
Not long after the Lakers beat the Portland Trail Blazers 103-96 on Friday, assisting on 33 of their 40 baskets and topping the century mark for the third straight game, head coach
Mike Brown
made a statement in jest that
would have seemed ridiculous just weeks ago
.
"Maybe now everybody might think I'm an offensive coach, I don't know," Brown said with a wide smile, poking fun at his reputation for having a defense-oriented mind.
It was a break-through performance for the Lakers, who had spent most of the season looking more "Slowtime" than "Showtime." With the freshly acquired
Ramon Sessions
making his first start at point guard (and putting up 20 points and 11 assists in the process), the L.A. offense that Brown envisioned and pitched to general manager
Mitch Kupchak
, executive vice president
Jim Buss
and owner
Dr. Jerry Buss
to get the job was finally coming into fruition.
With
Pau Gasol
and
Andrew Bynum
healthy and confident now that the trade deadline was behind them and they were still wearing purple and gold, Brown had his twin towers in place to operate the sets he learned from his days coaching
Tim Duncan
and
David Robinson
in San Antonio. With Sessions, he finally had a true pick-and-roll point guard to engage Brown's strong corner offense and put pressure on the defense from the second L.A. crossed halfcourt. With
Kobe Bryant
free to play off the ball more now that Sessions was in the fold, he had the game's greatest scorer freed up from ball-handling duties and available to roam to open spaces and catch the ball with a half step of separation between him and the opposing defenders.
It was a tipping-point type of performance. All five Lakers starters scored in double digits. The team assisted on 82.5 percent of its buckets, well above its season average of 59.8 percent. It was the eighth time the Lakers scored 100 points or more in the month of March after only doing so six times in all of December, January and February.
"Offensively we're executing extremely well," said Bryant who went just 5-for-17 from the field but didn't seem to bog down the Lakers' flow with his misses. "We're running things with more continuity to them."
Brown said the improvement came down to three things: ball movement, proper spacing and attacking the clock. With the speedy Sessions, L.A. was able to start its offense within the first four or five seconds of the shot clock, giving the team 20 seconds or so to explore second, third and even fourth options on any given offensive possession, thus keeping the defense off balance.
"For us, in the past, we were a post-up team so you basically had to address Pau and Andrew's post-ups and then Kobe's post-ups and his isos," Brown explained after Saturday's practice. "So, the game plan against us was easy and we weren't really capable of getting a ton of easy baskets because we didn't have the quickness and the ability that Ramon brings to the table. Now, there's a lot of things that they got to address before or just as much as you talk about Andrew's post-ups, you got to talk about Ramon Sessions' middle pick-and-roll, you got to talk about Sessions' side pick-and-roll, you got to talk about Sessions in transition, you got to talk about Sessions' and Kobe's 1-2 pick-and-roll or 2-1 pick-and-roll. Oh, you got to talk about Kobe's isos. Oh no, no, don't forget about Pau's ability to pick-and-pop or Pau's ability to post."
March, 3, 2012
3/03/12
9:00
PM PT
The Lakers have won seven out of nine games heading into Sunday's seminal showdown with the Miami Heat. It's not quite the kind of streak that the Heat are on, winners of nine out of 10 with all of the wins coming by a margin of 10 points or more, but the Lakers will take it.

The Lakers' defense has been solid all season long, keeping them in just about every ballgame they've played, but the offense had been lacking. Along with the Lakers' recent upswing in wins has been an improvement on offense. They have topped 100 points in six out of their last 16 games after only doing it one time in their first 20 games to start the season.

The offensive turnaround has coincided with a less-is-more approach from Lakers coach Mike Brown. Known for being detail-oriented and a taskmaster, Brown has smartly begun to loosen his control of the offense and not call as many plays possession by possession, instead trusting his players to make reads and decisions on their own.

"For me, just in general, my confidence level has gone up with this team," Brown said. "Maybe 3-4 weeks ago, I started letting go of the reins a little bit because I started to feel our guys were getting it. I started to sit back and allowed them to do more things out on the floor because I felt they understood what we needed or what we were trying to accomplish. ... I gave them more ownership."

Brown wasn't coaching just any group of players. The core of the Lakers' roster had been to three NBA Finals and won two championships. They all have accelerated basketball IQs. When given the chance to think for themselves, they are capable of making the correct decisions.

"I don't want to single that out and say because coach is letting go more, we're doing better and it's that simple," said Lakers co-captain Derek Fisher who has benefited individually offensively as the team has improved. Fisher's season averages are just 5.6 points on 38.6 percent shooting from the field and 29.1 percent on 3-pointers, but in his last five games he's averaging 8.2 points on 51.6 percent from the field and hitting 40 percent from 3.

"I think there are a number of reasons why we're doing some things better on the offensive end and so I think it's a combination of him trusting us and us trusting him in terms of not just whether he's calling the plays or not, but the plays we're running, the things we're looking for, putting the right guys in the right position to be successful and I think most importantly, not just him letting go, but us as players saying, 'Regardless of what he's doing in terms of trying to orchestrate, the five guys that are on the floor are the ones that make the difference.' So, as five players on the floor, it's up to us to figure out how to be successful within whatever the coach is trying to do."

For better or for worse, Kobe Bryant put the Lakers' offensive thrust on his back to begin the season and figured he would carry the load while the team got up to speed. He ran his scoring up to 28.8 points per game, a remarkable accomplishment to lead the league in scoring as a 16-year veteran and he hasn't had to sacrifice much of his individual numbers as the rest of the team has started to figure things out better. Bryant has four games of 30 points or more in the Lakers' current stretch of winning seven out of nine games.

"I think we're just reading each other," Bryant said. "Just playing off each other a little bit better."


January, 28, 2012
1/28/12
8:26
PM PT
The Lakers entered this contest with a 1-6 road record, but I was willing to cut them some degree of slack. Yes, championship-caliber teams can win on the road, but at the same time, the majority of their losses have come against quality teams. Portland. Denver. Miami. Orlando. The Clippers. You'd like to see better results, but at the same time, this perspective, along with the knowledge of how little practice time the Lakers have received, can perhaps quell whatever urge to push a panic button.
However, a loss to a sub-.500 Milwaukee Bucks team playing the second end of a back-to-back and short
Andrew Bogut
and
Stephen Jackson
? That's a different story. I wouldn't blame any member of the Laker Nation who requires a strait jacket to avoid
jamming that big, shiny red button
. Here are five takeaways from the loss.

1) The Lakers are a team that simply can't afford to the turn the ball over.
Offensively, they're not smooth and prolific enough to waste possessions, and defensively, they're too slow to survive possessions constantly on their heels in transition. These realities came to an ugly head during the first half, when the Lakers continually gave the ball away against a Bucks team, as I noted in
the morning's What to Watch post
, already skilled at forcing turnovers. The Lakers coughed the ball up 10 times due to carelessness, along with the inability to dribble out of ball pressure.
That this team isn't flush with quality ball-handlers isn't exactly a government secret, but Saturday, that deficiency was comically bad. The Bucks wisely decided to pressure anybody with the ball, and too often, this approach resulted in the Lakers struggling mightily to counter. Even getting the ball across halfcourt to avoid an eight-second violation wasn't a given. The lowlight might have come when
Troy Murphy
, of all people, found himself isolated at the right elbow. With one defender in his grill and zero options at his disposal to counter, the Notre Dame product stood helplessly holding the ball for anywhere from seven to 10 seconds. The inevitable strip came courtesy of
Luc Richard Mbah a Moute
, followed by the inevitable transition dunk.
It was a microcosm of the Lakers' utter failure to deal with crowded quarters. They did a better job taking care of the ball in the second half, but by then any semblance of rhythm was already destroyed.
December, 30, 2011
12/30/11
9:07
PM PT
It was a fairly mellow afternoon in El Segundo, the vibe notably casual after a whole bunch of hand-wringing over the Lakers' 0-2 start (which came on the heels of more hand-wringing over "pick your favorite issue since camp opened"). But after two straight wins, a feeling of normalcy has blanketed the Lakers, and with
Saturday marking Andrew Bynum's return to action after a four-game suspension
, that ease further increases. Missing those four games was as tough on Drew as the Lakers, and it felt even weirder being separated from the team.
"Suspensions are definitely weird," shrugged Bynum. "You're not hurt. There's nothing wrong with you, so you're kinda just sitting out, watching all the games on television. That's all I did... Even in practice, you can't really practice, because they have to simulate game situations and you won't be out there. So you gotta your work in before they get to the arena, and all that. It's almost like you're trying out again."
In terms of getting up to speed with the game plan, Drew said he feels pretty good defensively, since very little has changed for him beyond showing hard on pick and rolls. The offense remains a trickier work in progress with "things I still need to get accustomed to," but he's scouring the playbook. The biggest concern, truth be told, is actually conditioning.
"I won't be able to play major minutes at this point," Bynum said. "I'll be a little bit winded, probably. So, I'm going to be out there working on my game."
December, 1, 2011
12/01/11
9:20
AM PT
When last we saw
Andrew Bynum
, he was addressing the media during his exit interview. After
his apology to Dallas' J.J. Barea
for a dirty flagrant foul, he expressed thoughts on his role in the offense:
Namely, it needs to be bigger.
Between Drew's steady improvement,
Mike Brown's
stated plans to replicate the Duncan/Robinson Spurs and
Kobe Bryant's regular reminders of the order in which teammates "eat,"
consternation over how the post-triangle offense is a given. And not without valid reasons. The division of touches between seven footers and one of the all-time great scorers has been a dicey topic for years. The Mamba is admittedly dead set on
"shutting up those MF's saying I'm done,"
and he led the league
in usage rate last season as it is
. In the meantime, Bynum isn't afraid to speak up when he thinks the game isn't played inside-out enough. A full blown "Kobe-Shaq II" is probably a long shot, but tension between the shooting guard and the center isn't out of the question.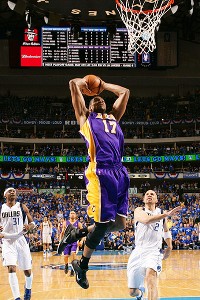 Danny Bollinger/NBAE/Getty Images
Is there room on the Lakers for Andrew Bynum to stake his claim?
Still, sexy a storyline as this undoubtedly is, the number of shots allotted for Bynum is actually just a microcosm of the bigger issue: He wants
more
... period.
This is plainly obvious in the way Drew relished his role -- and recognition -- as last year's unofficial defensive captain over a 17-1 stretch when the Lakers looked unbeatable. In the way he's become a more vocal presence with the media, typically offering the least sugarcoated opinions. In the way he's now less willing to be seen as the kid among veterans.
Bottom line, Bynum wants more on his plate, along with a bigger stake in the Lakers' success moving forward.
In theory, this is exactly what you'd want from a highly skilled youngster theoretically tabbed as the next franchise player. In reality, it's not so simple.
November, 28, 2011
11/28/11
9:15
AM PT
With the lockout now ended, we can actually examine questions beyond, "When will we see basketball again?" One topic, of course, is how the Lakers' offense will run under new coach
Mike Brown
. Since October 2005, we've seen this Lakers core run the triangle under
Phil Jackson
. Really, that system represents the Lakers' look since October 1999, save a brief period under
Rudy Tomjanovich
.
It's safe to say the aesthetics under Brown will be different.
How different, you ask?
Well, that's difficult to answer with real certainty. Since July 1, when the lockout began, access to Brown has been limited. When he has been available, league rules have prohibited him from speaking publicly about current players by name. Thus, specific details have been in short supply for quite some time. But we have been offered hints, along with some templates, to stoke our imaginations.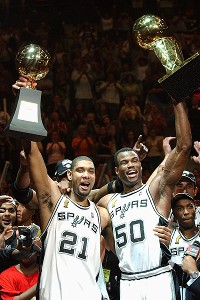 Jesse D. Garrabrant/NBAE/Getty Images
Did Timmy and The Admiral provide the foundation for similar success in L.A.?
During his introductory news conference
, which took place before lips were zipped, Brown downplayed the shadow of the triangle. "A lot of people run bits and pieces of the triangle offense," he insisted. "It's just basketball. It's spacing. It's reads. Even Cleveland, we had some bits and pieces of it within our offense." For that matter, he predicted his offense "will have bits and pieces of it that will be incorporated and will be based on the skill set and the comfort level of our players that will determine how much of it will be part of our offense."
Having said that, Brown also added, "We're not gonna run the triangle offense."
So there you have it.
As for what Brown actually will run, a small nugget was introduced that same afternoon:
"A lot that I'm gonna take offensively will stem from the time I was with San Antonio. ... We had two big, skilled 7-footers in
Tim Duncan
and
David Robinson
. So we'll do something similar to what they did with a little sprinkle of the triangle offense and a little sprinkle of what I want to bring to the table, also. We'll kinda combine it. But offensively, I think you have to tailor your offense to your personnel. You can't take our offense from team to team to team."
On draft day, amid the
Darius Morris/Andrew Goudelock
hoopla, Brown
expanded these details a bit, offering thoughts on the following:
The role of the point guard in what will presumably be a more traditional offense
"It will be an equal opportunity offense where the 1, the 2 or the 3 can bring the ball up. Because all the smalls are interchangeable. So it's not going to be too much different, because in the past here they had multiple guys, even including
Lamar
[
Odom
], bring the ball up. But the one thing we like to emphasize, we like to emphasize attacking the clock. We want to get the ball from the backcourt to the frontcourt within the first four seconds or so, so that we can get to a second, a third and sometimes a fourth option without our backs being up against the shot clock. So we'd like to get the ball up the floor a little quicker than what we've done in the past."
Whether Brown has an idea of how he wants to use Kobe Bryant
"Yes, I do. It fits into what I'm trying to do in our early offense. What I was saying is our early offense is going to be similar to what San Antonio did back when they had the two bigs in David and Tim. Again, there will be some bits and pieces of the triangle involved. But I think the triangle, it's a motion offense for the most part, and a lot of people have bits and pieces of that within their offense. It won't be any different for us, and we'll make sure Kobe's in his comfort zone, or his sweet spots out on the floor."
June, 6, 2011
6/06/11
10:10
AM PT
During his introductory presser
,
Mike Brown
acknowledged European coach
Ettore Messina
--
who most recently coached for Real Madrid and won Euroleague titles with Virtus Bologna and CSKA Moscow
-- would be among those considered for his coaching staff. Well,
according to ESPN The Magazine's Ric Bucher, Messina has been tabbed to join next season's staff
, though while he'll be listed as an assistant coach, Messina's job will be more of a consultant. Whether his duties are similar to
Tex Winter's
former role with the Lakers or the responsibilities are more expansive remains to be seen. Also, nothing is official yet, thus a Laker spokesperson when asked didn't confirm the report.
Either way, Lakers Nation has its collective eye on Messina, so I reached out to
Os Davis from BallinEurope.com
(TrueHoop network), who was kind enough to answer some questions. As luck would have it, Davis is equally familiar with the current incarnation of the Lakers as he is Messina's career overseas, making his perspective that much more valuable. Here's what Davis had to say about Messina.
Land O' Lakers: How would you describe Messina's offense/system? More half court or wide open? What's the tempo? Does it have any principles or characteristics of the triangle?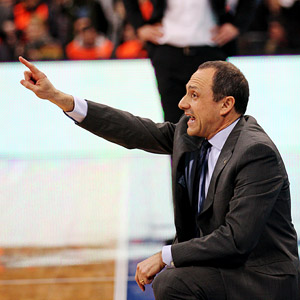 AP Photo/Darko Vojinovic
Can Messina's success overseas translate to a winning NBA coaching staff?
Os Davis
: Messina's teams tend to play quite a slow tempo relative to that of most European leagues, particularly in Spain's ACB, where Messina was for the past two seasons with Real Madrid and where the floor is
wide
open. Of course, there are exceptions to this. His 2005-06 CSKA Moscow squad could go into fourth gear early and run the court for the entire match. (Of note, too, is that this team was the ultimate fruit of
Mikhail Prokhorov's
business labor, that CSKA dominated defensively in both the Euroleague and Russian Super League, and that Messina was named Euroleague coach of the year.) But the general rule on a Messina team is a slow tempo, half-court game on both sides of the ball.
Probably one of the bigger disappointments in his career -- and surely a source of extreme pressure on Messina from club management -- was Real Madrid's inability over the past two seasons to get past rivals FC Barcelona. Despite the fact the seriously flexible system of player movement among top European clubs made the 2009-10 Madrid roster a revolving door throughout the season, Messina & Co. just couldn't find the right combination of quick big men to counter Barcelona's relentless attack and ability to open the floor at will.
In addition to his preference in the half-court, Laker fans will certainly be cheered by Messina's specialty of working with the post. Nobody in Europe, where frontcourts tend to be notably smaller but the bigs typically have the complete skill set in shooting, really employs anything like a triangle offense. But if Mike Brown was serious when he implied that some stuff with the triangle would remain in the playbook, you can bet that some of those
Gasol-Bynum
double post plays will have been tweaked/modified/perfected with Messina's input.
Messina is also known for his defensive schemes, but again, this might not necessarily be adaptable to NBA play, as European teams basically always run zones.
LO'L: Would the Lakers roster as constructed flourish in Messina's system? Are there areas where they might be lacking?
OD:
If only they could send
Derek Fisher
back in time a few years, he'd be the ideal Messina point guard -- thrives in the half-court, best at setting up plays there and starting them off, etc. It will be interesting to see what
Shannon Brown
might learn under Messina's tutelage.
Of course, one relationship that all will be watching is how Messina gets on with
Pau Gasol
. Can an All-Star get better? With his Continental resume and his most recent experience in Spain, Messina just might be the man to fully exploit all of Gasol's many (and from this perspective, distinctly European) skills.
Andrew Bynum
taking tips on defense and post play from Messina? That'll work. And as a big
Derrick Caracter
fan, I think he could be one to watch developing under Messina.
As for
Kobe
, Messina has coached some top stars, including
Theo Papaloukas
and some guy named
Manu Ginobili
, while employed in Europe and surely he has enough wisdom to handle the biggest name he'll have worked with.
Areas in which the Lakers are lacking, as you probably reckon too, are age and speed. I think any head coach, assistant coach or consultant might like to get a bit of help for these problems.
December, 29, 2010
12/29/10
11:33
AM PT
The Lakers aren't just mired in a three-game losing streak. As Brian noted earlier,
this particular skid is chock full of disturbing numbers
. But really, this nadir is the tip of the iceberg for a team trending downward over the last few weeks. In losses or even wins, the Lakers haven't looked sharp and appear increasingly out of sorts.
With that in mind, I thought it was worth taking a look at some lingering issues as to why the train appears to have gone off the rails. The problems are correctable --
although the team is officially on the clock
-- but these are some of the trouble spots:
Pau Gasol's inconsistency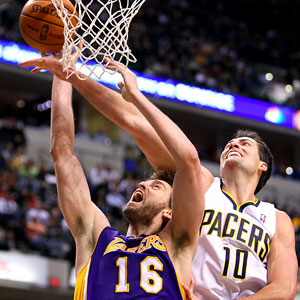 Michael Hickey/US Presswire
Gasol hasn't been dominating around the
rim with ease this season.
It's been a strange season for Gasol. Over the first 10 or so games, he was regarded as a potential MVP candidate. Then
Theo Ratliff
joined
Andrew Bynum
on the shelf, which left Pau on the verge of collapse from playing 40-plus minutes most nights. Bynum is back but Gasol remains out of sorts, with performances ranging from outstanding (in Chicago) to worse than the stat sheet would indicate (Christmas Day).
Phil Jackson's
cryptic comments about Gasol's indecisiveness and "soft" releases make it difficult to know if his problem is mental, physical or both. (Jackson declined my request to elaborate.) Still, Jackson's statement that Pau's game "has to be effective for us to be consistently good" couldn't be more correct. More than anybody, including
Kobe Bryant
, Gasol is the difference between the Lakers being good or borderline unbeatable. Beyond the numbers, it's his skills as a triangular conduit, which are even tougher to combat than Bryant's. (Plus, running the offense through Pau makes life easier for Kobe, which in turn makes 24 deadlier.)
For the Lakers to reestablish their identity, Gasol needs to rediscover his.
December, 1, 2010
12/01/10
12:51
PM PT
For the second time since
Pau Gasol
swapped places with
Kwame Brown
, the Lakers have dropped three consecutive games. It's hardly the sign of a falling sky. Frankly, most franchises would kill for these kind of "problems." But it's nonetheless indicative of a team not playing to their established high standards. Even worse, the losses have evolved from "good play overall, but somebody had to win" (Utah) to "bad overall play, and they didn't deserve to win" (Memphis).
Thankfully, Houston also isn't playing like a contender at the moment (all season, really), so there's a legit chance to right the ship. Unfortunately, there's also a chance to keep snowballing in the wrong direction, should a few issues remain unaddressed. Here are a few items to be mindful of once the ball is jumped:
Kobe Bryant's decisions and shot count against Shane Battier
Notice, I didn't say "Kobe Bryant vs.
Shane Battier
," because the showdown isn't the whole story now. Sure,
as mentioned during the Week In Preview
, these guys squaring off is among the best matchups NBA roundball offers. Beyond the "all-time great scorer meets an elite wing defender" angle, you've got two of the league's smartest cats butting heads. Measuring acumen on both sides of the ball, an argument could be made Kobe is the brainiest dude in the league.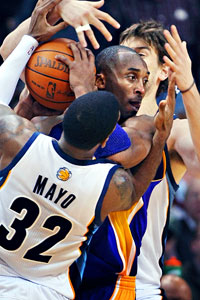 AP Photo
Not giving up the ball enough can lead to situations like this one.
Unfortunately, Kobe is also the most stubborn dude in the league when he puts those same brains to it, and
Tuesday's loss to Memphis was an example of doggedness gone bad
. Throughout the game, Kobe was in permanent "head down, iso-centric, rock-pounding, I don't care if it works, I'm gonna keep on doing it" mode, despite the lack of hay being made. As a result, Bryant's wasn't just missing shots -- 10 straight at one point between the second and third quarters, plus three turnovers -- his approach threw the Lakers' offense out of whack. Teammates appeared unsure of their role as Kobe did work, and nobody developed a steady rhythm.
This comes on the heels of
a performance from Kobe that wasn't entirely "bad,"
but shared the same ball-dominant characteristics. The same ending was also shared, one where the Lakers didn't win. Should Bryant replicate this approach against Battier, a defender capable of preventing the sweet spots on the floor from being reached, the first four-game losing streak of the Pau era doesn't feel far-fetched.
As Brian mentioned in his earlier post
, it's not purely the number of shots Kobe fires that matters most, but the quality of shots while creating that figure. I agree with that philosophy, but the situation nonetheless can't be entirely boiled down so simply.
In the five games where Kobe's taken his highest number of shots (between 25-33), the Lakers are 2-3
, and both wins came against the Minnesota Timberwolves, who don't exactly constitute high competition.
Debate all you want about what prompted that high volume, but at the end of the day, it doesn't change the fact the more Kobe shoots, the less effective the Lakers tend to be. This trend has been in effect for quite some time, in large part because it reduces Kobe's considerable talents. He's the NBA's most complete player, so it makes no sense, unless absolutely necessary, to forgo those considerable play-making skills to embark on a single-minded mission of scoring. He's likely to fill a bucket in any event, regardless of the process, so why not operate as a better-rounded conduit for points?
Against Indiana and (especially) Memphis, the Lakers haven't resembled themselves offensively. Too little ball movement. Too little action created inside by Pau,
Lamar Odom
or even Kobe at times. Too little group mind. It's important the Lakers make a concerted effort to function as a purposeful unit, and honestly speaking, this typically begins with Kobe. This squad has always taken cues from Bryant, and more often than not, that's a good thing. During the last two games, however, they've had no choice but to follow his lead. The more Kobe dominates the ball, the greater the onus to do good things with it.