Los Angeles Lakers:

Oscar Robertson
February, 2, 2013
2/02/13
5:16
PM PT

By Dave McMenamin
ESPNLosAngeles.com
Archive
AUBURN HILLS, Mich. -- It was fitting that of all the players
Kobe Bryant
could have passed to move into third place on the all-time free throws made list on Friday, it was Oscar Robertson.
Bryant is playing a lot like "Big O" these days.
Robertson famously averaged a triple-double in the 1961-62 season for the Cincinnati Royals, putting up 30.8 points, 12.5 rebounds and 11.4 assists per game.
Bryant has been in triple-dip territory lately, averaging 16.6 points, 8.6 rebounds and 11.2 assists over the past five games.
He finished one rebound shy of a triple-double against both Utah and Oklahoma City, two rebounds shy of the mark against the Hornets and two assists short against Minnesota on Friday -- but he insists he doesn't have anyone tracking his stats throughout the game for him (however, most NBA arenas display players' stat lines in real time somewhere during the game).
"Sometimes it comes to you, sometimes it don't," Bryant said after practice on Saturday in preparation for the Lakers' game against the
Detroit Pistons
on Sunday. "I mean, I'm in there with a bunch of trees. I'm not the tallest guy in the world, so sometimes it's just kind of luck of the bounce."
Bryant took care of the rebounding category early against the Timberwolves, grabbing six of his season-high 12 boards in the first quarter.
"I knew Dwight [Howard] obviously wasn't going to be there, I think we all did, so we knew we all had to get in there and pick up the slack a little bit on the boards," Bryant said, referring to Howard flying back to Los Angeles to receive treatment on his sore right shoulder and missing the game. "Plus, there was more room to get boards. When [Howard] is in there, he takes up a lot of space."
Of course, with the rebounds taken care of, Bryant's assists dropped down to eight as the Lakers' shooters went cold against Minnesota's zone defense in the second half. Even with that happening, the 56 assists Bryant has racked up over the past five games is still a career high for any five-game span in the 17 seasons he's played.
"I'm not tripping," Bryant said, laughing when a reporter suggested he didn't want to become like Ricky Davis and miss a shot on his own basket to pad his stats in pursuit of a triple-double. "It's one of those things where you could probably string together a streak of consecutive triple-doubles, you just never know when the ball is going to bounce your way."
Bryant has just 18 triple-doubles in his career.
"I've never tried to get them," Bryant said. "The times that I have tried to get them, I've gotten pretty close [or] where I've gotten them."
While Bryant claims to not be chasing triple-doubles, they seem to be on his mind. When a reporter asked him if he remembered the one game in which he got a triple-double this season, he immediately answered, "Houston," recalling his Nov. 18 game against the Rockets when he finished with 22 points, 11 assists and 11 rebounds in a Lakers victory.
Boston's
Rajon Rondo
led the league is assists this season at 11.1 per game before going down with a season-ending knee injury. The
Los Angeles Clippers
'
Chris Paul
is second at 9.7 per game. It may be a small sample size of five games, but Bryant has pretty much gone from leading the league in scoring for the first 42 games of the season, to leading the league in assists as soon as he decided to take on that role.
It brings to mind another all-time great, Wilt Chamberlain, who incredibly decided to lessen his scoring in 1967-68 and wound up leading the NBA in assists as a center.
"That shows that I'm versatile, obviously," Bryant said. "If I put my mind to it, I can do it. It just comes from playing the game at an early age, I guess. I'm able to do a myriad of things."
January, 8, 2011
1/08/11
9:48
AM PT

By Dave McMenamin
ESPNLosAngeles.com
Archive
Here are your 10 additional things to take away from the
Lakers
101-97 win over the
New Orleans Hornets
on Friday ...
Before the game started, the always affable
Lamar Odom
spoke to a gaggle of reporters in the locker room, propping his left arm on a shelf in his locker to immobilize his sore left shoulder.
"I'll warm it up a little bit, put some
Flexall
on it," Odom said. "I'll pass the ball, rebound."
His passing led to two assists and his rebounding led to 13 boards. What Odom forgot to mention was he would be doing some scoring (17 points on 8-of-15 shooting) and playing some defense (two blocks).
On the night, he outscored the Hornets bench single-handedly, 17-15, and did it with his dominant left hand rendered somewhat ineffective because of the injury he was playing through. Yet, Odom scored seven of his points in the fourth quarter to help stave off a swarming New Orleans squad that chipped away the Lakers lead from 10 down to three.
"I think his shoulder is not that bad, but it's difficult still," Lakers head coach
Phil Jackson
said. "He did what he normally does. He didn't shy away from contact. He took the ball to the hoop and maybe took a couple easier shots than he normally would have instead of the turnaround jump hooks that he could have had in the lane."
Before the game, somewhat facetiously, Odom classified himself as being a "gladiator" for playing through the pain. After the game, Kobe Bryant had a different distinction for him.
"He's a big problem for other teams matchup-wise," Bryant said. "They can't match up with him. I'd be surprised, very surprised, if he wasn't an All-Star this year."
The 12-year veteran, who has yet to be named an All-Star in his career, faces stiff competition for the February event. He is currently seventh in voting amongst Western Conference forwards, behind the likes of
Kevin Durant
,
Carmelo Anthony
, teammate
Pau Gasol
,
Tim Duncan
,
Dirk Nowitzki
and
Blake Griffin
and slightly ahead of another strong candidate in
Kevin Love
.
As consistent as Odom has been and as feel good of a story it would be for his first All-Star game appearance to come when L.A. was hosting it, he might have to be satisfied with his gladiator distinction for now.
One way to describe Bryant is "legend" after his 25 points on 10-of-19 shooting helped
push him past Oscar Robertson for ninth place on the NBA's all-time scoring list
. You could also call him "thief" after he candidly admitted to stealing moves from the greats that came before him after the game.
"It's a great honor," Bryant said. "Obviously, Oscar, I patterned so much of my game after his and
Jerry [West]
and
Michael [Jordan]
in particular -- those big guards -- so, it means a lot.
"Specifically, I took [Robertson's] baseline jumper. He was known for putting his body on smaller guards and taking them down to the short porch on the baseline and raising over them. That's something I took from him."
January, 7, 2011
1/07/11
9:30
PM PT

By Andy Kamenetzky
ESPNLosAngeles.com
Archive
With a pump-faked drive from the arc, a stop on a dime between the circles, some ridiculous hang time, and a baby J off glass,
Kobe Bryant
continued his climb up history's ladder. Tuesday witnessed him cracking the all-time NBA scoring list's top 10 at the expense of
Dominique Wilkins
. Tonight, he reached a single digit rank, nudging
Oscar Robertson
to the side. And note to
Hakeem Olajuwon
: Don't get too comfy. The guard you famously tutored during the summer of 2009 on the fine art of post footwork will repay the favor by leaving you in his dust before the month ends.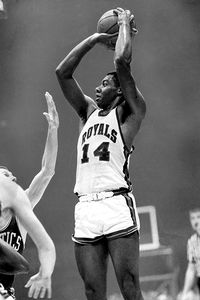 Win McNamee/Getty Images
Yet another all-time great passed by Kobe.
It's interesting that Kobe would go from passing Wilkins, a player often dismissed (fairly or not) as a scoring/dunking reel without the substance, to Oscar, the polar opposite in perception. After all, we're talking about a player whose 1961 season featured
a triple-double on average
. 30.8 points, 12.5 rebounds, 11.4 assists: That was a typical day at the office for the Big O,
described in his NBA.com bio as "player against whom all others labeled "all-around" are judged, and he may remain the standard forever
."
For all the attention typically focused on Bryant's ability to fill a basket, like Oscar, his ability to affect the game in all facets is what truly makes him special. At the top of his craft and concentration, Kobe's game has no weaknesses. Still, when I asked
Phil Jackson
if he found a commonality in their all-around games, he felt the difference in eras made the skill sets difficult to compare:
"It's just a different game. He took a position that just a lot of time was just to back down a guard. There wasn't the ability to double team in those days. That meant you had the big guard that he was, weighing 220, 225, he could back a guard down to where he wanted to and turn around shoot or make a play out of it. In this day and age, guys come and double, so it's not gonna happen. It's a totally different game. But Oscar could control the game from where he was. He played a lot of the game with his back to the basket. He was still a set up guard in a lot of ways."
Kobe seconded Jackson's assessment of the unique size mismatch while watching footage of Robertson with ESPN.com's
Jackie MacMullan
:
Robertson, said Bryant, is "like looking at LeBron James years ago. Same build. Stronger than anybody else."
But as McMullen revealed, Kobe's bag of tricks includes a little bit from The Big O:
As images of Oscar flickered on the screen, Bryant offered his own play-by-play: "He's coming down, isolating, now it's a glitch and a pump fake. Freeze the defender then raise up and shoot it anyway. I use that all the time."
That move isn't the only way Robertson reminds Jackson of Kobe.
"Winning-wise," explained Phil. "Oscar was a very competitive player. A very verbal player. He used to send his players around where he wanted them to go and direct traffic a lot as a player."
Other ties between the two? Robertson was co-captain of the gold medal winning 1960 Olympic team with
Jerry West
, who brought Bryant to the Lakers by trading for his 1996 draft rights. Plus, Robertson took home league MVP honors one time (1964), which feels crazy in retrospect even taking into account the domination by
Chamberlain
and
Russell
.
In the meantime, Kobe's prospects for another trophy aren't dead, but the odds arguably favor him wrapping up a career honored just once. It's certainly a hard notion to wrap your head around, but the road for such peculiarities was paved by the legend Bryant just passed.
After the game, Kobe's reaction to the achievement was predictably low key, but that shouldn't be mistaken for indifference. "It's a great honor," smiled Bryant. "Obviously, Oscar, I patterned so much of my game after his. Jerry. Michael. Those big guards. It means a lot."
I asked Kobe what elements of his game were specifically modeled after Robertson's:
"I took his baseline jumper. He was known for putting his body on smaller guards, taking them down to the short portion of the baseline and raising over them. That's something I took from him."
I'll go out on a limb and predict Laker fans will recognize that particular move.
January, 4, 2011
1/04/11
9:51
PM PT

By Brian Kamenetzky
ESPNLosAngeles.com
Archive
With a driving layup at the 6:43 mark of the third quarter in what became a complete blowout of the Detroit Pistons as Staples,
Kobe Bryant
passed
Dominique Wilkins
- a player who once graced my wall in poster form-
for 10th place on the NBA's all-time scoring list.
Kobe entered tonight's action with 26,654 points, and his 17 against the Pistons pushed him three beyond Wilkins.
While I consider the Human Highlight Reel one of the more underrated players of recent memory (people will point to a lack of playoff success, others call him an empty scorer) despite his induction into the Hall of Fame in '06, tonight's milestone is really more an appetizer for the next name Bryant will soon pick off on his climb up the scoring ladder:
Oscar Robertson
(26,710).
Kobe tends to deflect conversations about this sort of thing, but for a guy who steeps himself in basketball history, to work his way past a true legend like Robertson will undoubtedly have some meaning. He'll enter Wednesday's game in Phoenix 39 points behind, meaning he could get there tomorrow, and if not there almost certainly Friday at home against New Orleans.
Using Bryant's current 25.4 points per game average as a guide, it'll be about eight-to-ten more games before he catches
Hakeem Olajuwon
(26,946) for eighth. From there, the wait gets a little longer... but not too much. Bryant will then need another 367 points to match
Elvin Hayes
(27,313) for seventh, and 96 more after that to reach
Moses Malone
(27,409) at the sixth spot.
From there, the truly entertaining countdown begins, as Bryant targets
Shaquille O'Neal
, who entered Tuesday's action with 28,500 career points. O'Neal is still a moving target... just not moving all that fast. Assuming good health, Unfortunately for those itching to re-live every Shaq/Kobe rivalry moment
right now
, Bryant only has another 1,100-1,200 points (give or take) left to go this season, meaning passing the Diesel will have to wait until next year.