Los Angeles Lakers:

Pacific Divsion preview
August, 27, 2013
8/27/13
7:35
AM PT

By Dave McMenamin
ESPNLosAngeles.com
Archive
Yes, the
Los Angeles Lakers
might have 23 Pacific Division titles since the NBA created the league classification at the start of the 1970-71 season. And true, the
Los Angeles Clippers
have only one, coming last season. However, in the "What have you done for me lately?" sports world we live in, the Lakers' "Showtime" history won't give them a leg up on the lads from Lob City this year.
The story of the five-team Pacific Division for 2013-14 is one of the haves (Clippers and
Golden State Warriors
picked to finish second and sixth, respectively, in
ESPN.com's Summer Forecast
of the Western Conference), the have-nots (the
Sacramento Kings
and the
Phoenix Suns
were picked 14th and 15th in the West in the same survey) and the Lakers, who fall somewhere in between.
With the Clippers coming off the most successful regular season in franchise history and adding Doc Rivers to the fold, the boys in red, white and blue are primed to back up their first Pacific Division title with another one, continuing the trend over the past decade of teams getting hot in the division and staying that way (the Lakers won five straight division titles from 2007-2012 and the Suns won three straight before that from 2004-07).
ESPNLosAngeles.com broke down each of five teams' prospects heading into this season, including a take from both an anonymous Western Conference scout for the teams' on-court plans and from an anonymous Western Conference front-office executive looking at the direction each franchise is headed.
LOS ANGELES LAKERS
2012-13 record: 45-37
If absorbing Dwight Howard's departure wasn't enough for the Lakers to digest, the best three players remaining on the roster -- Kobe Bryant, Steve Nash and Pau Gasol -- all enter the new season with serious health questions. How will Bryant respond to Achilles surgery as a 35-year-old? Will Nash, at 39, be able to keep his body on the floor through the rigors of an 82-game season? Is there anything left in those 33-year-old knees belonging to Gasol? And is Mike D'Antoni the right man to try to keep it all together? Still, the Lakers trudged ahead without Howard, making a couple of high-talent, low-budget pickups while maintaining their coveted cap space for the summer of 2014.
Players Added
Rookies:
Ryan Kelly
,
Elias Harris
(undrafted free agent)
Free Agents:
Jordan Farmar
,
Wesley Johnson
,
Chris Kaman
,
Robert Sacre
(re-signed),
Nick Young
Players Lost
Free Agents:
Earl Clark
,
Dwight Howard
,
Antawn Jamison
Waived:
Metta World Peace
(amnesty)
Scout's take:
-- "They're going to be back playing more of Mike D'Antoni's style, which is a lot of early offense, playing the pick-and-roll, playing to Steve Nash's strengths. You got a guy in Jordan Farmar who is going to be able to play in that style. He's quick, he's athletic, he can play point guard. Nick Young is an athlete, a guy that can get up and down the court and can really score coming off the bench. Wes Johnson is a guy who can space the floor for them, hopefully."
-- "I don't expect them to be a strong defensive team. They've got a lot of older, veteran guys. I just don't know that that's the strength of Coach D'Antoni. I think he's a tremendous offensive coach and I know his philosophy is, 'Well, if we outscore the opposing team then we've played good enough defense.' He's basically said that in the past."
-- "I do expect the Lakers to be competitive again. I think they're a playoff-caliber team. I don't know if they're going to be one of the top-tier teams in the West."
-- "I do expect Kobe to be back playing at a high level. I know there's uncertainty with the Achilles' heel. Just with his talent and his drive, I expect him to be back at a high level. I would almost worry about him pushing it too far, too fast. I think they're going to try to force him to come back kind of slow. Don't try to take on the world right away.
"Kobe, to me, is going to thrive off of his smarts and his experiences. He's always been one of those guys that's just been like a sponge. I think that's what separates him from the average player or even a very good player. I think this is just another challenge for him. He's like [Michael] Jordan in that way where he'll almost make up motivation, make up something to help get him motivated.
[+] Enlarge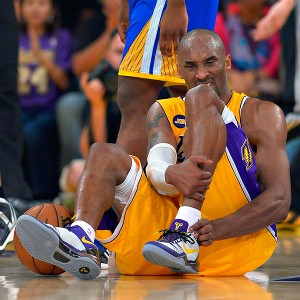 AP Photo/Mark J. TerrillPerhaps the biggest question facing the Lakers this season is how Kobe Bryant will respond following Achilles surgery.
"I would not be surprised for him to be back at an All-Star level. I don't know if it's going to be next season, it could be, but I could definitely see him being back as an All-Star because that's just in his DNA."
Exec's take:
-- "It's kind of a year where I'm sure they don't know what's going to happen and the rest of the league doesn't either. A big part of it is where is Kobe going to be at? If there's a guy you don't want to doubt, it's him. If he's anywhere near 100 percent, you can't count those guys out to be in the playoff hunt at the very least."
-- "I think they're trying to get through with a team that can probably be competitive this year and see where they're at health-wise, and then next year they obviously got a ton of flexibility to kind of re-mold that franchise.
-- "Dwight being gone, it hurts you from a talent standpoint, but it might help from a chemistry standpoint -- just from the outside looking in. If you have Nash and Pau both healthy and Kobe is anywhere near 100 percent, I think they'll see more rhythm with that offense."
-- "I think Nick Young will be a good addition off the bench for them, if they bring him off the bench, give them some punch."
-- "I don't know if they have the depth to contend for a top five or six seed in the West, and if Kobe is not anywhere near 100 percent, I think it could be a challenging year for them."
-- "They'll see where they're at. At this point I don't think they want to think about that possibility [of stripping down the team] right now. I don't think that's how they think. Their aspirations are a lot higher than most teams every year, and I'm sure they want to see where Kobe's at come Jan. 1 and see where the team's at. If they get to the point where it's the trade deadline and they can tell their team's not going anywhere, I'm sure they'll at least consider something with Pau or any other pieces they might be able to move for a longer-term piece."
-- "I think all of this comes back to where Kobe's at -- healthwise, mentally -- because I think they're going to factor in how he views what's the short term and long term with them because he's been such a statue of that franchise for so long. I think it will be something that they feel their way out as the season goes along on that."
Lakers 2013-14 prediction:
44-38