Los Angeles Lakers:

Paul Millsap
March, 18, 2012
3/18/12
8:35
AM PT
The Utah Jazz began this season regarded by most as a team in flux: Enough talent (
Al Jefferson
,
Paul Millsap
, promising second-year player
Gordon Hayward
) not to be terrible, but not enough to hang with the Western Conference big boys. And a surprisingly strong start to the season notwithstanding, that's basically what they've revealed themselves to be. The Lakers have already beaten the Jazz twice, and Utah's 5-16 road record suggests a third win should be on the docket. The result can't be taken for granted, but a betting man would lay his money on the hosts.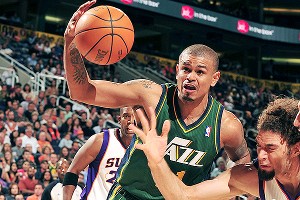 Barry Gossage/NBAE/Getty Images
The Jazz have missed Earl Watson in the lineup.
However, should that theoretical W come, I'm more interested in
how
it's manufactured than simply notching No. 29. The Lakers have a bad habit of getting an opponent on the ropes, then letting them back into the game rather than stepping on their necks. It's occasionally resulted in some horrible losses (at Detroit and Washington), along with wins made more complicated than necessary. Should the Lakers build the lead they're capable of against the Jazz, it would be nice to see the last five or so minutes closed out with
Devin Ebanks
on the floor, rather than
Kobe Bryant
.
For the inside skinny on the Jazz, we consulted
Spencer Ryan Hall
from the True Hoop Network's Salt City Hoops blog. Check out his thoughts on a few Jazz-centric queries.
Land O' Lakers: After initially playing better than most expected, The Jazz have been a .500-ish team. Has something gone wrong, or is this a matter of water seeking its own level?
Spencer Ryan Hall:
Just as Linsanity was built on a premise that required everything to go right to be successful, the Jazz rode a wave of good scheduling (almost a million home games, give or take), surprising chemistry (with
Earl Watson
emerging as the team leader), and breakout performances from Hayward,
Alec Burks
, and others. In limited minutes, young
Derrick Favors
,
Enes Kanter
and
Jeremy Evans
all provided big sparks to lead the second unit.
There was no Melo returning to upset the fragile Jazz ecosystem, but the unfriendly confines of road arenas, injuries to Watson, stagnation of the offense, and a strange shortening of the lineup rotation to feature the underperforming
Raja Bell
and
Josh Howard
all contributed to taking the magic out of a magical start.
While the early success was a product of the whole being greater than the sum of the parts, the parts (namely Al Jefferson and Paul Millsap) have dominated the offense in a way that seems to have removed a lot of the movement and joy that the team had early in the year.
February, 9, 2012
2/09/12
5:36
PM PT
Kobe Bryant's
consecutive All-Star Game streak reached a record-tying 14 last week when the Western Conference starters were announced, but another Laker saw his streak end.
Pau Gasol's
more modest run of
three straight mid-winter classics has come to an end
.
It's not shocking news. Gasol's performance this season hasn't been nearly as bad as unhappy Lakers fans might lead you to believe --
16.4 points, 10.1 rebounds, 3.0 assists, and a PER of 20.58 is hardly awful
-- and is actually comparable statistically to a few guys in the mix for a trip to Orlando, Fla. Still, he hasn't met the lofty standard to which he should be held, and certainly doesn't have the feel of an All-Star. Not locally, at least.
Looking at the list of reserves,
Kevin Love
, and
LaMarcus Aldridge
are without question more deserving. Based on this season's performance I'd definitely give Pau the nod over
Dirk Nowitzki
, but Utah's
Paul Millsap
, who like Gasol will be watching on television, deserves a bid over both. There's just no way to conclude Gasol's omission is a crime of basketball.
The news isn't all bad. La Familia Gasol will still be represented in Orlando, as lil' brother
Marc
was named as the squad's backup center, filling that last "big man" slot. If only one can go, I suspect seeing his brother earn his first berth excites Pau a lot more than getting to go again himself.
February, 4, 2012
2/04/12
6:20
AM PT
So far so good for the Grammy roadie. The Denver Nuggets are arguably the best team the Lakers will face, but
they pulled off an 93-89 win
, despite some late-game scares. But a battle waits less than 24 hours later at Energy Solutions Arena, a venue that treats outsiders like
Bob's Country Bunker treats bands that don't play country and/or western
. Of course, the Lakers have already won in Utah this season, and a three-game series sweep is actually possible.
For further perspective on the Jazz, we called upon
Spencer Ryan Hall
, who runs
Salt City Hoops
for the True Hoop Network. Here are his thoughts on four questions about the Lakers' next opponent.
Land O' Lakers: How has Jamaal Tinsley looked this season, since he may be the starting PG against the Lakers?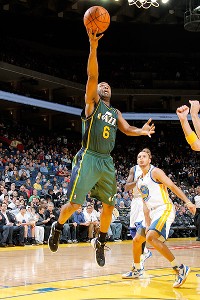 Rocky Widner/Getty Images
Injuries have provided Tinsley's comeback bid a potential boost.
Spencer Ryan Hall:
After only playing 45 minutes all season, it was cool to see Tinsley's hard work pay off on Thursday with his first NBA start since 2009. He had a team season high of 13 assists to go along with 9 points, 6 boards and 2 steals. It's a rare luxury to have a solid third point guard and it looks like Tinsley's contributions will get his contract guaranteed later this month. He makes smart plays, and is the floor general the Jazz look for in a PG. He's not going to put up the points Harris can, but some might argue the Jazz need a pass first PG more than a shoot-first one. For a guy who started the season playing in El Segundo for the D-Fenders, it's nice to see that he can still play.
Also, no one rocks denim on denim better than Tinsley.
LO'L: Andrew Bynum and Pau Gasol vs. Al Jefferson and Paul Millsap. Who gets the best of the frontcourt matchup and why?
SRH:
Pffffffffft. As well as Al and Paul have been playing this season (not only as individuals, but the two have make significant strides in playing to each other's strengths), they always have been, and probably always will be OWNED by Bynum and Gasol. I don't expect this to change.
January, 11, 2012
1/11/12
1:20
PM PT
When last we saw the Lakers and Jazz pitted against each other at Staples Center, the Lakers avoided an 0-3 hole to start the season by kicking the ever-loving snot outta their guests. The 96-71 loss was an inauspicious start to the Jazz's first full season sans
Jerry Sloan
and in full "rebuild" bloom.
But ever since that drubbing, they've actually been, well, good. 6-3 "good," to be exact, and in the midst of a five-game winning streak. Granted, none of those victims sport a record above .500, but the same caveat can be slapped on the Lakers, whose 7-4 record contains just one win (home vs. Denver) against a team universally considered high end at the moment.
You can't control who the schedule makers place in your path, just the results.
In any event, a win in Utah would surprisingly be considered impressive at this moment. For some insight on the Jazz, we called upon
Spencer Ryan Hall
of the True Hoop Network's
Salt City Hoops
blog. Here are some thoughts from Hall, plus a few of my own.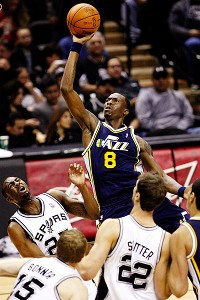 Soobum Im/US Presswire
Count Josh Howard among the surprises in a surprisingly good start for Utah.
Land O' Lakers: Ever since getting beaten badly by the Lakers on December 27, the Jazz have played pretty well. What, if anything, has changed during these winning ways?
Spencer Ryan Hall:
Hard to blame the Jazz for being disorganized at the beginning of the season; I'm just surprised they snapped together so quickly.
Earl Watson
has kind of made it his team and
Ty Corbin
has created an open rotation that allows any of about 11 players to spark the team on a given night.
Josh Howard
has been a revelation, something I didn't expect. Also, the team has taken on a shot-blocking identity and somehow is leading the league.
LO'L: When the Jazz played the Lakers, there was absolutely no discernible clue as to how their offense runs. How would you describe it, and in particular, how can it succeed against the Lakers?
SRH:
The Jazz offense is still a bit of a mystery. Occasionally and old pick-and-roll will show up, but usually the ball ends up in
Al Jefferson's
hands on the left side, he waits 10 seconds and then puts up some variety of shot-put/old-man shot that usually goes in.
Devin Harris
is still figuring out what to do, but the Jazz are succeeding mostly on the back of Jefferson and
[Paul] Millsap
combining with contributions from anyone else. The surprise factor from the others is what's been fun to watch so far.
November, 26, 2010
11/26/10
1:20
PM PT
If the Land O' Lakers readership is anything like me (or BK, since I witnessed the damage my brother did last night), they're still stomach deep in semi-digested turkey, mashed potatoes and pumpkin pie. Thus, the notion of exercise, much less in a competitive setting, is a less than appealing proposition. Thankfully, the Lakers have generously allowed you to vicariously shed holiday calories through them.
The purple and gold are in Salt Lake City for a battle against the Utah Jazz, 11-5 and in control of the Northwest Division. Despite an inability to strike playoff gold against the Lakers, the Jazz will never be confused for an easy out. Not with
Jerry Sloan
still their demanding coach. Not with
Paul Millsap
now the starting four, which
I recently pegged an upgrade over the departed Carlos Boozer on a few counts
. Not under any circumstances, really. That's never been how this franchise rolls, and this season is no exception.
This should be a quality challenge for the Lakers, and here are a few items to keep an eye on once the ball is jumped: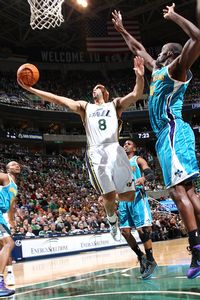 Melissa Majchrzak/Getty Images
Deron Williams has often needed to be this close to the rack for baskets this season.
Deron Willliams' shooting
Williams is scoring 21.3 points per game, the makings of what could end up a career-high in bucket filling. The stat, however, comes with a caveat attached. He's also shooting just 43.5 percent from the field,
his worst clip since his rookie campaign
. In particular, the mid-range game has suffered, as
Williams' 33.3 clip from 10-15 falls well below his typical success rate
. That he's also taking more three-pointers than ever (4.1 per contest) while canning them at just an average rate (35.4 percent) also plays into the problem.
Still, when the Jazz and New Orleans Hornets battled on Wednesday, you'd have been clueless about D-Will's struggles from the field.
26 points racked on a nine-of 18 shooting clip, with four freebies falling from downtown in five tries
. Perhaps nothing more than a talented guy playing up to his expected level, but you have to wonder if the performance was sparked in any way by the presence of
Chris Paul
. The two are very close friends, but have spent their entire young careers mired in "Who's better?" comparisons. CP3 has generally been considered the consensus victor, but injuries and the Hornets' drop off last season led to placement in Williams' rear view mirror. Buddies or not, Williams is an extremely competitive dude, and perhaps was inspired to play especially well and maintain last season's spot on the totem pole.
With that in mind, the Lakers should remain aware of Williams' shot refusing to drop, and perhaps even initially defend him as a guy you'll give space in exchange for preventing the blow-by. Put the onus on him to prove the slump is trending in the right direction. But if competitive situations spark the best in Deron, a date with the two-time defending champs (the same team knocking Utah out of the playoffs three-years running) could fit the bill.
November, 22, 2010
11/22/10
12:48
PM PT
After last week's relative ease, things could turn mite trickier for the Lakers. Nothing they can't necessarily handle, but definitely more complicated than a string against Milwaukee, Detroit, Minnesota and Golden State minus
David Lee
. The Lakers won games they're supposed to by all rights. This week may require a little more earning.
Game of the Week
Friday @ Utah Jazz, 6 p.m. PT
The Jazz have garnered much buzz these days for a string of come-from-behind wins. Five in succession, the final four on the road, battling double digit deficits at some point in every case. There was even an OT win in South Beach with
Deron Williams
fouled out. Clearly, this showing is proof of their resiliency and mental toughness. And as someone who's always questioned
Carlos Boozer's
heart but never his desire to build stats and get paid, I find the timing anything but coincidental.
No doubt the now-Bull is talented (on one side of the ball, if nothing else), but he's never struck as a player I'd want on my side with the chips down.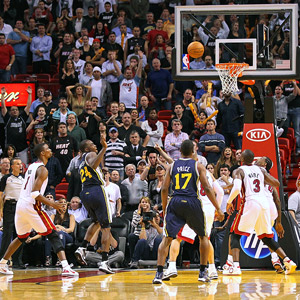 Mike Ehrmann/Getty Images
Paul Millsap came up huge against Miami, and has always challenged the Lakers.
Conversely, I think
Paul Millsap
taking over for Boozer makes gritty success this season no accident. Beyond his 20 points and nine rebounds per game, and beyond specifically his crunch time heroics during the Miami win, I think there's something infectious about an All-Star caliber player with a lunch-pail attitude. It reminds me of Kobe's effect on the Lakers, in that nobody lower in the food chain can lay claim to outworking him.
There's a reason the Jazz never appeared threatened by Boozer's last few seasons with one foot out the door, and paid a pretty penny to retain Millsap's services off the bench. On a few levels, the latter is an upgrade, and
Phil Jackson
recently noted how Millsap used to provide more fits than Boozer. If anything, they wish he stayed in Utah.
Interestingly though, the Jazz's typical mark while playing at the Energy Solutions Center hasn't been as strong. Admittedly, the season is young,
but they're only 3-3 at home
. Granted, losses against Phoenix, Oklahoma City and San Antonio aren't disgraceful, but nonetheless games you expect this home court advantage to carry. (Oddly enough, the Jazz have traditionally struggled on the road, but are 6-2 as we speak. Go figure.) The Salt Lake crowd is loud and nasty, and gets particularly fired up when the purple and gold (
and Derek Fisher, unfortunately
) come to town. It wouldn't surprise me if this energy goosed a strong home performance from the Jazz, so the Lakers better be on their toes.
May, 9, 2010
5/09/10
9:55
AM PT
Saturday's 111-110 Game 3 win for the Lakers
in Salt Lake City contained some elements featured prominently in the pre-tip script. For example, with 35 points, including two clutch jumpers down the stretch, and seven assists,
Kobe Bryant
was outstanding. No surprise given a) he's Kobe Bryant, and b) he's historically used Utah as his personal pin cushion.
Derek Fisher,
entrusted with a critical shot in the final minute, drew nothing but twine. We've seen that before.
Pau Gasol
, after a slow start, filled the box score with major contributions. Been there, done that.
Other aspects, though, required some rewrites.
The Lakers, so dominant in the front court over the first two games, had one field goal from Gasol at the half, and got nothing offensively from
Andrew Bynum
all night. Literally, as Bynum didn't score a single point. Instead, they relied on Bryant, and also the -- brace yourself -- pinpoint shooting of
Ron Artest
, who made four of his seven attempts from beyond the arc, including three in a critical third quarter stretch.
But even if deviated from the expected, as I wrote following the game,
Saturday's win was a great demonstration of what can make NBA playoff basketball so exciting
. There were big performances by both team's stars --
Deron Williams
finished with 28 points and nine dimes, not quite matching Bryant but still acquitting himself well, but also surprises, like Artest's offensive outburst, a nine-for-10 night from
Kyle Korver
, or a first half in which the bigs were silent but L.A. stayed tight nonetheless thanks not just to Bryant, but also key buckets from
Shannon Brown
and
Jordan Farmar
.
Best of all, the final three minutes was a great game of "Can you top this?" pulling fans out of their seats, be said rear-rester at Energy
Solutions
Arena or in their living rooms. When it was over, ESPN.com's
Kevin Arnovitz
(of
ClipperBlog/TrueHoop
fame) and I put together the video below, breaking down that great end to a great game. Thanks as always to Kevin, who really does most of the heavy lifting on these collaborations.
May, 4, 2010
5/04/10
8:30
AM PT
The second unit took a ton of heat following L.A.'s Game 1 win over the Jazz Sunday afternoon at Staples after allowing a fourth quarter lead to evaporate. As we noted in the postgame report, however, it wasn't an Evening of Unmitigated Disaster for the reserves. In the second quarter, they pushed a seven point lead to 12 before
Phil Jackson
went back to his starters.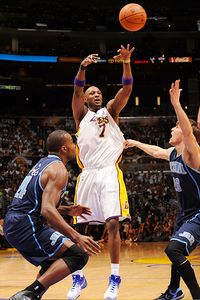 Noah Graham/NBAE via Getty Images
After Game 1, Lamar Odom said the reserves lack "unity," something he hopes to help solve before Tuesday's Game 2.
So what happened? How could the same group of guys seem so effective early then fold like origami late?
Just like the pros- that's how I roll- I went back and looked at the tape. Or the DVR, as it were.
Here's how it broke down...
SECOND QUARTER
The Lakers open with
Andrew Bynum, Shannon Brown, Odom, Luke Walton,
and
Jordan Farmar
. Utah takes the floor with
Ronnie Price, Kosta Koufos, Kyle Korver, C.J. Miles,
and
Paul Millsap
.
On the opening possession of the quarter
, the Lakers get an early entry pass to Bynum in the right mid- post. Bynum draws a double (near triple, really) team from Miles and kicks to Brown at the top of the key. Brown fakes right on Korver, then drives hard into traffic. He's met by Millsap near the bucket. Lots of contact, but no call. Probably a good spot for a pull up jumper.
11:40-
The Jazz do a great job with interior player movement, causing a little confusion in the Lakers defense. As Koufos pops out of the post and receives a pass high on the wing, Bynum lays back, and Brown provides ball pressure. When the ball swings to Price in the right corner, Bynum shades towards him, with a stance meant to funnel him baseline on any penetration. Unfortunately, it also opens an easy passing lane inside to Millsap, now being guarded by... Farmar. Uh oh. Mismatch. Utah bucket.
(Reserves -2 for the quarter)
May, 2, 2010
5/02/10
12:13
PM PT
The "questionable" tag slapped on
Andrew Bynum
after an MRI Saturday revealed a small tear of the meniscus in his right knee no longer should be applied to whether or not Bynum will suit up- he will- but rather how long he'll play and how effective he'll be on the floor,
Phil Jackson
told the media before Sunday's Game 1 tip against the Jazz.
"Andrew is prepared to play. He's come in, he's doing some therapy, he's going to activate himself and try to work through it," Jackson said. ""We'll give him an opportunity to start. If he gets prepared to play, he'll have an opportunity."
Unless something changes, Bynum appears to have passed his pregame tests and will go. But Jackson said they'd keep a tight eye on how well he's moving and monitor any discomfort.
"If he's limited in what he can do- if the ability to run full out is going to be something that's going to hamper him, we'll have to measure that."
Most of the interesting stuff from the rest of Phil's pregame media session was related to Ron Artest.
As I mentioned earlier, this is a series without a clear focus for his defensive attention. He'll likely see Deron Williams and some of Utah's bigger guys here and there, but often he'll be matched up against lesser players like C.J. Miles. "I'm a little concerned that he doesn't have a "scorer" to go out and defend. A Carmelo Anthony or someone that's a qualified big scorer," Jackson said. "But the game that Utah beat us, Miles and (Wes) Matthews had 18, 19 points. I chided both Kobe and Ron for not paying attention to those guys because they're not known as big scorers, and they're the guys who really hurt us in the game that Utah beat us this season."
That said, Artest will be busy. "We have him pinpointed for four type of players. If it's Miles and Mathews, then maybe it's going to be Williams and (Paul) Millsap. I hadn't seen (Carlos) Boozer as a possibility, but Millsap has been very active and effective in the last series (against Denver)."