Los Angeles Lakers:

Phil Handy
October, 9, 2012
10/09/12
11:21
PM PT

By Brian Kamenetzky
ESPNLosAngeles.com
Archive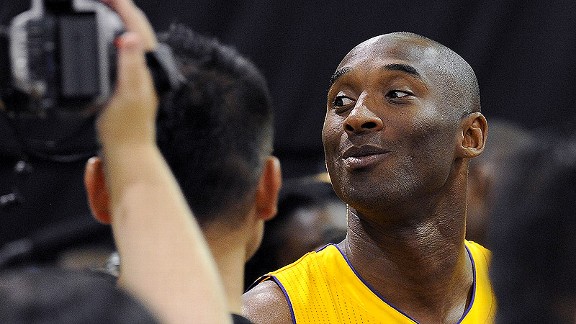 Jayne Kamin-Oncea/US Presswire Kobe Bryant's effectiveness after all this time is surely a byproduct of the effort he puts in to being ready.
It started with basic ballhandling drills, the kind you probably did at your summer basketball camp in middle school. Head up, hard dribbles in different rhythms. Then he moved just above the free throw line, and snapped the ball between his legs. One dribble, left hand to the right, rising for the jumper. Then right hand through to left, then back through to the right. Jumper.
And another, and another.
Periodically, he'd lose his handle, misplaying the dribble or seeing it fly from his hands as he went up to shoot. Or he'd miss. Whatever the mistake, it generally was followed by the scowl we could all recognize in our sleep.
From there, he moved to the perimeter, taking jumper after jumper, a few steps inside the 3-point line. From the corner, then the right wing -- capped with a baby fist pump after the last fell through the net -- and continuing around the arc. At one point, he made eight straight from the left wing.
Finally, a cooldown at the free throw line.
All told, it was more than half an hour of extra work following a long and spirited practice and scrimmage, and a taste of what
Kobe Bryant
does to maintain an elite level of play entering his 17th NBA season. The idea behind the supplementary workouts, said Lakers development coach Phil Handy, is to improve his handle and hand speed. In the process, the hope is Bryant can get his shot off faster and with less resistance, saving his legs in the process.
"He asked me to work on it," Handy told me after practice. "He's the type of guy that whatever he can do to help his game evolve, he's going to do it."
December, 7, 2011
12/07/11
7:57
PM PT

By Dave McMenamin
ESPNLosAngeles.com
Archive
Since getting the job with the Lakers, new coach Mike Brown has mentioned on several occasions how much he likes having a "big staff" of assistants to work with.

The stance makes sense if you know Brown's background and how he was able to climb up the NBA coaching ladder, spending five seasons as a scout and video coordinator in Denver before he was able to make it as the junior-most assistant in Washington.

If those fringe coaching positions hadn't been available to him at an entry level, Brown might not be where he is today.

Brown is set to add to his ever-growing staff by hiring Phil Handy as a player development coach.

The role should fit Handy well as he has spent the last five years coaching young talent with the AAU club Team 94 in Northern California, while moonlighting as a trainer to NBA players in the summertime. His past pupils include Blake Griffin, Arron Afflalo, Anthony Randolph, Eddie House, DeMarcus Nelson, Tony Delk, Hilton Armstrong, Marcus Williams and Nathan Jawai.

Handy joins Brown's staff that already includes John Kuester, Chuck Person, Ettore Messina, Quin Snyder, Darvin Ham and Kyle Triggs.