Having given one away to Dallas, the Lakers continue repopulating the roster with tall lefties, reaching an agreement with veteran power forward Troy Murphy on a one-year deal for the veteran's minimum, about $1.3 million.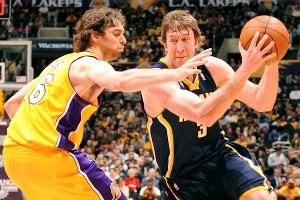 Evan Gole/Getty Images
Murphy can provide Pau a breather, or maybe even Andrew Bynum.
I suspect fans won't turn cartwheels over the news, particularly given how completely ineffective the 6'11" Murphy was in 35 games in Boston and New Jersey last season. No question, at just over three points and three rebounds a game in career low minutes (13.3) the year was a total wash. Still, he's not far removed from days as a very productive NBA player. With the Pacers in '08-'09, Murphy averaged 14.3 points and 11.8 boards while hitting 45 percent of his 3's, and two seasons ago posted 14.6/10.2/.384. In both seasons he posted a PER near or above 18. For his career, Murphy is a 39 percent shooter from downtown, contributing to the (on paper) improvement in the team's perimeter shooting.
On the flip side, he has struggled at times throughout his career staying healthy (back trouble, among other things) and even at his most spry has never been a good, or even average defender.
All of this makes Murphy an imperfect player who may not pan out, but without those question marks he wouldn't have been available at L.A.'s price point. For what they're paying, the risk is almost nothing while the potential reward-- a guy who at 31 has five times averaged a double-double in the NBA and can legitimately extend a defense-- is strong. Particularly as the third/fourth big in the rotation.
For a million and change, the it's hard to do better. His addition gives the Lakers four playable bigs, a number moving to five once Derrick Caracter returns from knee surgery.
Losing Lamar Odom obviously puts enormous pressure on Andrew Bynum and Pau Gasol to stay healthy, but the additions of Josh McRoberts (also tall, left-handed) and now Murphy, two guys with above average potential acquired for well below average money, gives Mike Brown some options up front.