Los Angeles Lakers:

Pooh Jeter
July, 19, 2011
7/19/11
9:26
AM PT

By Brian Kamenetzky
ESPNLosAngeles.com
Archive
"A slice of paper . . . A crepe . . . The walls of a cheap motel . . .
Shia LaBeouf's
on-screen appeal . . . The 2011 class of free agent point guards."
"I know, I know! Things that are thin!"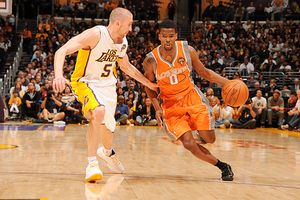 Andrew D. Bernstein/NBAE/Getty Images
Want to see Aaron Brooks in a Lakers uni next year? Buy NBA2K and make a trade with the Suns.
Such is the landscape as we begin our look at potential additions for the Lakers available on the off-season market.
That the point is their greatest positional need
as measured by on-court production last season doesn't change the reality: It's highly unlikely free agency will do much for the Lakers other than maybe --
maybe
-- improving their depth. There are some potentially serviceable players available, but few who elevate the position substantially or add clarity to the current
Derek Fisher/Steve Blake
rotation.
Here's how it breaks down:
THE CREAM OF THE CROP
Rodney Stuckey (restricted free agent, Detroit)
Aaron Brooks (restricted free agent, Phoenix)
The Pistons have already made a qualifying offer of nearly $4 million for Stuckey. While he's a
bad perimeter shooter
, he's a big (6'5") combo guard who loves attacking the basket, can defend, and improved his assist rates last year. Is he really a point guard? Probably not, but at 25 years old he's rich with youth and talent. Lakers fans hyperventilate at the site of Brooks, whose career scoring average in 11 games against the purple and gold (17.1)
is about five points higher than his numbers against everyone else
. Brooks isn't a great outside shooter and his distribution skills are still improving, but man alive the guy is quick, and clearly talented. Just as Detroit did with Stuckey, Phoenix has extended Brooks a qualifying offer, meaning both can match any offer made by another team.
Would either fit well with the Lakers? Doesn't matter. Put these players out of your mind. Neither is likely going anywhere, certainly not for what the Lakers will be able to offer (a mid-level exception, assuming in the new CBA it exists in some form). Short of Jedi mind tricks -- "These aren't the point guards you're looking for,
Joe Dumars
and
Lon Babby
..." -- there's very little
Mitch Kupchak
can do to "make it happen."
So as
Obi-Wan
told those storm troopers, "Move along."
PLAYERS WHO IN ANY OTHER SUMMER WOULD BE MIDDLE ROAD OPTIONS BUT THIS YEAR ARE ALMOST CERTAIN TO BE OVERPAID THANKS TO SCARCITY AND HIGH PROFILE POSTSEASON SUCCESSES

J.J. Barea (unrestricted free agent, Dallas)
Mario Chalmers (restricted free agent, Miami)
July, 9, 2011
7/09/11
9:47
PM PT

By Pedro Moura
ESPNLosAngeles.com
Archive

LOS ANGELES – A lightning-quick 5-9 college guard named Casper outplayed Oklahoma City Thunder guard James Harden.

Former NBA Rookie of the Year Tyreke Evans' team lost handily to a team with no current NBA players.

But the highlight of Saturday's Drew League play at Colonel Leon H. Washington Park in Florence was even more … righteous.

The man the locals call Jesus provided the most entertaining action of a thoroughly entertaining eight-hour Saturday at the Drew League, coming in from the free-throw line to pick up a teammate's errant shot attempt and tip-reverse-dunk it in for a miraculous, monstrous slam that had the crowd buzzing for a good 10 minutes.

It was emblematic of what people have come to expect from the Drew League, generally considered one of the top summer-league outfits around.

"You can't find this level of basketball anywhere in the U.S. besides here," says Jesus, also known as David Patten, an Orange County native who played collegiately for Pepperdine and Weber State and now plays professionally in Mexico. "This is fantastic basketball."

Your first question: How did he pick up the nickname?

Patten, a dunk contest competitor in college who has long surprised people with his dunking abilities, has played in the Drew League for three of the last four summers. His first year, a homeless woman walked into the gymnasium at Washington Park and was impressed by the high-flying acrobatics she saw from him.

"She didn't know who I was, but I'm white and I had a beard and long hair," Patten, 27, says now. "So she called me Jesus."

Since its inception in 1973, stories like that one have always been part of the charm of the Drew League. And, while that's largely staying the same this summer, the talent level has taken a big jump as NBA players flock to a mostly-nondescript park in South L.A. to log some time on the basketball court.

"I mean, it's definitely like this because of the lockout," says Bobby Brown, a former Cal State Fullerton guard who spent parts of two seasons in the NBA and now plays in Greece. "Everybody wants to come out here and play. We had a few NBA guys last year, but this year it's getting a lot better."

Saturday was Evans' first go at it in the Drew, but he was joining his Kings teammate Pooh Jeter, who has played in it for most of the summer. The Lakers' Steve Blake, Shannon Brown and Ron Artest have all played this summer, as has the Clippers' Craig Smith, and Ike Diogu plans to soon join him. Baron Davis has promised he'll make an appearance at some point. Kevin Durant caused a stir when he came last month and shut the gym down with a pass-to-himself dunk, but there a number of other NBA'ers of varying profile levels, usually with some sort of Los Angeles ties.