Los Angeles Lakers:

preseason
October, 11, 2013
10/11/13
11:02
AM PT

By Dave McMenamin
ESPNLosAngeles.com
Archive
When the Los Angeles Lakers depart for their nine-day preseason trip to China on Friday, it will be 1 p.m. PT in L.A. When they arrive in Beijing, it will be approximately 5:45 p.m. China Standard Time on Saturday.

The time warp is unavoidable. The Lakers are hoping to sidestep any other pitfalls associated with the journey, however.

Culture shock? That's being framed as potential for personal enrichment. Non-stop schedule of events and appearances? That's being looked at as a chance to be ambassadors for the NBA and the game of basketball on a global scale. A pair of games against a Golden State Warriors team that made it to the second round of last season's playoffs and only got better on paper with the addition of Andre Iguodala? That's being spun as a helpful measuring stick for the Lakers to see where they stand with the regular season fast approaching.

"It will affect us just because you have to be worried if they're jetlagged and things like that, but it shouldn't disrupt us too much," said Lakers coach Mike D'Antoni. "We have a younger team and some of it's good. The bonding and all that supposedly is good . . . Hopefully is good."

If you thought that sounded like D'Antoni was trying to talk himself into the plus-side that the trip has to offer, you were right.

"I would rather bond at home," added D'Antoni. "But if we can bond over there, we'll bond over there."

Indeed, the Lakers have already begun to come together as a unit far quicker this season than they ever did during last year's disastrous campaign. Training camp unofficially began a month early with daily voluntary workouts with the majority of the roster present and the team already has won two of their four preseason games heading into China after going 0-8 in exhibition games a year ago.

Even though Steve Blake called Thursday's 104-86 loss to the Sacramento Kings in Las Vegas "a step back" for L.A., the two-day jaunt to Vegas right before the nine-day trek to Beijing and Shanghai had a silver lining: Kobe Bryant took the entire team out to dinner at STK steakhouse at the Cosmopolitan on Wednesday.

This Lakers group -- with the additions of players like Jordan Farmar and Nick Young who already share a lifelong friendship, Shawne Williams who has a connection with D'Antoni from their New York days, and coaches in Kurt Rambis and Mark Madsen who have been reunited with the purple and gold -- should grow even closer halfway around the world with nobody but each other to lean on.

"Usually when you travel that far and you go through something like that, it can bring people together," said Steve Nash. "We have a pretty good crew. We've had a lot of fun so far. Everyone seems to enjoy being around each other. So, it's been really positive and I think we have the kind of group that will do really well on this trip."

The majority of the Lakers seem to be keeping an open mind to the experience. Nash, for instance, could use the time back in the states to nurse his sore left ankle and he's already been to China a handful of times so he has plenty of reason to curb his excitement about it, but he's accepting it nonetheless. "I have a feeling that I will be dragged to the Great Wall again, but that's OK," said Nash. "It will be an honor."

Blake, 33, has never been to China before and looks at the trip as a bonus.

"I'm extremely curious," Blake said. "I'm someone that follows world politics a lot, so I'm curious about their landmarks and historical sites . . . So, for me personally, it's a big deal."

Marcus Landry, one of the four remaining training camp invitees on fully non-guaranteed deals along with Xavier Henry, Ryan Kelly and Darius Johnson-Odom vying for a maximum two roster spots, sees it as a reunion of sorts. He played for the Shanghai Sharks of the Chinese Basketball Association in 2011-12.

"Now that we're about to go over there and half of these guys haven't been, they're like, 'What is it all about?' and things like that," said Landry who is set to upgrade his status on the team from sparsely-used bench player to relied-upon tour guide. "I know we're on this grass-fed thing right now, but I'll take them to probably my favorite restaurant in Shanghai."

Landry is also being counted on to take some of the team to have custom suits tailored.

"If you had a $1,000 suit here, you take it over there and probably could get it for no more than $200," said Landry. "It's a good deal."

Chris Kaman believes the Lakers are getting a bit of a raw deal in terms of the timing of the trip, however.

"I wish they would have done it in the beginning (of training camp), because basically what's going to happen, we're going to get back and everybody is going to be all off kilter with their time schedules and sleep schedules are going to be all over the place," Kaman said. "It's kind of hard to do in the middle like that. You work hard for like a week and a half of training camp, then another week for preseason games and then you go and leave and your schedule gets all changed all over the place. Then you come back after a week and right as you're leaving and get adjusted to the China time, you got to come back and switch your time back again. So, it's not an easy thing."

Timing is a huge factor in the trip. From what they'll do on the 12-hour flight each way (books for D'Antoni, books and movies for Pau Gasol, Ambien for Kaman). To how they'll get the most out of their practice time while there ("It's important that, OK, we might only have an hour of practice, but that hour has got to be good so they need to concentrate on the time that we have on the court," said D'Antoni). To how they'll respond to only having 10 days remaining before their first regular season game when they get back to L.A. ("We got to get through the jetlag, continue our training and preparation and be ready to play opening night," said Nash).

While the Lakers' last overseas adventure might have been a sign of bad things to come -- they lost to the Minnesota Timberwolves in London and FC Barcelona in Spain during Phil Jackson's final preseason with the team before they were swept out of the playoffs by Dallas months later -- other teams have actually responded well to the experience. The Boston Celtics went to Rome and London when the Big Three of Kevin Garnett, Ray Allen and Paul Pierce first came together in 2007 and went on to win the championship in June by beating L.A. Just last fall the Miami Heat went to China during the preseason to kick off a season that ended with a second-consecutive title.

"We owe a lot to the NBA and they've given us a pretty good living, so we have to go on a trip," said D'Antoni. "Wow. I think that's OK."
October, 6, 2013
10/06/13
9:26
PM PT

By Dave McMenamin
ESPNLosAngeles.com
Archive
LOS ANGELES -- Well, the
Los Angeles Lakers
won't be following up last preseason's 0-8 with an 8-0 one.
A night after looking sharp as a tack in their exhibition opener against the
Golden State Warriors
, the Lakers were dull as a human resources-required video Sunday against the
Denver Nuggets
.
The Lakers, still without
Kobe Bryant
, shifted their lineup around, giving
Chris Kaman
the night off and letting
Jordan Farmar
rest his left calf while welcoming
Pau Gasol
and
Steve Nash
back to the court, and all the pieces just didn't fit together so well.
How it happened:
To put it bluntly, the Lakers couldn't throw a rock in the ocean Sunday night. They shot just 30-for-93 as a team (32.3 percent) with only two out of the 14 players who got in (
Xavier Henry
and
Darius Johnson-Odom
) personally shooting 50 percent or better.
What it means:
Thank goodness there are still six preseason games left over the next three weeks to get things right before it counts, because the Lakers still have a lot of work to do.
For starters, having a consistent lineup and rotation will help keep things from getting so ugly.
From there, a little more discipline out of guys like
Nick Young
(4-for-16) and
Marcus Landry
(4-for-11) in their shot selection couldn't hurt.
Hits:
Henry, who has had a whirlwind 24 hours that included his phone blowing up from well-wishers who saw his 29-point outburst against Golden State -- and even getting a follow on Twitter from his locker room neighbor in Bryant -- was a bright spot once again. He scored 15 points on 4-for-7 shooting and got to the line early and often, going 7-for-9 from the stripe.
Misses:
Wesley Johnson
, who had been raved about during training camp, left the game in the first quarter because of a strained left foot, finishing with two points on 1-for-5 shooting, two turnovers and two fouls in eight minutes after starting at small forward. It mirrored his struggles Saturday against Golden State, when he also went 1-for-5 with four fouls and two turnovers.
Nash (zero points, six assists, five rebounds) sat out the second half to rest.
Stat of the night:
13. Gasol's shot attempt total in just 23 minutes of playing time. He had 13 games last season in which he didn't reach double-digit shot attempts while playing a full game.
October, 26, 2012
10/26/12
6:45
PM PT

By Brian Kamenetzky
ESPNLosAngeles.com
Archive
Following last night's loss to Sacramento in San Diego, capping an unblemished preseason run of eight losses in eight games, I noted that while there is much work to do and for a variety of reasons the Lakers didn't get as much out of the exhibition season as they hoped,
there are any number of positives, as well
.
Consider:
Dwight Howard
's health;
Metta World Peace
's conditioning; and the play of non-
Antawn Jamison
members of the bench when considered in a realistic context.
And, now, there's one more nugget to appreciate amidst the octet of unfavorable final scores: The Lakers can make a run at history.
From ESPN Stats and Information:
Elias only has preseason information back to 1995-96. Only three teams since then had winless preseasons of 5+ games:

2012-13 Lakers 0-8
2008-09 Bobcats 0-8
2007-08 Heat 0-7

The prior two teams did not make the playoffs.
That's right, the Lakers have a chance to do something no team has ever done, just by making the postseason! I think we all agree that'll happen.
So if you happen to be one of those fans frustrated by the underwhelming numbers posted by your Lakers this preseason, remember it will all be worth it come April when the Lakers shatter the confines of historical precedent like
General Zod
from the
Phantom Zone
.
October, 19, 2012
10/19/12
7:01
AM PT
The Lakers' 0-4 preseason record is arguably meaningless, but Dwight Howard has yet to play and Kobe Bryant, Pau Gasol and Jordan Hill have missed games, which interrupts continuity and muddies the picture for Mike Brown while creating a rotation. Thus far, have the Lakers gotten what's needed from the preseason? Along with ESPNLA 710's Drew Belzer, we discuss the question.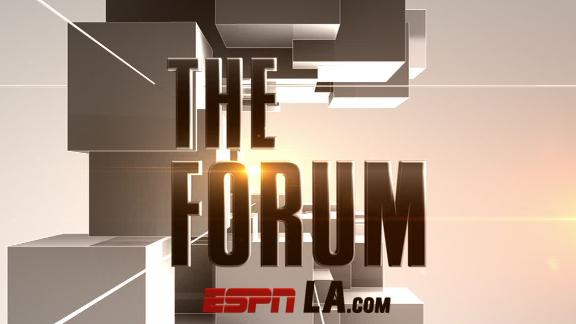 October, 9, 2011
10/09/11
10:33
AM PT
At 7 this evening, I should be parked on my couch watching the Lakers kick off their preseason in Fresno against the Golden State Warriors. Instead, I'll be inside the Walter Pyramid in Long Beach,
liveblogging as Drew and Goodman League cats play A-List pickup ball
. While the exhibition will offer some genuine thrills, they're ultimately empty calories pitted against the reality of what's happening right now in the NBA.
We're in the midst of a lockout, and the finish line appears frustratingly
so close, yet so far
.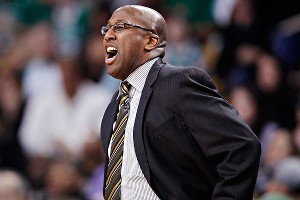 David Butler II/US Presswire
The sight of Mike Brown on a Lakers bench will have to wait.
For Lakers fans, this unpleasant truth is driven home further by Drew-Goodman. Save a last-minute addition, no Laker will be in Long Beach to provide even a nibble of purple and gold basketball to satisfy a fan's hunger. To the best of my knowledge, there's nothing remotely "Laker basketball" on the immediate horizon.
For fans in cities like Anaheim, Ontario and Las Vegas, the canceled preseason means perhaps
a lost annual chance to see Lakers roundball in person
. (For arena employees in those cities, the consequences equal an emptier wallet, which really stinks.) And for the Lakers themselves, it's a lost opportunity to get in sync with a new coach, a new system and, perhaps most importantly, each other. Chemistry was on short supply, and for a team battling a relatively short window as an elite contender, these games have more tangible utility than in the past. Obviously, it's not impossible for the Lakers to win a 2012 title learning on the fly in a shortened season. For a crew whose focus can wane during the regular season, a pressure cooker could become an asset if properly utilized.
Still, I'd rather have the chance to tune up, and when you consider the roster continuity of teams like the Heat, Thunder, Bulls and (key free agents presumably re-signed) Mavericks, the Lakers feel disadvantaged among contenders as the result of an obliterated preseason.
Tonight, we should have been witnessing the first glimpse of how the Lakers might operate as this critical chapter in franchise history unfolds. Not all the answers would have been provided, and neither a win nor a loss would be mistaken as a June oracle. Still, there are so many questions attached to this team, and even just a hint at the future would be intriguing.
How closely will
Andrew Bynum
or
Pau Gasol
be mirroring the roles of
David Robinson
and
Tim Duncan
during
Mike Brown's
days as a Spurs assistant?
Will
Kobe Bryant
be asked to do more than replicate the "Iso
LeBron
" imagery associated with Brown, fairly or not? What exactly
is
his role in an offense Brown has described as heavy on post play?
Is Bynum mentally and physically ready to shoulder the elevated role he's outwardly clamoring to receive?
Has Gasol recovered psychologically from his horrid playoff showing?
Will reigning Sixth Man of the Year
Lamar Odom's
versatility translate into a system perhaps less interchangeable than the Triangle?
Does scrapping the Triangle mean
Derek Fisher
coming off the bench and
Steve Blake
starting?
Was
Metta World Peace's
poor 2010 campaign a temporary stumble or a sign of his future in L.A.?
Can youngsters like
Devin Ebanks
,
Darius Morris
and maybe even
Andrew Goudelock
can bring anything to the table ASAP?
Did getting smacked by Dallas spark a team-wide sense of urgency, even in October?
Is Mike Brown in fact the right man to follow in
Phil Jackson's
footsteps?
So many plot lines begging for even a hint of clarity. Instead, we're kept in suspense, and not the fun kind like the night before Christmas.
October, 4, 2011
10/04/11
6:51
PM PT
Not the news hoped for at the end of Tuesday's meetings in New York
, but also not terribly shocking. Even those optimistic about a reasonably normal 2012 season figured the preseason would be toast. Certain things were simply destined to be sacrificed. It is what it is, and as we speak, it ain't pretty. However, since we've got until Monday before the regular season's first two weeks also go the way of the Dodo Bird, I'm going to focus solely on what has been irretrievably lost.
I won't insult our readership with crocodile tears over these canceled contests, insofar as sincere despair goes.
I've already acknowledged on
The Show Formerly Known As The Triangle
my excitement at the prospect of axed pilgrimages to Anaheim, Ontario (California, not Canada), Bakersfield and the like. Were these sentiments tongue in cheek? Sort of, but not really.
If anything unites citizens of L.A. and the surrounding areas, it's a desire to avoid traffic. Doesn't matter how long you've lived in Southern California or how numb you've grown to bumper-to-bumper crawls, when given the chance to avoid such a trek,
you jump in it like an opulent mini-giraffe owner
. Factor in the lack of suspense these games hold for a veteran team like the Lakers typically low on legitimate roster battles, and I won't fake insincere anticipation for October basketball. (Even if they reduced the number of games against Golden State down to one from the usual 27.)
Just like for the players themselves, the NBA is a long season for the scribes. These are the games that typically feel like, well,
work
. Blessed as I am to have such a cool job -- or any job nowadays, really -- that's just me being honest.
However, I'm also not jaded enough to miss the passion of the fans in those preseason arenas. Without fail, they're loud, enthusiastic and completely dialed into the action. Moreover, they were also grateful for a night with the purple and gold in their backyards. That it had no bearing on the actual season was irrelevant, and their excitement wasn't dampened by the prospect of watching more
Coby Karl
than
Kobe Bryant
. For many, these games marked a once-yearly opportunity to watch the Lakers in person. Maybe regular-season tickets are too expensive. Maybe Staples Center is too far away to make the commute for a 7:30 game on a Monday-Friday work day. (Again, it always comes back to traffic in L.A.) Maybe some just don't have the energy for such a long day, even one involving Lakers basketball.
No matter what the reason, these fans must now wait until 2012 to see the Lakers, regardless of when/if the regular season starts. This will be disappointing, and I sincerely feel for those members of the Laker Nation.
I also feel for anybody who happened to be on a work schedule in those arenas during a game. Those games represented a day's pay now down the porcelain. I don't know if the fairest way to divvy the BRI is a 53-47 split for the players, 53-47 for the owners or 50-50 down the middle. But this much I'm positive about: Even if this contentious issue was solved by awarding one side 100 percent and the other a finger gesture, it's hard to argue either party needs the money as much as a Citizens Bank Arena popcorn vendor. The livelihoods affected by the lockout expand beyond millionaires and billionaires squabbling for the most cheddar. These exhibition games represent lost revenue -- or worse, unpaid bills -- for a working class Joe trying to get by.
The exhibition games have always been completely overshadowed by the embattled CBA issues, and in the grand scheme of things, they're a matter as insignificant as being treated. But for countless unlucky people around L.A., they've now taken on a deeper meaning, and it's a shame to see that happen.