Los Angeles Lakers:

press conference
November, 7, 2011
11/07/11
10:49
AM PT

By Andy Kamenetzky
ESPNLosAngeles.com
Archive
Nov. 7, 1991.
I was on USC's campus, taking a walk down Trousdale Parkway. I don't recall whether I was headed to class or the Commons (where students typically congregate) looking for an excuse to ditch. What I do remember is that I hadn't been in front of a television or radio all day.
I ran into a friend, an L.A. native, whose typically laid-back body language had been shattered. I asked what was wrong, and he dropped a bombshell.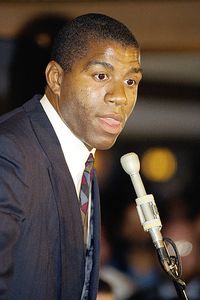 AP Photo / Craig Fujii
Nothing felt the same after Magic's historic news conference.
Magic Johnson
was retiring because he tested positive for HIV. When my friend heard the news earlier from another friend, he'd been wearing a No. 32 Lakers jersey.
For a few minutes, it felt like the world stood still and my school had grown quiet.
I was a sophomore and had only been living in L.A. about a year, meaning I'd yet to become fully engulfed in my Lakers fandom. I also grew up in St. Louis, a city that lost the now-Atlanta Hawks four years before I was born, meaning it was hardly a hotbed of NBA culture. Obviously, I'd seen
Magic Johnson
play many times. But geography dictated more football, baseball and hockey watched than basketball as a kid and teenager.
Still, the news absolutely rocked me. The gravity of this moment was about more than the premature end of an iconic athlete's career. It was a cultural and societal game-changer. A new face had just been attached to a disease still carrying so many unknowns and prejudices. At the time, HIV and AIDS were thought of as afflictions primarily reserved for gay men, drug users and those outside the mainstream. For many, it was easy to cast those types aside and dismiss any vulnerability toward a similar fate. HIV may have been taken seriously, but for many, it remained somebody else's problem.
Magic, however, was beloved, so much so that some of the reporters covering his news conference actually cried. America had no choice but to view the disease with a sobering new perspective. As Johnson said that day, if he could test positive, we were all susceptible.
I've always felt that Magic's announcement was my generation's JFK moment, powerful enough to make the world feel different, and you don't forget where you were upon such a realization.
I recently talked with longtime Lakers trainer Gary Vitti,
who had been assigned the task of herding Magic's teammates to a meeting where he would reveal his illness. Unable to share details, he simply said the meeting was "gonna change all our lives."
Vitti was right.
Amazingly, what felt like an announcement of death in 1991 has evolved into a signpost for inspiration. He's done important work as an HIV and AIDS activist, while providing an example of how the disease can be managed and lived with. The advantages provided to a man of Magic's economic means are apparent, as well as the battle still ahead for millions dealing with this disease. But there's no denying the hope he's provided over the last 20 years. Initially viewed as living on borrowed time, he's since flourished in health and wealth, launching successful businesses across previously ignored areas of L.A. and turning virtually everything he touched into gold.
He may be remembered first with a basketball his hand, but I'd argue Magic's life has been far more influential after his career ended.
May, 31, 2011
5/31/11
6:43
PM PT

By Andy Kamenetzky
ESPNLosAngeles.com
Archive
During
Matt Barnes
' exit interview, the small forward all but said he planned to exercise the player option in his contract and remain a Laker. By showing up to
a press conference formally announcing new head coach Mike Brown
, Barnes made his plans even more evident, since nobody attends an event like this while uncommitted to his current team. (For that matter, Barnes was actually the only Laker on hand.) Thus, it was only fitting he finally went whole hog and vocalized what everyone already knew.
Barnes will be in purple and gold next season.
"I'm gonna pick up my option. I'm gonna be a Laker next year," smiled Barnes. "I wanted to be back. I still feel, granted what happened in that Dallas series, we have a very talented and very good team and I want to continue to try and get that ring."
As I noted in Barnes' report card, this wholly expected outcome is a good thing for the Lakers
. Before injuring his right knee, Barnes was enjoying a surprisingly strong inaugural season in L.A. He meshed well with a roster I don't expect to radically change next season, and increased time with his teammates should only create more fluidity and comfort.
Even more encouraging is the medical update on his knee. "It doesn't hurt no more, which is a good thing," nodded Barnes. There's swelling still, but it doesn't hurt, which is my main thing. I'm still like a month out from being able to run and jump. But slowly but surely, it's starting to feel like my left knee now."
Among other points raised by Barnes:
- Don't read negatively into the small forward providing the lone presence among players. For starters, a lot of guys are out of town and as much as Matt was there to a show of support for Brown, he also happened to be in the neighborhood after a rehab session. "L.A. traffic, you gotta have good timing," Barnes joked.
- Barnes got to know Mike Brown a bit last summer while making a decision about which team to join.
Cleveland was among the potential destinations
, and at the time, Brown was still the coach. Barnes obviously ended up with the Lakers, but still gained a good impression of his new coach:
"We spoke on the phone a few times. I got a chance to know him, he seemed like a really good guy. With that being said, he's our coach now. What he does and what he's going to do, that's yet to be determined. I just wanted to let him know he has my support. I'm sure he has the rest of the guys' support."
Barnes also offered some quality advice for creating as smooth a transition as possible for Brown:
"Just buy in. Even though we have the greatest player in the world, the coach is the leader. You know what I mean? Like he said, we need to buy into what he's bringing to the table. If we do that, we should have a really good team."
- If you happen to miss a game during the NBA Finals and want the skinny on what happened, Matt Barnes is the wrong guy to ask. The sour taste of getting swept by Dallas still lingers heavily in his mouth, and as a result, he's
way
out of the NBA loop. "I haven't watched a second of basketball," admitted Barnes. I ain't watched no SportsCenter, because I know basketball will on there. I'm still hurt thinking about it. One, the way we exited, and two, be not being able to help."
May, 30, 2011
5/30/11
10:18
PM PT

By Brian Kamenetzky
ESPNLosAngeles.com
Archive
The
Mike Brown
Era officially begins Tuesday afternoon at 3 p.m., when he's introduced to the media at the Lakers' practice facility in El Segundo.
Don't expect to be dazzled with wit or one liners. As ESPN.com's
Brian Windhorst told us in a recent podcast
, Brown isn't someone who wins press conferences. Disappointing for us-- when you cover them for a living, having people at the center looking to "win" is welcome-- and perhaps for you, too. No question, L.A. as a city values entertainment and personality, something the guy Brown replaces certainly understood.
PODCAST
Andy and Brian talk with ESPNLA.com's Dave McMenamin about new coach Mike Brown, Jim Buss' statement in hiring Brown and what the future holds for the Lakers. Plus, Dave's plans for a new lockout lifestyle.

Podcast

Just one of the many ways in which the times they are a' changin'.
Nobody knows whether Brown has the makeup to succeed as Lakers coach (you'll find people on both sides of the argument, though more skepticism than optimism) or if ultimately he'll prove himself the best of the available candidates (see previous parenthetical) one thing is abundantly clear: The generally negative reaction from fans and media alike surrounding his hire means Brown will have little, if any, of the honeymoon period usually afforded a new coach. Following
Phil Jackson
, it likely wouldn't have been all that substantial even if he was more popular, but from moment one people will be looking for signs Brown is in over his head.
The narrative has been established. As Brown well knows (see the perception his Cleveland teams were consistently bad offensively, despite clear evidence to the contrary) once narratives are written, they're difficult to edit. Brown will have to prove he knows what he's doing, rather than be exposed as someone who doesn't. The former is a lot tougher, because any number of things are capable of undoing the work of perfectly good coaching.
Gravitas, something Jackson oozed and Brown lacks, brings more benefit of the doubt.
Fair or unfair isn't the issue, and many of the same questions would have undoubtedly impacted the other available candidates. To a certain degree, Brown has been penalized for being a flawed option chosen from of a crop of other flawed options. Much of the criticism projected on to him is actually a critique of
Jim Buss
and the process bringing Brown to Los Angeles,
something Buss himself noted in an interview with the L.A. Times
.
PODCAST
Andy and Brian discuss new Lakers coach Mike Brown with ESPN.com's Brian Windhorst. Windhorst covered the Cavaliers for the Cleveland Plain Dealer while Brown was the coach.

Podcast

In that regard, he's correct.
All Brown did was allow himself to get hired by the premier basketball franchise on the planet and earn over $18 million for the privilege. Hard to fault him for that.
Unfortunately, as Dr. Buss continues moving to the background, the fairly rampant speculation (some might say cynicism) regarding Jim Buss' ability leading the franchise does Brown little good. Today, Brown is the wrong coach hired by the wrong guy, someone threatening the incredible legacy established for the Lakers by Dr. Buss. Again, the narrative may not be entirely fair, but fair isn't a driving force. Plenty of people will look for fault in Brown in order to find it in Jim Buss.
For the first time in a long time, trust in the coach and highest levels of the front office isn't implicit. Under the best of circumstances, coaching the Lakers is a difficult, pressure filled job. The context in which Brown assumes it only makes it harder.