Los Angeles Lakers:

Princeton offense
November, 2, 2012
11/02/12
1:58
PM PT

By Brian Kamenetzky
ESPNLosAngeles.com
Archive
Thursday afternoon in El Segundo, Mike Brown explained in clear terms why he believes the Princeton offense is a key to success for the Lakers this season:
"We don't want to be so one-dimensional where when you play good teams, they say 'OK, Steve Nash is going to play pick and roll 75 percent of the time. Let's figure out how to defend that. And once we take that away, they ain't going to know how to play the game. I'm not going to allow my team to do that. Good teams will figure that out. Not only good teams. When you get somebody in the playoffs and you've got to play them seven games, they'll stop that one thing you're good at. So you've got to be good at a few things on the offensive end of the floor and not just the pick and roll."
I agree, particularly against teams like Miami and Oklahoma City, capable of playing extremely high-end defense. According to Synergy, both were effective against the P & R last season, the Heat being particularly dominant. Given the incredible versatility and basketball acumen of L.A.'s core players, limiting them to one form of offense seems like a waste.
As Kobe Bryant noted Thursday
, the point isn't to keep the ball from Steve Nash or cover for the relative lack of athleticism on the team.
"The reality is, when you have talented players that are willing to sacrifice their game and to play within a structure, it makes you unstoppable," he said.
No question
Nash is uncomfortable
(now literally, not just figuratively, following Wednesday's shin injury). He's putting enormous pressure on himself to keep the Lakers inside the Princeton structure, knowing the choice to do otherwise -- despite Brown's approval -- only prolongs the team's learning process. As I noted in
Thursday's edition of The Forum
, I firmly believe once the Lakers have a healthy grasp of the system, they won't run it nearly as much. Go back to the days of the triangle. Yes, it was the foundation, but in the fourth quarter the Lakers basically ran a series of Kobe/Pau Gasol pick and rolls.
They'll do it again this year, only this time will have Nash
and
Kobe
and
Dwight Howard (the NBA's best roll man)
and
Gasol to utilize,
and
the ability to keep teams honest at the same time thanks to a sound offensive structure.
That's the theory, at least. Obviously there are no guarantees any of this will work, that Brown is fully capable of organizing and implementing this type of plan, or the growing pains won't come back to haunt the Lakers, whether through a lesser seed or stunted development in other areas. But it's a calculated risk worth taking.
Wednesday night in Portland, the
Lakers scored 106 points and shot 50 percent from the floor
, despite turning the ball over 24 times. While the TO's are definitely a function of offensive confusion, they shouldn't last forever. In Tuesday's opener, the Lakers had 10 assists on their first 13 buckets. There are plenty of positive signs regarding the offense, and reasons to believe in the long run the Lakers will be better off.
Now, about that defense...
November, 1, 2012
11/01/12
2:55
PM PT
October, 31, 2012
10/31/12
10:38
PM PT
PORTLAND, Ore. -- Despite players, coaches and front-office members associated with the purple and gold preaching patience for a solid month as the team went winless in the preseason and laid an egg on opening night, it will be awfully hard to quiet the doubters after this one.
Quite simply, the sky is falling on Laker Land.
These new-look
Los Angeles Lakers
with their All-Star starting five and championship aspirations are now 0-2 (0-10 as a collective if you count their exhibition slate), falling to a
Portland Trail Blazers
team that few expect to make the playoffs, the night after losing to a
Dallas Mavericks
team that is also considered a long shot for postseason play.
Sure, there is plenty of basketball left to be played this season, but people are getting tired on waiting for this group to jell.
Maybe this is just a case of darkness before the dawn, or maybe there's stormy skies ahead for this group that was supposed to be a shining beacon this NBA season.
1. Where's the D?
Phil Jackson used to scan the box score after games and when he'd notice that the Lakers allowed 30 points in a quarter, he made a face as if he were staring at a wart. Well, the Lakers gave up 30 or more points to the Blazers in each of the first three quarters Wednesday and allowed Portland to shoot better than 50 percent from the field (42-for-83). All five Portland starters scored 13 points or more, led by
Nicolas Batum
's 26 points. Helping out the Blazers' offense was the Lakers' 25 turnovers that led to 28 Portland points.
2. Nash goes down
Steve Nash
's final numbers (two points, four rebounds, four assists) weren't just a product of the tricky Princeton-style offense on this night. Nash exited the game after colliding with Portland stud rookie
Damian Lillard
late in the second half. After receiving treatment at halftime, Nash tried to give it another go but barely lasted a minute in the third quarter before he shut it down for the night. The official word from the Lakers' public relations department was that Nash suffered a bruise of his lower left leg. Time will tell if this will be yet another lingering health concern for the team (like
Kobe Bryant
's right foot or
Dwight Howard
's back) or if Nash will be able to bounce back in time for Friday's game against the
Los Angeles Clippers
.
October, 31, 2012
10/31/12
11:10
AM PT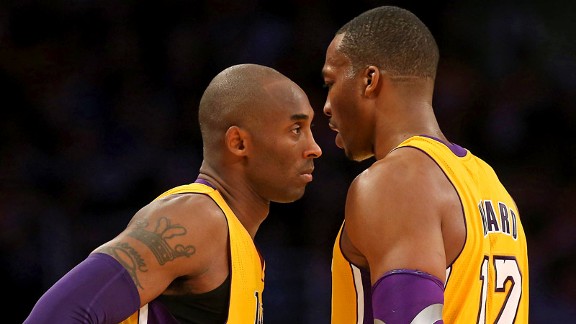 Stephen Dunn/Getty Images
Mike Brown and the Lakers have worked hard to manage expectations early. They might be reloaded with Dwight Howard and Steve Nash, but the implementation of a new Princeton-style offense means they also acquired some lag time for it to kick in.
Before
Tuesday's 99-91 season-opening loss to the Dallas Mavericks
, the coach used his pregame remarks to try to measure the media's presumptions of the All-Star-laden Lakers looking like a juggernaut from the start.
"I hope that come after Christmas sometime -- January, before All-Star break -- we're clicking a little bit, so now we go away for the All-Star break and come back and take another week or so to figure it out and then take off from there," Brown said. "I don't know, this is an intelligent team, it might happen sooner than later or it may not."
The Lakers have taken Brown's lead throughout training camp, echoing the same buzz words like "process," "journey" and "growth period" to describe the learning curve they're stuck in while trying to keep the critics at bay.
Save for Kobe Bryant's minor moment of pregame hubris Tuesday, when he announced to the crowd over the P.A. system that the Lakers were going to "try to bring another championship back home to where it belongs in Los Angeles" and then punctuated the statement by saying, "Let's get this party started, enjoy the show," the Lakers have publicly focused on the process of winning rather than the end goal.
Judging by their 0-8 record in the preseason and their disappointing start to the regular season against the Mavs, no one would argue they still have plenty to work on. But what exactly needs to be worked on and how long will it take to be worked out?
"We're spending a lot of time with it, but it's a
big
offense," Pau Gasol said after the game. "There's so many options. There's so many counters. There's so many automatics. There's a lot of stuff, and it's not like set plays, most of them."
Even though the Lakers looked better on offense than they did for most of the preseason (they shot 49.4 percent from the field as a team, assisted on 24 of 38 baskets and cut their turnovers down to a digestible 14), it still wasn't natural.
October, 29, 2012
10/29/12
11:22
PM PT
The
Los Angeles Lakers
have five former All-Stars in their starting lineup this season, meaning some, if not all, of them will have to make sacrifices in their individual offensive games for the betterment of the unit as a whole.
The question is, who will be the one willing to take a back seat?
Kobe Bryant
is the fifth-leading scorer in NBA history and was second in the league in scoring average just last season.
Dwight Howard
is in the prime of his career and was brought over from the
Orlando Magic
to become the next face of the franchise.
Pau Gasol
and
Metta World Peace
are coming off seasons during which they averaged career lows and seemed poised for bounce-back campaigns.
Looks like man with the hipster hairdo is the person in line to have his scoring get a trim.
Steve Nash
averaged just 5.8 points per game during the preseason while taking a mere 4.9 shot attempts per contest. While Nash shot an efficient 48.7 percent from the field, he hardly looked for his offense personally. He scored in double digits just once (13 points against the
Portland Trail Blazers
) while never reaching double-digit shot attempts (nine field goals attempted in that same game against the Blazers).
There was certainly a list of factors contributing to his low exhibition scoring totals, including:
1. He played just 22.1 minutes per game.
2. He was learning the Lakers' new, Princeton-style offense for himself as a scorer.
3. He also was learning the Lakers' new, Princeton-style offense for himself as a point guard, looking to set up his teammates.
But could the preseason have been an indicator the 38-year-old Nash's numbers are set to take a dip this year? Is it possible that with all the talent around him, his points per game average could drop to single digits for the first time since 1999-2000, when he was only a part-time starter with the
Dallas Mavericks
?
"It would surprise me a little bit if he averaged single-digit points," Lakers coach
Mike Brown
said. "Is it a bad thing if he did? No. He's just such a good shooter and playmaker that, with all the other guys we have on the floor, if he's just out there with them, he should get six to eight points alone by somebody getting double-teamed or somebody over-helping on somebody else and now the ball gets kicked to him. ... And then he can go get his shot three to four times a game, and that should put him right at that 10- to 12-point range with a few free throws here or there."
Nash averaged 12.5 points per game for the
Phoenix Suns
last year, his 16th season, while playing 31.6 minutes per game. Brown has indicated that he'd like Nash's minutes to stay around that level this season, so court time shouldn't be a problem. But what about opportunities?
Nash averaged 8.9 shots last season, partly because the ball was always flowing through his hands on offense. So looks just happen that way ... and partly because the Suns had inferior talent than the Lakers do this year and Nash was needed to score a lot of time to keep the Phoenix in the game.
Nash said he is still feeling his way out there.
"I don't know what's going to happen yet," Nash said. "But I think, if anything, I was a little less aggressive in the preseason just because I was trying to figure out the offense and trying to be in the right spot and take responsibility for getting everyone in their right positions."
While everyone in the Lakers organization would choose Nash's assists per game staying in double-digits over his scoring (last season Nash was second in the league to Boston's
Rajon Rondo
with 10.7 assists per game), it's too early to write Nash off as a scoring threat.
"He's trying to figure out where his holes and stuff like that are going to be within the offense," Brown said. "And so, as a point guard you're not just figuring out only where your stuff is, but you got to figure out where everybody else's stuff is going to lay, too. How is Dwight going to get his touches? How is Kobe going to get his touches? How is Metta going to get his touches? How is Pau going to get his touches?
"So," said the coach, "it was a lot more thought process going into that point guard spot than what Kobe has to think about or Dwight or anything like that because, for the most part, they don't have to really worry about anybody else's spot. They just go ahead and execute the offense, and when they get their opportunity within the offense, go ahead and look to score. Whereas Nash has got to kind of keep everybody happy, and then, on top of it, look for his. So, I think in time he'll figure out where he can be more aggressive."
Dave McMenamin covers the Lakers for ESPNLosAngeles.com. Follow him on Twitter.
October, 24, 2012
10/24/12
8:32
AM PT
Special guest Chris Duhon explains the goals of the preseason from a player's perspective, and what the Lakers have and have not accomplished while negotiating early injuries and a brand new offense.


October, 2, 2012
10/02/12
8:23
AM PT
As expected, Lakers Media Day in El Segundo was a morning filled with wall-to-wall excitement. Excitement at the additions of Dwight Howard, Steve Nash and Antawn Jamison. Excitement at the team's legitimate depth. Excitement at the prospects of being among a handful of teams considered serious contenders for the 2013 championship.
But there was also excitement about the implementation of elements from the Princeton offense, a blueprint largely designed by new assistant coach Eddie Jordan. At the risk of stating the painfully obvious, the Lakers' offense left something to be desired last season. Obviously, extenuating circumstances -- the lockout, practices rarer than the sighting of a bald eagle, a lack of perimeter players beyond Kobe Bryant and, for a bit, Ramon Sessions -- accounted for some issues. But the Lakers weren't the only team negotiating those hurdles, so a trip to the drawing board was clearly in order.
The Princeton should simultaneously add elements of structure and freedom, and as Mike Brown explained, it's a system he's always envisioned using under the right circumstances:
"I've always been fascinated with that offense ever since the days I was in Cleveland and it seemed like every year I was there we faced the Washington Wizards and Eddie Jordan in the first round. If you take away everybody's different abilities that they have in the NBA and how good or bad they are in those different aspects of the game offensively, and you turned everybody into robots or equated to being the same player, then I always felt that offense was the hardest to defend. The spacing is tremendous. The ball movement is tremendous. The ability to play a stress-free game was off the charts. So those things have always attracted me to it. I just never really had an understanding or the opportunity to implement it. Not only that, I never felt that Cleveland and I had the teams for it. You know, when you have a guy like LeBron (James), he's a pick and roll player. The same thing that Miami does for him down there, we did for him up in Cleveland. You try to play to your player's strengths.
"Here, after being with this team for a year, this is a very intelligent team, and they play very well when it comes to using a motion offense and using their intelligence."
Brown's right about his team's collective IQ being suitable for running the Princeton. Similarly, the high number of quality passers on this team makes for a nice match. Of course, it's also important to remember the Lakers won't be locked into this system in the strictest sense.
As Brown explained in an August Q & A with BK
and reiterated on Monday, the freedom to initiate pick-and-roll action will be afforded at the top of most possessions. Given the presences of Steve Nash as quarterback, Dwight Howard as a roller extraordinaire, and Kobe and Pau Gasol as excellent P/R weapons, not doing so would be silly. And whatever positive elements from last season's offense will be carried over.
Phil Jackson's Lakers didn't run triangle on every sequence, and it wouldn't surprise me if Brown's Lakers were even looser with the Princeton. But it's always beneficial to have a system in your back pocket to center yourself during rough or sloppy stretches.