Los Angeles Lakers:

Raja Bell
November, 12, 2012
11/12/12
6:49
AM PT
Give the Lakers credit. They never run out of ways to keep the world guessing. One day after giving Mike Brown a public vote of confidence, they send the guy packing. And then upon prepping everyone for the "Godfather Part III" installment of Phil Jackson in L.A. ("Just when I thought I was out, they pull me back in!"), an audible is called for Mike D'Antoni, the man painted as the distant second choice. There's a reason this franchise has flourished in Hollywood.
Given how "We want Phil" chants have echoed through Staples Center the past two days, I know this decision will leave many fans disappointed. Each of Jackson's stints in L.A. have featured multiple championships, and this is a team built to immediately carry that tradition. In theory, what's not to like?
However, something about hiring Jackson always struck me as overly familiar. Predictable. A bit too convenient. You could hear the wheels turning inside the heads of fans, media and players alike. "Phil is available. ... He lives in the South Bay. ... Eleven titles. ... Zen Master. ... Of course he's the guy."
Except, of course, most complex situations typically don't resolve in ready-made, neat solutions. And I wasn't entirely convinced another go-round with Phil was quite the slam dunk most people thought.
To begin with, the seamless-return narrative was exaggerated. Only five current Lakers players have played under Jackson, and three had relatively short stints. A few notable highs notwithstanding, Metta World Peace's time in PJ's system was, to say the least, turbulent.
Steve Blake
played one year under Jackson and was visibly uncomfortable in the triangle. During
Devin Ebanks
' lone campaign with Phil, the then-rookie rarely removed his warm-ups. Only
Kobe Bryant
and
Pau Gasol
have truly flourished in the triangle.
As Bryant noted after Friday's win,
the 1999-2000 squad won a title in its first triangular season, but it was also loaded with veterans who spent years playing against Jackson's Chicago Bulls, which created some degree of familiarity. This 2012-13 roster wouldn't figure to benefit from that luxury.
There was also the issue of
Steve Nash
, who remains the same odd fit in the triangle as he was in the Princeton. Either the Hall of Fame point guard would have endured another learning curve in a system that doesn't cater to his style, or Jackson would have been forced to tweak his offense to accommodate a type of player he's never coached. Both approaches could have meant more heads bumping, and at least one reason Brown was fired was to avoid such a scenario.
It's also worth remembering that Jackson's last season with the Lakers didn't end particularly well, beyond just the second-round sweep at the hands of Dallas.
As I wrote at the time
, 2010-11 wasn't a strong season for Jackson. He had to be cajoled into returning, then throughout the season often seemed disconnected with players, unable to reach and motivate them. The team appeared less prepared than it should have been at key moments, and that lack of poise reared its ugly head during a playoff run that went from wobbly to disastrous. Too often Jackson relied too heavily on his established approach rather than venturing out of his comfort zone to address what clearly wasn't working with the team. Truth be told, he appeared tired of the NBA grind, like a man who realized he might have made a mistake in returning.
January, 11, 2012
1/11/12
1:20
PM PT
When last we saw the Lakers and Jazz pitted against each other at Staples Center, the Lakers avoided an 0-3 hole to start the season by kicking the ever-loving snot outta their guests. The 96-71 loss was an inauspicious start to the Jazz's first full season sans
Jerry Sloan
and in full "rebuild" bloom.
But ever since that drubbing, they've actually been, well, good. 6-3 "good," to be exact, and in the midst of a five-game winning streak. Granted, none of those victims sport a record above .500, but the same caveat can be slapped on the Lakers, whose 7-4 record contains just one win (home vs. Denver) against a team universally considered high end at the moment.
You can't control who the schedule makers place in your path, just the results.
In any event, a win in Utah would surprisingly be considered impressive at this moment. For some insight on the Jazz, we called upon
Spencer Ryan Hall
of the True Hoop Network's
Salt City Hoops
blog. Here are some thoughts from Hall, plus a few of my own.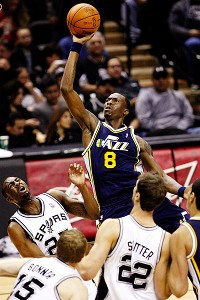 Soobum Im/US Presswire
Count Josh Howard among the surprises in a surprisingly good start for Utah.
Land O' Lakers: Ever since getting beaten badly by the Lakers on December 27, the Jazz have played pretty well. What, if anything, has changed during these winning ways?
Spencer Ryan Hall:
Hard to blame the Jazz for being disorganized at the beginning of the season; I'm just surprised they snapped together so quickly.
Earl Watson
has kind of made it his team and
Ty Corbin
has created an open rotation that allows any of about 11 players to spark the team on a given night.
Josh Howard
has been a revelation, something I didn't expect. Also, the team has taken on a shot-blocking identity and somehow is leading the league.
LO'L: When the Jazz played the Lakers, there was absolutely no discernible clue as to how their offense runs. How would you describe it, and in particular, how can it succeed against the Lakers?
SRH:
The Jazz offense is still a bit of a mystery. Occasionally and old pick-and-roll will show up, but usually the ball ends up in
Al Jefferson's
hands on the left side, he waits 10 seconds and then puts up some variety of shot-put/old-man shot that usually goes in.
Devin Harris
is still figuring out what to do, but the Jazz are succeeding mostly on the back of Jefferson and
[Paul] Millsap
combining with contributions from anyone else. The surprise factor from the others is what's been fun to watch so far.
April, 1, 2011
4/01/11
10:52
AM PT
A game against a potential second-round opponent with playoff seed implications is a tough act to follow, much less a game against a potential second-round opponent with playoff seed implications and six ejections (
five players
and a half-naked weirdo), fights in the stands,
Mark Cuban eating crow about Ron Artest's decision-making skills
and a 28-point margin of victory.
Thursday's win over the Dallas Mavericks was certainly one for the books, making the second game of a back-to-back in Utah feel even more inevitably anticlimactic. After all, the Jazz have been in a free fall since
Jerry Sloan
resigned and
Deron Williams
was dealt. The Jazz are 2-8 in their past 10 games and losers of six straight heading into Friday,
paced for just their second losing season since 1983
(despite being
14 games above .500 as recently as Jan. 14
). They also are down several players due to injury and just
signed fringe NBA player/D-League mainstay Kyle Weaver out of necessity
.
In other words, it's a game with odds just lopsided enough to make Lakers fans feel simultaneously cocky and nervous.
For more perspective on the Jazz, we spoke with
Spencer Ryan Hall
from
Salt City Hoops
(TrueHoop network). Here are a few items to be mindful of once the ball is jumped.
K Bros: Is there anything notably different about the Jazz in the
Ty Corbin
era (beyond the tailspin)? Has the style of play or rotation changed significantly? Are players still working hard for him?
Spencer Ryan Hall
:
Besides the obviously terrible play, the most surprising has been the way comments from players now include a lot of excuses. One of my favorite things about a Jerry Sloan press conference was listening to him bristle and respond to questions that included possible explanations for mistakes or losses. This season has provided some legitimate excuses for poor play, but I miss the fighting spirit from the players and coaches.
From a rotation standpoint, Corbin seems prepared to play out the string with the rookie trio of Derrick Favors, Gordon Hayward and Jeremy Evans getting a lot of minutes. I don't think any players have quit, but with injuries and confusion and inexperience, the product on the floor hasn't been close to what Jazz fans expected at the start of the year.


October, 17, 2010
10/17/10
12:34
PM PT
Here we are folks! One win away from the coveted Staples Center shootout trophy, followed by a champagne bath in the locker room! Or maybe not. I'm pretty sure there is no trophy awarded to the tourney's winner, and either way, I'm absolutely positive
Dr. Buss
won't rubber stamp a champagne bill to commemorate a mid-October victory. We're in the midst of a recession and he's already footing a payroll pushing nine figures as it is. A joke's a joke.
(On a related note, they didn't even drop the standard post-victory streamers after Saturday's 102-95 win over Denver. Again, lean times, people. Every bit of savings counts. Bottom line, do you want
Derek Fisher
re-signed or preseason streamers?)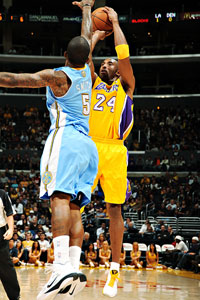 Win McNamee/Getty Images
Kobe displayed quality bounce against Denver on Saturday. Can he remain as lively 24 hours later?
Still, you play the games to win, with or without bubbly or hoopla. Tonight, the Lakers have a chance to bump their exhibition record above .500 at the expense of the Utah Jazz.
As you watch the game and take part in tonight's chat,
here are a few things to keep an eye on:
Kobe Bryant's play in a back-to-back
As mentioned in Saturday's postgame report
, Kobe is
fresh off his best effort while recovering from offseason knee surgery
. So fresh, in fact, the timeline could give pause as to how he'll perform this evening. Back-to-backs can be draining while competing without any notable injuries to speak of, much less when you're still feeling the effects of a doctor poking around inside your knee. I'm certainly not the only person curious to see how Kobe holds up in his first go in these settings.
"We'll be interested to see how that back-to-back activity [effects Bryant],"
Phil Jackson
said after Saturday's game.
I asked Phil if he'd given any thought to sitting Kobe on the second end of the shootout purely as a precaution. Nope. Unless Kobe approached him with a request, the plan has always been to put Bryant on the floor, and nothing happened last night to rethink the situation. For starers, Kobe's run (24 minutes) wasn't excessive. Plus, as Jackson explained, the game's pace was favorable along these lines. "It was a very slow game with an awful lot of free throws in the moments he was out there, so there wasn't a lot of continuous running or pounding."
July, 16, 2010
7/16/10
4:33
PM PT
We just got back from Summer Pro League in Vegas, and dutiful employees that we are, headed straight to the studio to lay down some tracks. We also invited ESPNLA.com writers
Dave McMenamin
and
Arash Markazi
to join the action for a rare "four guys in the studio" show. Here's what the discussion included:
PODCAST
Andy and Brian make room for ESPNLA.com's Arash Markazi and Dave McMenamin in studio. We talk Raja Bell and Kobe Bryant, Tracy McGrady and other free agents, judge which teams are set to challenge the Lakers... and Andy rails against space travel.

Podcast
Raja Bell spurns the Lakers in favor of the Utah Jazz. Was this simply a matter of dollars making sense, or was Bell sticking it to Kobe Bryant one final time?
With Bell out of the picture, does this increase the odds of Shannon Brown remaining in the fold?
Is it worth taking a cheap flier on T-Mac?
Which teams in the Eastern or Western Conferences pose the biggest threat to the Lakers' three-peat odds?
Would you watch "Josh Powell: The Decision?" Or a reality show selecting the Lakers' third string center?
Dave reveals his ignorance of The Commodores, Good Times and What's Happening!!
I rail against dedicating government dollars towards space exploration during a time of recession. Brian wishes we were a planet of multiple moons. Dave and Arash silently regret wasting half an hour of their lives on this podcast.
July, 15, 2010
7/15/10
12:16
AM PT
I picture
Kobe Bryant
, sitting alone at a table for two in an Orange County restaurant. Five minutes pass. Ten. Twenty. Forty-five. Periodically, a sympathetic waitress comes by, wondering if she should take away the empty place setting across from the two-time Finals MVP.
"No, no, he'll be here. He's just running late," Bryant says with an awkward smile, trying to hide any embarrassment.
Of course, that's not how it went down,
because after free agent guard Raja Bell accepted a three-year deal from the Utah Jazz Wednesday night
, he had the courtesy to let him know in advance of their meeting. (A nicety appropriate whether free agent decisions are televised or not.) Given what the Jazz offered -- three years and nearly $10 million, as reported by ESPN.com's Marc Stein -- it's not surprising he jumped on the opportunity. There's simply no way the Lakers could compete financially. Bell may very well put a premium on winning, but he's also at an age when a guaranteed deal for about 40 percent more money (at least) is hard to pass up. The Jazz aren't true title contenders, but Bell won't have to suffer through 50 loss seasons, either.
The time Kobe spent working on what I'm sure was a brilliant PowerPoint presentation is lost forever, but his loss could be
Shannon Brown's
gain. He's still available, the Lakers still need a guard, and the funny money tossed around at the start of the free agent summer summer is starting to dry up. What remains is a nice case of mutual need and mutual interest.
One last thing: Stein notes how a helicopter was poised to pick up Bell and deliver him to his meeting with Bryant. I'd just like to point out that I
was the first to suggest the heli-method as a way to sway Bell
. I'm not saying Kobe stole my idea... I'm just not saying Kobe didn't steal my idea.
July, 13, 2010
7/13/10
12:40
PM PT
Kobe Bryant got what he wanted with Derek Fisher
. Now he's back to looking for other guys on the recruiting trail.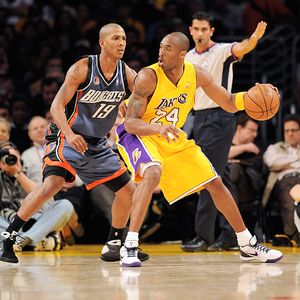 Noah Graham/NBAE/Getty Images
Kobe Bryant made his pitch for Derek Fisher, now he's focusing on Raja Bell.
ESPN.com's Marc Stein reports Bryant
will meet with free agent guard (and former Los Angeles Public Enemy #1) Raja Bell
Wednesday, when Bell hits town to see the ESPY's. Bell has been on L.A.'s radar for a while, nor will this be the first time Kobe has reached out. Talking to ESPNLA.com's Dave McMenamin last week, Bell said Bryant hasn't been shy about connecting via the phone. But it's one thing to call a guy, it's another thing to fire up the Kobe-copter and chopper in for a meeting
*
. Or, even better, send it to pick up Bell
**
. Or, best of all, fly the thing himself, pick up Bell, and pitch him while they soar over metropolitan Los Angeles.
***
There will undoubtedly be fans wringing their hands at the prospect of signing Bell, unable to shake the memories of the
clothesline Bell laid on Bryant during Game 5 of the 2006 playoffs
.
Those people are silly. Get over it. Kobe clearly has. Bell is a classic example of a player fans hate when he's on the other team, and love when he's on theirs. It's not an unusual phenomenon. (For example, Fisher the player- as opposed to Fisher the person- isn't exactly beloved by fans outside of L.A.) Bell has a great rep as a teammate, and when it gets down to it, Kobe likely wants the guy specifically
because
he'll clothesline an opposing team's superstar in Game 5 of the playoffs.
In Bell, the Lakers would continue gain some stability to their backcourt and add another shooter. For his career,
Bell has hit 41.1 percent of his career three-pointers
, and while he isn't quite the defender he was in his prime, at 6'5" he's still very long and active on that side of the ball. Playing with an elite defensive team like the Lakers would help paper over any slippage.
He's not perfect. Bell doesn't put the ball on the floor (leaving L.A. a little short of guys who do), is coming off a pretty major wrist injury, and at 33 is closer to the end than the beginning. And signing Bell would almost certainly end any chance of
Shannon Brown
returning to the team. All things being equal, the Lakers could use at least one young guard with more athleticism than the other non-Bryant players currently on the roster. In a vacuum I'd take Brown before Bell. Except the Lakers can't necessarily wait to see how the market will play out for Brown before moving on a potential replacement.
For the type of money the Lakers have available, Bell would be as good a fit as can be hoped, and obviously brings a great deal to the table.
*Not actually sure he's going to take the helicopter. He might just drive.
**Not sure where Bell is staying, but wherever it is may not be equipped with a helipad.
***Kobe, to my knowledge, doesn't actually have a pilot's license, so while very dramatic this scenario is totally unsafe
.
July, 1, 2010
7/01/10
11:05
PM PT
Reports ESPNLA.com's Dave McMenamin
:
The Lakers have opened discussions with free-agent swingman Mike Miller although no contract has been offered, a source close to the situation said Thursday... Miller earned $9.8 million last season and would need to take a significant paycut to join the Lakers, but it could be worth it to him to erase a pitiful postseason resume. It would be similar to his former teammate in Memphis, Pau Gasol before he was traded to L.A.. Miller's teams are 5-22 in the playoffs in his career, the 6-8 shooter never having made it out of the first round in six appearances.
Miller, an unrestricted free agent, would provide bench scoring and a consistent outside presence the Lakers badly need. He can shoot off the catch or on the move, is able to put the ball on the floor, and has solid court vision as a passer. Plus, he's a great rebounder at his position, always a bonus. Basically, Miller is a very good player who has been put in a state of mini-limbo since being traded out of Memphis in '08 as part of the
O.J. Mayo
deal on draft night. But on paper, at least, he seems like an awfully nice fit.
The Lakers can't offer him any more than a full mid-level exception ($5.8 million for up to five years), likely less than Miller can earn on the open market,
but he has expressed a desire to play for a contender
. It's hard to get more contender-y than the two-time defending champions.
McMenamin delivers some other nuggets (really, go back and click on the link at the top of the post) of interest to Lakers loyalists: