Los Angeles Lakers:

Rasheed Wallace
February, 29, 2012
2/29/12
8:58
AM PT
By the Kamenetzky Brothers
ESPNLosAngeles.com
Archive
The Lakers are about to kick off the second half, which means plenty of action in the room. Among the talking points were
Kobe Bryant's
concussion, trade scenarios and
Andrew Bynum's
knee.
Here is the link to the chat.
June, 16, 2010
6/16/10
3:04
PM PT
That's the big news out of Wednesday's media availability ahead of
Thursday night's Game 7 between the Lakers and Celtics
.
It's very hard to predict exactly how long
Andrew Bynum
will be able to go or how long he'll play, but as it's been all postseason,
Bynum emphasized today the importance of doing whatever he can
. Obviously, there's no Game 8. Anything he has left- I don't think it's much- can be invested in tomorrow's game.
Losing
Kendrick Perkins
,
who said Wednesday he suffered two torn ligaments in his right knee
, is a major blow for the Celtics. Obviously he plays a huge role for Boston defensively, providing physical heft inside and serving as an excellent help and weakside defender, particularly when compared to the guys who will replace him in
Rasheed Wallace
and
Glen Davis
. While Perkins is limited offensively, he plays an important role in the off-ball screen game so vital to springing
Ray Allen
on the perimeter. Beyond those things, when Perkins isn't in the lineup, it essentially wipes out any disadvantage the Lakers may have had should Bynum prove unable to bring much. No longer can Boston throw endless bodies at Pau Gasol and wear him down physically. The Lakers will take 48 minutes of Gasol vs. the combination of Wallace and Kevin Garnett.
It's a shame a championship game can be altered by this sort of thing- inside the locker room, every Laker I heard talking about Perkins' injury hoped he could play- but it is, as they say, what it is. And it's a huge swing in favor of L.A.
June, 11, 2010
6/11/10
3:14
PM PT
In making my Finals prediction back in 2008 I focused too much on momentum and L.A.'s seemingly overwhelming offensive machine, but three games into the series it became clear the Lakers had a problem on their hands. The matchups didn't set up well.
Three games into this year's Finals, I thought the opposite. This time around, the matchups favored the purple and gold, thanks to the presence of
Ron Artest
and
Andrew Bynum
, an improved Pau Gasol, and a Celtics squad not quite as potent as it was in 2008. As it was then for the Lakers, Boston was certainly capable of winning, but would have to do it from a position of disadvantage. The Celtics had to work so much harder to generate the same output as the Lakers.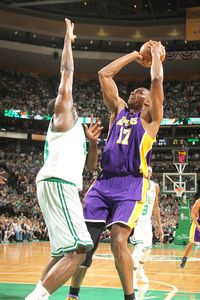 Nathaniel S. Butler/Getty Images
Andrew Bynum was limited to 12 minutes in Game 4 thanks to his injured right knee, and his ability to play effectively the rest of the way is in doubt.
But as it was in 2008, neither team this year is so much better than the other that a shift in circumstances,
intense swelling of a certain 7-footer's right knee for example
, couldn't turn everything on its head.
Should Bynum's knee limit his presence over the remaining games, the Lakers will certainly feel the pain. It's not necessarily a question of losing his statistical output (though that doesn't help) but just as it was in Game 2, when
Lamar Odom
may as well have been in street clothes thanks to persistent foul trouble, Bynum's absence has a ripple effect, about as unpleasant for Lakers fans as your
average Ashton Kutcher movie exploring similar topics
.
When the big guy is out it changes the context of the series in a variety of significant ways:
1. A lot more physical punishment for Pau Gasol.
You can see examples of it here, in the video from TrueHoop's
Kevin Arnovitz
posted this morning
focusing on the matchup between Gasol and Rasheed Wallace
. But without Bynum, Gasol also gets similar treatment from
Kendrick Perkins
and
Kevin Garnett
. Boston can throw more bodies at him without fear of leaving Bynum alone, and generally work to wear him down. Thursday, Gasol did a pretty good job of standing up to the abuse, playing to contact and earning 10 free throws on the night, but there is no question it wears down a guy over 48 minutes, and hurts his rebounding as well.
June, 11, 2010
6/11/10
9:52
AM PT
Another great piece of work from
TrueHoop's Kevin Arnovitz
, highlighting the matchup between
Pau Gasol
and
Rasheed Wallace
in Thursday's Game 4, including all the action happening away from the ball. Needless to say, there's a lot of pushing and shoving.
It's important to note, too, that with Bynum unavailable, Gasol is forced to absorb a lot more abuse, whether from Sheed,
Kevin Garnett
, or
Kendrick Perkins
. He stands up to it pretty well, but it undoubtedly has an impact.
June, 3, 2010
6/03/10
7:49
AM PT
In conjunction with our tag-team partners at
ESPN Boston
, each coast has come up with five ways to beat the other team in this year's NBA Finals. To break down the best ways to defeat Doc, KG, Pierce and Co., we welcome Chris Forsberg, who
covers the Celtics for ESPN Boston
. (For my report on
how to beat the Lakers, click here
...)
--By Chris Forsberg, ESPNBoston.com: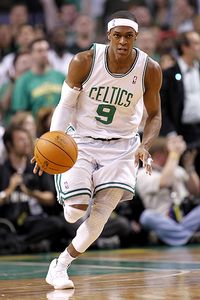 Greg M. Cooper/US Presswire
Looking for a way to beat the Celtics? Start by not allowing Rajon Rondo to run the floor in transition.
Hello to all the Lakers fans searching for Boston's kryptonite. The
Celtics
have lost 37 games since the start of the 2009-10 regular season, so figuring out a way to beat them shouldn't be too daunting a task, right? Then again, no team has been able to do it consistently when it's mattered most this postseason, so maybe it's not as simple as it seems.
Here's my best effort at game-planning against the Green:
1. Make shots, limit transition
At the risk of oversimplifying matters, the easiest way to beat Boston is to make baskets. I know, I know, some expert analysis right there, but it's slightly more complicated than just scoring points against the Celtics.
Though that doesn't necessarily hurt. After all, Boston is 12-1 when allowing fewer than 100 points this postseason but 0-4 when an opponent tops the century mark.
But more important is how limiting misses prevents Boston from getting in transition. That doesn't particularly bode well for a Lakers team that has allowed 16 transition points per game this postseason, the second most in the 2010 playoffs (only the Heat were worse at 19.3 points per game and we all know what the Celtics did to them).
According to the wizards at ESPN Stats & Information, the Celtics generated 13.5 percent of their plays in transition this postseason, the second highest of all postseason teams. What's more, Boston shot 56.5 percent and scored 15.1 transition points per game.
Shooting a high percentage -- or at least cleaning up on your misses -- prevents Boston from running, which limits the easy baskets the Celtics can generate.
Boston, a team that prides itself on defense, also has a habit of getting frustrated when it doesn't generate stops. That usually carries over to the offensive end, where the Celtics can be particularly stagnant in a half-court set and settle for so-called "hero" ball where players often take ill-advised shots trying to produce an offensive spark. All it typically does is fuel the opposing team in transition when shots don't fall.
January, 29, 2010
1/29/10
7:29
PM PT
Beyond the lore and obligatory conjuring of ghosts, Sunday's matchup between the Lakers and Celtics is a meaningful game between two of the league's best squads. It is still, despite Boston's recent struggles and any road woes for the Lakers, a potential Finals matchup. That makes it big. Very big.
Gabby Hayes big
!
Too big, then, to be previewed by only one blog. It needs three. So we joined forces with
Kurt Helin at Forum Blue and Gold
and
Zach Lowe of Celtics Hub
for a virtual roundtable Q & A.
Brian Kamenetzky, Land O'Lakers:
Let's start with Kurt.
It's Lakers vs. Celtics. The big Sunday afternoon game on ABC (12:30 pm PT). All-Stars aplenty. But how important, in terms that don't hearken back to classic series of bygone eras, do you think the actual game is?
Kurt Helin, Forum Blue and Gold:
Honestly, I think it matters more to the fans than the teams. These rivalry games matter a lot to the fans. But these are two veteran teams that have won titles and know what it takes, and they know that games in January don't determine the outcome of games in June. What really matters to the teams is getting to June, and so in the sense that both of these teams want to build momentum with a quality win it matters, but neither really needs it for their confidence.
In terms of getting back to June, both teams made off-season acquisitions to help them get another title. Zach, how is
Sheed
fitting in as a Celtic and what does he bring to the table?