Los Angeles Lakers:

Ray Felton
January, 5, 2012
1/05/12
11:23
AM PT

By Andy Kamenetzky
ESPNLosAngeles.com
Archive
The Lakers are still seeking their first road victory, and tonight's venue -- Portland, Oregon -- hasn't been an easy place for the Lakers over the last decade. Still, there's been recent headway,
with road series split
over the last two seasons, despite
playing without Kobe Bryant and (save nine minutes and 33 seconds of pre-injury run) Andrew Bynum in 2010
. Perhaps the Lakers can carry that momentum and ruin the Blazers' unblemished home record during this young season.
For some perspective on the Blazers, I tracked down
Andrew Tonry
of
Portland Roundball Societ
y (True Hoop Network). Below are some thoughts from the Blazer blogger, along with a few of my own. And for those interested,
here are my responses to his questions about the Lakers
.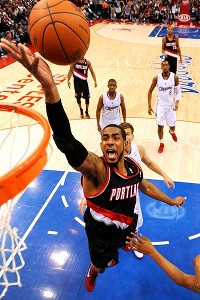 Andrew D. Bernstein/NBAE/Getty Images
The Blazers are now "LaMarcus Aldridge's team," whether ready or not.
Land O' Lakers: With Brandon Roy retired, the Blazers are truly now built LaMarcus Aldridge. His progress last season was pretty marked. Does he appear to be moving along the same path? Do you see him as a suitable centerpiece for a contending team?
Andrew Tonry:
Right now LaMarcus Aldridge can be The Man on a team counted on to make the first round of the playoffs. He has yet to become, or even flash hints, that he'll be the best player on a team capable of winning the NBA Championship. As far as his progress is concerned, it's too early to say. Aldridge, because of a heart procedure during of training camp, is still rounding into game shape. Also, he's learning to work with a new point guard in
Raymond Felton
. Aldridge has said that his relationship with former Blazers guard
Andre Miller
was profound, and that Miller taught him as much as anyone.
(
AK's note:
True Hoop's
Kevin Arnovitz
recently wrote
a nice piece about Aldridge-Miller relationship
, for those interested.)
LO'L: How has Jamal Crawford fit in with the Blazers? Between him and Aldridge, who do the Blazers tend to go through for scoring down the stretch, acknowledging the sample size is small.
At the end of games both are getting shots. That part of Portland's offense hasn't quite solidified yet, for a number of reasons. First, there haven't been a lot of close games. Second, Crawford's shot has been rather cold. Still, it's just too early to say.
February, 11, 2011
2/11/11
10:27
AM PT

By Andy Kamenetzky
ESPNLosAngeles.com
Archive
Can the Lakers, to use
Kobe Bryant
's typical parlance, "keep the train rolling?" Well, the New York Knicks have improved by leaps and bounds over last season, but they're also reeling at the moment. In the meantime, the Lakers have strung together a couple of weeks' worth of quality ball, and Kobe has a habit of flourishing under the Madison Square Garden lights. The second half of a back-to-back is never an easy task, particularly after a hard-fought win like the one in Boston, but the Lakers' chances certainly don't look bad on paper.
To get an idea of why the Knicks are suddenly sputtering, we contacted
Jared Zwerling, who covers the Knicks for ESPN New York
. Issues include defense inside and along the wing, energy recently lacking and minds occupied by a certain small forward in Denver. No, not
Renaldo Balkman
. The other guy.
Q:
The Knicks are 4-6 in their past 10 games, the most recent loss while hosting an undermanned Clippers team. Is there something specific causing problems? Do you think the Melo Drama plays any role in the struggles?
Jared Zwerling:
Actually, the Knicks are 5-11 in their past 16 games, so they're not even that good. After the Clippers loss last night,
Mike D'Antoni
,
Amare Stoudemire
and
Raymond Felton
all pointed to the fact they've been playing with a lack of focus and energy. I think the
Carmelo Anthony
drama definitely has something to do with that.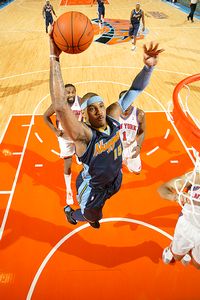 Nathaniel S. Butler/NBAE/Getty Images
Even if the Knicks do get Carmelo, it won't be in time for this game.
For example,
Wilson Chandler
has said flat-out he doesn't want to play in Denver. Imagine if you're an employee of a company, and were just notified they're relocating to another city in a few months you don't want to go to. That's what Wilson and I think several other members of the team are dealing with to a greater extent. Even D'Antoni wants Knicks fans to stop chanting, "We want Me-lo." I'm sure every player has a feeling of uncertainty about where they're really going to be come Feb. 24 -- or even before.
There are other things on the court, too. On the season, the Knicks have a minus-1.4 first-quarter scoring margin average, which ranks them tied for fifth worst in the league with the Nets. They're not coming out ready to play -- it's as simple as that. They especially need that energy to prevent them from becoming a stagnant, shot-happy team. When they get better ball movement, good things happen for the Knicks. When Felton has a double-double in points and assists, they have a strong winning record.
Defensively, a lack of an interior presence and perimeter quickness has hurt. To the first point, I will say I have been impressed with
Timofey Mozgov
's energy and rebounding. After him, though, Stoudemire has no support protecting the paint, and it doesn't help that
Ronny Turiaf
is out with an ankle sprain. But he's really just another energy guy, honestly. Too many times this season, an opposing power forward has gone off on the Knicks.
Luis Scola
,
David Lee
,
Elton Brand
. Even
Carl Landry
!
Kevin Love
had an historic 31-point, 31-rebound night!