Los Angeles Lakers:

rebounding
May, 5, 2012
5/05/12
4:07
PM PT

By Dave McMenamin
ESPNLosAngeles.com
Archive
Coming into the Lakers first-round series against the Nuggets, Los Angeles' knew to be aware of Denver's scoring capabilities and accelerated pace. But rebounding? That was supposed to be a facet of the game in L.A.'s favor.
Fast forward three games into the series and suddenly the Nuggets are the team that's doing the most damage on the glass.
"We've done a good enough job with our transition defense to help us win," said Lakers coach
Mike Brown
before practice Saturday. "Where I think we have to do a better job, where we've lacked the last two games, is they're kicking our behind on the offensive glass."
Actually, Denver has kicked L.A.'s behind on the offensive glass all three games. Even in Game 1, when the Lakers held the overall rebounding lead 52-46, the Nuggets had 16 offensive rebounds to the Lakers' 11. In Game 2, the Nuggets outrebounded the Lakers 52-48 overall and 19-18 on the offensive end and in Denver's 99-84 Game 3 victory, they dominated the boards 54-44 and 19-13 on the offensive glass.
Of course, offensive rebounds lead to additional offensive possessions and giving additional offensive rebounds to the league's highest scoring team can be dangerous.
"I think it's a team effort," said
Pau Gasol
, who is averaging 8.3 rebounds in the series, down from his 10.4 boards per game during the regular season. "You got to put bodies on people and if our bigs, for some reason, are not able to put bodies on their bigs, then the smalls have to come in there and put their noses in there and just start hitting (the glass) to keep them off the boards and make sure that they're not moving around as much. So, I think it's a collective effort as far as all getting in the lane, all putting bodies on people and going after the ball."
While Gasol's boards have diminished, the Nuggets have several players outpacing their regular season rebound production.
JaVale McGee
had 15 boards in Game 3 to up his series average to 6.3 rebounds (he averaged 5.8 for the Nuggets in the regular season since being traded from the Washington Wizards). Rookie
Kenneth Faried
, who also had 15 boards in Game 3, is averaging 11.0 rebounds, up from his 7.7 per game average during the regular season.
"They've been extremely active," said
Kobe Bryant
. "McGee and Faried, they'll really running in and crashing the boards and using their athleticism, so, we got to do a better job of just turning and finding bodies and putting bodies on them. Us guards have to go in there and pick up the slack too."
Andrew Bynum
, who has held up his end of the bargain on the glass by averaging 11.3 boards against the Nuggets which is right on par with his 11.8 rebounds per game average in the regular season, pointed out another reason why the Lakers have been exploited on the glass thus far.
"We're missing a lot of shots," Bynum said.
Yes, but a missed shot by the Lakers can be looked at in two ways - an opportunity for a defensive rebound for Denver or an opportunity for an offensive rebound for L.A.
Dave McMenamin covers the Lakers for ESPNLosAngeles.com. Follow him on Twitter.
February, 29, 2012
2/29/12
11:18
AM PT
It's been nearly a week since any Laker save
Kobe Bryant
and
Andrew Bynum
dribbled a basketball in a competitive setting, and Drew did so for less than six minutes. The Lakers were also playing a pretty uneven brand of basketball heading into All-Star weekend, which makes a smooth return after a layoff harder to picture. But as fans surely recall, the 2011 squad limped into the break after a Cleveland loss, possibly the worst of
Phil Jackson's
coaching tenure in L.A. And so, nobody anticipated the next 18 games would result in 17 wins, with
Bynum
playing the role of a modern day
Bill Russell
, and the rediscovery of optimism (albeit premature) that came with them. Similarly, this team's unpredictability -- among other pressing issues, like item #1 below -- makes a one-sided win or loss feel equally realistic tonight against Minnesota. That's why we play the games.
Here are three items to be mindful of once the ball is jumped.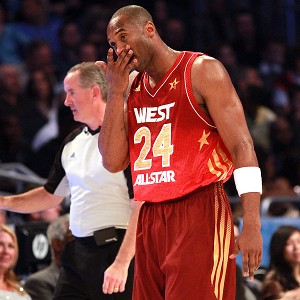 Ronald Martinez/Getty Images
Kobe's availability is the $1,000,000 question.
1) Kobe Bryant's potential absence

As reported Tuesday, Dwyane Wade's hard foul during the All-Star Game left Bryant with a concussion
in addition to a nasal fracture. While he's officially listed as day-to-day,
the NBA's new concussion policy
makes participation feel like a stretch to me. The final decision isn't Kobe's, so a willingness to play through pain isn't the issue. Doctors are typically cautious, particularly with brain injuries, and the procedure is rigorous. Plus, in a modern sports world hyper-conscious of the long-term effects from concussions, I'd be very surprised if the league risked clearing a player just 24 hours after being diagnosed.
Perhaps Bryant's concussion will be mild enough to prove me wrong, but if he's unable to go, the impact is obviously huge. To begin, who starts at shooting guard?
Andrew Goudelock
is behind Kobe on the depth chart, and actually matches up a lot better against 6'2" starter
Luke Ridnour
than 6'7" reserve
Martell Webster
. However, if Brown wanted to keep the rotation as relatively normal as possible, he could insert a player outside the rotation for Kobe rather than shuffle both units. That being the approach,
Jason Kapono
or
Devin Ebanks
(recently recalled from the D-League) would get the nod.
February, 9, 2012
2/09/12
6:50
AM PT
By The Kamenetzky brothers
ESPNLosAngeles.com
Archive
Just two seasons ago, the Lakers and Celtics battled for the NBA championship in a seven-game series for the ages. They meet Thursday as squads good enough to be taken seriously, but because both are old and flawed, they are widely regarded as outsiders looking into the 2012 title chase. However, neither team seems ready to pack up the tents. And even if they were, there's enough bad blood remaining from a split pair of Finals ('08 and '10) to guarantee a spirited battle.
Along with ESPN Boston's
Chris Forsberg
, we pondered three questions heading into this game.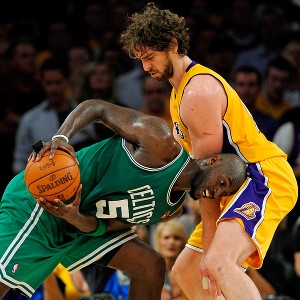 AP Photo/Mark J. Terrill
It's always interesting when these chums meet up.
1. What matchup are you most looking forward to seeing?
Chris Forsberg:
Kobe Bryant
vs.
Mickael Pietrus
: We sorta know how the starters match up, so I'm interested to see if Pietrus can be a
Tony Allen
-like Kobe stopper off the bench. Pietrus has been spectacular since being picked up on Christmas Eve after the Suns released him. And Pietrus supposedly said this summer that Bryant wanted him on the Lakers. (Runner-up:
Troy Murphy
vs. Anybody. Really, he's one of the Lakers' top reserves this season?!)
Andy Kamenetzky: Paul Pierce
vs.
Metta World Peace
. There have been signs that MWP is rediscovering his defensive mojo. Most recently in Denver, he did the lion's share of the work in limiting
Danilo Gallinari
to just six points. Of course, there are still games where his defense is as ineffective as his offense, which renders MWP a total nonfactor. The Lakers need
Paul Pierce
kept in check, and much of that responsibility falls on MWP. We'll see if he's up for the task against a potential All-Star.
Brian Kamenetzky: Pau Gasol
vs.
Kevin Garnett
. Pau's output against what will surely be an extra yappy, extra chest-puffy KG will get the attention, and Gasol needs to produce more efficiently (eight of last 12 games with FG% at 45 or below). If he doesn't, L.A. will have to find alternative options against a top-end defensive squad. Meanwhile, Garnett's scoring has picked up, but Gasol has held opposing PFs to a respectable PER (14). If one goes off at the expense of the other, a victory for his team is highly likely.
January, 5, 2012
1/05/12
11:23
AM PT
The Lakers are still seeking their first road victory, and tonight's venue -- Portland, Oregon -- hasn't been an easy place for the Lakers over the last decade. Still, there's been recent headway,
with road series split
over the last two seasons, despite
playing without Kobe Bryant and (save nine minutes and 33 seconds of pre-injury run) Andrew Bynum in 2010
. Perhaps the Lakers can carry that momentum and ruin the Blazers' unblemished home record during this young season.
For some perspective on the Blazers, I tracked down
Andrew Tonry
of
Portland Roundball Societ
y (True Hoop Network). Below are some thoughts from the Blazer blogger, along with a few of my own. And for those interested,
here are my responses to his questions about the Lakers
.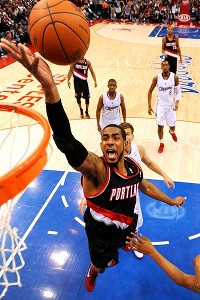 Andrew D. Bernstein/NBAE/Getty Images
The Blazers are now "LaMarcus Aldridge's team," whether ready or not.
Land O' Lakers: With Brandon Roy retired, the Blazers are truly now built LaMarcus Aldridge. His progress last season was pretty marked. Does he appear to be moving along the same path? Do you see him as a suitable centerpiece for a contending team?
Andrew Tonry:
Right now LaMarcus Aldridge can be The Man on a team counted on to make the first round of the playoffs. He has yet to become, or even flash hints, that he'll be the best player on a team capable of winning the NBA Championship. As far as his progress is concerned, it's too early to say. Aldridge, because of a heart procedure during of training camp, is still rounding into game shape. Also, he's learning to work with a new point guard in
Raymond Felton
. Aldridge has said that his relationship with former Blazers guard
Andre Miller
was profound, and that Miller taught him as much as anyone.
(
AK's note:
True Hoop's
Kevin Arnovitz
recently wrote
a nice piece about Aldridge-Miller relationship
, for those interested.)
LO'L: How has Jamal Crawford fit in with the Blazers? Between him and Aldridge, who do the Blazers tend to go through for scoring down the stretch, acknowledging the sample size is small.
At the end of games both are getting shots. That part of Portland's offense hasn't quite solidified yet, for a number of reasons. First, there haven't been a lot of close games. Second, Crawford's shot has been rather cold. Still, it's just too early to say.
May, 2, 2011
5/02/11
11:58
AM PT
For the Lakers, a win tonight is obviously important, but considering their pedigree, it could be seen as little more than the expected handling of business. It's what they're
supposed
to do, right? For the Mavericks, however, a road victory out of the gate would be massive. Their confidence after closing a series in Portland would be further inflated. Plus, home-court advantage would be, at least temporarily, neutralized, a scenario desperately needed by Dallas to end the Lakers' championship run.
There will be a tone set by tonight's outcome, regardless of who is standing when the dust settles. Here are a few items to keep an eye on once the ball is jumped.
Kobe Bryant in isolation and his outside shooting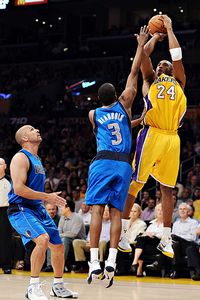 Harry How/Getty Images
We'll see if shots like this one from Kobe Bryant drop.
Whether specifically because of
the "62" game in 2005
or generally because of several strong games in the not-so-distant past,
I tend to think of the Mavs as a team Kobe Bryant destroys
. That they're low on options to check him (
DeShawn Stevenson
in limited minutes,
Shawn Marion
and, um, the popcorn vendor?) only enhances that perception. Thus, I was surprised to learn, via our friends at ESPN Stats & Information, about some of Kobe's numbers this season against Dallas.
On isolation plays this season, Kobe shot 44.3 percent (fourth-highest in the league in iso situations) on 6.3 attempts per game, good for one point per play on average. Against the Mavs, he took more shots in isolation (8.0) but connected at a lower percentage (37.5), dropping the average points per play down to .87.
Continuing that theme, Kobe averaged 8.7 points per game on jumpers 15 feet or further, drilled to the tune of 36.3 percent. Against the Mavs, Bryant was good for just 4.3 points and 22.2 percent shooting.
What to make of the seemingly unlikely dip? After a little digging of my own, I wonder if it could largely reflect one bad game and extenuating circumstances.
Bryant missed 14 of his 20 attempts during a 96-91 win in Dallas and,
according to the Hoopdata advanced box score
, his outside shooting was particularly horrific. Eight of nine shots were clanged from 16-23 feet. Ditto for all three attempts from behind the arc. Of course,
Bryant also badly rolled his left ankle
while already mired in a shooting slump. (The previous game was in Miami,
site of the famous after-hours shoot-a-thon
.) It also stands to reason that at least some of these long shots were created through one-on-one situations.
Remove that game, and the results are a little better. Bad luck from behind the arc persisted, but Kobe has always been a streaky 3-point shooter. In the meantime, he went 2-5 from 16-23 feet during
a 109-100 loss
and 2-4 from that distance during
a 110-82 win
. In the former game, Bryant shot 10-18 overall, and in the latter, he visited the line 15 times, meaning any success "containing" Kobe came with an asterisk.
It could be reasonable to conclude the back story surrounding one game could explain, in part, Dallas' unlikely success checking Bryant this season. Then again, considering the state of Kobe's ankle, concerns are understandable. In any event, we'll find out soon enough which iso/outside-shooting version of The Mamba surfaces.
April, 26, 2011
4/26/11
12:22
PM PT
The rubber match in a surprisingly/disappointingly competitive series would be steeped in high drama for Lakers fans under normal circumstances. Unfortunately, the circumstances feel anything but normal.
Chris Paul
has dominated while
Pau Gasol
has gone oddly AWOL. The Lakers' offensive and defensive efficiency remain wildly inconsistent, while the Hornets are gaining confidence. The Lakers' experience isn't translating into veteran smarts. The sight of the one-seed Spurs down 3-1 to the Grizzlies only gooses the anxiety occupying the Laker Nation's collective consciousness.
Oh, and
Kobe Bryant
will be balling on a bad ankle, an issue certainly front and center as these teams battle for control of the series.
How effective Bryant will be remains to be seen, but considering his shot wasn't always cooperative before the injury, it stands to reason The Mamba can't be
expected
to take over the proceedings, despite the stakes. With that in mind, here are a few things that could help offset 24's bad wheel.
More Ron Artest on both sides of the ball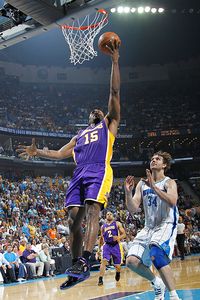 Layne Murdoch/Getty Images
Ron Artest's role can and should be expanded.
Save perhaps
Andrew Bynum
, there's been no Laker playing better, more consistent basketball in this series than
Ron Artest
. Between all the other talking points, his performance has gone overshadowed, but
his numbers are quite solid
:
14 points per game on 10 shots. 52.5 percent from the field and 46.2 percent from behind the arc. 5.8 rebounds, with 2.8 coming on the offensive glass. One steal.
This success may be surprising, in that predicting the future with Ron Artest is like trying to read tea leaves while still inside the bag. But the production makes sense. For starters, he entered the playoffs
in a good place
, and Ron is nothing if not
a player heavily swayed by his mental state
. But more importantly, Artest is getting mostly checked by
Marco Belinelli
. The guy isn't a particularly good defender to begin with, and is surrendering just slightly less strength than I would in this matchup. Artest is barely breaking a sweat bulldozing Belinelli toward the rim possession after possession, an advantage worked to the tune of 16 first-half points in Game 4.
Unfortunately, Artest finished the game with 16 after a second half barely touching the ball (
and, in my estimation
, a fourth quarter spent
sitting too long on the bench
). While it's never a surprise to see the Lakers drift from the hot hand, I was genuinely surprised Ron went so underutilized in a game where virtually everyone else ran hot and cold. The ease with which Artest has operated leads me to believe he could handle a larger scoring role. Given the likely need to pick up slack for Kobe, I'd test this theory.
And speaking of larger roles, I'd love to see one for Artest on defense, too. I'm assuming Kobe's ankle will already necessitate Artest guarding
Trevor Ariza
and Bryant switching to Belinelli (which is fine, since a slumping fourth option is a waste of Artest's talent to begin with). But should
Carl Landry
continue giving Gasol and
Lamar Odom
fits, it would be worth sliding Ron over for a crack at the Laker-killer. Landry's size advantage is fairly negligible against Artest, who's enjoyed success checking power forwards this season. Plus, scattered possessions against CP3 could disrupt the Hornets' entire rhythm.
It's hard to think of a suggestion that would have sounded crazier a few months ago, but dare I say, it's time for the Lakers to
Go Loco.
March, 21, 2011
3/21/11
12:31
AM PT
Brian provided the postgame breakdown
. Here are the accompanying talkies.
Kobe Bryant
hitting huge shots down the stretch is something we've grown accustomed to seeing. However, had an alien ascended to Earth, scalped a ticket, and watched the Lakers for the first time, said extra-terrestrial would have concluded Kobe had never drained a fourth quarter shot in his life.
Five-for-eight from the field for 10 big points in the final frame, Kobe was exceptionally animated after each make. In particular, a baseline jumper over
Brandon Roy
elicited a series of celebratory F-Bombs capable of making
Howard Stern
blush. Beyond the joy that comes from overcoming very tough second and third quarters (six misses in seven tries), the testy and physical atmosphere elevated likely juiced Kobe's adrenaline as well.
"It was similar (to a playoff game) because this could be a potential opponent," Bryant conceded. "I think we both know that, so it's a little elevated because of that."
Click on the jump to see videos below from
Derek Fisher
,
Pau Gasol
and
Lamar Odom
.
March, 18, 2011
3/18/11
12:59
PM PT
Of all the impressive wins since the All-Star break, in it's own right,
a victory over the Timberwolves on March 1
provided for me the most convincing proof of the Lakers being fully rededicated. For nearly three quarters, the Lakers couldn't get their offense going against a team exceptionally challenged on the defensive end. Frankly, they're not great on the other end of the court either, which might have provided an excuse earlier in the season to simply coast and expect a win by osmosis or pedigree. Instead, the Lakers cranked up the D and crashed the glass like madmen, treating the inferior hosts like worthy competition until the scoring eventually came around.
Not much about the Wolves has changed in the last 17 days -- i.e., they didn't suddenly become good -- so
a second scouting report within that time frame
feels redundant. Plus, the Lakers are a team insistent that it's more about them than their opponents at the end of the day. Thus, here are a few items, largely in the Lakers' own hands, to keep an eye on once the ball is jumped.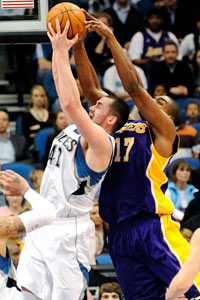 AP Photo/Jim Mone
This battle within the battle could swing the overall outcome.
Andrew Bynum's rebounding against Kevin Love

Bynum's
month of March has been, to say the least, fruitful. Particularly on the glass, where the kid has been relentless; 14.6 rebounds on average, with six consecutive games in double figures. Of course, both totals would be higher were it not for the Minnesota game, where Drew grabbed "just" seven. This isn't to say he did a bad job. His numbers were hardly awful, plus the Lakers won the rebounding battle by a margin of 14 (in part because
Pau Gasol
snagged 17 himself).
Still, it'll be interesting to see if Bynum can maintain his double figures streak while sharing the court with
Kevin Love
, who's been nothing short of a Hoover vacuum this season. The glass is among the few areas the Wolves consistently excel. They're especially prolific on the offensive glass, where they lead the NBA with a 30.65 rebounding rate. This is in part because of Love's presence, but also because rebounding is their life blood. Frequent misses create frequent opportunities for second chance points, and the Wolves need every opportunity possible. Beating Minnesota on the glass is the equivalent of cutting the head off a snake.
By the way, Bynum gobbling all the rebounds these days has left Gasol with scraps, and while Pau is genuinely happy for his teammate, I get the sense he's not thrilled with
his current string of five rebound games
. Gasol joked after the Magic game that his rebound averages are still higher than Bynum's on the season and reiterated the pride taken in rebounding. If Pau's 17 rebound performance against Minnesota isn't replicated in the rematch, my gut says something similar is brewing for the very near future.
November, 21, 2010
11/21/10
1:08
PM PT
They're baaa-aaack! After a brief tour of the northern Midwest, the Lakers have touched down in L.A. and will host the Golden State Warriors. It's a date against first- and second-place holders in the Pacific, but with all respect to the Warriors' surprisingly strong start, the Pacific remains the Lakers and four teams taking up space. Here are a few items to be mindful of after the ball is jumped:
Monta Ellis
What a difference a year makes. Around this time in 2009,
Monta Ellis
was angry about
Stephen Jackson's departure
, skeptical about
Steph Curry's presence
and rumored to be on the block if a taker was willing to bid. About 365 days later, Ellis is content, gets along with Curry and is embarking on the best campaign of his career.
His scoring prowess (27.7 ppg)
isn't impressive simply for ranking second in the league, but rather its efficiency. Ellis is shooting 52 percent from the field overall with a career-best 37 percent clip from behind the arc. In particular, Ellis is
killing it at the rim, converting almost 72 percent of shots from point blank
.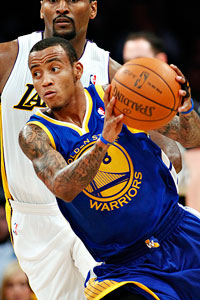 AP Photo/Lori Shepler
This man can do serious damage filling up a bucket.
During the preseason, Ellis
ran roughshod all over the Lakers for 41 points
. A Halloween regular-season match, however, was a different story. The speedy guard was
"limited" to 20 points
on 9-of-20 shooting and, equally crucial, offered just a pair of trips to the line. (
Ellis averages 6.9 freebies a night, 13th-highest in the league.
) Of course, a bad ankle shelved Curry, making it easier to key on Ellis and spread the labor defending him. With the baby-faced point guard -- no slouch in the scoring department himself -- on hand, Ellis instantly becomes a tougher cover.
Who'll take the assignment is an interesting question. Ellis is much too fast for
Derek Fisher
.
Ron Artest
has been up to the challenge in the past, but
a nerve issue in his back -- according to Phil Jackson, if nothing else
-- might leave him staring too often at the back of Ellis' jersey. Thus, it wouldn't surprise me to see Kobe spend a large amount of time checking the Warriors' leading scorer.
Ideally, the Lakers would avoid burdening Bryant with this type of defensive assignment on top of his scoring responsibilities, but he's probably the best option. If I may be so bold to offer a tip, forcing Ellis into 2-pointers from 16-23 feet out (his worst spot on the floor) would be a sound strategy. Or the Mamba could just turn the tables by aggressively attacking Ellis and exploiting a size advantage. That ability to score, impressive as it is, drops dramatically while he's pinned to the bench with foul trouble.
November, 9, 2010
11/09/10
12:36
PM PT
It's no secret the Wolves aren't good. They finished 2010 with a NBA second-worst 15-67 clip, and a current 1-6 clip isn't improving on last season's pace. They're arguably the league's premier laughing stock franchise, what with the Knicks on a theoretical road towards
Asbestos-free
respectability. But the ineptness is worse than people may even realize.
The Timberwolves have lost three times by at least 25 points, and if that feels like a lot of blowouts over just seven games, you're correct.
According to the brains at Elias
, in the last 20 seasons, only two other teams have suffered three 25-point losses in their first seven games: the Bulls in 2003 and the SuperSonics in 2005. In other words, we're talking historic badness, without any signs of locating the proverbial tunnel, much less whatever light might be at the end of it.
Still, the Wolves are on the schedule and the Lakers must suit up against them or forfeit the result. Here are a few matters to be mindful of once the ball is jumped.
Darko Milicic
With NBA free agency's rich history of turning summers into silly season, it takes a very special contract to emerge as
the consensus "What the . . . ?" contract
. Well,
Darko Milicic
at $20 million over four years was a head-scratcher for the ages. We're talking about one of the biggest busts of recent memory, a dude who vowed to
take his ball and go back to Europe.
Safe to say, Team Darko's phone wasn't expected to ring off the hook. (To put things in perspective, fans who complain the Lakers bid against themselves in 2007 for
Luke Walton
may be correct... but compared to the interest in Darko, Walton could have aired his own version of "The Decision.")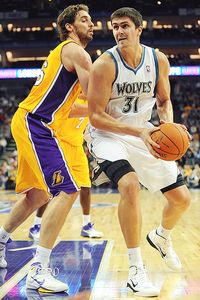 Andrew D. Bernstein/NBAE/Getty Images

Whether Darko plays well or poorly, he'll always remain fascinating.


Shockingly (or predictably, depending how you look at it),
everyone's favorite dubious basketball thinker saw a diamond in the rough
.
David Kahnnnnnnnnn!!!!
threw a boatload of money at Darko.
Al Jefferson
was moved to secure PT for the Serbian legend.
Seven games and a 23 percent clip from the field later
, here we are.
In the interest of balanced reporting, Milicic averages nearly three swats per game and would grab about ten rebounds in 40 minutes.
He also leads the team in defensive plays, according to Hoopdata.com
. Still,
Darko's +/- is fourth lowest on the team in just 20 minutes per game
, which makes me wonder if the situation is similar to
Kwame Brown
back in the day. In Kwame, you had an excellent post defender, a reasonably good pick-and-roll defender, and a dude so bad at everything else, returns typically diminished the longer he was on the floor.
In any event, I've long harbored a bizarre fascination with Darko's career, and plan to closely observe his pairing against
Pau Gasol
. El Spaniard is fresh off a triple-double where he carved up the Blazers like a Thanksgiving turkey, and earlier won Western Conference Player of the Week honors. Milicic, however, marks his first matchup against a physical presence with zero offensive responsibilities (although Darko notched
16 and 13 point games, the latter with five assists, against L.A. as a Wolf
). I'm curious to see how Pau handles this assignment.