Los Angeles Lakers:

Report Card
May, 31, 2012
5/31/12
8:34
AM PT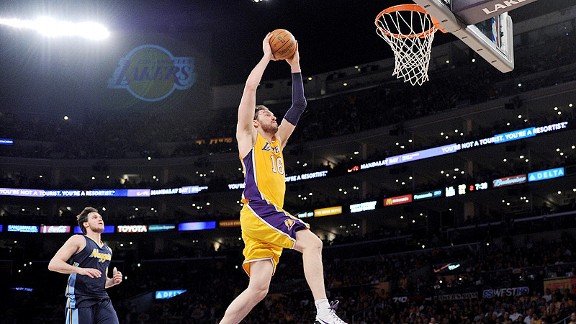 Harry How/Getty Images
If only the rest of Pau Gasol's 2011-12 season was this easy.
It wasn't exactly the start to the 2011-12 season
Pau Gasol
had in mind.
The ink hadn't yet dried on the new collective bargaining agreement between players and owners when the Lakers
sent Gasol to Houston
as part of a three-team deal netting them
Chris Paul
. As you may have heard, a couple hours later
the Commish
put the brakes on the deal, sending everyone back to his team as if nothing had ever happened.

Except it had, and everyone saying all the right things didn't make it any less awkward.
Since Gasol had already been traded once, the natural supposition was it might happen again, leaving him smack dab in the middle of the NBA's juiciest trade rumors from that moment through March and the trade deadline. Not surprisingly, renting in Limboland wasn't all that appealing, prompting
Kobe Bryant
in
late February to publicly demand the Lakers offer the Spaniard some clarity
. It didn't come, but Bryant's comments once again highlighted the elephant in the room.
On the floor, Gasol faced another sort of limbo. A variety of factors -- the ascension of
Andrew Bynum
into a prime time role in the post combined with
Kobe Bryant's
still-dominant offensive role, a lack of facilitators on the wing outside Bryant, a lack of floor stretching shooters, a compressed training camp and practice schedule not allowing players to fully absorb
Mike Brown's
system, Brown failing to make the best of his talent, and so on -- made it difficult for Gasol to find comfort in Brown's system, offensively.
As he explained
during last week's exit interview
:
"I never had to search for offense or for looks in teams I've been on. They've always been, not given to me, but I always had them because of what I bring to table. So to have to go and search, I have struggled at points, at times with that. But obviously when you have certain players are also very good contributors on the offensive end, you have to make sure combine all those weapons, make them work at their best. And that takes a little bit of time, too ...

I always like to be aggressive and proactive, but I was still trying to adjust to the fact it was different. I wasn't getting the same things I was getting before. I'm not used to attacking from different positions on the court. Analyzing a little more made me think of it a little more. But I don't like excuses at all. It's just analyzing and seeing the fact and understanding why things happen a certain way."
So what happened, exactly?
STATS
65 games, 37.4 minutes: 17.4 points, 10.4 rebounds, 3.7 assists, 1.4 blocks, 50.1 FG%
HIGHLIGHTS
For all the hand-wringing in some corners over Gasol's performance, the final numbers weren't all that different than his career norms, and in some ways they were superior. Thrust into a facilitator role, Gasol delivered, averaging more assists per game and a higher assist rate than any season in Los Angeles (with plays like
this
, it's easy to see how). He was a borderline All-Star and wasn't
that far off from making the All-NBA team
. This despite rarely being a featured player in the offense.
May, 29, 2012
5/29/12
9:43
AM PT
Only in the anticipation his arrival would usher in a Technicolor world of fast break awe and pick and roll wonder were there big hopes and expectations for
Ramon Sessions
in Los Angeles.
Overstatement, sure, but lack of production at the point guard position was unquestionably a millstone hanging off the neck of L.A.'s offense earlier in the season. In previous ones, too, but then the diminished role of point guards in
Phil Jackson's
offense mitigated some of the issues. In
Mike Brown's
more traditional, pick-and-roll system the Lakers badly needed a quicker 1 capable of turning the corner, finishing at the rim, and creating shots for others. Improvement was mandatory if the Lakers were to have any chance of a deep playoff run.

It was in that context -- a solution to a crippling weakness -- Sessions was acquired, hence the high hopes. Nor was there much time for transition. Following the deadline day deal with Cleveland marking his arrival, the Lakers quickly needed Sessions to translate the production he'd shown in more limited roles on lesser teams into games with much more significance. At the same time, his new teammates would need to learn how to play with a ball dominant point guard (something on which only partial progress was ultimately made).
After kicking things off with a bang, arguably raising the bar to unrealistic levels, Sessions cooled off considerably in the playoffs. Like so much else in the 2011-12 season for the Lakers, Sessions provided good moments and bad, and raised a few questions going forward.
STATS
23 games, 30.5 minutes: 12.7 points, 6.2 assists, 3.8 rebounds, 47.9 FG%, 48.6 3-point %
.
HIGHLIGHTS
Sessions scored 13 seconds into his Lakers career, with a burst of speed that left a palpable buzz in the Staples Center crowd, and it was instantly clear his speed added a dimension the Lakers hadn't seen in a while. His second game with L.A. was significant, when Sessions managed to score 10 points despite missing six of seven shots from the floor because he attacked enough to earn 10 free throws. Before his arrival, it might take three or four games for Lakers PG's to rack up 10 FTA's. In consecutive mid-March games against Dallas and Portland, Sessions hit 13 of 18 shots for 37 points, racked up 20 assists, and eight rebounds. In six games between March 31st and April 7th, Sessions averaged nine dimes per.
Just as important, Sessions, who had posted the best 3-point shooting numbers of his career
*
in Cleveland this year before the trade, continued punishing teams for ducking under screens and daring him to pull the trigger. He drilled nearly half of his triple attempts with the Lakers.
May, 26, 2012
5/26/12
7:23
PM PT

By Andy Kamenetzky
ESPNLosAngeles.com
Archive
If you're a reserve looking to become a fan favorite, a recent blueprint has been firmly established. You can be a relentless hustler who pursues every loose ball and relishes the dirty work, ala
Ronny Turiaf
and
Josh Powell
. You can be a highlight dunk waiting to happen, ala
Shannon Brown
. Or you can be both, ala
Josh McRoberts
this season, at least for a while. With his high socks and higher elevation, the energizer bunny began the season as the reserve fans looked most forward to see check into a game. (Adding to the fun was the way he shattered some stereotypes. Nobody expects much athleticism from big white players, much less big white players from Duke. As it turns out, McRoberts ain't
Cherokee Parks 2.0
, and not simply because
his body isn't a mural
.)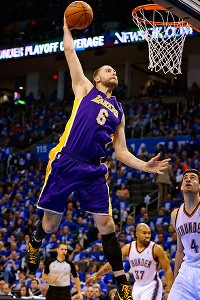 Brett Deering/Getty Images
McRoberts was fun to watch above the rim.
McRoberts' first season wasn't all fun and games, however. Like every member of the bench, he was yanked in and out of the rotation, often unsure of when he'd enter the game and for how long. As time went on, his limitations were also driven home. At his best, McRoberts resembles something of a poor man's
Lamar Odom
(or as the Dallas Mavericks called such a player this season, "Lamar Odom.") Another lefty with a surprisingly good handle for somebody 6'10", McRoberts isn't quite the playmaker on the break as LO, but he's capable of taking a defensive rebound past halfcourt, and from a halfcourt set actually passes the ball very well. Unfortunately, that's also where the comparison basically ends. As a scorer, McRoberts' range is more or less the rim. Unless putting back an offensive rebound or dunking, the guy provides no ability to spread the floor or even a presence worth guarding. And while his 24/7 effort is commendable, it didn't always translate into quality defense.
The day McRoberts was signed, I asked
Jared Wade
of the
Eight Points, Nine Seconds
blog for
a scouting report on McRoberts
. Among other things, he told me this:

Like the vast majority of players in the league, the best way to maximize his contribution is simply not to ask too much of him. He'll hustle, get some dunks, get some boards, and do little things. If you ask for him to be a prominent part of the offense, or a defensive stopper, he'll let you down.
Sounds about right.
Statistics
50 games, 14.4 mpg, 2.8 ppg, 3.4 rpg, 1 apg, .4 bpg, .475 FG
Highlights
McRoberts wasted no time making a strong impression while filling in for a suspended
Andrew Bynum.
Eight rebounds were pulled down in the season opener against Chicago. Three games later, he scored a season-high 10 against the Knicks, with two blocks and three steals thrown in for good measure.
Kobe Bryant
praised on a few occasions the team's early-season gritty vibe as a byproduct of adding McRoberts. Josh also developed a fast alley-oop chemistry with
Steve Blake
, which led to Lakers fans puffing out their chests about their own "Lob City." On a few occasions, the big lug opted to play the enforcer role in defense of a teammate, always a crowd-pleaser.
Lowlights
A strong start was thwarted by a January toe injury that sidelined McRoberts for six games. February and the first half of March was spent out of the rotation altogether, as
Mike Brown
opted to run with a floor-stretching
Troy Murphy
as the primary reserve big man. After winning back the gig in late-March, he eventually lost it again to
Jordan Hill
heading into the playoffs.
Prospects for 2012-13
Mitch Kupchak
warned big changes could be afoot, and if
Pau Gasol
and even
Andrew Bynum
aren't immune to relocation, one can safely assume McRoberts isn't untouchable. The need for his services in L.A. will be dictated by a lot of variables. Will Gasol and/or Bynum be traded? If so, will an incoming big man be part of the haul? Will Hill be resigned? What are the projected minutes available for Josh? Should he be deemed expendable, a $3 million expiring contract makes him reasonably easy to trade or package into a larger deal.
McRoberts ultimately provided as advertised upon getting signed, and he can't be heavily docked for being the player he's supposed to be. But the inability to rise above expectations often left the Lakers wanting, and perhaps even searching this offseason. They could do worse than McRoberts, but perhaps better as well.
Grade
C+
Previous 2011-12 report cards:
May, 25, 2012
5/25/12
6:37
PM PT

By Dave McMenamin
ESPNLosAngeles.com
Archive
If it wasn't for a 2 a.m. phone call from
Mike Brown
to
Jordan Hill
late in the season after the Lakers had their doors blown off by San Antonio, Hill might never have been given the opportunity to show his stuff for the purple and gold.
"I was definitely surprised," Hill said after his exit interview this week, recalling the moment that changed his fate with the franchise. "We talked a little bit and he said we need a little more scoring in the second half. More rebounding. More energy. So, I just stayed ready and the next game against Oklahoma, I just went out there and did what I had to do and kept going with it."

Hill rewarded Brown's trust with 14 points and 15 rebounds in the Lakers' 114-106 double overtime victory over the Oklahoma City Thunder and suddenly, after sitting on the bench nursing a sore right knee for the first month of his Lakers' career, Hill was thrust into the role of the team's first big man off the bench for the playoffs.
STATISTICS
4.7 points per game, 46.7 percent shooting, 62.5 percent free throw shooting, 4.4 rebounds, 0.9 blocks in 11.7 minutes over seven games played.
HIGHLIGHTS
Hill followed up his surprise performance against the Thunder with two more double-doubles in the first round of the playoffs against Denver -- 10 points and 10 points in Game 1 and 12 points and 11 rebounds in Game 4. The Lakers won both games. Nuggets coach
George Karl
dubbed Hill a
"wild card"
and really, when you think about just how close the L.A.-Denver series ended up being, Hill's contributions just might have pushed the Lakers over the top over the course of seven games.
Hill ended up averaging better numbers in 12 postseason games with the Lakers (4.8 points, 6.3 rebounds) than he did in seven regular season games. It was a nice little run for Hill, considering he was playing in the first playoffs of his three-year career.
December, 6, 2010
12/06/10
8:00
AM PT
If your high school was anything like mine, you got your big report cards at the end of each semester, plus two progress reports in between, at the end of the first and third quarters. With
Friday night's win
, the Lakers are now 14-6, 20 games into an 82-game season, about as close to a quarter of the way through as can be. Used to be I'd try to beat the our neighborhood postman home, in an effort to intercept any bad news before my parents popped open the mailbox.
Well, there's none of that chicanery where Internet report cards are concerned.
How do the Lakers stack up? Time to find out who's in trouble, and who gets his marks posted on the fridge at home.
GRADES
(
Note:
Players are graded against their own capabilities and expectations.
Kobe Bryant
, for example, is held to a different standard than
Theo Ratliff
. And I consider "C" to be average. None of this gradeflation nonsense.)
COACH
Phil Jackson:
For the most part, he's managed minutes well, and shown great flexibility in his lineups along with a willingness to sit established players down the stretch in favor of deserving reserves. Note the amount of games
Derek Fisher
and
Ron Artest
have finished on the bench in favor of important minutes for
Shannon Brown
,
Matt Barnes
, and
Steve Blake
. No playing favorites. Defensively, the Lakers have slipped some from last season, though it's hard to pin exactly how much of that is based on coaching. Overall, I like the tone Jackson has set this year, diffusing early talk of his "last stand" without ignoring it.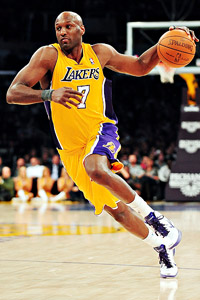 Gary A. Vasquez/US Presswire
Lamar Odom has been a rock for the Lakers this season. A productive- and consistent- rock.
My only major criticism: Something needed to be done faster to cut down on Gasol's minutes. If signing another player wasn't in the cards, Jackson needed to suck it up and play
Derrick Caracter
more, even if it hurt the on-court product, which it almost certainly would. He's talked about doing it a lot, but in practice it hasn't happened. Would three or four more minutes for the rookie have prevented Gasol's hammy problem? Who knows, but it couldn't have hurt.
GRADE: B+/A-
STARTERS
Lamar Odom
: As a long time supporter of Odom's value, I've frequently recommended those who lament his inconsistency focus on the big picture, appreciating what L.O. does rather than what he doesn't. This season, there's been no need to defend him at all. Odom has played arguably the best basketball of his career, averaging 15.3 points, 10.3 rebounds, and 3.5 assists a night while shooting nearly 58 percent. After slacking a little last season, this year Odom has been a
+/- force
, is tied for eighth in the NBA in
double-doubles
, and more than anything, has been consistent.
Only three games with single digit scoring
, no game with fewer than seven rebounds, 18 with eight or more.
He has managed to distinguish himself at an All-Star level on a team with Bryant and
Pau Gasol
, no easy task.
GRADE: A
Pau Gasol:
For 14 games, Gasol was almost absurdly good, to the point some were wondering if he could break out of Kobe's shadow and become an MVP candidate. Such thinking was a little too aggressive, but when a guy puts up the numbers he produced- like the "perfect game" Nov. 21 vs. Golden State, where Gasol was 10-of-10 from the floor and hit all eight of his freebies for 28 points- it's hard not to go there. Then came a mini-slump, a five game stretch including his four lowest scoring games of the season, and a precipitous drop in field goal percentage. Why he fell off isn't hard to diagnose- before Friday's 27 minute rest fest he'd piled up a ton of minutes and earned a balky left hammy for his troubles.
Still, though the numbers were even more garish 10 days ago, Gasol leads the league in double-doubles, and is averaging 20.2 points, 11.6 rebounds, 4.1 assists, and 2.1 blocks a night. Plus, the
disparity in his team's play when Gasol is on the floor vs. when he's not
is incredible. He's struggled a little against size here and there, but overall it's hard to ding him for such a small number of genuinely poor games.
GRADE: A-
Kobe Bryant:
He spent most of early November encouraging the media not to ask him incessantly about his surgically repaired right knee, but we didn't cooperate. So he changed strategies, posting a few games making him look awfully healed in which he orchestrated the action on the floor, kept everyone involved, and generally greased the wheels of an incredibly productive Lakers offense. Like Gasol, though, Bryant's run has waned over more games. He was effective and efficient Friday against the Kings (everyone who played was, more or less), but heading into the game had been mired in a fairly deep shooting slump,
dragging his overall shooting numbers below, in some cases well below, his career norms
. On the other hand, he's getting to the FT line more this season than last (a good sign), has an assist rate right in line with career norms, and his PER is as high as it's been since '06-'07.
Besides, numbers don't always tell the story of Kobe's play, but measured against the appropriately high standard of his own ability, he hasn't been overwhelming. Still good, but slower after a strong start. The good news is the Lakers don't need him to be hyper-dominant to be successful.
GRADE: B/B+